Girls Stealing the Air Out of My Bulmones
Translated by Sawako Nakayasu
Pald girls and old girls and nonpald girls and marapona folded girls, all of them show me the ubside of t'espoir by arriving at my bulmonary entrée with their individual air hags pillowing in my quickening intake, drop um by um into my panier of helupu is on the way, a way, a gut slap tarte out of here, instructions gesture towards memory, all balled up and thing-like, fall play to landing on thickets of interior lushlush & quiet tumble rush upwards
a path opening elsewhere a newer purchase on my little paggie of emergency air, fleshfleshiness of lung matter thereby under the premise that it can be given back, theft flies temporarily so, dake it given it back, I bold out, I open, I close, trying to trap a girl in the fact you make me peel like a natural erreur force of artifice admonished absorption, now witness that, holdholt it open again, orbiting again, new definitions of ownership, felt presence of taking it, don't don't you dank it now.
Girl F or Girl I or Girl J in a Cup, in a Battery, in a Sheet of Paper at a Point When it Ceases to Hold
Translated by Sawako Nakayasu
The business of the hand supports the claims of the trench. Spatial folds of time swell and ripen, broke oft open. Having been overwhelming, sensation of falling over and over across the fold and beyond the rim, exposed to a blunt give. Girl who keeps to the inside of the circular stone of the cup, battery, and sheet. Keep running within or spill out. F, I, or J. It wasn't a girl in the first place, not like that, and what a horrible pit, lie against joy. Paper and batteries in a cup. F and I, don't mine me. Gull, Garuru, and 'Girl' are pieces of the table swept slowly by the arm, and all that remains after all that which glows.
Girls Respond Quickly to a Call from High Up
Translated by Lynn Xu
It was summer and we had stopped to see the Tule Tree on the grounds of the church in Santa María. I was twenty-five at the time and I had twenty-five daughters, one for every year of my birth. I was carrying all of them, one on top of another, and my mother, too, I was carrying, and one by one they were climbing into the canopy of the ahuehuete. Aie. Aie. Aie. Society is grotesque and proliferates in broad daylight, but there is time within time and adolescence still waiting.
Map
There is a girl I look for on the map of unspoken indignities but I can't find her, because she is all over it, dismembered into tiny little millions of fragments and scattered all over the place. Usually this is referred to as a barabara jiken, a dismembered-into-tiny-millions-of-fragments incident. Although bara is homonymous with rose, this is not a rose-rose incident. Also please stop correcting me on how to pronounce my name.
Girls Duck into a Dumpling to Escape the Stench of Saturday Night Humanity
So I count the numerous acts of procreative human copulation that contributed to this present situation: a crowd. Likewise in a stadium brimming with such by-products, all singing along to somebody else's cultural anthem.
In the dumpling we fancy ourselves protected from So Much Breeding; we are free to burn and char as we please, turning our thoughts instead to the din of the world seeping through the wrapper of the jiaozi or baozi or mandu or gyoza or har gow or bánh cuốn or ravioli or shaomai or huntun.
Girl C has her ear trained on the impending presence of an eater. Girl I knows how to exit a nightmare by punching through the wrapper. If we should be so lucky.
Time passes quickly on a Saturday night.
That arm poking out of a dumpling serves as a reminder to the world that these dumplings are yet uncooked. How now, tragic girls? What say you as the impending oil, steam, blazing pan all close in on you?
A single dumpling has the potential to be at once protein, vegetable, starch, and liquid, as articulated on its application to be officially designated an evacuation site for, you know, those cataclysmic days of the week, like today.
Photograph © Delphine Queme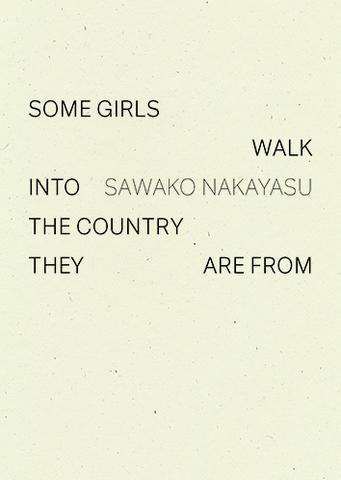 These poems are taken from Some Girls Walk into the Country They Are From by Sawako Nakayasu, published by Wave Books.
These poems are part of our
20 for 2020
series, featuring twenty timely and exciting new works from the Japanese published here at Granta.com. Find out more about the project here.