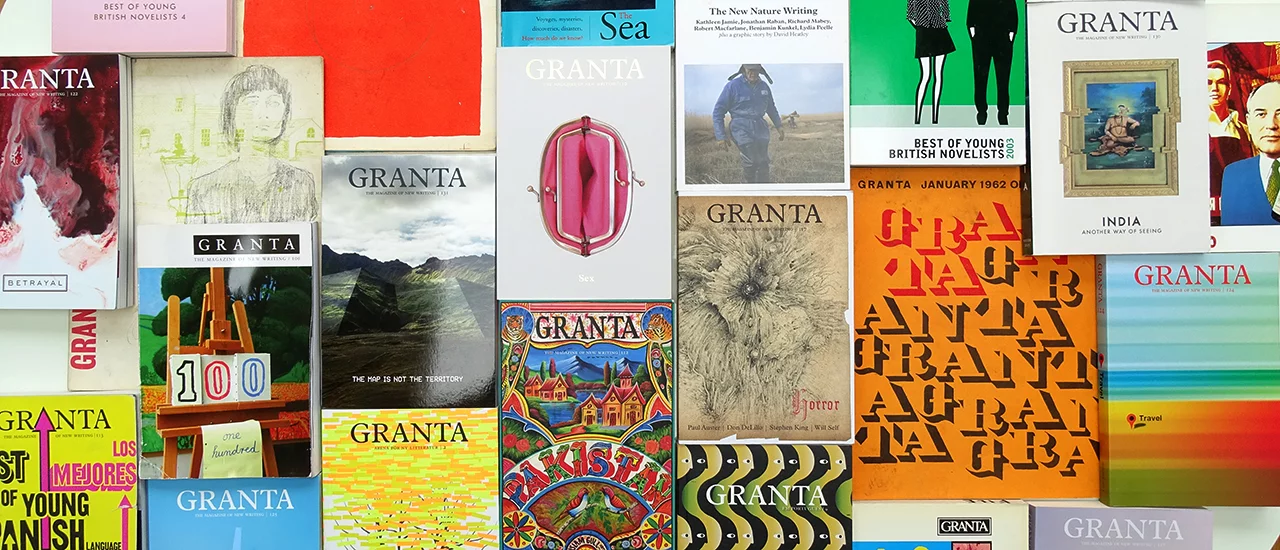 Granta magazine and Granta Books share a remit to discover and publish the best in new literary fiction, memoir, reportage and poetry from around the world.
Granta magazine was founded in 1889 by students at Cambridge University as The Granta, a periodical of student politics, badinage and literary enterprise, named after the river that runs through the town. In this original incarnation it published the work of writers like A.A. Milne, Michael Frayn, Stevie Smith, Ted Hughes and Sylvia Plath.
In 1979, Bill Buford and Pete de Bolla transformed Granta from a student publication to the literary quarterly it remains today. Each themed issue of Granta turns the attention of the world's best writers on to one aspect of the way we live now. Granta does not have a political or literary manifesto, but it does have a belief in the power and urgency of the story and its supreme ability to describe, illuminate and make real.
Granta Books came ten years later, originally setting out to publish six books a year, distributed and promoted by Penguin. The launch list included John Berger's Once in Europa, Gabriel García Márquez's Clandestine in Chile, Martha Gellhorn's The View from the Ground and Nicholson Baker's The Mezzanine. Buford later published Salman Rushdie's Haroun and the Sea of Stories and books by Ivan Klima and Hans Magnus Enzensberger. He aimed to hold on to the editorial principle that had governed the magazine: to publish 'only writing we care passionately about'.
In 1997 Granta Books was expanded by its previous owner, Rea Hederman, publisher of the New York Review of Books. He brought in publisher Frances Coady. The company gained its own sales department and quadrupled its publishing programme. Authors brought to the list included Jeanette Winterson, Edward W. Said, Linda Grant, Herta Müller, Iain Sinclair and Misha Glenny.
Sigrid Rausing bought Granta magazine and Granta Books in 2005. Together with film and theatre producer Eric Abraham, and publisher Philip Gwyn Jones, Rausing had already founded the publishing house Portobello Books, whose list went on to be merged with Granta's in 2019. Granta launched a poetry list in 2019. Rausing is the publisher of Granta Books and Granta magazine. In September 2007, Granta joined the Independent Alliance. Since Rausing became publisher, authors including A.M. Homes, Barbara Demick, Rebecca Solnit, Eleanor Catton, Ben Lerner, Madeleine Thien, Jenny Offill, Mark O'Connell, Lisa Halliday, Han Kang and Sayaka Murata have joined the list.
Granta Books now publishes around thirty-five new titles a year, providing authors with the intimacy of a small, passionate and creative team while consistently punching above its weight in review coverage, prizes, cultural impact and sales.
Granta is most celebrated for its 'Best of Young' issues, released decade by decade, which introduce the most important voices of each generation – in Britain, America, Brazil and Spain – and have been defining the contours of the literary landscape since 1983.
Granta has published twenty-seven laureates of the Nobel Prize in Literature.
As the Observer writes: 'In its blend of memoirs and photojournalism, and in its championing of contemporary realist fiction, Granta has its face pressed firmly against the window, determined to witness the world.'