The handful of times I've seen an English-language article referencing Japanese onomatopoeia, it's almost always in relation to the sound for silence: shin, or shiiiiin. I'm struck each time by the apparent reverence and romanticism extended to this by British journalists as an alien and somehow bewildering concept, since conceptually I don't think it's so far removed from words like 'hush' or 'schtum'. That said, I will readily admit that 'shin' is far more prevalent as a straight-up sound effect, particularly in contexts like manga, where the long midbar of an enormous しーん is often found traversing the awkward space between two characters, or spreading through an entire room to indicate the voluminousness of the silence. In fact, the manga SFX dictionary I consult doesn't even list 'hush' as an option for translating shin, showing instead *stare*, *silence*, and *frozen*. In that they are less likely to be confused for imperatives, I suppose these are better options but they still read to me as a little forced. One could argue that this very awkwardness points towards a kind of untranslatability that serves as proof that shin is special, but I don't think this holds, because in fact the same level of awkwardness seems to cling onto so many of the SFX translations: *cozy*, *menace*, *flustered*, *throw up*, etc. The truth is, such awkwardness is kind of inevitable, because there are lots of situations where Japanese mimetics are used in which we simply wouldn't use a sound effect in English.
I'm not going to talk any more about shin, but I do want to talk about the linked phenomenon of words that give sound to non-sound, words which touch upon the difficulties of sound. Specifically, I want to talk about finding a man who had killed himself.
This isn't an easy story to tell, and I have debated many times about whether I should be telling it, either to people I know or here on paper; I have wondered repeatedly whether it is mine to impart. It's been years now since it happened, and I would like to say with assurance that in that time, I have thought a lot about the damaging power of silence in perpetuating shame, isolation, and disconnection, and come to believe that passing on your subjective version of events is in many ways the most respectful and responsible way of being in the world. Yet it is also true that when I think back to that day and everything that happened afterwards, I feel a veil of silence drawing over me, a silence with an organic, all-enveloping quality to it like a forest, and I am tempted to think that I'm bound by it, that it's that which is demanded of me. Paradoxically, it's the darkness of that draw to silence which has impelled me to try and speak of it.
After many years of being away, I was back in Japan, teaching English in a small, semi-rural city somewhere between Tokyo and Osaka, famed for its beef. Like most of the famous Japanese beefs, Matsusaka-gyū was extravagantly fatty, a mottled white meat known by the name shimofuri – 'a dusting of frost'. This picturesque-sounding phenomenon was achieved by putting the cows on an intensely high-calorie diet, which allegedly involved feeding them beer to stimulate their appetite and massaging them with shōchū to make their flesh softer. Despite living in the region for a year, I saw one of these beer-fed cows only once, right at the very end of my time in the region, when a student of mine gave me a tour of her village. We pulled up outside a slightly ramshackle shed, inside which stood a short, fat black cow, hunkered down among the straw in the dim of the back of the shed. When it saw us it backed further into the darkness, its white eyes gleaming with trepidation. For some reason it had never occurred to me that the cows would be kept alone, and while I could recognize that to some the sight might have betokened great care and attention, it seemed to me too unspeakably sad to properly face. With the simple nondescript shed, the whole scene seemed timeless, and I could imagine it painted by a seventeenth-century Dutch master.
Matsusaka had paddy fields and ramshackle houses and endless bridges painted in pale blues or bright reds or oranges, and a river running through it over which rows of billowing cloth carp with gaping mouths were strung out in time for Children's Day on 5 May. I found it lovely, especially in the beginning, but it was not a tremendously exciting prospect for a visitor unless your visitor enjoyed aimless wandering for hours on end. So when D, the Japanese friend I had met in Edinburgh and who had since moved back to Tokyo, came to visit me for the weekend, we decided to take the train to Toba, a port town in the same prefecture known for its fishing and its beautiful views. In Toba Bay was Mikimoto Pearl Island, where women dressed head to toe in white dived for pearls that were fashioned into jewellery to be worn by rich ladies. There was an aquarium, whose website promised dugongs and rare giant isopods as well as the usual sea lions and dolphins, and which we were due to visit later that day. But we had decided – I think in fact it had been my suggestion – to begin by climbing a mountain that I'd read about in the guidebook.
The mountain was densely wooded and had various paths up it, but as a British person to whom the word 'mountain' still connoted a day-long expedition, the fact that it took only twenty minutes to climb meant it was hard to conceive of as anything other than a hill. We followed the main path up and emerged into a small clearing that gave on to the sea. There was barely anybody around, but another couple who seemed like fellow tourists came up at an opportune moment and we asked them to take a photograph of us. It wasn't exactly anticlimactic, because neither of us had had very high expectations, but there was something that felt small-scale about it, the peace and comfort that comes from visiting a remote village and giving yourself up to its limited delights, of scalping all that there is and getting the most of it, which was such a different mentality to visiting Kyoto or Tokyo, whose attractions felt boundless and overwhelming. We turned back, deciding to head into Toba and see the port we'd just looked out across, and as we were making our way down, we ran across a wooden signpost that pointed to an Observation Deck. How was that different to the place from which we'd just come? Neither of us knew, but since we had time and energy, we decided to go and see that too, circling round and round up the hill, and as I came out at the top, I saw the figure of someone hanging from a tree. I saw him from the back: the black ball of a head, white expanse of shirt, a length of yellow-and-black striped rope.
When I think about people unable to respond to emergencies unfolding in front of them, I imagine them immobilized by the rapidity of the situation, but this was the opposite. The scene was a flat, stock image suspended in front of me, dislocated from the temporal and spatial context in which I'd come upon it. It was so stationary that I found it impossible to counter its stillness with action. I stopped, and looked, and then I turned back and looked at D. Her response was immediate, and she broke the spell.
'Yadayadayadayadayadayada,' she began, like a chant, no, no, no, no, no, no, shaking her head, doing everything she could to magic away what had appeared in front of her. This reaction of hers, the intensity that I sensed from it, hit me more than what I was seeing. With its colours so crisp in the morning sun, I could only see the scene as some kind of museum exhibit, a film set. I opened my mouth and said, in my slowly dawning panic: 'It's not a joke, is it?'
This strikes me now, possibly struck me as soon as I'd said it, as a bizarre and alarmingly childlike thing to say, but at the time, it felt like the only means I had at hand of crossing over from the pool of sensations in which I was immersed to a shared linguistic world that included D.
'No, it's not a joke,' my friend said, and she returned to her chanting, turned away from the scene.
A few minutes later she was on the phone to the police. I was aware that it should have been me who was speaking to the police, that she wasn't really in a state to do it, but this was Japan, where a Japanese person was always the right person to do everything. In a sense, this was probably judicious right now: I'd never phoned the emergency services before, and I didn't even know what was the right, polite, official way to say that someone hanged themself.
And so I stood there, listening, and just as she was beginning to sound calmer, I heard her let out a cry.
'No!' she said down the phone, almost hyperventilating, 'No, we can't take him down, we can't take him down.'
Take him down, take him down – the Japanese word, in her mouth, orosenai, orosenai, had something nightmarish about it. It stormed through into my daze and planted in there a single thought: What if he was still alive? I still hadn't seen the man's face, so it seemed like a distinct possibility. What if I was about to let this man die out of cowardice and squeamishness? For the first time it occurred to me that however still this scene might seem, it might actually call for immediate action. He might be breathing his last as I let the time run over me like water, and so while my D stayed on the phone I stepped onto the flat surface at the top of the mountain and walked over to where the body was hanging, my heart a percussion instrument in my chest. The peak of the mountain was shaped like a thin cone, the path encircling it all the way up in a way you might imagine the top of all mountains to be if you'd never encountered one outside of fairy stories, and the rope had been tied deftly to a tree branch that was jutting out over the side. The weight of the body had pulled the rope taut as a rod. Without a knife, I realized, it would be literally impossible to release him.
Just then I heard D's voice behind me, hysteria weaving through it like a shiny thread. I turned back.
'I wanted to check,' I told her. 'That we couldn't get him down.'
'No,' she shook her head, shook it like she was trying to shake the reality away, and I knew with confidence that 'orosenai' on the phone had not meant physically, but something else. She had meant: taking him down is not within the realms of my possibility at the moment. I still wonder, pointlessly, what I would have done if I could, actually, have got him down. Whether I'd have had the guts. Whether I'd have felt in that moment, that it was right to do so.
In order to wait for the emergency services, we moved a little down the path and leant against a big tree positioned to its side. After not too long a time, we heard sirens, and then stirrings from deep in the bellows of the mountain. Descending a bit further, we could see flashes of figures in dark boiler suits with reflective strips around their chests carrying a huge stretcher. We started calling out to them, eventually moving halfway down so as to lead them all the way back up. At some point when we were nearly there I looked up, trying to gauge how far we had to go until the top, and there he was, right in front of me, and I saw his face for the first time, grey-beige in colour.
I had never seen a dead person before. I suspect that even if I had, seeing him there it would have felt as if I hadn't. At the top of the hill I had seen his back and thought him an exhibit, a piece of artifice, a sudden incursion of the human world into this natural space, but from this angle he seemed not-of-this-world in a different way, the still grey of him strangely of a piece with the muted greens and browns of the mountains, as if nature were already claiming him as one of her own. Yet his expression, his slumped head, were all taken straight out of a scary film. Slowly, slowly, and then fast, it dawned on my struggling, panic-weary brain that this was exactly the sort of reality that scary films were based on.
Perhaps the standard instinctual response at a moment of crisis like this would have been to cry out, at least register in some way what I'd seen, but my instinct to remain silent. All my mental blood flow was directed to digesting this internally – I was back to being the wordless child who'd been stung by a wasp at a friend's house and was too bewildered and embarrassed to say anything to anyone. And if I was back to childhood, it didn't escape me either that D was playing my parent, here, wavering on the verge of an outburst of some terrible emotion; the last thing that I wanted to do was alert her to the face of the dead person, to plunge her into hysteria that I would then have to deal with.
The men whose jackets announced they were from the fire department set to work, instructing us to wait around; as the ones who had discovered the body we would have to make statements to the police when they got here. Once again we walked further down the hill, stood with our backs to the large tree trunk that marked a turning in the path. Now I told D: I'd seen his face, and it was alright. It wasn't clear to me what 'alright' meant in this context, but I knew what I was doing with this sentence. I was making an offering to calm. There is nothing more that is ghastly, I was telling the two of us – an entity that had taken a more solid form than I remembered it having before.
After a while, a man came down the mountain, a policeman this time, who must have joined the fire-fighters at some point. The man was dead, he told us. From the onset of stiffening in his body, they could tell that he had hanged himself early this morning. After seeing his face, I'd known he was dead; now a part of me felt something like relief at the knowledge that even if I had by some miracle managed to get him down, I couldn't have saved him. I didn't have to feel responsibility. The other part latched onto the word for early morning: sōchō. Now that word had a new definition for me, knocking the other, more standard one, to a lower position. Sōchō: the time at which he had killed himself. Even months, years later, people would say to me, 'I got up early in the morning to go running,' and I would think of him, the man whose name we never came to know, and feel a lump in my throat. I would imagine his trip up there. Would the sun have been up or not quite yet? The rope in his pocket? He had no bag.
Beautiful places like these, the policemen said, places with a view – that was where people wanted to do it. He seemed utterly unaffected, as I suppose you would be, or would have to be, after so long in this job. A short, stocky, friendly man, with an animated way of speaking. Everyone knew how high the suicide rates were in Japan, the widespread problem of people jumping in front of commuter trains, the 'Blue Monday' phenomenon where suicide rates would surge when people returned to work after the weekend. When I was first back from Japan, I had tried to write a novel centring around a suicide; now I could see how little it was that I knew about anything. It wasn't shame I felt exactly, but a sudden sense of wide-open humility.
Would we like to see him? the policeman asked. We looked at each other, said nothing and so he went on: We recommend it, people find it helps. And to my surprise D nodded, said she would, and so we went up to the so-called Observation Deck, which wasn't a deck at all, but just a spread of earth. Now, laid out on the ground, the rope cut away from his neck, he looked different from when I'd looked up at him – he looked like a man. He looked like a person who you saw on the train, who had a job, who didn't smile, who meant no harm, who didn't find it easy to talk about his feelings. A metre away sat the machine they'd brought with them with which they'd have tried to resuscitate him if that had been possible.
The policeman took us to the side and began to interview us. Maybe ten minutes previously, D had said to me by the trunk of the tree, 'I think I'm going to be quite traumatized by this', and my response had been, 'Really?' Such was the degree to which I was numb, perhaps in shock, but also feeling an almost absolute divide between what was going on in the inside world and the outside one where language happened. After standing over him laid out on the earth, after seeing him become a person within history, the numbness was starting to unthaw. I tried to stay calm as I was speaking, but describing in Japanese what had taken place an hour previously felt a Herculean task. I spoke, but my voice was cracking, and it was no longer clear to me which details were important and which weren't. Eventually I got to the end of what felt like my account, and the policeman smiled at me.
'Okay,' he said, pencil poised on his paper, 'so you were coming up the hill, going round and round in a circle, and then you looked up and went, "Uwaa!"'
It seemed to me I could feel my insides turning white. I knew that this man was, either consciously or not, attempting to make my experience manageable for me. He could sense, I am sure, the mist of fear that was hanging over me and D, and was being friendly, and kind, in the manner of a hospital worker, a nursery school teacher, guiding us steadily back into a world which was not laced with traumatic discoveries. He was providing us with a normality within which to couch our experiences – experiences that he dealt with, I imagined, on an almost daily basis.
Yet rarely in my life have I felt a greater discomfort at being paraphrased. Barely, only just barely had I managed to eke out what it was that had happened, and it had been immediately recast, into what I felt was the anime adaptation, the manga version of my story. Uwaa: the sound that you make when something shocking happens. I enter it now into an online Japanese/English dictionary, and elicit the following list of translations:
aaaagh
yikes
oops
eep
wow!
ew
oh my God
whoof
wow-ees
ew
man
whoah
gee
gosh
goodness
zowie
I said nothing. I did not say yes and I did not say no, I stared at the policeman, again silent in the face of this thing that was happening inside, which I had no way of carrying into a world shared by him.
Again and again as I learned Japanese I had been struck by its expressive possibilities; now, more viscerally than ever before, I felt its banality, its normalizing abilities, and how oppressive those things were. No longer was this about the delight of dressing up my thoughts and feelings in new guises: now there was a feeling which it seemed very important that I hung onto, and I didn't want it stolen away from me by language that smoothed, made communal, made palatable and comprehensible. I felt something I'd experienced before only in English: the sense that if the possibilities for expression were going to misrepresent me so radically, to cartoonify me, then I wanted nothing to do with them.
Now years on, older and wiser and a more proficient speaker, no longer in the grips of shock and a more underlying sense of linguistic insufficiency, I know better that this is just how language works in this context. The policeman was not attempting to describe what it was that I felt, the feelings that moved in me and the associations I made, but rather to storyboard the situation. He was doing this not to supersede my version, but so he had what he needed for his report. And it is a simple fact that a storyboard, in Japanese, is far more likely to contain sound effects.
Yet I still can't bear to think of my feeling at that moment through the lens of that uwaa. To represent the complexity of what I was going through in a single word, and for the word to be that one, felt not only that I was betraying myself, but also betraying the person who'd made me feel that way, and the world that had brought it all about. If it came to that, I would have chosen silence every time.
Image © smartfat
---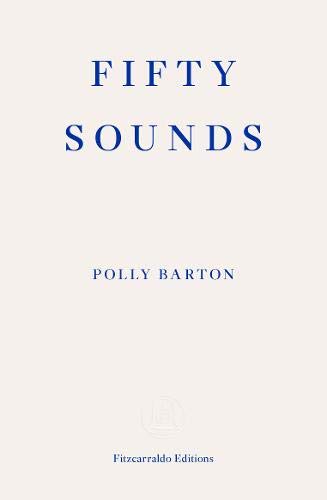 This is an excerpt from Polly Barton's debut non-fiction work Fifty Sounds, published in April 2021 by Fitzcarraldo Editions.