The day when everything would begin was upon her. They'd decided to meet at noon at the Djurgård ferry. Anticipation made it difficult for Ester to swallow. In her apartment, which she'd lived in for five years yet still hadn't furnished properly because she'd always been about to leave, hindered only by the fact that she didn't have anywhere to go, she spent the morning putting fresh sheets on the bed and, on the kitchen table, an oilcloth from the Ten Swedish Designers group which she'd bought the day before on Götgatan. Further down the hill, she'd found three beautiful art deco lamps which were now on the windowsills. It was late November and forever dark. Ester counted on being able to light them for Olof in the afternoon.
At the stroke of twelve she was on the quay, waiting in the grey mist. It was one of those days when nothing seemed to be moving, all was still. Olof was fifteen minutes late. Ester was determined not to mention the delay, but saw that his movements were tinged with unease. Perhaps he was gripped by the thought of all that lay before him; this was a big step to take.
Upon arrival the first thing he said was that they didn't have to go all the way to Blå Porten, they could go to a simpler lunch spot nearby in Old Town so it wouldn't take as long. Faced with Ester's silent but apparent dismay, he changed his mind and they bought their ferry tickets. They were practically alone on the crossing to Djurgården and during those few minutes Olof mentioned his wife several times. When he noticed it was getting Ester down and causing her to disengage, he stopped calling the wife by name, but it continued to weigh on her during the short walk from the ferry to the restaurant through drifts of maple leaves.
It was a Thursday and the wait at Blå Porten was unusually short. They ordered fried herring with mashed potatoes and lingonberries and sat at a table in the middle of the restaurant, where they couldn't be overheard. Olof was holding his cutlery straight up, ready to tuck in, but not quite, not before he said what he had to say. He looked at her. Their food had a greasy shine. He seemed to be gearing up for something. And as he did, Ester had the time to think that the way he was holding his cutlery was childlike and charming. Then all thoughts of charm ceased. He was speaking with a confidence that stemmed from practised courage:
'I think you've pulled a Pygmalion.'
Ester didn't understand, but knew it was a dig. She went numb, silent, still and cold. This compelled Olof to clarify:
'You've fallen in love with a character of your own creation.'
She was deeply disheartened by the suggestion that she was unable to keep track of herself and her feelings.
'You wrote that play and liked what I did with the role. Most of all you liked the role. You fell in love with your own character.'
From inside her vacuum Ester noted that it took a not altogether attractive arrogance to suggest she liked what he'd done with the role. Although she'd often praised his performance that autumn, it didn't mean that praise was based in fact and should be repeated as fact. There were reasons unrelated to fact for praise and criticism.
'Why would I do something as strange as falling for a character I wrote? The role you played wasn't even particularly sympathetic.'
'You know "Pygmalion"?' Olof asked.
'I've read Shaw's play, yes.'
'I mean the Pygmalion myth. The Greek one. About the man who made a sculpture and fell in love with the sculpture.'
'So you don't think my feelings have anything to do with you?'
'They have very little to do with me.'
Olof began eating with delight unbefitting the situation. He had fulfilled his task and was now in better spirits. His lateness and the frequent mentions of his wife during the crossing, as well as his discordant arrival, were thereby explained. The weight had been lifted from Olof's shoulders and placed on Ester's.
'Is it good?' he asked her.
'Not especially.'
'No?'
'No. I've lost my appetite.'
'My, what a shame.'
Olof thought for a moment and said:
'I'm thinking we should meet up now and again in the future and see what happens. Decisions don't always have to be made right away.'
Not again, Ester thought, never again, I'm going to get right up and go.
She stayed put and finished her meal. Soon they were walking from Djurgården towards the city along Strandvägen, arm-in-arm on Olof's initiative. In line with Grevgatan, Ester stopped and embraced him, and he reciprocated, while saying he shouldn't be doing this. They were approaching Dramaten National Theatre, their bodies close, when Olof stated:
'Leaving my wife isn't on the cards.'
This was exactly what married people said when someone else had shaken their foundations, Ester thought. When people felt an intense desire, they might insist otherwise. The trick was knowing when they meant what they were saying and were saying it to be clear and honourable, and when they meant the opposite. The question demanded a far-reaching and risky act of interpretation, work to which Ester was always willing to subject herself.
If Ester had taken him at his word here, she would have been spared considerable time and effort, likewise she would have missed out on many wondrous moments. Ester had a girlfriend called Lotta who often asserted that one should 'Take people at their word. It's simpler and more practical. Don't interpret. Assume they mean what they say.' Lotta was cautious and clever, but Ester believed that hardly anything would come of a budding romance if you were cautious, clever, and took people at their word because it was then that language was used deceptively in order to avoid making difficult decisions and to evade love. People feared love, as she'd read in the works of the great bards, because it bears the germ of supreme delight and so too the germ of the gravest losses.
Olof and Ester crossed Raoul Wallenberg Square with its scattered sculpture group. Ester said she liked it and spoke of the controversy the choice of work had caused in the 1990s. They agreed on the life-affirming quality of a work that is able to offend through form alone, and that this often happened when the form, as here, was its content.
'The artist must have thought Wallenberg had become a monument in himself,' Ester said, 'and so he didn't want the monument for him to be monumental.'
Olof asked how she had the energy to have ideas about everything all the time. She could tell that the question wasn't a question at all, but a poison dart, if shot with a smile. She didn't like that he wanted to shoot such things at her and answered dryly that it came naturally to her and was how she earned her living, she had to have the energy. It wasn't any more unusual than him making a living by becoming someone else and having to summon the energy for that time and time again, night after night.
'Which is a rather strange occupation,' he said.
'What's strange?'
'Acting: such a strange profession. It's not really for me. For long stretches in my life, I've done other things, had respectable jobs, and actually, I've always wanted to get away from it.'
He gripped her arm a little tighter so she would move even closer to him. She was of a mind to ask if he should really be taking her arm, for there was a risk she would begin to perceive a chasm between his words and his actions and would place her trust in actions. But because she wanted him to hold her arm, she held her tongue.
They walked along Arsenalsgatan towards Kungsträdgården Park. Plenty of people, most in suits and dresses, were on the move. When they'd made it over the crossing at Kungsträdgårdsgatan Olof said that conversing with Ester was remarkably fun and stimulating, it was like talking to a man. Ester searched his face for something that would dignify such cruel words. Olof's world couldn't possibly be so banal as to have been entirely lacking in interesting conversations with women. It attested to something deficient in his relations with his wife, which was good, but also to a deficiency in perspective.
'Is this some sort of Aristotelian deduction?'
'What's that?'
'Everyone with whom you can have an exciting conversation is a man. I can have an exciting conversation with Ester Nilsson, therefore Ester Nilsson is a man.'
Olof grimaced.
'I'm afraid that's how I've been conditioned, even though it sounds skewed when put so plainly.'
'You need to do something about that. With me, you could have the whole package.'
This bold act of courtship seemed to delight him. It was two thirty. Olof had made sure to be otherwise engaged at three. The first thing he'd said when they'd met at quarter past twelve was:
'I don't have all day.'
Ester had thought they had all day as well as the rest of their lives now that they'd finally had the chance to see each other properly, and this is precisely what he sensed and wished to stave off, that much was clear. The boundary to intimacy is asserted by industry. Scheduling an appointment after a date was the best fortification against the person who always wanted more.
But when they'd reached Tegelbacken, he was more relaxed about this scheduled meeting. Rolling in from the town hall, the bus was under the viaduct when he took Ester's hand and said:
'Should I catch the next one instead?'
'I don't know. Should you?'
Ester just wanted to go home and get on with dying. Today's conversation had to mean farewell. She had no interest in meeting up 'now and again in the future' and seeing 'what happens'. The bus came and went. Olof stayed at the bus stop and ran his stubble across her cheek, his lips searched for her closed mouth.
'Talking to you is so much fun.'
As their 'talking' had just been defined in opposition to erotic love, these words did not sit well with Ester. He gave her a peck on the lips and took the next bus to Södermalm. Walking home along Vasagatan, Kungsbron and Fleminggatan up towards Fridhemsplan, Ester felt weary. It wasn't the scenic route. Though it would have been shorter from Tegelbacken, she didn't take the picturesque walk along the Karlberg Canal or Hantverkargatan. She didn't want to see anything beautiful today, not even beauty nestled in a sodden-grey November.
As she walked, she thought her problem was that she always pawned her life's meaning for the man she'd chosen. As long as he existed, everything else was cast in shadow. It was never a question of a diffuse and tempered searchlight, no, she directed her slim, harsh light beam with appalling precision only to burn a hole in the object with the full destructive power of her longing.
Now the light had to be put out. Olof didn't want the same thing she did. Deliberating by the bus and  pressing his lips to hers in parting were nothing to cling to. She must not let herself begin the process of interpretation. This was only fleeting lust and a result of his fear of losing the attention of a lover. That which disappears can't help but seem a little attractive once it has loosed its grip on you.
Olof had given her a clear answer. Ester accepted it.
---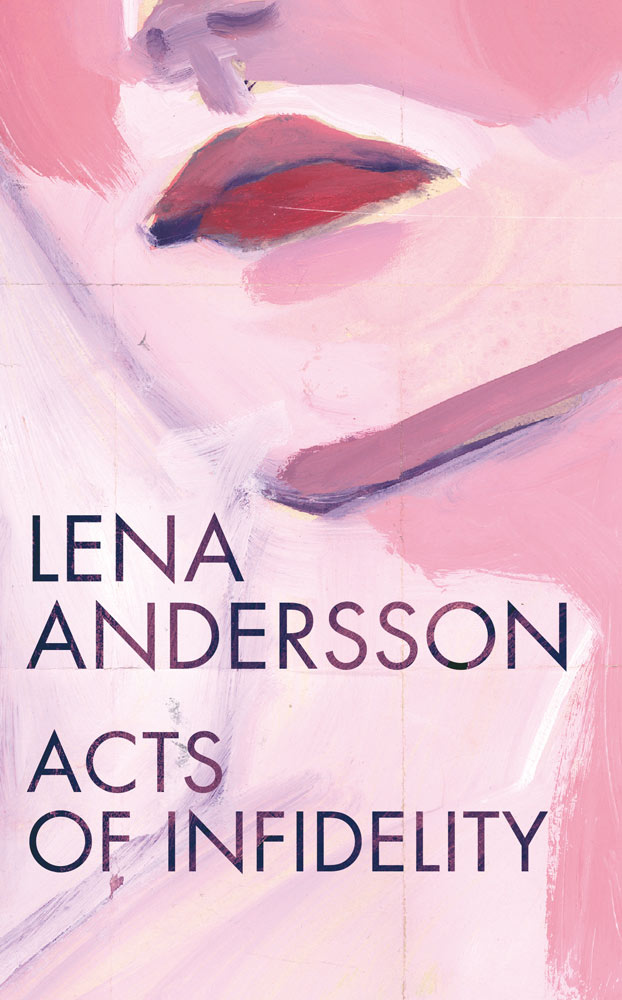 Acts of Infidelity by Lena Andersson (translated by Saskia Vogel) is published by Picador on 17th May at £14.99