Day one
Zhenya waved at the line of vehicles in the Hospitallers' medical compound: a pickup, a minibus, a toy white van and two elderly ambulances. 'We're lucky. People give us these cars. They're always used, so they're either good bad cars or bad good cars. Then after a few months in the war, they're all shit. We have plenty of shit! So we need to rotate our shit. To keep it fresh.' He pointed at the pickup. 'This shit, it's called Krokodil. It did five months in Shyrokyne, two months in Pisky, then two months in Shakhta, that was its last effort. Now the alternator's gone.' Its green flank was pierced with rusty bullet holes. 'Our shit of shits.'
All the Hospitallers' vehicles have names. Ours, a cream-and-orange Volkswagen ambulance, was called Chaika – Seagull – and had a partly blocked fuel filter. 'We don't have a new filter. We use too much tank gas. The army gives it to us, it's okay for tanks but not us. But we use it because it saves money.'
Zhenya was a volunteer, like everyone in the Hospitallers' battalion. The Hospitallers, a field medical unit, do not belong to Ukraine's regular army but are part of Right Sector, the country's nationalist paramilitary force fighting alongside Ukrainian troops against the pro-Russian separatists. He wore disreputable camo trousers, a black T-shirt and a bush hat, and had a bloody plaster across his nose from a brawl the previous evening with two drunken pro-Russians in Dnipropetrovsk. His face was dark and tired but he moved vigorously. We filled the Seagull's stretcher bay with plastic bags full of food for the groups of medics we were going to resupply at Pisky, near the Donetsk airport.
'Pisky is five out of ten on the danger scale,' Zhenya said. 'Afterwards Shyrokyne. Seven out of ten.'
Coming south-east from Dnipropetrovsk, you see no sign of the war, just sunshine and Ukraine's potholed roads and the flat boundlessness of green, not-yet-blooming fields of sunflowers and carpets of wheat. Blocks of blue sky and rectangles of yellow wheat look like animations of the Ukrainian flag. Along the sides of the road are periodic lines of houses that count as villages, each house in its cocoon of vines and fruit trees and painted a different, bright peasant colour. You drive in a steady stream of traffic – trucks, Ladas, 4x4s, motorbikes, an occasional cart – and then, a few kilometres before the Soviet-era sculpture that announces the Donetsk oblast (province) and the army checkpoint that has sprung up next to it, the road starts to empty. After the checkpoint the road's surface changes too, to an amazing pothole-free smoothness.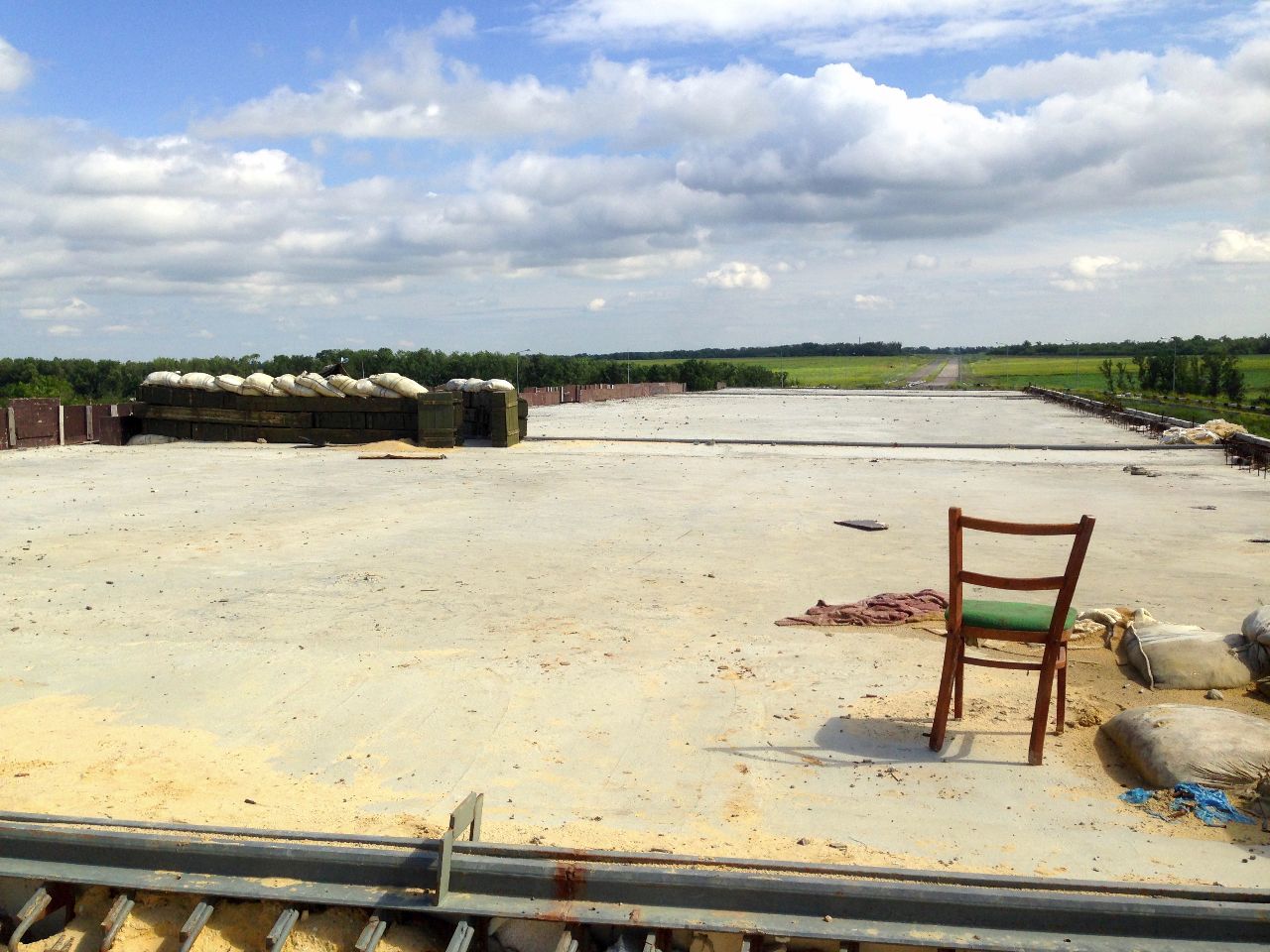 Driving as fast as the Seagull would go, Zhenya knocked back cans of Burn energy drink and smoked.
'You want to go to yellow zone or red zone?' he asked.
I said red and asked him to tell me about Right Sector.
'We know what we want! We – don't – eat – children!' he said patiently. 'We don't fuck grandmothers! In our battalion we save 99 per cent of our casualties.'
Right Sector has a troubled reputation. Having started up in the Maidan protests as a fringe coalition of ultras – street-fighting football fans – and nationalist groups, it has been credited with clinching the Maidan's success by its willingness to take on President Yanukovich's violent riot police, especially on the protesters' exposed right flank. But since then its militant statements and publicly thuggish behaviour have made it Ukraine's bogeyman. Russia has tirelessly publicised it as the dark heart of fascism in Ukraine, denouncing it and demonising its members in the terms that Zhenya was mocking, and Western media have categorised it as alternately ultranationalist, neo-fascist, neo-Nazi, anti-gay, anti-semitic and racist. Whether the labels are accurate or just lazy journalism tinged with a liberal sensitivity to far-right politics, they have caused a considerable deficit of sympathy for Ukraine.
Zhenya has been a member of the battalion for nine months. He told me, 'I don't analyse, I live with events. Our government is weak. Too many politicians and businessmen still have interests with the sepas (separatists). The government needs Right Sector to remind it what is important.' He had read some of Ayn Rand's novels and admired her libertarian views.
The Seagull stalled as we slowed for the next checkpoint. Zhenya pumped the ignition. 'You know, Right Sector's relations with other volunteer battalions and regular army troops are good. Right Sector fighters are ready to take risks, to take the front line, like they did at Donetsk airport, and to be blamed when regulars are ordered to hold their fire.
'A Ukrainian army officer told me,' he said, '"I like Right Sector. Arms, legs, bodies, all go to the target."' Its fighters were fearless and relentless, and only the army staff held it in contempt because it flouted the defensive line and the ceasefire.
The Minsk II ceasefire of 15 February 2015 established a line of contact between Ukrainian government troops and Ukraine's pro-Russian separatists. Heavy weapons with a calibre above 100mm were supposed to be withdrawn to a distance of at least twenty-five kilometres either side of the line. Although politicians in Kiev and Moscow, and in the EU and USA, have continued to express belief in it publicly, the ceasefire has been regularly breached, and recently the breaches have intensified and become more aggressive. The chief obstacle to its success is that the separatists – with unlimited weapons and ammunition from Russia – have apparently nothing to lose and everything to gain by continuing to attack government positions and wearing down Ukrainian morale.
As you get nearer the front, the country, like the road, empties. A calm, beautiful evening drive turns cooler and shadier, the light goes orange, and after the third checkpoint, near a lake where boys are diving off a listing jetty into gleaming black water, an eerie silence falls.
At the fourth checkpoint the Seagull's engine stalled again. Zhenya called as he pumped the key, 'Remember us? Our shit engine is our password,' and the soldiers laughed and waved us through. For the last dozen kilometres the road – before the war, this was the highway to Donetsk – was muddier, with earthworks that made us weave (it was not a road to hang about on), and tank and self-propelled artillery tracks stamped into the tarmac. A burnt-out Ukrainian tank with bunches of pale flowers tied to it sat at the side of the road, split houses and punched roofs were increasingly visible, and a man in a wheelchair raised his forearm and fist in a gesture of solidarity as we passed.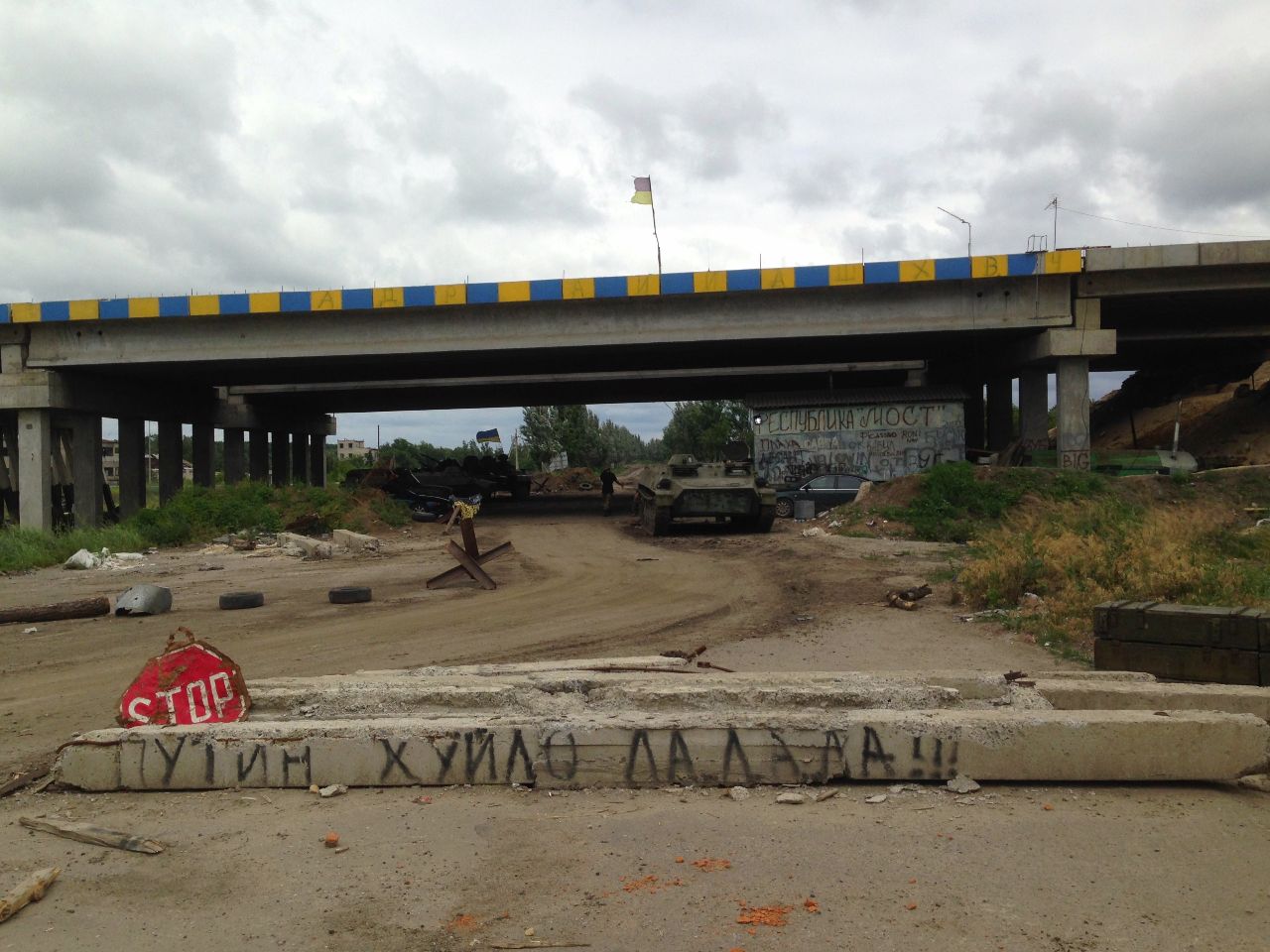 We didn't drive into Pisky but stopped outside it, at a position known to its inhabitants as the Republic of the Bridge. We parked between a Land Rover Discovery with a holed windscreen and an elderly BTR (armoured transporter). A newer BTR flew a Ukrainian flag and pointed its barrel down the willow-lined road towards the town.
Almost immediately we heard mortar and machine gun fire. They stopped after a couple of minutes, then started again. I hadn't expected the eerie silence of the road to the front to last, but was surprised to hear gunfire so soon. The Republic of the Bridge, which gets its name from its location at an unfinished motorway bridge on the road to Donetsk airport, has many of the things a republic needs. Its anthem, spray-painted on concrete slabs at the approach, is the famous chant 'Putin khuilo – da da da' ('Putin is a dickhead – yes yes yes'), and its institutions are well organised and defended. Under the bridge's reinforced concrete roof, holed here and there, are a command post, living and sleeping quarters and food stores. Around it and on the roadway above are observation and firing points and dug-in positions.
By force of circumstances, it is an improvised republic. The police battalion in charge of it, Dnipro-1, is a volunteer formation and the rusty truck trailers in which they live – along with their weapons, uniforms and vehicles – are a mix of the scrounged, the self-purchased, the donated and the seized. Right Sector's Hospitaller groups are also stationed at the Bridge in similar makeshift conditions (the area as a whole comes under the control of the Ukrainian Army's 93 Brigade). But the Republic has fresh water, pets – dogs and a hen – and a robust spirit: having founded the place, its citizens are determined not to yield it. Dnipro-1 recently placed itself under the control of the Ministry of Internal Affairs, and soon afterwards some strategist told the men at the Bridge to pull back: after Donetsk airport was lost it was decided that the front the Bridge was part of, along with Pisky and Shakhta, the salients on either side, was more trouble than it was worth. All three places are absurdly close to Donetsk: at Shakhta the position held by Right Sector and 93 Brigade is no more than 150 metres from Donetsk's main railway station. But the volunteers of Dnipro-1, determined to cling to autonomy and Ukrainian territory, refused to withdraw.
93 Brigade was not a part of this dispute, and the army's line was still well forward of the Bridge. As the sun set, elements of the brigade started to arrive: a truck full of infantry, followed by the deafening squeal of tracked armour, tanks and self-propelled howitzers that peeled off towards their evening positions. We took cover as a Dnipro-1 detail detonated two defective anti-tank mortars close to the Bridge: a silence, then a constricted bang that abruptly expanded into the large, deep sound of explosive emptiness.
Within half an hour there was a battle under way, the breathy thudding of tank shells followed by heavy machine gun fire to the south and accompanied by radio voices getting the range of the sepas' intentions and locations: 'Further right, further right!' 'Plus plus!' ('Okay, good').
The Hospitallers based at the Bridge were not there, so we drove back towards the fourth checkpoint to look for them at another position. They weren't there either, but on the return journey, as we drove fast and without lights, tanks materialised out of the darkness, loud, blind and stopping for nothing. Zhenya just dodged them.
The Hospitallers finally returned just before midnight and Frieda and Jane, the group's doctor and paramedic, concocted supper of salad, tinned meat, pasta, cheese, salami and cookies. We sat round a wood fire in a tin box in an indescribable dust and mess as the artillery boomed over Pisky, and while we ate and Frieda, tall and a little distant, told a not very good joke about a rabbit, a squirrel and an owl, automatic grenade fire started from the woods like a quick, deep coughing and shells fell closer, making the trailer and bridge shudder.
Jane, a gentle woman with dark cropped hair who had been a journalist and philologist in Kiev before the war, offered me black or green tea. I asked her why she had joined Right Sector.
'The army wouldn't accept me, and I didn't want to write about this war, but do something about it. It's historic.'
I asked Dan, the group's self-defence rifleman, the same question. He said, 'I wanted to do something for Ukraine and I don't think the government's doing the right thing. It's a war about truth.' He showed me his grenades, on which he had written 'LOVE' in felt pen. I asked how many languages he spoke. He said, 'Ukrainian, and the language of the occupier.' Neither he nor Jane called themselves nationalists.
I went to the Hospitallers' trailer, where on the brown wall a graffito said in Ukrainian, 'Hi, strange creatures from under the bridge.' Jane was making up a bunk for me with clean sheets. I thanked her, and forgot to ask where she was going to spend the night. I was asleep within seconds. I woke at 3.30 a.m.: artillery and grenade fire were continuing. I listened for a while and slept again.
Day two
Birdsong and bright sunshine: the second Hospitallers' group arrived from Shakhta (the name means 'mine') in a 4×4 with its back window shot out: Zoya, about twenty-five, apple-faced and smiling, with the appraising look of a doctor; Guru, older, bearded and ascetic; and pink-cheeked Lissi from Lviv in west Ukraine. Lissi was their rifleman. His reason for volunteering was the same as Dan's, that he didn't like the government's conciliatory strategy. I said to him that Russian-speaking east Ukraine was completely different from west Ukraine, and didn't the separatists have good reasons for allying themselves with Russia? 'It's all Ukraine,' he answered.
The group smoked and chatted and collected their food supplies, and Zoya said they had to leave before it started raining: driving fast up the muddy Donetsk bypass, which was essential to outrun the snipers who waited along its last two kilometres, was suicidal in the wet.
They left with Zoya, in yellow goggles and brandishing her AK-47, laughing and barking out of the pickup's back window like the family dog. Firing started again from the south. As the rain held off, traffic through the Republic of the Bridge built up: donated 4x4s with European plates (Latvia, Spain, Poland) and customised Ukrainian cars without bonnets, some with steel plates welded over their windows, some flying Ukrainian flags as if on their way to a carnival. The Republic felt like Rick's Bar in Casablanca ('Everybody comes to Rick's') meets Mad Max 2: The Road Warrior. Characters emerged from the crowd: the Republic's grizzled, singlet-wearing seven-foot chef; the bearded Dnipro-1 beanpole who talked to himself as he mooched about in flip-flops cradling his Kalashnikov; the driver who gleefully jumped the earthworks in his BTR instead of going around them. One volunteer shuttled between the Bridge and Pisky: each time his car was full of cabbages for the soldiers in the town, but with its rear window removed he had also mounted an automatic grenade launcher on its back shelf. His tactic was shoot-and-scoot, and people told me he did a good job of unsettling the separatists. He would find a place where he could take a few shots and draw their fire, then, having made himself scarce, watch to see where the fire was returned from and identify the location for Ukrainian troops.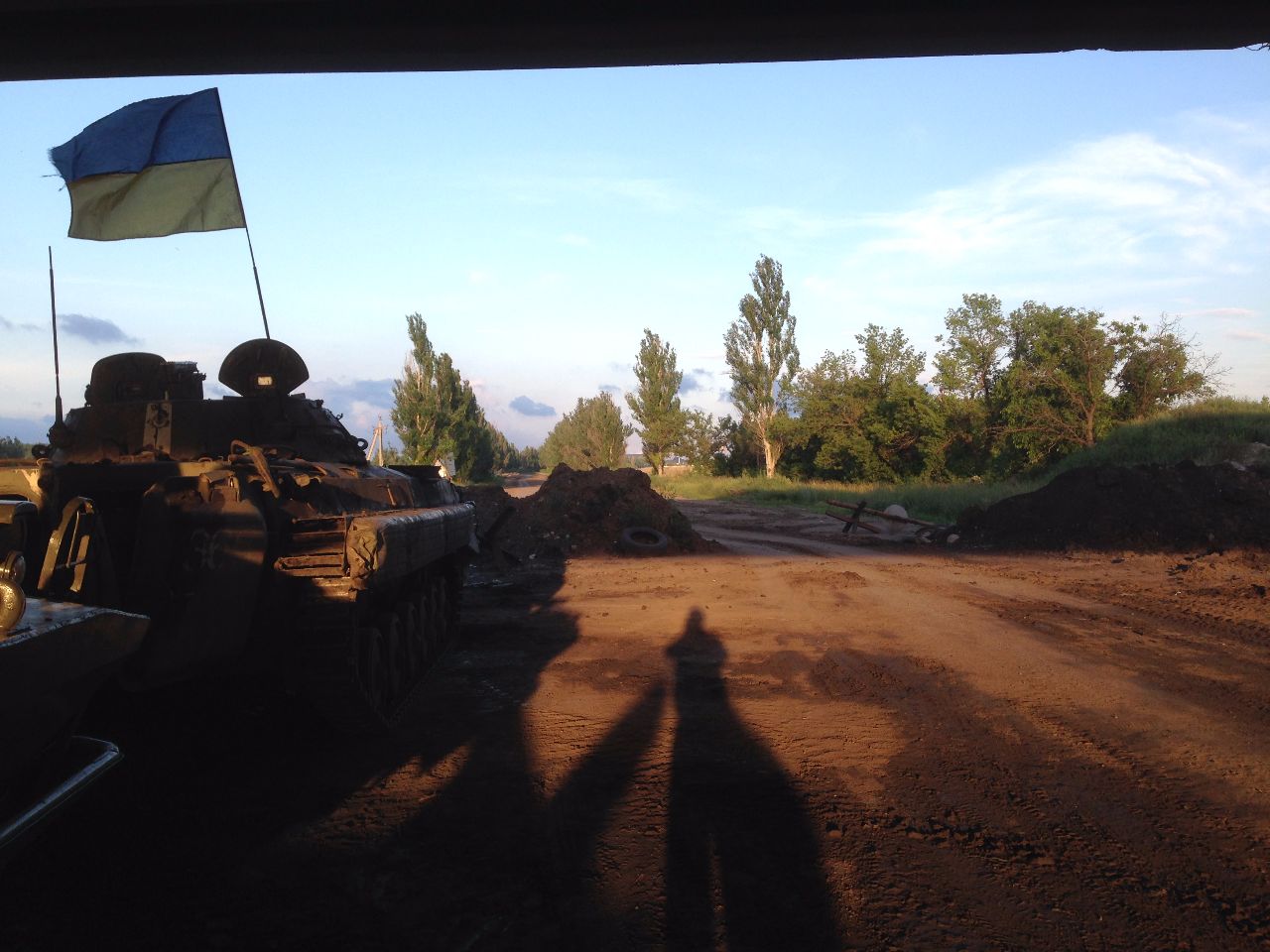 There is no ceasefire on the Pisky front. Instead there is a holding, firing war. Last night the Ukrainian side might have fired first, but who could say that the army was not defending itself against an attack that had started before we arrived? The first shots might also have been fired by Ukrainian irregulars, or by separatists near their own positions, as a provocation.
A Dnipro-1 soldier who startlingly resembled a young Robert de Niro sat down and introduced himself. Kostya had worked in London before the war, making insulating coatings for pipes. He had volunteered a year ago and was now a sniper, on rotation between the bridge and Pisky. I asked where he thought the war was going.
'It's going to be the same for a long time,' he said. 'We've got so much out-of-date ammunition to use, and it's too expensive to recycle any other way.' He produced a perfect de Niro smile. 'Russia's pausing now because it has run out of money, but it will fight again. Wait, fight, wait. But this war is an anachronism: it's the last war of the Soviet Union, and a war against ourselves. See down there?' He pointed back along the road. 'A big pipe there carries the water supply for Donetsk. We won't switch it off, but if one of their shells hits that pipe . . .'
*
The Seagull zigzagged south, avoiding separatist territory, through a Soviet-looking landscape of poorly tended land, collective farm buildings and village streets where time had run away in 1950. And then we were in Mariupol in the evening sun, with its southern-port graces – jetting fountains, bunting, girls on madly wide pavements – and on the far bank of the Kalmius river its strategic jewel: the brown, two-kilometre skyline of the Azovstal steelworks, owned by Metinvest, a company belonging to Ukraine's most powerful oligarch, Rinat Akhmetov.
Ukrainian troops have held the line at the village of Shyrokyne, twenty kilometres east of Mariupol, since February, after launching a counter-attack when the separatists hit Mariupol with rockets as part of a failed offensive to seize the city and ultimately gain a land route from Donbas to Crimea.
Day three
A cool seaside morning among apricot trees and roses. A cuckoo was singing across the street.
As at Pisky, there were two groups of medics here: among them were Taras, a 59-year-old doctor who spoke flawless Italian; a paramedic and photographer named Rizhe; Artist, a rifleman; and Padre, their commander. The Hospitallers are known by their noms de guerre, like their vehicles; I never learned Artist's and Padre's real names.
A white van drove up to the villa's gates and Artist was called, but the van contained only an elderly man and his wife who had once lived in the vine-draped house across the street. The woman wanted to talk: her soft, aged face was crumpled, like decades of kindness twisted into incomprehension, because she could not work out how what had once been true – that this place was beautiful – was not true any more.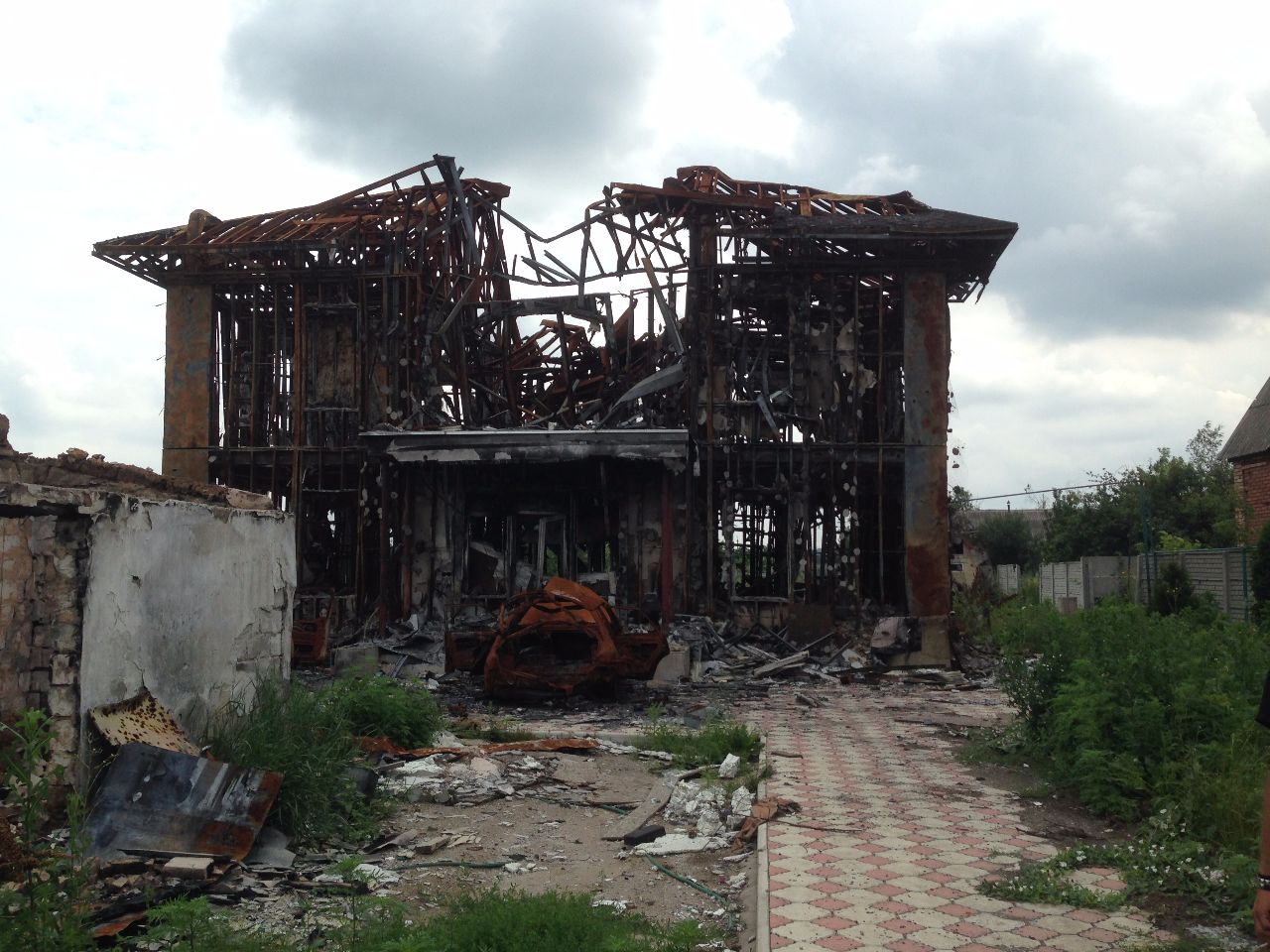 In the afternoon we presented ourselves at the HQ of the volunteer Azov Battalion, whose fighters had replaced the Donbas troops, and tried to talk to their commander, but he sent word that he would not allow access to the front line to 'any journalists not from Ukraine'. He was offended by Western press coverage and did not want his soldiers to have a similar reputation to those of Right Sector. All I could conclude from the visit was that Azov fighters were the best equipped I had seen: they had the newest, best pressed uniforms and the smartest, most freshly painted vehicles in their compound.
Back at the villa, we had water from a well in the garden. We found some petrol for a generator and suddenly had light and Wi-Fi. I noticed that several rooms had big painted or photographed murals of idyllic European scenes: the biggest was a photographic enlargement, covering an entire wall, of the interior of an English conservatory – a jungle of pink geraniums, white wicker chairs, a lace tablecloth.
Zhenya and I sat on the balcony, watching the sea and the house martins swooping in and out of the bedrooms. I said to him, half-joking, that I felt I was on my summer holidays.
'And you don't know when the war will start,' he said. 'You're drinking coffee like this, and suddenly the sepas start bombing. But –'
'It's a beautiful place to be bombed,' we said in unison, although a part of me still did not believe the sepas wanted us dead. It was too unreal.
*
One email in my inbox was from Kostya, the sniper I had met at the Bridge. He wanted to tell me what it was like when the separatists used 122 mm rockets, as they had the previous winter while he was defending Mariupol, and as they had against the Donbas Battalion the night before I arrived, although they are prohibited under Minsk II:
When a Grad – multiple-launch rocket system, unguided missiles – fires at you, a couple of seconds before the missiles hit the ground they fly quite low over your head and make a very specific sound, like a rustle or a whisper. Each rocket's whisper differs from another's. You begin to understand this whisper and know whether they'll fall close or far from you. It seems as if you have a connection to these deadly babes flying over you and gently whispering their words of death. If the clouds are very low, the rockets sometimes leave turbulence and you see their traces. They're like demons flying somewhere on their horrific business.

When the scouts scream in your radio, 'Hole!', it means they have seen the flash of a volley and you have 2–3 seconds to hide. You dive in a hole and soon the ground around and under you starts to jump and moan and all you can do is curl up, put your head to your knees, close your eyes and pray. You're eagerly listening for the rocket's whisper, although you understand that this is self-deception because you can only hear its sound after it has flown past.

If you think about it too long, it's easy to go mad, so you just pray for God to give you one more day, to become better in this life.
Day four
'People want Russia,' Zhenya said. 'They won't tell you that, they'll say they only want peace. Because it depends who's asking the question. They don't want the SBU (Ukraine's security service) coming round and interrogating them. But they want the Russia that they see on TV, that promises them a beautiful road from the separatists' republics all the way to Crimea. Mariupol is about 40 per cent pro-separatist.'
Artist was upset about something, cleaning his AK-47 furiously. After a while he put on full combat gear and went into the garden and fired it on semi-automatic, then automatic for the next half-hour. It did not calm him much. I discovered that Zoya, the brave medic from Shakhta, was his girlfriend, and he had gone a bit crazy at the thought of her being there for so long.
At last there was action. Zhenya had laid siege by phone to the Azov Battalion's chief press officer and persuaded him to let us go to the front. The Seagull laboured up the hill, past a deserted school and empty houses, and raced down the exposed slope on the other side, overlooking the village of Shyrokyne. The first position was just a house with thick walls. A fire was burning: the place was like a garbage dump.
'Is this a good position?' I asked a young soldier with narrow, alert eyes.
'So so,' he said.
Outgoing and incoming mortars were firing. We took cover: the sepas were 400 metres away and they often crept through the green to launch grenade attacks. We drove to a second position, at a more solid building that was manned by more troops. The fighters were eating soup and bread downstairs and we were taken up to the first floor to see the holes punched in the roof and walls. The major damage had all been caused in the last month, the Azov officer told us, by 152 mm SAU howitzer shells. There were several smaller holes from 120 mm mortars. Both were banned under Minsk II.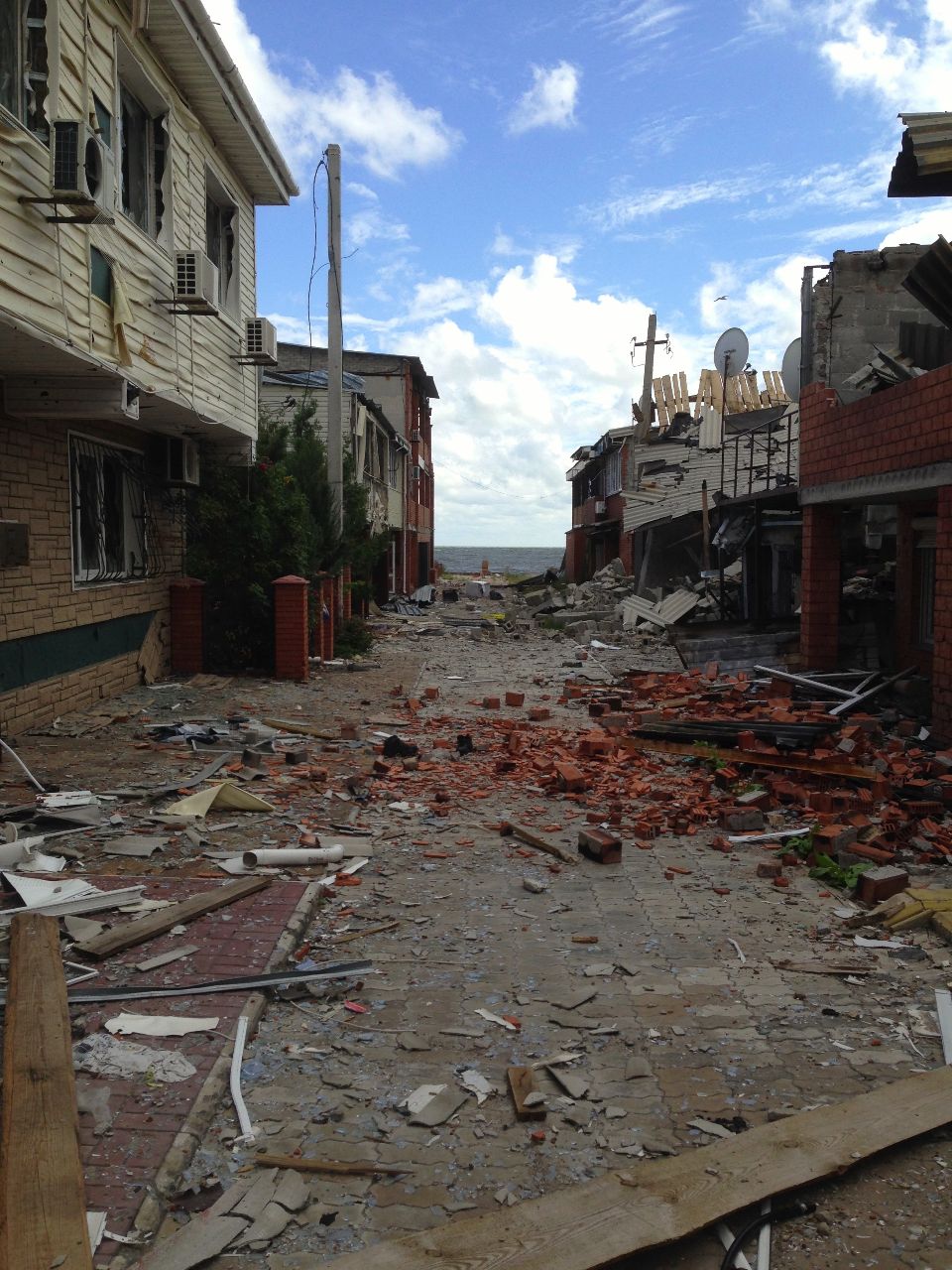 We drove back by the coast road, where we stopped at a holiday village that the separatists had blown to pieces. Street after street of shelled orange-brick rubble leading down to the beach was sinister and depressing. Artist was cursing the world generally ('Fucking big shit!') and the separatists in particular ('Fucking pederasts!'). We drove away. A sharp crack of an automatic rifle fired off behind me. I dived into the footwell. Waited for screams, but only heard laughter. It was Artist letting off more steam. There was no danger. But Zhenya said, 'You never know.' Back at the villa Artist disappeared to sleep off his misery. Rizhe, the paramedic-photographer, surprised me by asking if I was okay. An hour later I crashed out, falling unconscious as though someone had knocked me down.
Day five
For much of the drive back to the Republic of the Bridge I considered the paradox of a stalemate imposed by a ceasefire that was not a ceasefire but a consistent, noisy, shooting war, a using up of ammunition that had been hanging around too long. There are many who feel the separatists got a raw deal under the Minsk II agreement – a view that may be fair (Donetsk city, for example, is on the edge of the ceasefire line and badly exposed) if you accept that the change of government eighteen months ago when President Yanukovich ran away, or Kiev's neglect of the Russian-speaking east, or both of these things together, justify an armed revolt.
But two facts rebel against that interpretation. Firstly, the eastern revolt has been, and still is, directed and choreographed by Moscow. The previous week, at a cafe by a fountain a few metres from Independence Square in Kiev, Vladimir Rafeenko, a Russian-speaking novelist from Donetsk, told me how he had been watching from his church's bell tower (he was also a bell ringer) on the day that an estimated 3,000 pro-Russian soldiers marched into his city. They had split up and occupied it in a tactical dispersal that had nothing spontaneous about it.
Secondly, the alleged oppression of the east is at least as much the work of regional mafiosi and oligarchs, people such as Yanukovich's 'family' and Akhmetov, the 'king of Donetsk'. Akhmetov in particular continues to exert influence: he is not only Ukraine's wealthiest man but also a financier of the Party of Regions and a former parliamentary deputy with, effectively, his own bloc of deputies in parliament. Even in the post-Yanukovich era, whenever he wants to be involved in serious political decision-making, he can make sure he is. Because of them, Donetsk was a very European-looking place of parks, smart shops and cafes when I knew it before the war, while the countryside and the region's mines and industries mouldered; and, as I've mentioned, the quality of the Donetsk oblast's highway network is of astonishing qualiy.
What looks like political neglect is, really, just obscenely corrupt distribution: beautiful roads promote business, and when businessmen let beautiful roads be built (rather than, as everywhere else in Ukraine, using road-building projects to skim huge sums of cash off the agreed tender sum), it is clear that business is in charge of politics. Beautiful roads are the flip side of inadequate schools and hospitals, undeveloped rural areas, freakily dangerous mines and collapsing industrial plants. These social conditions have made a minority of eastern Russian-speakers yearn for the protection of the Russian state and a return to the authority of Soviet values, even though it is their own oligarchs (closely associated with the oligarchs around Putin, engaged in the selfsame activities) who have treated them with such contempt.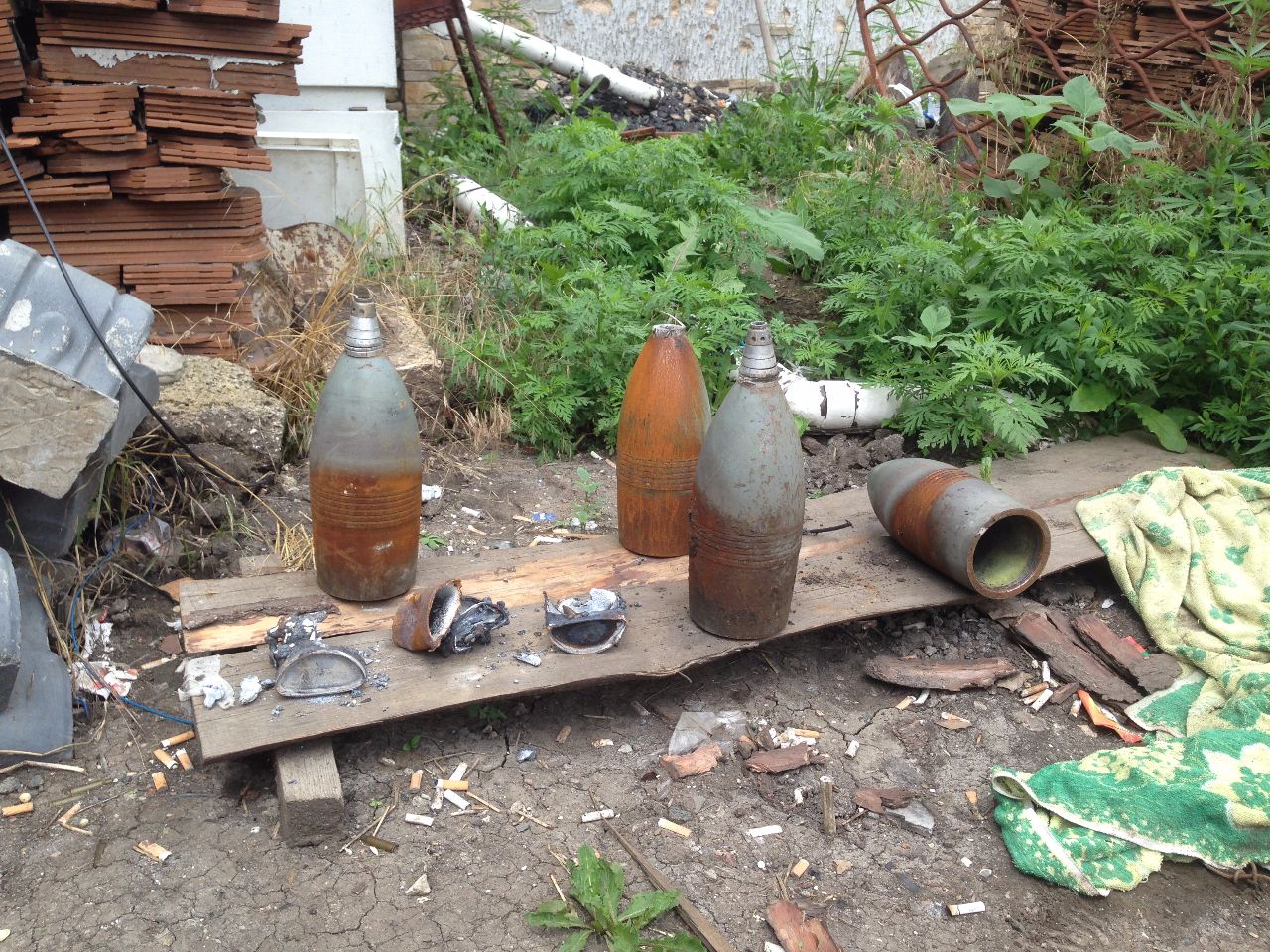 Unexploded 120mm mortars, banned under Minsk II
Among Ukrainians I spoke to, there is a regularly repeated belief that they face two fronts in their country: one in Donbas, against a Russian-backed aggressor, and the other in the Kiev hills, against an unreformed Ukrainian administration that continues to fight its own activists. Seen in these terms, the war in Donbas is a people's war in the widest sense. In this unfolding picture of what kind of nation Ukraine might be in the future, it would be astonishing if there were not groups like Right Sector appealing to those most vehemently hoping for nationhood. Right Sector's claim to be the true seeker for a Ukrainian nation is no less absurd than the government's promise to reunify the country, so long as President Petro Poroshenko's administration remains compromised by – as Ukrainians see it – its conciliation towards its aggressor, its relations with oligarchs whose affiliations are deeply opportunistic, and its culture of control by police and the judiciary: the coercive hangover from the Soviet and Yanukovich years.
In Right Sector's responses to both external threat and internal prevarication there is fervour and romanticism: a passionate intensity that does not quite square with the facts. Yet among the Hospitallers I met I failed to identify a single extremist. They were mainly young, altruistic idealists, not radicals, which leads me to conclude that it is not fascism in particular, but never-ending Ukrainian governments, including the present one, which by their corruption and cynicism that have created Right Sector's extreme elements. Every Ukrainian has experienced their rulers' depravity for themselves. Their country's business and political class (the two are interchangeable) have been treating their nation as a honeypot to empty for its own benefit for twenty-five years. This is at least as much to blame for Right Sector's militant, purifying nationalism as the people who are drawn to it.
*
We arrived back at the Republic of the Bridge at 6.30 p.m.
I was squatting in the dust, up to my wrists in bloody fish, helping Frieda stun and gut a bowl full of small carp for dinner when the mortars came in. Big ones, 120 mm. Three or four behind us fell short, then there was that constricted deep, swelling bang very close to the right of the bridge, followed by a fat question mark of smoke that rose from a dip in the ground there. It finally dawned on me that the separatists wanted to kill us.
Within seconds there was a call for medics: four casualties, then five. Dnipro-1 were already in their Land Rover Discovery, the Hospitallers followed. Ten minutes later the Discovery, its rear door swinging, raced back and away down the darkening road to the stabilisation point.
The firing moved away. The rest of the wounded were evacuated, and for two hours everyone at the Bridge stopped talking. In the silence there were only radios crackling nicknames, firing directions, 'Plus plus!', and the background noise of shelling. Even Zhenya was plunged into silence.
'Who shot first?' I asked him.
He answered angrily, 'I know nothing. Only that these men would rather be doing some other work, somewhere else.'
Life restarted as Frieda, Jane and Rizhe came back, relieved to have done what they could. When a mortar bomb explodes, its casing breaks into red-hot razor-sharp fragments travelling at high speed. If the fragment doesn't kill you, at least the metal is so hot that the wound is sterile. Four of the casualties had mortar wounds in the chest, abdomen or legs; the soldier who was in the Discovery had a serious head injury. He had been taken to the hospital at Selydove. At midnight the seven-foot chef served delicious, battered buttery baby carp scented with woodsmoke, while shells lit up the sky over Pisky.
Day six
8 a.m: We received clearance at last to go into Pisky, with a rifleman and a slim, shy escort from 93 Brigade who wore a bead bracelet that read FUCK U PUTIN and went without flak jacket or helmet.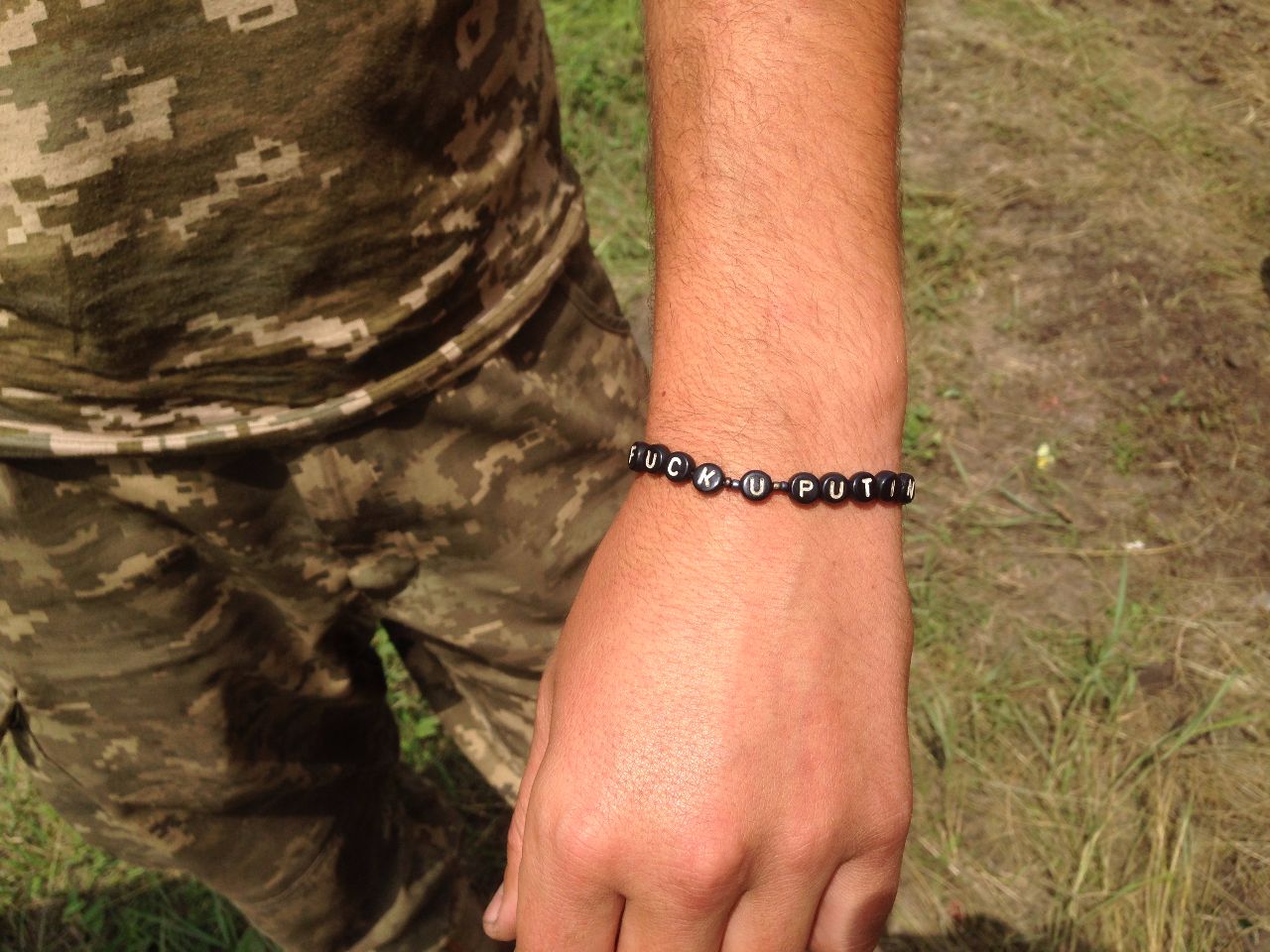 It was a lovely morning to stroll around the prim, small town with its green streets, wooded lakes and lazy, well-off layout – its houses and dachas well spaced, many with sauna cabins and wide porches. Pisky lies just outside Donetsk city, 500 metres from the end of the runway at Donetsk airport. It had 5,000 residents. Now there are sixteen people left, the old and disabled who cannot get away, and it looks the way the suburbs of Berlin must have looked in 1945, every building split or incinerated or half-vanished. The cough of grenades and thud of small mortars followed us. Soldiers materialised from cellars and dug-in positions and smiled and shook hands, and one of them showed us some 120 mm mortars that had fallen on his position and didn't explode. Short of an armoured assault, it is unlikely the separatists can take the town. But the soldiers know that they view Pisky as an affront and that, with an estimated 60,000 pro-Russian troops in separatist territory (at least sixty per cent of them former or serving Russian troops), as soon as the fiction of the ceasefire is cast aside it will be one of the first targets.
We got back in the Seagull. As we drove down the avenue that leads away from the town, the separatists started shooting at us. It sounded like two AK-47s: Zhenya accelerated, weaving, and we ducked as low as we could, hearing the flat sound of bullets passing in front and behind us, about twenty rounds in all. They missed us, perhaps because of Zhenya's driving or because of the Kalashnikov's poor accuracy at more than 300 metres.
At the western edge of Pisky we turned off the avenue and stopped at a singular complex of buildings. These belong to the Russian Orthodox metropolitan bishop of the province, who, it is rumoured, was closely allied with Yanukovich and had helped to get him elected. Recently built in stone and marble on the bank of one of Pisky's lakes and grouped around a sumptuous display of gardens, they are of palatial dimensions, including a mansion for the metropolitan himself, formal reception rooms, another mansion for guests, a chapel and garaging for half a dozen cars. The cars had been driven to safety, along with the metropolitan himself, but in the boathouse at the lake's edge we found his large motor launch still in place, raised out of the water. For some reason the buildings were hardly damaged; they had been left in the care of a single nun, Sister Elizaveta, the gentle-featured picture of a long devotion to her Lord, who smilingly described to me her nights of taking refuge in the cellar before excusing herself and returning with a bouquet of white lilies for Rizhe and glasses of cherry kompot for the rest of us. She had a little amber-haired dog that had a shrapnel wound, which Rizhe fixed with a dressing kit from the Seagull.
At the Bridge Kostya told me that the soldier injured in the mortar attack had died. He said he had something he wanted me to know.
'I took my family to Germany last year, and I saw many wind turbines there so I asked about the economics of wind-farming. I was amazed: the return on your investment starts after twenty years. Ukrainians don't have this mentality. Once they planned up to a year ahead. Now they only look at next week, because they know one Russian rocket can destroy all their plans. Europe doesn't understand that this is its front line, it has forgotten that a single rocket from your enemy can destroy all your plans.'
So there is no ceasefire in Donbas, and there is no hope of a ceasefire; a ceasefire is just a convenient fabrication for a holding war in which neither side is willing to push forward for now. This is for reasons which have very little to do with making war and a great deal to do with the oligarchs on both sides, and their political representatives, making money. (Who eventually controls Mariupol, the home of Rinat Akhmetov's Azovstal, is just one case in point: in a future federal Ukraine he would undoubtedly prefer it to be in the separatists' territory.)
The ceasefire only continues to be referred to as such so that the noise of shelling cannot be heard in Washington, Berlin, London or even Kiev. Ukraine's war with Russia, and Ukrainians' conflict with their rulers, can then continue to be treated as an internal conflict, in which no outside nation is involved. In this fictional atmosphere, some Western correspondents have talked about how Ukraine's appetite for the bloody fight necessary to win back the Donbas region is waning. But I saw repeated evidence to the contrary, evidence of deep determination not only to beat the aggressor but to take the fight to a Ukrainian government making too many concessions and remaining self-interested and insincere; evidence that where Putin originally assumed he could divide and rule, there is now a much greater chance of his connecting and failing, as Ukrainian- and Russian-speakers take up arms against all sorts of oligarchy, regardless of perceived linguistic or ethnic lines.
In the meantime, among the chaos and bloodshed and resolve there remains a group that continues to plan a year ahead or more: the group that has always planned ahead a year or more. It is represented in the current scenario by the pair of 40-tonne trucks Zhenya and I saw rolling west in tandem on our way back down the pristine highway to exit the Donetsk oblast. They were grey, sober-looking, clean, unusually well-maintained for Ukrainian HGVs – and had the Akhmetov name blazoned on their sides.
Photographs courtesy of the author