Takakino
Cracking like two eggs
in a single bed
playing all
of Born to Die
off a fat desktop computer
with no internet.
Making ourselves upset
over the things that make us
girls: Bambi eyes, black bikinis
and all the boys who were either
too skux or too stoned
to text back. Upto next?
Skulled two bottles
of 10-dollar Kristov.
Necked on in the park.
Carked it in a random flat.
Yeah we really showed each other
the tukutuku patterns
on our upper thighs. Cried.
Made a blood pact
with a broken wine bottle
in the gutter.
The most magic and urban
of awa.
I cut her
like a master carver.
I was forever
treating her
like she was a precious piece
of rimu but
blunt and waka blonde
she cut a little too deep
and nearly comatose and rolling
I lolled and lolled and lolled and nearly
bled out on the street. Wobbling
like an oasis. The lights had us
blinking like shot does.
When we got stopped by the cops
well that was so hot.
I loved everything about it
the certain way she made everything
feel fictional and lowkey
that's still my favourite way to feel.
Where are you two girls going?
On our way home poaka!
If home meant wherever
we could get in.
In the random bathtub
we woke up in actually
that was the worst night of my life.
The specific way
my mother looked at me in the morning
with all the mauri evaporating
from her eyes I couldn't even cry
but it changed me.
How did it change you?
And tbh the glitter
of broken cars on lawns and
tagged-up playgrounds
were losing their lustre anyway
and my lust for it.
For a while
it seemed like everything
we touched
seemed to erode a little.
We knew it and yet
it still hurt
to be called destructive.
Each time we reached out,
our fingers stained green
with cheap, stolen rings,
the whole world recoiled.
It was hard to be good.
It was hard to be loyal.
Can I Still Come Crash at Yours?
We were only girls then iti iti iti but already we were pretty little putiputi
growing high amongst the weeds and already we had trained our eyes to pick
them out.
You know da ones. Air Force 1s, slacker jeans, jaw of the whale, bandanna
bunny tails. We wanted them to pick us too. Spent afternoons in our
classrooms praying for them to come thru and satirise themselves. Press their
noses against the glass. Make the teacher racist and the eggs laugh. Yeah
we loved those flash hulking diamonds, the best of a bad bunch who, despite
the purple fruit punches, the sunny nights, the salt-and-peppered eyes, the
police hospitality and the Māori brutality, the AI reality, ripped bodies and
ripped copies of Kanye West my bro, my dark twisted fantasy, an iPod with
one working headphone, no working dad at home, who were so haati and
ngāti, such wholesome wonderful liars, who honestly seemed to glow
like those plastic stick-on stars which in the daylight look like 2-dollar shops
and bad taste, but in the dark, on the first beds we ever made for men just
like our mothers, shoulder to shoulder beneath their second-hand Star Wars
covers, palms over their hei matau, they shone almost like the real thing and
we were astrologers, drawing dot to dots and making connections where there
weren't any. Casting our ships full of wish into the sky.
Our eyes rimmed in raxxed Maybelline would widen and soften and rage
and welcome, just like the ocean. We felt watery with understanding that we
were yet to understand but we had vague notions, and enjoyed going through
the motions of boiling pork bones and vermicelli and braiding or shaving
their heads on the stoop during the buzzcut season. Swooping in on their soft
babyboi locks 4 matching heart-shaped lockets and our love spells. Chanting
with our hands across our hearts that we did not hope to die but hoped to live,
the simple life, of endless American reality TV shows and a couple of chubby
kids cos we were down to be wifeys, rolling up and refreshing the ashtrays and
the bottles, practised at handling them gently like lovers on a laminated table.
So we exchanged vows, not to them but to each other
that every day we would wake up and put our makeup on just to watch them
play GTA and exclaim proudly This is how bad girls do it! From Cape Reinga to
the deep blue south! Marry up and spend our days just swanning on the couch.
Real Fitzgerald type shit. Ka mau te wehi. So,
like very good girls we prioritised those boys in their fake Gucci sweatshirts,
so genuine, so brainless, we would tell each other we loved them only faintly
aware it wasn't true and on the nights we all crashed together marae stylez
gazing up at the same stickered roof I turned to you. The empty Tui winding
down on the floor, the clock stuck on midnight. Your eyes dilating like big
twin moons. I pass you the smoke. You fill up the room.
Photograph © Jessica Tobiason
---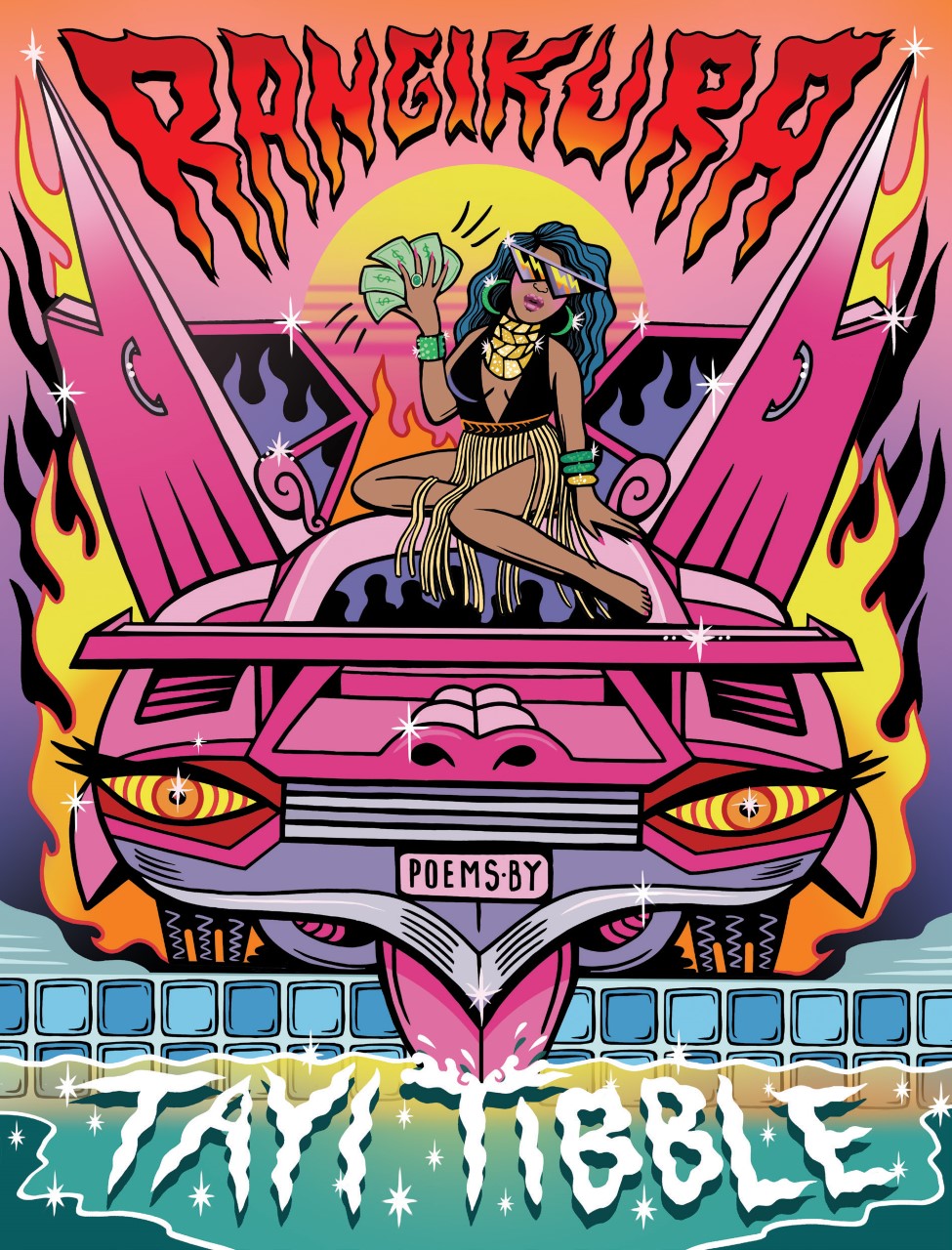 These poems appear in Tayi Tibble's second collection Rangikura, published by Victoria University Press on 10 June 2021.