Losing the Game of Meaning on Social Media
Let's just do the most recent one. There will be another by the time you're reading this. There will probably be another one by the time I've finished writing it.
On 11 August 2018, in response to a video entitled 'I Am a Zionist', Baroness Jenny Tonge, a peer in the House of Lords, wrote this on her Facebook page:

A few days later, my attention having been called to it by one of my Twitter followers, I wrote: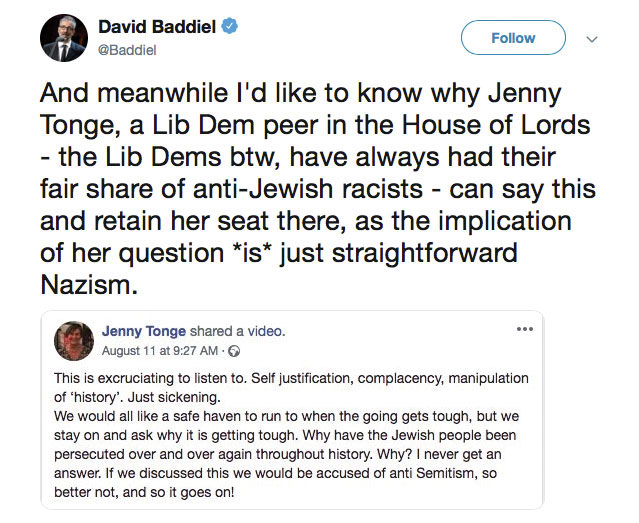 Sorry – before we go any further – about the screenshots. Sorry, in fact, about the first of what will be many 'X posted this, so I posted this, and then Y posted this', but this is what social media, particularly Twitter, is. It's a conversation: a much more aggressive and polarising conversation than most that take place through speech – although I get the sense, from anger I have seen on the streets recently, that the aggression on Twitter is bleeding out into what one can still just about call 'The Real World'. Very little is said on social media that isn't a response to something else, and thus it's the final proof of – I'm in
Granta
, a safe space, I assume, to say this – the post-structuralist idea that utterance only has meaning in relation to a continuum – a network – of other utterances. Actually, I have no idea if that is a post-structuralist idea – I haven't been in academia for a while – but it sounds like it. Which would be enough for Jacques Derrida.
Derrida would also be down with the idea that the meaning of an utterance, as soon it's out there and being refracted through other utterances, starts to slip and slide. He'd be overjoyed, for example, to discover that my post contained errors. Tonge, I was immediately told by various people, is no longer a Liberal Democrat. So I posted this: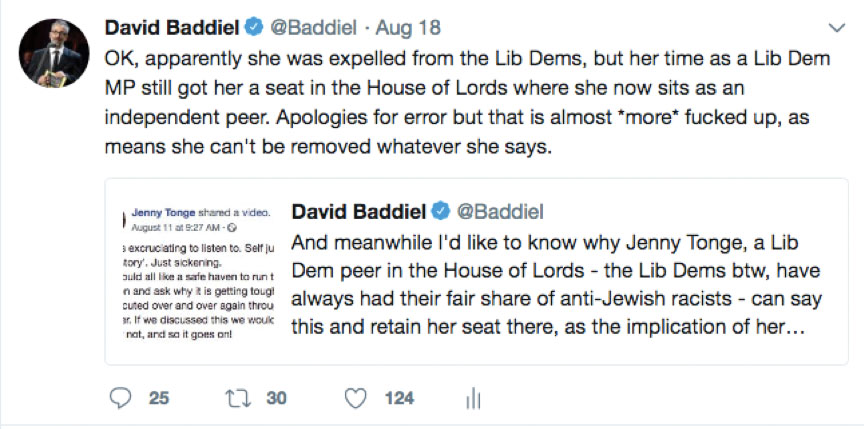 But then that turned out to be wrong too, as @NobodyNorman then told me. So I retweeted his tweet:

Despite all this refining of detail, people continued to tell me that Tonge was not a Lib Dem along with other information about her political history that you might have thought those three tweets would have cleared up. That is because – for anyone who doesn't do Twitter, and I suspect the exhausting opening to this piece will not feel like an invitation in – most people will only see one of these tweets and react to it immediately without bothering to check my timeline. Which is why, in Ricky Gervais's words, posting on Twitter can feel like fucking Groundhog Day.
In fact, here is one such example:

To which I replied: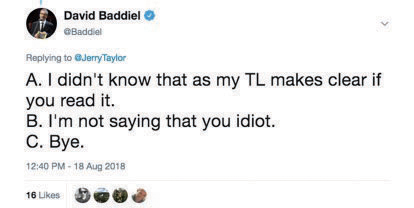 To which Jerry replied (before I'd had a chance to mute him, which was the point of C, above):

To which I replied:

There are other elements you need to know to understand the context of my reply here – Twitter cognoscenti will see that I've quoted Jerry's tweet here, in order to bring it to the attention of a wider audience, and Twitter cognoscenti will also know that I am regularly bombarded with hate tweets from the lovely new Labour Left – but I think we should leave it there, although we will have to come back to Jerry's central point, about tribes.
By 'it', I mean the digression. The more eagle-eyed among you may have noticed that I've so far failed to talk about the issue at the centre of this piece: the implicit anti-Semitism within Tonge's original post. That's because I think all this backstory, all these addenda, help to understand the complexity of what you might call right and wrong in 2018. I tried to highlight a wrong in Tonge's post. But then very quickly got drawn into a series of battles over a different, failed wrong, which distracted from the far greater wrong inherent in the not-any-more-Lib-Dem's message. One possibility would be to ignore those diversions, but I find this difficult, I reflexively want to answer everyone who writes to me on Twitter. This is a bad urge, as disregarding about 90 per cent of what comes in in response to tweets, especially tweets on the subject of Jews, can definitely be a good option. However in this case, dealing with the digressions felt right. Because if someone is saying something deeply wrong, deeply untrue, then, in calling them out, it's your responsibility to get everything right, to hold your utterance to a higher standard of truth.
So let's try and do that. Tonge's implication in her question about Jews – 'Why have the Jewish people been persecuted over and over again throughout history. Why?' – is that there must be some reason for this, and that the fault lies with the Jews. It's what we now call victim-blaming, although that isn't a term that, say, Adolf Hitler would have been familiar with when he claimed, in Mein Kampf, that the Jew 'was only and always a parasite in the body of other peoples'. (To find this quote I went to a random chapter of Mein Kampf – available, of course, freely on the internet – and put 'always' into the search engine because the one thing I know about anti-Semitism is that the anti-Semite believes the Jew never changes, which is the reason they might have been persecuted throughout history.)
I knew in advance, because Twitter has conditioned me to second-guess people's responses, what the challenges to my tweet about Tonge's post would be. I knew some people would tell me that Tonge's post – which has a silence at its heart – does not say that Jews are responsible for their own persecution. It simply puts forth a question about why:

This was the first tweet of that nature that came in, and is carefully worded so as to put some distance between Luke and anti-Semitism. He does this in two ways, first by the implication that Jews are naturally clever and successful – ironised nicely by the smiling emoji – and secondly by suggesting that Tonge – 'that lovely lady' – would not agree with that explanation. By doing this, Luke is positioning himself as a philo-Semite. I replied: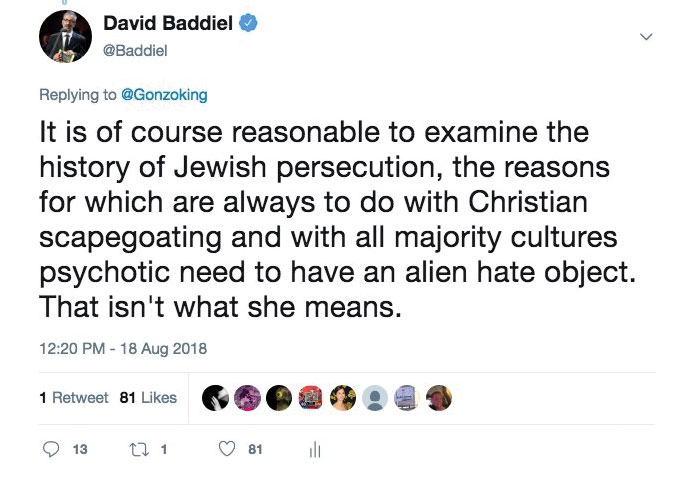 I wrote this reply because I am not a philo-Semite and I think that assuming that the reasons for Jewish persecution lie with Jews, even if those reasons are 'good ones' associated with a perception of Jewish success, is wrong and dangerous. Luke, although clearly not a bedfellow, joins hands with Tonge when he imagines that there must be a Jewish reason for Jewish persecution.
Another tweeter agreed that the reasons lie outside and are imposed on Jews, but didn't necessarily assume that Tonge couldn't have meant this: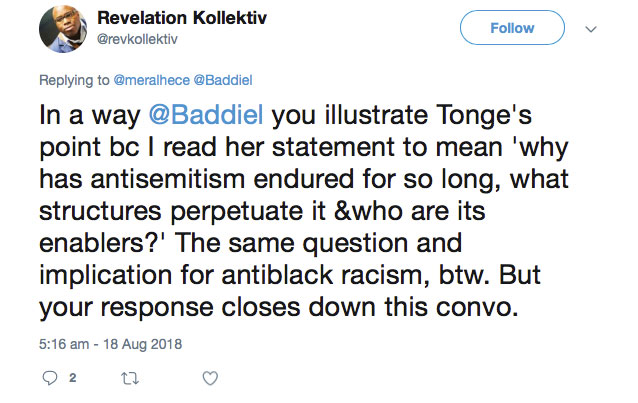 This tweeter is a person of colour, or at least presenting as such – remember, all online utterance is deceptive. That's interesting as the idea of blaming people of colour for their own persecution, by ascribing to them eternal and unchanging negative traits, would of course be anathema to anyone, such as a Lib Dem (sorry, ex-Lib Dem) with progressive politics.
I replied, quote-tweeting my previous reply: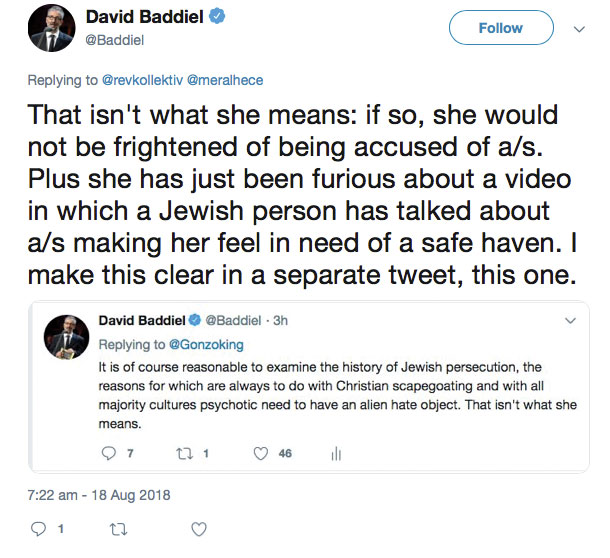 You may notice that I repeated the phrase 'that isn't what she means' in my reply. How do I know that? That the question Tonge says she'd like answered is not one about the psychosocial power structures that perpetuate racism against Jews but:
what is that the Jews do – always, eternally, throughout history – to make themselves so eminently persecutable?
How do I know – to ask a rhetorical question – that Tonge's question is rhetorical? That this answer she so desperately claims to want is in fact one she has absolutely at the ready?
---