Between the two windows in my sitting room is a boxed-in radiator that provides a little shelf. One day I placed a vase of tulips there. They're the orange-red kind that make me think specifically of this time of the year – March, and April, right before the yellows and purples and shoot greens of Lent and Passover and Easter. They were a friend's favorite tulip color. When he died in 2007, we put a picture of him sitting at a table next to a bunch of these tulips on the cover of his memorial program.
The light on the shelf, side and backlit by the two windows, is even, but dim. I find myself using it as a sort of altar. Placing things on it that I want to contemplate and look at. Because that's what I'm doing a lot of; looking around the interiors I occupy, the corners of my occupied apartment.
I moved here nine months ago. It has a separate room for my daughter, is walking distance to her father's apartment. Despite getting rid of a lot of things in the move, the place is cluttered. The rent is high.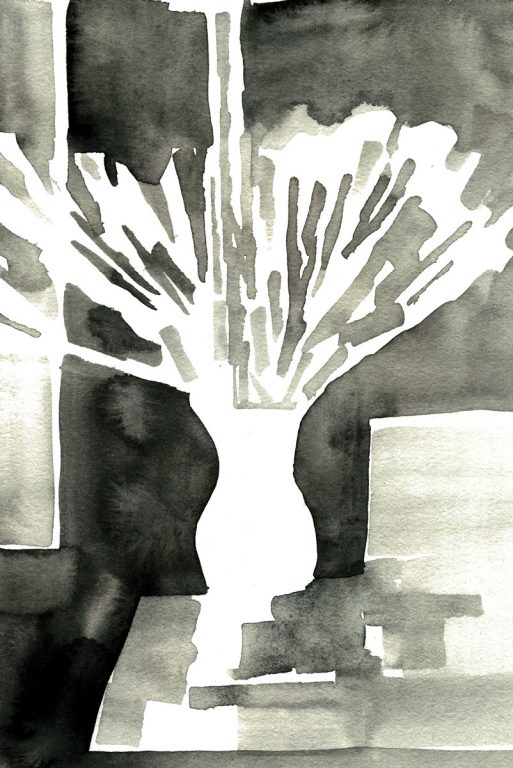 There is a wooden chair by one of the windows. I found it on the street, years ago. The south-facing window is one of two that don't require child guards because they overlook the fire escape. I sit on this chair when I talk on the phone. From this chair I've laughed with my brother, argued with a lawyer, told somebody to stop calling me. From this chair I have prayed, and wept and worried. From this chair I filled two copper planters with soil I ordered online, tucked seeds and herbs into them and hung them on the fire-escape railing. Later, I found the mint and parsley plants torn up and scattered by some critter.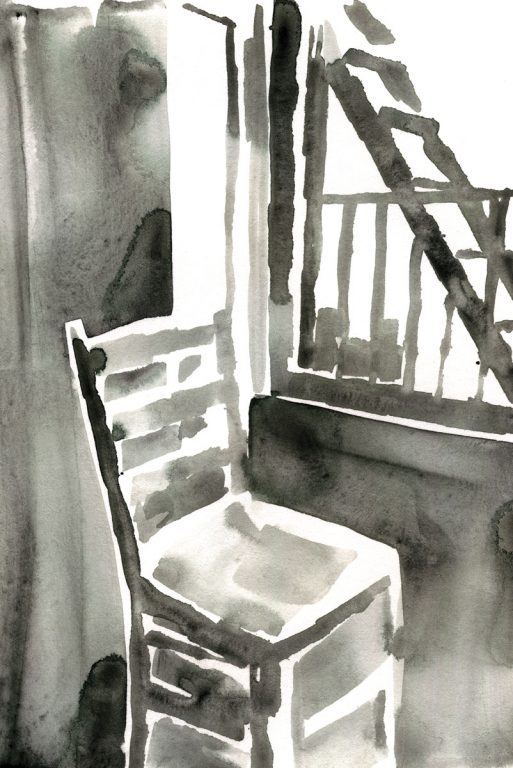 On a shelf in the northwest corner of my bathroom there is a pitcher and a small wooden model of the HMS Titanic. I made it for my daughter, when she became fascinated by the tragedy. While she read a children's version of the story, I read a large illustrated volume published in 1994, after the wreck was discovered and photographed on the ocean floor. I found it at the Goodwill and bought it when I noticed that my friend's father, a naval historian, had written the foreword. I read details I didn't know about, that still stay with me. I didn't know about the makeshift morgue that was set up at the Mayflower Curling Club rink on Agricola Street, Halifax, Nova Scotia, for the 328 bodies recovered from the Atlantic. The local undertaker, John Snow, called for the help of every embalmer and undertaker in the Maritime Provinces. They came. A rabbi, Jacob Walter, identified as many Jewish passengers as he could, and separated them for internment at the Baron de Hirsch Cemetery. There is a picture of the tidy rows of canvas cubicles in the rink. Each cubicle enclosed three coffins.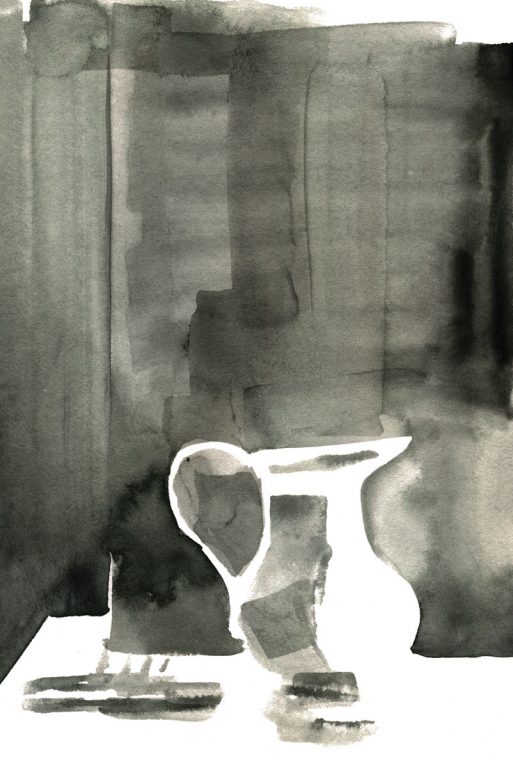 The walls of my bathroom are gray. They were painted that way when I moved in. The only thing I've hung on them is a framed still of Monica Vitti from the movie Modesty Blaise. This was a prop from one of my books that I like to see in periphery, when I'm doing anything resembling grooming. Grooming occupies less and less of my time now, so I look at Vitti instead of at the mirror, at her posture and poise. Wonder what it's like to be an actress and have some control over how people perceive you.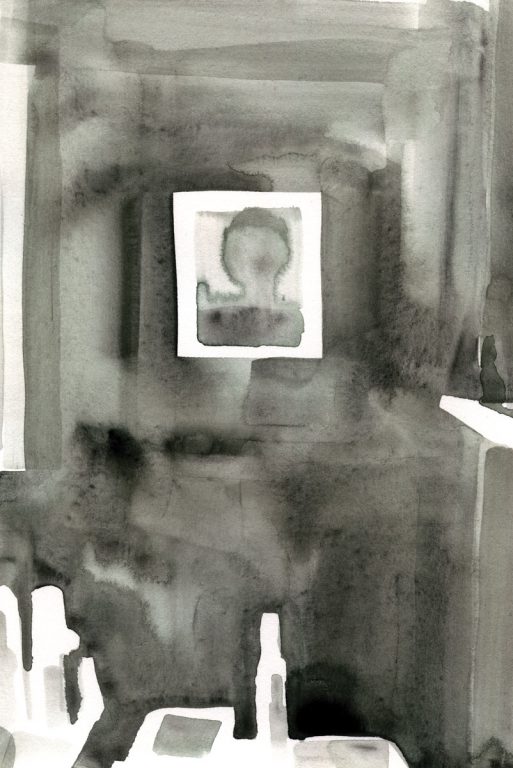 On my daughter's birthday at the end of February, I bought a bouquet from a flower-arranging school. It included roses and carnations and magnolia and pussy willows. Eventually the flowers shriveled and fell, but the pussy-willow branches have lasted. I've kept them in a brown vase, in the room I use as a sort of foyer but is probably meant to be a dining room, and they've stayed furry and glossy. The mail piles up beside them, and books I'm intending to read. There is an empty vase I haven't put away yet, next to the branches. It has been there since the birthday party, when it held bright daffodils. The mothers of my daughter's friends said the party had been a success. There was a lot of screaming and jumping on my bed (which is two single beds pushed together), drinking of iced tea (girls) and Lambrusco (parents), and eating of sandwiches and cakes (though one little girl ate an entire plate of celery). I included little rainbow-colored atomizers of hand sanitizer in the girls' loot bags. Also tubs of fluffy slime. I wondered how much viral spread was conducted through and by the popularity of slime, and if hand-sanitizing slime could be invented.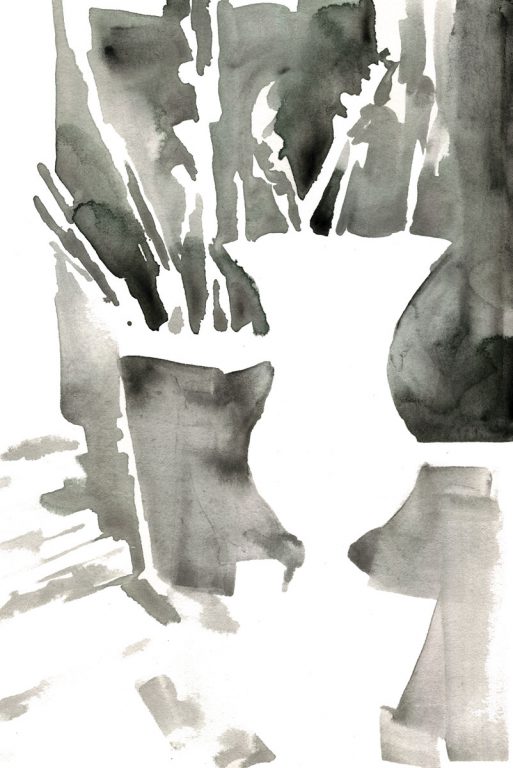 There is a round table in the corner of my bedroom. A television actor and I found it on the street and carried it up four flights of stairs. It wobbles, but I made these paintings there, after stuffing some cardboard under its base. There is a chair next to the table that I never sit in. It's wicker and very comfortable, but it's covered in books, papers and clothes. When I wake up I like to stare at the wall behind the table. It's blank and I plan on keeping it blank. As the light falls in the evening the shadows make the wall feel like a sand beach, smooth, from dark to almost dark.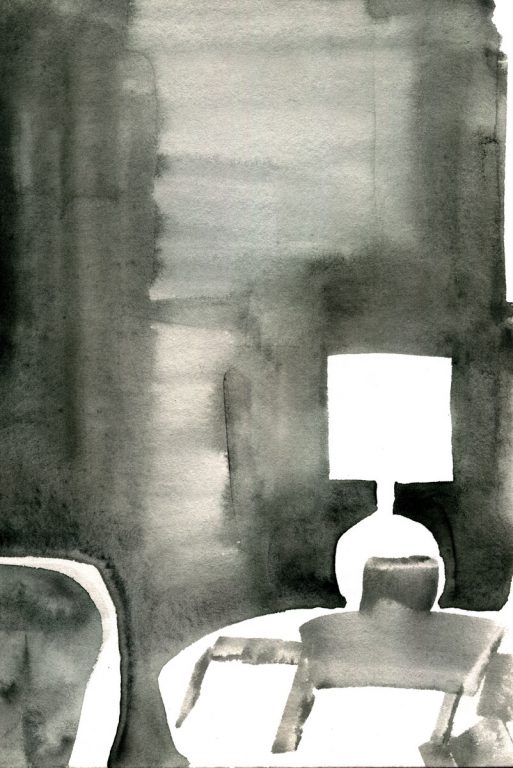 I've placed a lot of things on the mantle above my non-working fireplace. But the thing I keep displayed wherever I live, and the thing I like contemplating best, is a postcard of the Loch Ness monster. It's propped against a 1959 oil Vanessa Bell painted of her granddaughter, Henrietta. I bought the postcard in Edinburgh when I was a guest of the book festival in 2013. It's a grainy, mass-produced photo. The credit says that it was taken on 19 April 1934 by R.K. Wilson. I saw this image as a child and liked staring at it in my book of unexplained mysteries. As a swimmer, its suggestion of depth chilled me, and as a photography student its inflection of myth and proof intrigued me. I still love its ambiguity and weirdness. Its spookiness. A neck and head, a graceful, inverted tendu. Ripples, concentric, wrinkle around it. The grain is fuzzy blurry high contrast. It's a gestalt – the perfect silhouette of uncertainty.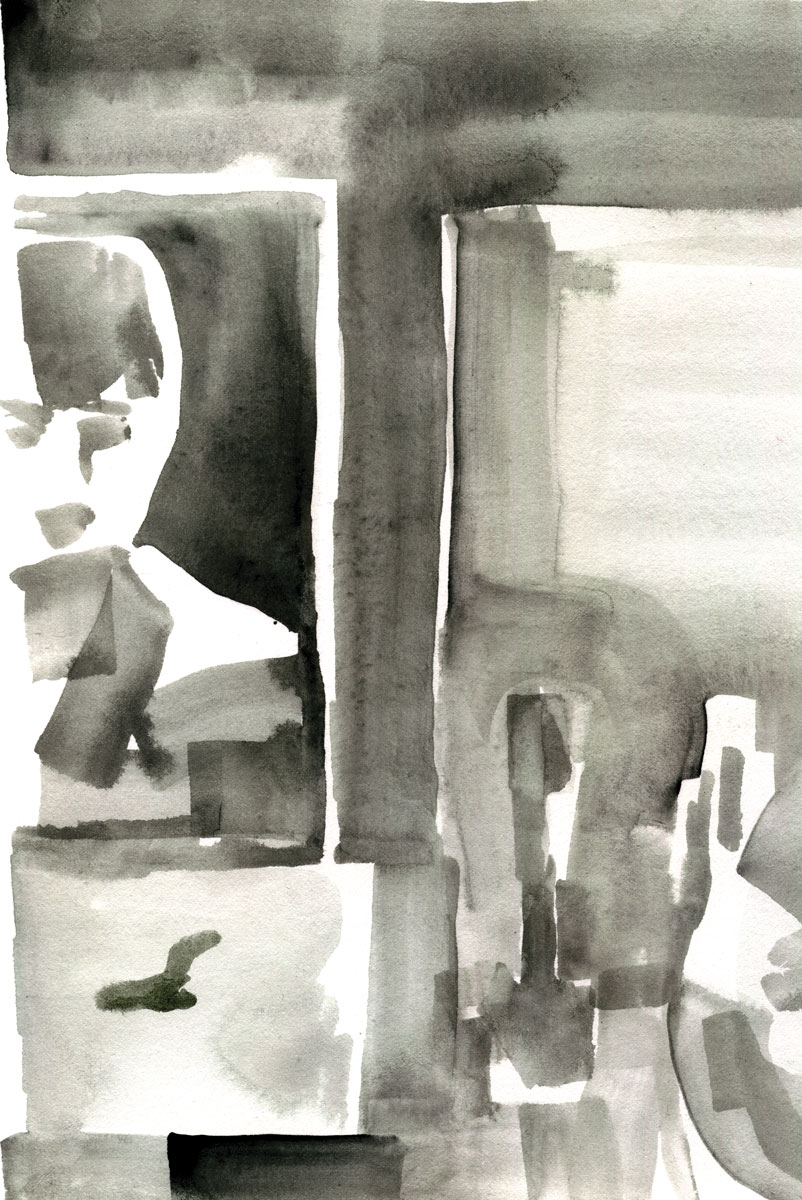 On the other side of the shelf between the two windows sits an old cube weight that was once used in the Watson Library department of book conservation at the Metropolitan Museum of Art. It is a brick or block of some kind, bound in green cloth tape. It is one of my favorite things, not just for its physical properties: weighty, worn, useful. But also for its purpose: used to bind books, hold down pages, keep covers open. It's like a little green drawbridge or crowbar of literacy.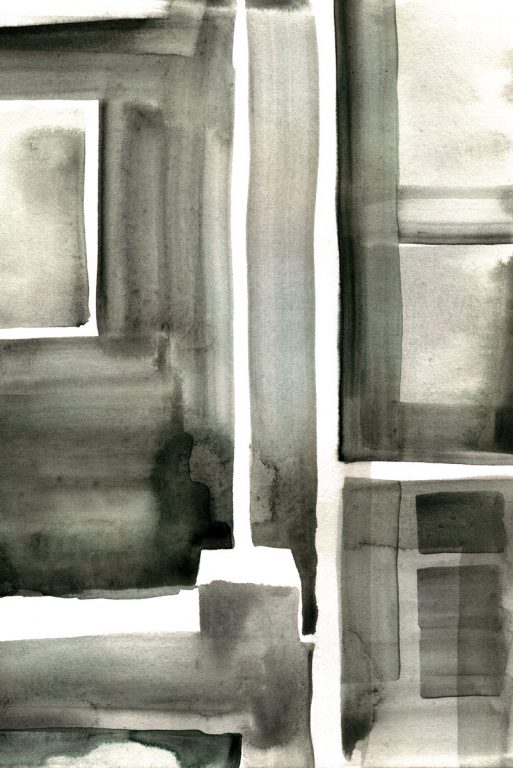 A wooden Pinocchio doll is propped against a heating pipe in my daughter's room. It belonged to the same friend's father, the one who wrote the foreword to the Titanic book. When his father died, I encouraged my friend to photograph his dad's Upper West Side apartment before it was dismantled. It was like a museum of naval history: posters for the SS Normandie, King George's luggage tags, embarkation notices from the RMS Aquitania. Ship models perched on windowsills, and paintings of ocean liners covered the robin's-egg-blue walls. There were also framed card hands from poker games played with his children, a green corduroy lap desk, stacks of fedoras. My friend borrowed my tripod and we spent an afternoon photographing everything in situ. The last room to shoot was the study where a small camera obscura looked over a desk covered in papers, batteries, stacks of coins, Post-it notes. A pair of wooden shoe forms sat in the non-working fireplace. My friend emailed a few days later. The subject line read: Après nous, le déluge. His father's apartment had been flooded by a major leak. Water had poured through the ceiling lights and filled the rooms.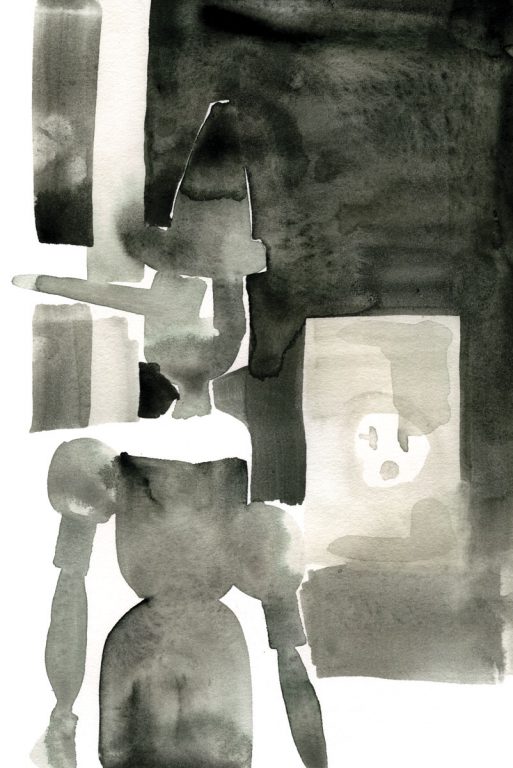 When I was little I was afraid of the Pinocchio story. It was so complicated: Geppetto and the cricket, the kidnappers and boys turning into donkeys, but the gravity of how lying can deform stayed with me. I've thought a lot about lies lately. The lies politicians tell, the truth health officials obfuscate. The denial, the lies I tell myself: that I won't die, and that no one I love will die and, with a sort of covidfreude, that I don't imagine anyone I despise dying. After my daughter's birthday party I watched, in succession, Contagion, World War Z and Death in Venice. There is a scene in World War Z: in order to exit a building full of zombies, Brad Pitt's character Gerry has to inject himself with a terminal illness. The zombies only eat healthy flesh so, presumably, if Gerry is dying they won't touch him. Like the zombies need life, lies need believers. I think: lies (and liars) feed on people who believe them. The virus has found people whom we never believed would die. Gerry has to inject himself with a fatal disease – essentially kill himself – to escape the zombies who will feed on his health. Is the price of living through a pandemic accepting death? It's as though we need a strong death drive, Freud's Thanatos, to survive. We need the virus, and to understand that its inevitable toll will include us, in order to escape both denial and the virus. My logic is clouded by the shock of one friend's death, and another in hospital.
Gerry makes it out by infecting himself with something like smallpox.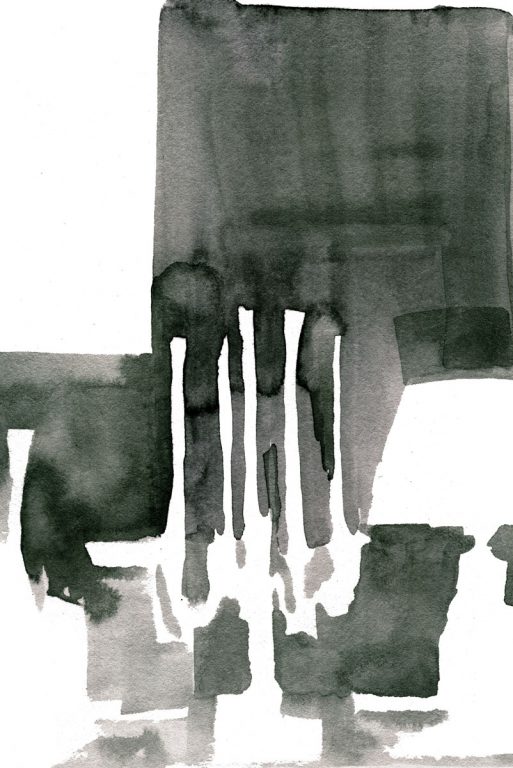 Next to my pink slip-covered sofa sits a lamp on a square side table. Its base is green, a perfect and pale sage green. The green has some yellow in it, which keeps it from being medicinal. It's almost leafy. The lamp strikes me lately as faultless, beautiful and upright – a paragon of lamps, through these foul and pestilent congregations of vapors. I switch it on, lay my head on the armrest and curl my daughter onto my chest, to read her (and her doll) Judy Blume novels that I loved as a child and that shaped – through their pre-war hallways and lobbies, doormen and parks – my dreams of New York City.
Judy Blume is one of the reasons I live here now. I also read my daughter stories set in Toronto, the Canadian Maritimes and Prairies, hoping they'll pluck a chord or inadvertently set a future course.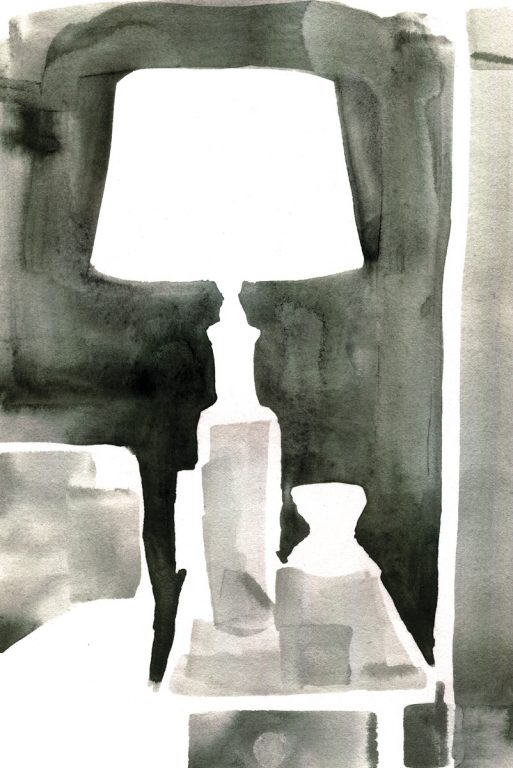 On my bedside table is a water glass, a pair of reading glasses and a mug that I superglued back together when it broke. It holds a pencil and two pens.
On the back of the table, stenciled in pale yellow paint are the words: hotel st george. I got the table at a yard sale in Northern Westchester, so it likely came from the former Hotel St George in Brooklyn Heights, opened in 1885 and expanded upon until 1930. By the thirties it was the largest hotel in New York and featured a rooftop nightclub and an Olympic-sized saltwater indoor swimming pool. It's now a jumble of spaces: student housing, the residential St George Towers, a subway concourse.
At night I dream of swimming.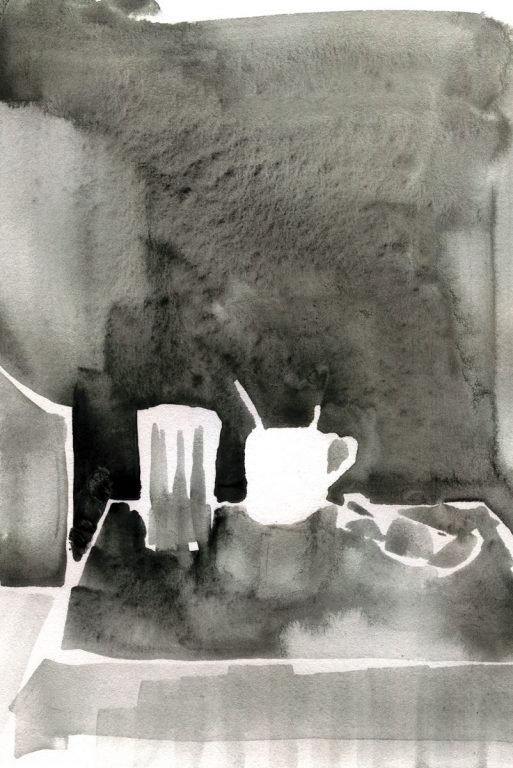 In early February, my friend stayed with me for a few nights. She slept on the sofa. I was glad she was happy on the sofa, because I loved hearing her move around in the morning, having her come talk to me in my bed about everything we could think of. I loved lending her a belt and a coat she liked to wear to a reading, I loved when she spoke to my daughter as if she were twenty-nine. I offered her tea on the first morning. She was surprised I didn't make coffee at home. I explained that I was bad at making coffee and that getting takeout was part of my routine. For the duration of her stay, after her morning shower, she went out to get us lattes. A couple of weeks after she left, a package arrived. It was a white ceramic pour-over and two packages of paper filters. A note read: Buy nice ground coffee. Use the enclosed scoop to put one level scoop of coffee (per cup) in the paper filter. Pour water over top. You will enjoy the coffee. X. The coffee shops have long since closed, so I have used her gift every morning. I have enjoyed the coffee.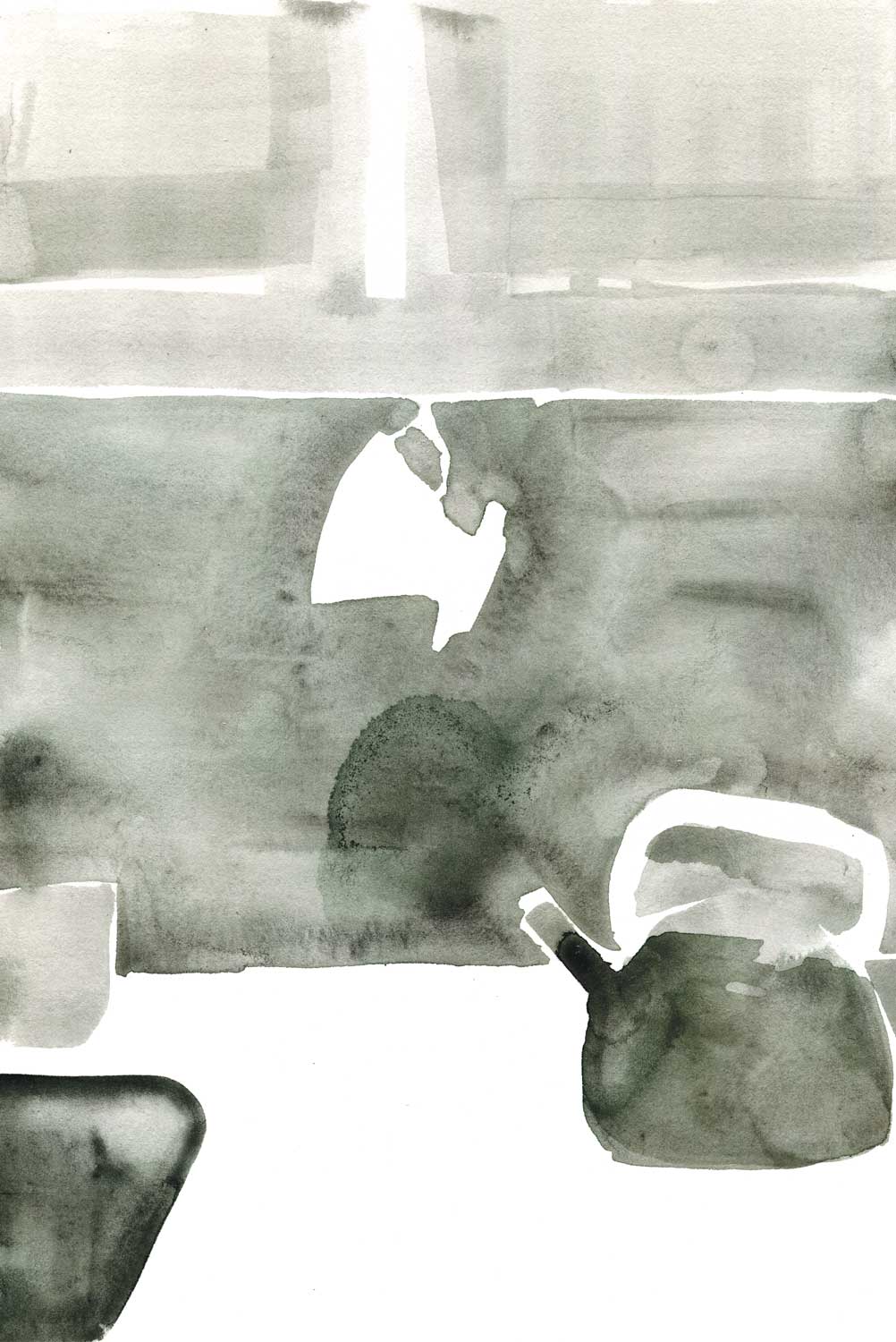 All artwork © Leanne Shapton