Even the gods can't avoid fate.
Under the crossed-out word, a response by another hand, in another color:
Unless the gods are men.
Found on a wall on the Paseo de las Estatuas,
Colonia Centro, Mexico City, 2025.
Before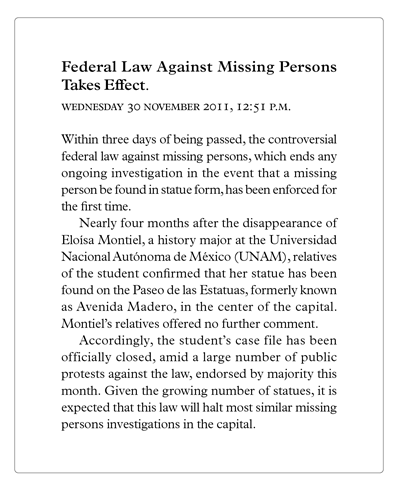 After
Two encounters on the Paseo de las Estatuas
(formerly Avenida Madero), 2025
Life moves along as routinely as it does on any Sunday. Only one person can be seen. Statues fill the entire avenue; they cover the pavement once meant for cars. Their presence paints the space gray. Gray: the mood in the air, like a graveyard, a shipwreck, like rubble. Figures of men, women, even children, all of them standing, their assorted outfits made uniform by the color of the stone. There are fat ones and thin ones; some are unusually tall (the old man with the mustache, nearly seven feet), some can only see the others' chests, their rigid necks don't allow them to look up.
There's a man, standing in front of a statue of a woman in a dress. She's a little smaller than he is, and thin, so light, he thinks, she almost seems to float, though she clearly can't. He wouldn't be able to pick her up even one inch from the ground. How much could she weigh? A ton? He imagines the short, loose-fitting dress ruffling in a breeze of bluish wind, the brilliant colors he's sure once adorned the fabric. He imagines the skirt, in that waft of air, lifting just a moment to reveal a bit of thigh, how her youthful skin must have quivered. He imagines the elusive warmth of what no longer is. The man looks at her and thinks, only thinks, of touching her; he intuits the texture under his fingertips: slippery, cold and stern.
I've been dreaming of this moment since I was a kid. I would tug on your hardened skirt and it would turn to cloth; a lock of hair would slip down your forehead. Your stare so piercing, I'd freeze in place. Your eyes – sometimes brown and sometimes blue – would blink, and you'd give me the most beautiful gaze I've ever seen, either dreaming or awake.
From inside the lull, I would become aware that something wasn't right. My eyes were dry, I couldn't close them. I'd start to panic; I'd try to move my arms and run, skip, anything. Impossible. But you'd blink, and my silent scream suddenly turned into pleasure again, I didn't need to close my eyes anymore; I wanted to look at you forever. Solid already, I became the one you adored.
I had that dream a thousand times as a teenager. I lost it for a while, when I lost myself, too, in my wandering; but now, here, I remember it as though I'd dreamt it last night. One significant difference: I could touch you in the dream. It's not that I can't here. You're closer to me than a lot of things are, but you're like a museum statue here, thousands of years old. It would be like touching something sacred. I reach out, pull my hands back before they touch your stone skin. The magic of an instant: This is the Moment. The Meaning. Mana.
The man almost expects the statue to respond to his inner monologue. He avoids blinking, as in his dream, for fear of missing something. Stone and flesh face to face in the same immobility. If it weren't for the colors, it'd be hard to tell which one was breathing. Such is the perfection of the statue.
His eyes narrow. He knows in that instant he's in a state of complete awareness, which almost never happens, but which allows him to sense and perceive things he normally can't: vibrations, signs, responses. That's how he senses now, even before it's visible, another presence approaching. The stillness is broken. The look on the face of the woman who walks up behind the statue expresses surprise: she wasn't expecting anyone. Those who are able to look at each other, do, and frown with their supple lips.
Now
Sofía
Is she drunk already? She doesn't think so. Though maybe. Very possibly. When the once vague desire to kiss Ulani moves further into the realm of possibility, the answer tips toward an emphatic yes. She's drunk, and it's dangerous. Control yourself, Sofía. Before Sofía's thoughts can go much further, Ulani returns; she starts sitting down, but instead leans in to kiss her. Sofía has no time to think about anything but the texture of her lips.
'There are lots of people here. Should we go to your place instead?' Ulani murmurs softly, a hint of shyness. Sofía's inner voice blares: Absolutely not, say no.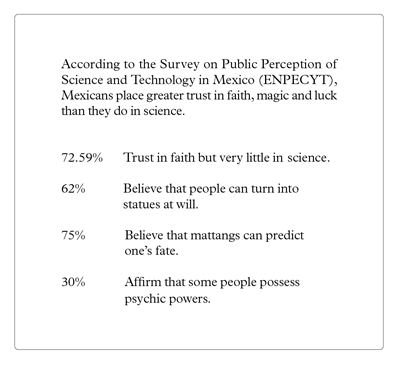 Sofía looks into her eyes: they're green, small, like a sea concentrated into one point. Closer, closer still. Their noses brush, and her field of vision is overwhelmed. They hesitate, not daring to touch lips, but the distance, so small now, is charged with a caress that spreads over their entire bodies. The taste of wine on their breath mingles, and their tongues, timid, glide over unfamiliar teeth. The tangle of their arms tightens as their need becomes more urgent. Their breasts press together, crushed, distorted by the pressure. She feels dampness. She feels that fine face in her hands, as they now navigate downward, toward her small, slender shoulders. Neck, clavicles, shoulder blades, armpits, chest rising, straps falling, cleavage, flesh spilling over her hands. Eyes: a student. Unwelcome moment of recognition, of doubt: This is bad, it's awful, I'm her professor. How old is she? Twenty-three? Twenty-four?
Ulani sits on her lap. She kisses her deeply and sways her hips, lowers her shirt again, which had risen back up, and exposes her breasts, lifted by the elastic band of her top, just in front of Sofía's flushed face. Her eyes take in the brown skin, bristling, the fine hairs velvet to her touch. Her belly tightens, her body becomes rigid, but Sofía can't. She begins formulating exit strategies. She gently takes hold of Ulani, adjusts her shirt. She kisses her, brushes her cheek.
'Forgive me.'
Ulani looks at her, confused, her eyes two green flashes.
'I'll be right back,' Ulani says, and gets up. She leaves a wake of tiare flowers behind that rocks Sofía's thoughts. Ocean under her clothes. The tides of her mind shift toward one view of Ulani: the way she laughed at dinner, the slow choreography of their bodies, the comments she made, so surprisingly witty. Barely more than a teenager. Well, no, not quite that, but a student, yes. What's happening to me, Eloísa? Why did I bring her here?
'I'd like to talk through some things that I'm not clear on, about the relationships between women in the tribe you mentioned today.'
'Sure. Why don't we meet during my office hours?'
'Actually, I was thinking we could go somewhere closer to your place, so you don't have to waste your time on the commute.'
My professional filter quit working, and I could see her: her brown skin, her green eyes, that slightly crooked smile, standing in front of me in the faculty lounge. I don't know if what she said qualified as flirtation, or if she was simply asking me out. What do you think, Elo? No one in the department knows I'm a lesbian, at least I haven't told anyone. Is it obvious?
Sofía throws back what's left of her wine and pours more. She hesitates for a moment and doesn't fill Ulani's cup; she's on her way back from the bathroom already, cheeks newly washed. She sits back down in the chair and holds out her hand.
'Did you do this?' She's brought over a small framed drawing.
'A friend of mine did.'
'Why are you keeping it in the bathroom, collecting dust? It's really nice.'
Sofía is surprised; so many years on the wall have turned it into one more invisible object in the apartment, the kind she has learned to ignore.
'I'll tell you another time.'
'Ah, so we will be seeing each other again.' Ulani shoots her another slightly crooked smile and takes a drink from the only cup that isn't empty.
---