'Did you see that video that went viral a couple of days ago?'
I wanted to fall asleep drunk on pleasure. No such luck. On this earth, there's always a well-meaning voice that wishes you the worst: a return to sobriety. She persisted. 'It's on almost every phone in the country. Apparently a channel even began to broadcast it before it was cut off . . .'
No choice: I came back, then, to my room, where the scents of sweaty underarms and cigarettes floated around us, but above those, overpowering them, the strong trace of sex, of her sex. A unique signature scent – I would have recognized it among a thousand others, the scent of her sex after love, scent of the high seas, spilling from a censer in paradise . . . The dusk deepened. The hour had passed when we could claim to know what hour it was. Night.
And yet fragments of outside voices refused to fade: here was the scattered choir of an exhausted people who had long lost the taste for sleep. They were talking, if you could call it that – sentences with neither start nor end, unfinished monologues, interminable dialogues, inaudible murmurs, booming exclamations, unlikely interjections, brilliant onomatopoeias, tedious nocturnal sermons, pitiful declarations of love, obscenities. Talking. No, definitely not talking; they slobbered sentences like greasy sauces which dribbled out with no regard for meaning, intent only on expelling themselves and dispelling the silence that would have been death to them: silence, the terrible silence which would force each of them to see themselves as they really were. They drank tea, played cards, sunk down into boredom and idleness, but with a semblance of class, that hypocritical elegance which passes off impotence as a choice that some nobly call dignity. My arse. Into each sentence, each gesture, they threw all the weight of their existence, which weighed nothing at all. The scales of their destiny didn't budge. The needle still pointed to zero, nought. The worst of it was that this fight to the death didn't take place on a grand stage worthy of its stakes, no: it happened in the immense anonymity of the sandy, filthy streets, plunged in darkness. That was just as well: they'd have all killed themselves if they'd been able to see each other. It was already sad enough this way. They kept waiting. God only knows what for. Waiting for Godot. For the Barbarians. For the Tartars. For the Syrtes. For the Wild Beasts to Vote. God only knows who for. It seemed like each time they laughed, they sent something up into the air, a distress beacon that exploded. Some people admire them for it: Look at those brave folks! They laugh despite it all! They defy death with their faith in life! Honour in poverty, et cetera! And we feel for them. We elevate them. We erect majestic, noble statues. Personally, I say only put up statues for the dead, for heroes, or for tyrants. These night-people, they were simply wretched. Did I have the heart to unmask their illusionary courage?
'Did you hear me?'
'Yes, you were talking about the video.'
'Ah! So you've seen it?'
'No. I don't know which video you're talking about.'
'Why did you say "the video", then?'
'I don't know. Just a reflex.'
'You weren't listening to me.'
'No, not really, I'm sorry. But I did hear you say "the video". Which one?'
'Wait. I've got it here.'
She left the crook of my shoulder and looked briefly for her phone, which had gotten lost earlier between the pillows, sheets, blankets and clothes scattered on the bed in the urgency of love-making. She returned to my chest. The bright light burned my eyes for a few seconds as she held the phone centimetres from my face. Soon nothing was visible but the screen.
'We're truly living out the metaphor of our generation. Ours is an era of universal blindness, and this artificial light doesn't illuminate so much as it gouges our eyes, plunging the world into an endless night, and . . .'
'You're such an intellectual,' she cut me off, pitiless. 'Everything you said might interest someone, but I don't understand any of it. Not a word.'
She was lying: she understood everything. In fact, she almost always managed to guess, no, more than that, deduce – yes, deduce – everything that I was going to say from the very first sentence I spoke. Rama. That was her name. An intense and wild mind whose spark so embarrassed her that she spent her life hiding it in public, out of shame or modesty. But it had been a long time since I had bought that pretence. Angrily, I tore her mask away.
'You're lying. You're lying through your teeth. I know you are.'
'No one gives a shit about universal blindness, as you put it. If you can see that the world is blind, that means you think you're not. You can see – are you so sure? Take a look at this instead.'
She started the video, which began in an amateur whirlwind confusion of sound and images: no context, nothing but voices, silhouettes, breathing; the person who was filming was not alone, then; they seemed to be at the heart of a forest of men; the hand shook, the image wasn't clear, but stabilized after a few seconds; the person filming began to speak – it was a man – and he asked out loud, as much for himself as for anyone watching the video, what was going on, but no one answered. He raised his arm a little, so that you could make out more of what was happening around him, and we saw a crowd milling about, numerous, dense. Distant voices rose up: 'To the cemetery! Let's go to the cemetery!'
'To the cemetery? Why?' asked the man. The filming became shaky again; we could feel a change of rhythm, a quicker movement, as if, following the crowd, the man with the phone had started to run.
'Why the cemetery?' he repeated obsessively. 'Why the cemetery?'
Again he got no answer but rapidly pressed on, and soon brusque male voices cried out, 'It's here – it's that one!'
The man filming slowed down and narrated, in a ridiculously professional voice-over, apparently to himself, 'We're in the cemetery – I'm going to get closer so I can see.' Then he pushed himself a path through the gathered crowd, elbowing people (you could hear complaints, loud protests), excusing himself, but continuing to move forward, jostling, shoulder first. Suddenly there was an abrupt movement on the screen, and for several seconds it went completely dark.
'He's dropped his phone,' Rama said to me, 'but it comes on again in a second.' Soon, as promised, we had 'eyes on the ground,' once more, that ugly term; the man filming seemed to have arrived at a place where the crowd was packed too tightly for him to go any farther.
We heard him say something in fear, and he raised his phone above the heads: on the screen appeared, a few meters away, walled around by men, a grave which two broad young guys were digging, armed with shovels, a grave that was already deep, like a large open wound in the earth's flesh, around which, apart from the two diggers, no one moved: everyone seemed frozen, silent, as serious as if it had been one of their relatives or their own body, their own soul that was buried there. The cameraman's hand itself seemed to freeze and no longer shook, the image was steady, without tremors. The two men dug with the delirium of treasure hunters an arm's-length from their gold; one was bare-chested, the other had opened his shirt, so drenched in sweat that it clung to his skin; both were breathing hard. They dug with considerable force; the shovels alternated, full of clay and rage; the ditch widened, deepened, until one of the young guys said: 'That's it!' As if that was the sign everyone had been waiting for, the mob was again seized by a denser, more vital agitation: something monstrous seemed to lie in the depths of the ditch and in the crowd. Cries rang out: 'Pull him out of there! He's rotting already, what a stench! Stinks like sin! Like his mother's pussy, which he should have never come out of!'
Before I could comprehend it, I saw one of the two young men kneeling at the side of the hole, his bare torso plunged in the grave, his muscles straining. A few seconds later he reappeared: first his shoulders and his head, then his arms, before something else emerged, yes, it was indeed the beginning of a body; the ditch digger's hands tried to extract it from the grave, the other man came to help him, they pulled, panted, swore. The figure came up out of the earth little by little, like a heavy chest that had been buried for a thousand years; the crowd gasped with mixed horror and delight, and I heard 'Allah akbar! Allah akbar!' several times; the man filming shouted it too. The two men were still pulling, the thing was almost out; it looked like a big piece of dead wood wrapped in a white cloth; they pulled, a last effort, like the final stroke of the axe before the baobab collapses, and the corpse lurched from the ditch to a deep and inhuman whispering, where frightened exclamations mixed with obscenities and Quranic verses. The unearthed body fell to the ground, stirring up dust; I closed my eyes, seized by horror and revulsion, but the video continued, tempting my morbid curiosity, and I reopened them.
The image was rougher and rougher, jarred by impulses and turbulence. The crowd was moving on, but no longer as a unit. A white spot remained visible on the screen, however, like a reference point: it was the shroud unrolling as they dragged the corpse from the cemetery; the man filming followed the path of the body, he caught up with the men who were pulling it along fiercely and savagely, the dead man was dragged in the dust, the shroud was cast off; you could see that only a thin layer still protected him. A few seconds later, to satisfied guttural gasps, I saw the dead man's naked body, penis protruding; I closed my eyes to escape him, but I only saw him more clearly, dead and stark naked under my eyelids, a pure mental image that stuck to my neurons, exaggerated and granted a horrible clarity by my imagination; I opened my eyes just in time to see the body thrown out of the cemetery with curse-words and thick spittle, then, jarringly, the video ended, or Rama stopped it, I can't be sure.
A few moments passed in silence. Even the voices outside seemed to have stopped. It was one of those silences that you're afraid to either keep or to break, both paths seeming to lead to catastrophe. Something had to be said, though. It was Rama who initiated:
'So? Quite something, huh?'
'Where did it happen?'
'Here, in Dakar. I don't know exactly where yet. But it happened, that's the point.'
I shrugged. I had neither the heart nor the desire to say anything else. My throat was dry, my tongue heavy. My chest beat hollowly. I got up, went to the window, and lit a cigarette. Laughter from outside slowly retraced its black constellation on the sky. I wondered why Rama had shown it to me. She knew that I didn't like to see violence, not because I had a weak stomach, but because I hated the sordid fascination that it stirred in me. The beginnings of nausea hit me, worsened by the cigarette. A weariness weighed me down; I vainly tried to chase it away by absorbing myself in the view of the houses plunged in blackness.
'Come,' she said eventually.
I understood the tone of that invitation perfectly. Disgusted (the flesh is so weak), I tossed the cigarette butt and joined her on the bed. She began to touch me. I couldn't hide it: I was still shaken, uneasy. The image of the corpse surging from the grave knotted my guts. Rama's body felt like a stranger's. I became awkward and clumsy. For a moment, I forgot how to make love. But it was a short amnesia: that memory was coded into my hands, my eyes, my breath, my skin, my lips. It was one of those memories you cannot lose without forgetting yourself. Desire returned after a few minutes, much more quickly than decency would have liked (but I would have liked to see decency against Rama's warm naked body, her buttocks as firm as a vengeful boxer's fists, her small breasts soft and comfortable like handfuls of feathers) . . . I came like a saint transfigured in mystic ecstasy.
To feel a sacred terror before an event, to be profoundly disturbed by it, and then to give oneself over to pleasure right away, forgetting the drama: only a man can be like this, brother to the monster, sister to the angel, in successive moments or both at once. No real decency endures. Or maybe that's just me.
I remember – I was still studying in France at the time – a few minutes after hearing about my mother's death, devastated by grief, I collapsed into the arms of my then-girlfriend. Her name was Manon, and I was with her when my father called. She and I both heard that fateful news that no one on earth wants to receive or knows how to escape. Manon consoled me, pressed me to her chest like a child while I flooded her blouse with my suffering. This went on for a long time. It was winter, a few days before Christmas. The sharp flicker of the cold on my bones, night's black shroud thrown pre-emptively over the world, the melancholy which always haunted me at that time of the year – all of that compounded the grief caused by the terrible yet simple fact: my mother was dead.
I cried for a long time in Manon's arms. And then suddenly, still in tears, in a move that both surprised and horrified me, but was irrepressible, I began to caress her breasts and inner thighs, wanting to undress her. I felt a sudden insane and obscure desire to fuck her like never before. At first, she refused. But who can refuse a little comfort to a man who has just been told of his mother's death? She ended up giving way to me. I don't know if it was from perversity, pity, Christian charity or real love. Or fear? Was she afraid that, blinded by anger, I would rape her? Rape? Did I rape her? I hadn't thought of it until now. Lord . . . I never saw her again after that.
Still, that night, the night when I learned that my mother had died, was also, for me, a magnificent night of passion with Manon. It was a night where pain, infinite pain, mixed itself so closely with carnal voluptuousness that my soul emerged exhausted, almost dead but comforted by what I saw as the foundation of my humanity: tragedy. Or monstrosity. Even in that monstrosity, though, I was only a man, a small, broken, miserable, wretched and orphaned man. I deserved to die that night. I should have died. I would have been happy to. I would have gone to meet my mother.
We were at the very heart of the night. It beat slowly, as if the world would stop breathing in the next few seconds, and us with it. We were going to fall asleep. I was pressed against Rama's back, I nurtured her like an injured little bird. We looked like two small spoons put into a drawer by a manic hand. She was still talking, then, at the edge of sleep. Believe me, it was her specialty.
'What do you make of it?'
'Of what?' I said after a few moments, as my brain started up again.
'The video.'
'I don't really know . . . It shocks me, but I don't know what to make of it yet. I guess he was a góor-jigéen . . .'
She wriggled out of my embrace, turned around, and murdered me with her eyes. Her lips trembled, then loosed words full of anger, 'You guess he was a góor-jigéen? You guess? Who else would it be? Those 'men-women' are the only ones in this country refused burial. The only ones denied both death and life. And you, you don't know what to make of it?'
I kept prudently silent for a few seconds. I could tell from her voice that I had crossed a line. Anything that I said would be used against me. Anything I kept to myself, too.
'No. I don't know. After all, he was only a góor-jigéen.'
I spoke these last words with a certainty and a hardness that surprised me, although I was perfectly aware of speaking them. But then why did I have the feeling, immediately after, that I was the lair of a monster, a monster who would either expel me from myself, or else, and it was doubtless the same thing, imprison me in my own foundations? Why the sense of estrangement from what I had said? I was sure that, in speaking that sentence, I was no longer myself. I had spoken from a communal mouth – like a ditch – where general opinions were buried – though they often came back to life. I was the mouthpiece of old forces which had the power of life and death over me. I did not know my private truth anymore – even the idea of having a private truth, in this case, seemed dangerous. So I had exaggerated my coldness, as though I feared that society's eye would catch me in the grips of weakness. In the courtroom of my bedroom, alone with Rama, I had offered testimony again before my culture, its invisible and weighty presence, its heavy centuries, its billion eyes.
Meanwhile, Rama's eyes, black and angry, pierced me with poison arrowheads. I could almost hear her searching her mind for the scornful words she wanted to throw in my face, the beginnings of terrifying sentences which smouldered in her head, bushfires ready to burn me like a sinner: 'You're such a . . . Do you understand, you filthy jerk, what you just . . . You fat, bald, hetero pig with no . . . You're nothing, nothing, absolutely nothing but a pathetic little . . . Your words are even more asinine than . . .' But Rama wasn't satisfied: the sentences suffocated themselves in her anger, still too feeble for the pyre she wanted to burn me onearching for words, she slid into a more formidable state than brutal irritation: cold anger.
'Sometimes I ask myself,' she said eventually, 'what I'm doing with a guy like you. I just don't get you. Most of the time, you're sweet, open, sophisticated, even sensitive. And in one fell swoop, bam, you're free-falling into the most crass and imbecilic idiocy, like you're flying into turbulence. In the end you're like the others. Just as stupid. But at least the others have the excuse of not being university lecturers, supposedly enlightened thinkers. It was only a góor-jigéen, after all, right?'
She repeated the phrase with ironic outrage. I opened my mouth to reply. She didn't give me the chance: in a flash, a slap cut off my desire to speak – smack! – igniting a painful fire on the left side of my face. She hit fast and hard. Even though I was desperate to rub my cheek, I made it a point of honour not to, since, after all, I was a man. Rama had already turned her back. She would be angry with me for several days and wouldn't speak again that night. It was for the best. I didn't have the strength to keep fighting. I had classes to teach in the morning. I ended up rubbing my cheek a little in the dark, sheltered from all indignity; then I collapsed from exhaustion, soon sinking into a sleep that I knew would not restore me.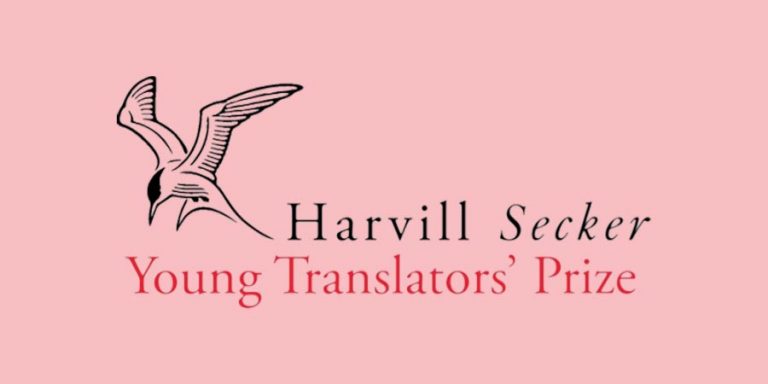 Anna Leader's translation of 'Real Men' by Mohamed Mbougar Sarr is the winner of the 2019 Harvill Secker Young Translators' Prize.
Image © Peter A Harrison