Sections of this essay are fictionalized composite accounts based on tours in the Bayou Club and Feather Sound communities between July and August 2015.
I was seven when my parents joined Amway. Our house filled up with Amway products: boxes of Nutrilite™ vitamins, toaster pastries, Glister™ toothpaste, Artistry™ makeup. We washed our hair with Satinique shampoo; we washed our floors with L.O.C. ™ cleaner; we washed our dishes with Amway-brand dish soap; we strained our drinking water through Amway's filter. Our friends were Amway. Our vocabulary was Amway. We were 'Directs' going 'Diamond.' We 'showed The Plan' to anyone who listened.
We drove to Miami for 'functions' at the Fontainebleau Hotel. Thousands of people attended, all packed into the big ballroom with lights turned up and people dancing in the aisles, getting 'fired up' to Calloway's 'I Wanna Be Rich,' which blasted over the speakers. We clapped our hands and sang along.
A man took the stage with a microphone – a Diamond! – followed by a woman in a ball gown – another Diamond! Another Diamond and another and another, all shining under spotlights, smiling – their success itself a luminous aura engulfing them. 'DO YOU WANT YOUR DREAM TO BECOME A REALITY?' the man yelled, strutting and flashing his teeth. 'WHO'S GOT A DREAM?'
We had a dream!
'I SAID, WHO'S GOT A DREAM?'
We did!
We drove our teal '88 Oldsmobile Delta to the Bayou Club Estates for our requisite 'dreambuilding' and toured the brand-new houses: big mansions with tall, echoing ceilings and screened-in pools, shiny state-of-the-art kitchens, garages big enough for three Mercedes, a golf course in the back, vanity mirrors and crystal fixtures in every bathroom. We drove to the yacht dealer and toured the Princesses and the Prestiges, lying on cabin beds and ascending the wooden stairs to stand on pulpits, gazing toward imagined horizons.
Amway is a multilevel marketing corporation. Some call it a pyramid scheme. In 2015, its parent company, Alticor, claimed transglobal sales of $9.5 billion. It is the biggest direct-selling company in the world. Distributors make money by signing up other distributors and – somewhere in the background – 'selling' Amway products. It's not exactly clear how Amway products should reach the public. That isn't part of Amway's marketing plan; The Plan mostly teaches distributors how to sign up other distributors, to whom they then distribute Amway products, who then distribute Amway products to other distributors they sign up, and onward. Amway has been the target, along with its affiliate companies, of multimillion-dollar lawsuits and other legal actions on almost every continent.
*
Four years after joining Amway, my parents came to their senses. There was L.O.C. ™ cleaner in our closet for years while we pretended Amway never happened.
But every time I drive past the Bayou Club, I can't help wondering what it would have been like to go Diamond. Once considered the highest Pin Level – above Silver, Gold, Platinum, Ruby, Pearl, Sapphire and Emerald – Diamond status was what I had craved. It was what I'd believed was success. After all, less than 1 percent of Amway distributors go Diamond.
*
silverthorn road, seminole, fl33777
4 bed, 4 bath, 5,144 sq. ft.
$725,000
We've gone Diamond. 'We're buying a house in the Bayou Club. We're starting a family,' we tell the Realtor.
The first we see is in the Estates section. Croton in the front yard, Alexander palms and twisting cypress – all yards are maintained by the Bayou Club's landscapers, she says. Each yard must coordinate with every other yard, to meet color-palette standards that coordinate with every house. You pay $137 a month for this privilege, another $205 for security and maintenance of common areas.
This house has two stories, an office and a loft, bamboo floors, a three-car garage, a pool.
'You can see we're getting the screens fixed,' the Realtor says, pointing to the men working beyond the glass. She has piercing blue eyes. Processed blonde hair. She has French-tipped nails, diamond rings on all fingers, and a gold-and-diamond necklace. She wears a white semi sheer shirt, black-and-white-printed leisure pants, black eyeliner and heavy mascara. 'We're just putting some finishing touches on the place.'
I approach the French doors. The pool is bordered by stocky palms and, beyond them, the twelfth fairway. There is nothing like a yard.
'Can children play on the golf course?' I ask.
'No, it's private,' she says. 'And unless you don't love your children, you don't let them play on the golf course because they'll be golf ball magnets.'
My husband chuckles.
'And the golf course is private,' she says again. 'You have to join the club. If a golfer sees a child out there running around, they will call the golf ranger to chase them because they interfere with the game of play.
'Do you play?' she asks my husband.
'No, but family does.'
'We pay for golf privileges and we don't like people on the golf course. We like our fairways nice and even.'
I wonder where the children play. The front yard is tiny. There's barely any grass.
'So the kids play out front,' she continues. 'And you know what? They do. When a child goes outside, he brings other kids out. We're very strict about our speed limit here.'
'I noticed the speed bumps,' I say.
'There are no speed bumps,' she says, and I feel embarrassed. 'If you came through Bardmoor, next door, there are bumps, but there are no bumps in Bayou Club. A lot of people have low-profile cars. We control our speed through our rover, who shoots radar. The fines are strict.'
'Is there a neighborhood watch?' asks my husband.
'We have two security guards: one that roves the community 24/7 and one that stays at the gate,' she says. 'It's not a hundred percent safe because if somebody wanted to come through Bardmoor, hop that fence in the middle of the night, and intrude on your house, nothing's going to stop them. That gate out front is not going to stop them.'
'It's hardly even a gate,' I say.
'Your car won't get through it,' she says. 'They might steal your jewelry, but they're not stealing any big items.'
'It has the illusion of security,' says my husband.
*
If it's not your family who brings you in, it's probably a friend. For my dad, it was a manager at one of the car dealerships for which he handled advertising. The man's business comprised almost half of my dad's income. Over time, they'd developed a friendship. You'd think my dad would be immune to Amway, given his familiarity with advertising's insidious ways. But how does the saying go? A good salesman can sell you your own grandmother.
My parents and I were solidly middle class when we collided with Amway. We owned our home. We lived in a safe neighborhood where I could play outside without supervision and walk home alone after the sun went down. We always kept an excess of food in the house. I got new shoes whenever I outgrew my old pair. I received new toys when my old ones broke and new books when I finished reading the ones I had. I went to gymnastics practice four times a week, singing lessons once a week, camp over the summer, and back-to-school shopping in the fall. We didn't need Amway.
But that didn't matter. In Amway, there's no such thing as contentment.
If you're happy with what you have, you haven't dreamed, says Amway. Your life could be faster, shinier, brighter, more spacious – don't settle for less. Join Amway.
You could drive a Jaguar instead of your crappy Oldsmobile. You could build a custom home – don't settle for that two-bit shotgun you have. If you're proud of what you've accomplished so far in your life, don't be. Think bigger. Do better. If you don't believe you can – trust Amway. Amway believes in you.
Nothing was wrong with our life before Amway – we didn't join it to fill a void. We were happy, until we were told we could be happier.
*
Amway: The True Story of the Company That Transformed the Lives of Millions reads like an extended advertisement. Its author, Wilbur Cross, became acquainted with Amway cofounders Rich DeVos and Jay Van Andel when they commissioned him to write the first 'official' history of the Amway Corporation, Commitment to Excellence, published in 1986. In Amway, Cross repeatedly references the work of Shad Helmstetter, PhD, a 'motivational expert' specializing in 'programming' yourself to change negative self-talk into positive self-talk. Negativity is expressly verboten in the world of Amway, as it breeds doubt – distributors are advised to get rid of any negative people in their downline as soon as possible if they can't train them to be positive.
Helmstetter credits the practice of 'dreambuilding' as a central reason why Amway is so successful. Dreambuilding is more than wishful thinking, Cross explains. It's more than seeing what people with more money have and wishing you had it. Dreambuilding is 'the perfection of excellence' – 'It is a way to control what you think, to enhance what you believe, and to solidify your attitude' (emphasis his own). Most importantly, it's a procedure, 'a skill that has to be learned, practiced, and put into action.'
Put into action – that's where Amway comes in. It gives its distributors dreambuilding guidelines and opportunities, chances to 'practice the art . . . on a daily basis.'
We slipped Amway motivational tapes into our car's tape deck, and listened, and repeated. We bought tickets to Amway functions for fifty dollars a pop and booked hotel rooms nearby to attend them. We sampled the products and demonstrated our commitment by filling our house with boxes upon boxes upon boxes of Amway goods.
We made lists. We framed pictures. We drew diagrams. We hosted seminars in our home where we lectured our downline to 'activate their dreams.' We constantly reminded ourselves that our dreams were possible. We only interacted with others who affirmed this.
We took photographs of one another inside our dreams: Here I am, a skinny nine-year-old posing proudly next to a kidney-shaped pool. Here's my mother in a pair of khaki shorts and a Hawaiian shirt descending a marble staircase. And my father, two thumbs up, lying on a king-sized canopy bed. We visualized, yes – but then we went one step further and made visual. We stepped inside our dreams, literally.
Dreambuilding is Amway's profit engine. Tour the house for motivation – but then how do you buy the house now that you want it? Buy tickets to the Amway-hosted functions. Buy training tapes and manuals sold by upper-level Amway distributors. Build The Business. Prospect others. Buy Glister™ and Satinique™.
Building dreams was like building a house: it wouldn't work with wishes alone. Wishes were ephemeral; we needed something concrete. In order for our dreams to feel real, we had to construct them from tangible things. The Plan and The Business were our brick and our mortar.
*
We step into the spacious kitchen. It has a wrap-around granite countertop, stainless steel appliances, beige tile and smoke-colored grout. I do a spin to peer into the breakfast nook, decorated with gauzy floral curtains and a chandelier.
'Most people think the kitchen needs updating,' says the Realtor.
'I like it,' says my husband, placing his hand on the small of my back.
'You'll want to rip out the kitchen, replace the flooring, put your own touches on the home,' she says, giving me a wink. 'Make it your home.'
She takes a folder from the counter and opens it before us. Inside is a floor plan of the house, a map of the community, an elevation certificate, and a packet listing features of the house, with accompanying photographs.
'Not every Realtor does this for their listings.' She points to a spot on the map. 'Bayou Club is divided into three communities. Here is where this house is located within the community – the Estates. And here is Sago Point, and here is Copperleaf.'
'What's the difference?' asks my husband.
'There are four hundred single-family homes in Bayou Club,' she says. 'No condos, no townhomes – all single-family. Ninety of those homes are in Sago Point. They're not tract homes – they're different versions of the same home, and smaller: two thousand to three thousand square feet. Because of the size of the homes and the maintenance, they've attracted a lot of second homeowners and empty nesters. Somebody looking for something more children-friendly might move over to Copperleaf, where the homes are a little bit larger and the lots are a little bit larger. You may have three-car garages versus two-car garages. And then you can upgrade to the Estates section, where they're all custom-built.'
'You could spend your entire life moving around the same neighborhood,' I say.
'You could,' she says. 'Full circle. Bayou Club is very desirable. People want to live here. They may be living elsewhere and want to upgrade, and now they can afford to live in the Bayou Club after being in practice a couple of years. My husband is a physician, and I know you don't start out in the Bayou Club.'
'What was this area before it was the Bayou Club?' my husband asks.
'It was very marshy. They rearranged the golf course because part of Bardmoor was in here, so they restructured it,' she says, referring to the adjacent gated community. 'Bayou Club is divided into two cities: Pinellas Park and Seminole. When you first drive into the community, while you're technically still in Pinellas Park, you wouldn't know it. Pinellas Park is low-income – we call this section an oasis in the middle of Pinellas Park.'
We follow her up the stairs. There are two large bedrooms separated by a bathroom and a linen closet – the children's rooms. I step into the one on my left, which is smaller than I expected. It has wood floors and a closet with sliding mirror doors. Out the window, the neighboring house is less than ten feet away, and the space between is filled with broad-leafed palm trees. I hear the faint twang of the radio on the pool deck, playing 'Sweet Home Alabama.'
I turn around and step into the bathroom. I touch the faucet on the sink and lift the valve to open the water.
'Do you need something?' she says, turning away from my husband to address me.
'No,' I say, shutting the water off. 'Just testing it out.'
*
In his memoir Simply Rich, Amway cofounder Rich DeVos tells the story of Amway's origins. The country was in the last gasps of the Great Depression. Rich was fourteen. He was walking two miles through the snow to his high school each day, in his hometown of Grand Rapids, Michigan: wool collar popped high, galoshes squishing, wind in his face. Occasionally he would take the streetcar or city bus – but allowing time for the city bus meant having to rise long before the sun came up. 'I needed more efficient transportation, and already being an enterprising type, I had an idea,' he writes.
Enter Jay Van Andel, Amway's other cofounder. Jay had a 1929 Model A, which Rich had noticed both driving down his street and also parked outside his high school. 'I thought a ride in this car would surely beat the bus, a streetcar, or walking,' says Rich. The rest is as saccharine as you would expect: good American boys working hard to make their dreams come true – an adventure full of family values and sturdy bootstraps with which one can pull himself up. It begins with the heartwarming story of their first joint business venture, running a pilot school, then segues into a comedy-of-errors trip on a sailboat – a typical masculine coming-of-age experience rooted in good old-fashioned American values like cooperation, perseverance, and leadership.
Rich and Jay go into business together selling Nutrilite vitamins, an early multilevel marketing scheme for which Jay's second cousin and his parents are already distributors. When Nutrilite goes kaput in 1948 after an FDA crackdown on their 'excessive claims' regarding the products' nutritional values (about which Rich only says, 'Until then, there had been no official government position on what type of claims could be made about dietary supplements'), he and Jay strike out on their own – the American way. They can do it! We know they can!
At the heart of Amway is the love of 'free enterprise' – an equal-opportunity system in which determination alone is the path to achievement. If you have a dream, Amway says, and you try hard enough to achieve that dream and let nothing stand in your way, then success is guaranteed. That is the promise of what Rich DeVos calls 'Compassionate Capitalism' – helping people help themselves.
Rich and Jay set up shop in Rich's basement selling Liquid Organic Cleaner, or L.O.C., Amway's first original product. With their trust in each other and the support of their loving wives, they're able to weather all bumps on their ride to the top, including the first federal investigation of Amway, by the Federal Trade Commission in 1975. In a chapter of his memoir titled 'The Critics Weigh In' (in Part Two, called 'Selling America'), Rich says of the suit, '[We] considered the suit another government misunderstanding of business principles and an attack on free enterprise.'
Anything that challenges Amway – particularly the government – challenges free enterprise, and thus freedom itself.
Of the Amway distributors who testified in the case, Rich says, 'I have nothing against someone who tries Amway and concludes the business is not for them. But I wish they would take responsibility for their own actions instead of trying to blame the business.' Likewise naysayers and disgruntled former Amway distributors simply do not understand how business works and are at fault for their own failures because they lack faith in their ability to succeed, and thus the necessary determination.
If you need proof of Amway's principles, just look at all the people who've benefited from Amway, Rich tells us: millions worldwide.
But don't take it from him; take it from distributors themselves. In a YouTube video uploaded in 2011, two Amway distributors talk to each other before the start of an Amway function. Bass blasts through the dim roar of the packed stadium, which is decked in American flag colors. Spotlights rove over the audience.
'We here, man,' says a young black man in a blue T-shirt. 'See all the IBOs. It's good to be withpeople in your company, to feel the love. A lot of people back home be wondering how it is and how big of an organization it is. You see: just imagine the potential of having all these people in one group, man, even if you get ten dollars off a person' – he points to a random person in the audience – 'all these people. There's a whole lot of money floating around in here somewhere.'
'This is not a scam,' says the person behind the camera, pointing it now at the empty stage. 'Everybody think it's a scam. Come on, man. If these many people got scammed out? I don't think so.'
'Besides,' says Rich of the birth of Amway, 'we knew what we were really selling was an opportunity for people to succeed on their own and help others do the same through a unique marketing system. All it took was the willingness to work hard to achieve a dream.'
That's all it takes? Sign me up.
*
eagle pointe drive, clearwater, fl33762
5 bed, 4.5 bath, 4,466 sq. ft.
$1,150,000
We've gone Diamond, we tell the Realtor. We're buying a house in Feather Sound. We're starting a family.
This one is just beyond the gate when we enter the neighborhood. It's desert-colored with a terra-cotta paving stone roundabout drive and another gate that retracts when we enter the code. There are two palms planted on either side of the porch, two more on either side of the yard, and another in the grassy area encircled by the roundabout. A row of perfectly rectangular hedges lines the front of the house beneath the picture windows.
There are five bedrooms, five bathrooms, a game room, a study, a fitness center, a spiral staircase and elevator, a three-car garage, vaulted ceilings, and a three-tier waterfall pool.
The Realtor is standing beneath the porch with a younger woman, waiting to greet us. They're both dressed in red. They smile broadly as they step onto the drive.
'This is Renata, my assistant,' says the Realtor, motioning for Renata to extend her hand. My husband takes it first.
'Nice car,' says Renata. We've driven here in a Porsche.
The Realtor compliments my husband's name: she knows two others who share it. 'It's not a common name,' she says.
'No, it's not,' he agrees. 'It's a family name.'
Tuscan-style columns flank the entryway. Inside, the walls are painted with tacky murals of Venetian street scenes. The elevator at the edge of the living area is cylindrical and see-through. An enormous aquarium occupies the wall adjacent to the fireplace.
'You'll see as you go through, they went to Italy on vacation,' the Realtor says. 'When they came back, they tried to incorporate as many things from Italy as they possibly could.'
'I love Italy,' says Renata.
We follow them toward the master bedroom, passing the dining room.
'That is a very expensive chandelier,' says the Realtor, pointing to the one above the dining room table. 'I believe it's Murano. Twenty-five thousand dollars.' My husband studies it.
A sliding glass door leads from the master bedroom out to the pool and a lakefrontview with a dock. I open the door nearest me inside the room.
'Now, don't freak out – that's just your shoe closet,' says the Realtor, touching my arm.
'I was going to ask you where I should store my wardrobe,' I say.
She smiles maternally. 'That one's just for shoes.'
Renata tells us about the best local attractions, recommending particular farm-to-table restaurants and yoga studios as my husband and I make slow, opposing circles around the room. We meet in front of the master bathroom. The shower is wide enough for three people with three showerheads, a knee-high tawny-colored tile wall, and the rest of the walls completed with glass. The whirlpool bathtub could easily accommodate three.
'We could have fun in here,' says my husband. I elbow him in the ribs.
We follow the Realtor back to the fitness center, a long room lined with rubber flooring, eight machines, and a large, flat-screen TV mounted to the wall.
'Renata, you know about the exercise room,' says the Realtor, stepping back to let Renata inside. 'I'm not an exercise person.'
'Does the house come with the fitness center?' asks my husband.
'You can ask him,' she says. 'It's all depending on the negotiated price. He's willing to leave it all. He'll leave anything here that you want.'
'Is that a tanning bed?' I ask.
'Yeah, it's a professional one, too,' says Renata.
My husband lifts the lid. 'Is there anyone in here? Maybe you could finally get a tan,' he says to me.
'I'd fry in there.'
'You could come in here, work out, and then go to the next room and do your work, and never leave the house!' says the Realtor, motioning toward the study next door.
'Sounds great,' I say.
*
I loved the days when we'd go to the Bayou Club as a family. We began going immediately after joining Amway, when I was in second grade. The development was new, still under construction. There was space between the houses and the far stretch of the golf course undulating luxuriously around them. Model homes rose from the landscape like castles, bigger than any houses I'd ever seen – and vacant. Never occupied. Empty dreams, waiting to be filled.
As a child, I found the pleasure of being inside a big house to be endless. Future ownership had come to feel like a guarantee, so I took to imagining what life would be like in each one we visited. In this model of a girl's bedroom with its shelf of figurines, canopy bed with lace cover, pink painted chest, and carved mirror, contentment felt within reach. This room was assurance I'd never be lonely or bored; that I would always have something lovely to look at, and lovely things to say, and other children near me to validate my worth. I felt special, included.
Imagine watching movies in this home theater. Imagine riding an elevator up to my dream bedroom. Imagine swimming in this pool each afternoon. Eating meals in this dining room under an opulent chandelier.
Imagine having a whole closet just for pool toys. Imagine having a room just for getting dressed. Imagine having a refrigerator twice as big as ours. And an island counter. A bay window. A golf cart. A motorized walk-in closet.
Our house on Twelfth Avenue had three bedrooms; I wanted four. A house with four bedrooms came to seem normal; I wanted five. I wanted a library. I wanted a hot tub. I wanted a spiral staircase with a wrought iron banister, and a playroom, and a whirlpool bathtub, and a room just for practicing ballet, and a fitness center, and a poolside bar.
Sometimes we brought along a camera and took pictures of one another walking around the houses. We saw two or three in a day and then took the film to be developed. Back in our three-bedroom, we looked at the photos together, then stored them in fresh albums. In the photos, we wore the same outfits while the houses around us changed. We were the proud owners of three beautiful homes, the photos said – or this was one big home. One monstrous behemoth of a home comprised of three mansions smashed together.
Limitation on ownership was not a concept I was familiar with as a middle-class child – everything could be mine. I had never experienced a feeling of lack. I never wanted for anything I needed. I was never told we couldn't afford something I asked for. While the thing I asked for might be denied me, money was never given as the reason. 'Spoiled' was a word I heard often from family and friends, and I was proud of it. I thought I deserved to be spoiled – I was fully ignorant of the negative connotations of the word. By the very fact of being me, I believed I deserved material things.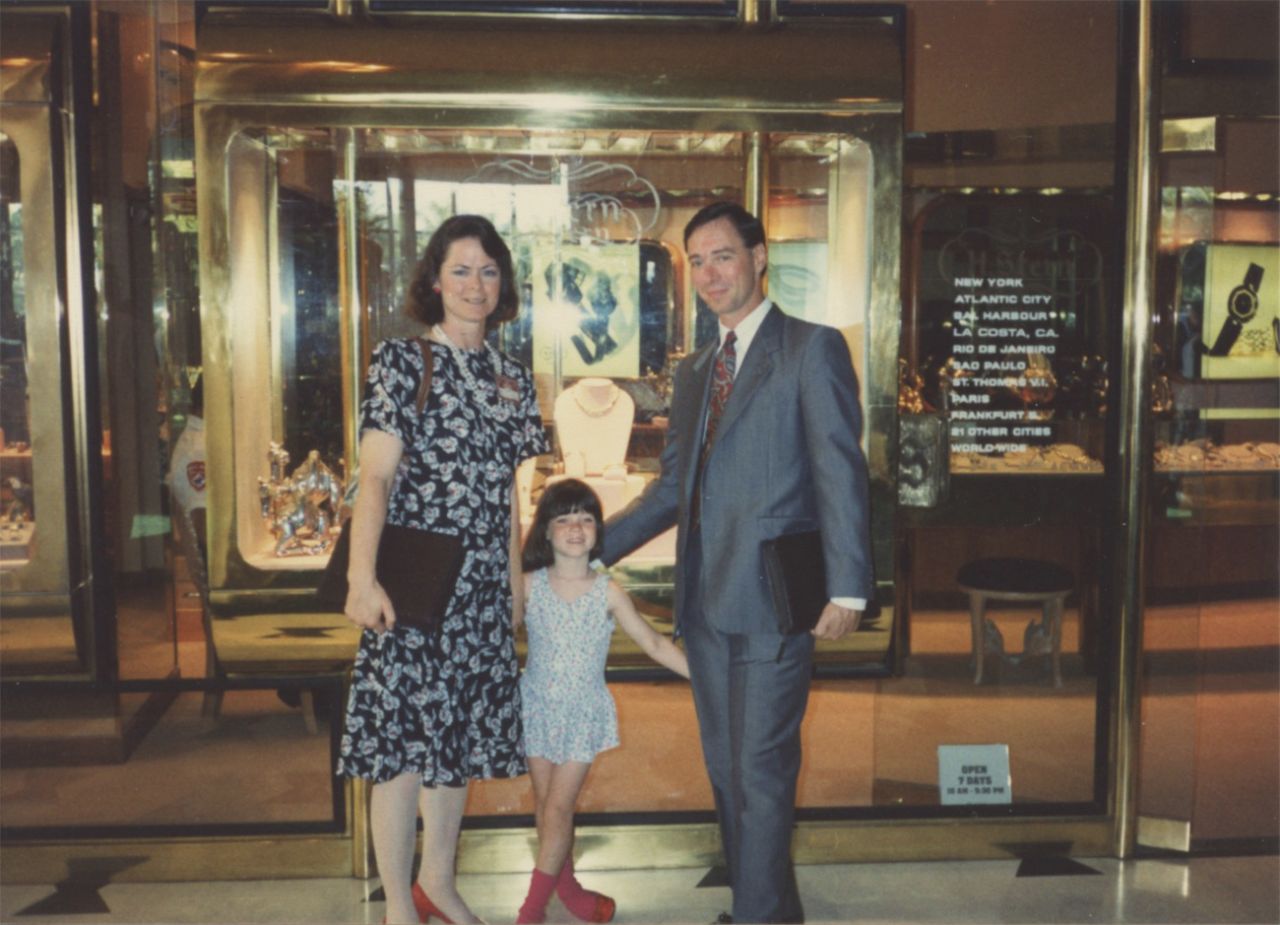 Sarah Gerard with her parents, Pat and Eric, outside H. Stern Jewelers at the Fontainebleau Hotel, Miami Beach, 1991
My mother grew up in a family that didn't have money: six siblings, and later three stepsiblings, with one working parent, the other a drunk. She loves to take me shopping. This was always reflected beneath our Christmas tree – but also throughout the year. She wanted her daughter to have things she never had.
Shortly after we left Amway, I remember asking my mother for bell-bottom jeans. It couldn't wait. I had to have them immediately. She was not in the mood to go shopping that day. Just wasn't in the mood. But finally, I convinced her.
I ran my mouth as we left the house, leaping down from the porch as I shut the front door. 'I get all I want!' I sang.
I'm shocked by this.
My mother stopped in her tracks and ordered me back inside. The look on her face still brings me shame.
I wish I could say the story ends there, but it doesn't. A few minutes later, and after many apologies, we went to the mall.
*
The house is outfitted with an elaborate security system. A small room on the second floor holds the bank of monitors. There are cameras on every corner of the house, and at every outside door, and several around the pool. Three rapid beeps signal a door's opening. Even though Feather Sound is a very safe neighborhood, Renata says, and she never heard of any home invasions while she was growing up here, people are very particular.
'This would make a good nursery,' says my husband, stepping into the room with the monitors.
I chuckle.
'Is it cooking?' asks the Realtor, glancing toward my stomach.
'Not yet,' I say. 'We're trying.'
'Don't worry. It will happen.'
'It's –'
'I know, it's hard not to worry,' she says.
She has mentioned my parents' proximity to this home several times on our tour. We've told her we're moving back from New Orleans to be near them as we start our own family. It turns out her daughter now lives in New Orleans.
'She's a writer,' the Realtor says. 'She's a blogger and she works for me and a couple other people. She writes blogs, and manages our social media, and any other part-time job she can find. She says, "Mom, we're all college-educated people, we just do different things! It's just so freeing!" And I'm like, "What about a career?"'
'"Don't you want to buy a house?"' my husband adds.
'Yeah, she does want to buy a house,' says the Realtor. 'And I'm like, "I'm not buying you that house!"'
We follow her down the staircase.
Outside on the pool deck, the rush of waterfalls drowns out conversation. We're forced to yell over it.
'Now, this is really a retention pond,' she says, pointing to the body of water at the edge of the yard. 'It's not a lake or anything.'
'No watercraft?' says my husband. She shakes her head. 'Not even a canoe?'
'Maybe a canoe,' she says.
He walks past the sculpted concrete wall separating the yard from the water and to the end of the wooden dock with his hands in his Dockers pockets. The Realtor turns away from watching him to stare at me, likely searching my face for an expression of wifely pride. Finding none, she says, 'There's a fire pit back here.'
'Oh?' I say.
'And the Feather Sound Country Club is right across the street. You would have to join the club to be able to play golf. There are several clubs in the area.'
'Yes, we've been looking into some,' I say. 'Like the Bayou Club.'
'What's that?' says my husband, returning from the dock. 'I like the seawall,' he says to the Realtor. 'Looks like it's steel-reinforced.'
'Well, this is a unique little area,' she says, ignoring his observation. 'You've got your most expensive homes here. Most people like it because of its close proximity to Tampa and to St. Petersburg. If you're commuting to either place, it's pretty easy. Do you know where you're working?'
We tell her we both work from home.
'Are you a blogger?' she jokes as we follow her back inside. The noise of the pool is quieted by the shutting of the French doors. Renata is waiting for us in the foyer.
'We don't show a lot anymore for security reasons,' the Realtor says over her shoulder. 'The world is just not what it used to be.'
'No, it's not,' says Renata.
'I thought you might enjoy talking to Renata because she probably knows things you'd be interested in, in the area.'
Renata opens the front door, to three beeps. We step back out to the front walk, leading down to the driveway. It's begun to rain lightly, polka-dotting the terra-cotta paving stones.
'I think International is the nicest mall in the area,' Renata says, following the Realtor's suggestion. 'You have Neiman Marcus, Nordstrom's, you have Free People –'
'J.Crew?' asks my husband.
'J.Crew,' she says. 'You have all the normal plus some specialties.'
'I think I'd put a basketball hoop in right here,' says my husband, regarding a patch of grass.
'How are you going to get into the garage?' Renata asks.
'Might have to add a few more garages,' he jokes. 'I've got a bunch of cars.'
'You know, it's hard to find more than a three-car garage around here,' says the Realtor, appearing behind us.
'We can keep some in the driveway,' he says. 'Get rid of some. We're only two people.' He puts his arm around my waist.
'Just put the lifts in,' says Renata. 'That's what the people across from my mom's house do – it's really common, actually. Really common.'
*
Cross opens Amway with the testimonies of Amway distributors from around the world. There is no country in the world where Rich DeVos's Compassionate Capitalism does not work, Cross says. 'Listen to Alcimon and Marie-Chantale Colas.'
'Listen to Sevgi Corapci.'
'Listen to Nilufer and Merih Bolukbasi.'
Listen to them. Listen to them. Listen.

'I was a salaried man working in a company for eight years,' says Kaoru Nakajima, Japan's first Amway Crown Ambassador. 'Now I am my own boss. Now I am free. Now I am selling products that make me proud. Now I am helping people in five different countries to build their own businesses. When I see so many people getting more abundant lives, I feel really excited.'
Listen to Wu Dao-liang, an 'old man' who joined Amway after retiring, rather than spending his days reading the newspaper and playing mah-jongg: 'At the beginning when I started my Amway business, my family was worried that I could not handle it physically. But during these two years, they noticed I became more optimistic and more healthy.'
Listen to Rosemarie and Otto Steiner-Lang, who joined Amway in the hope of funding their own construction company and now run their Amway business full-time: 'We have found in Amway the independence we were looking for. This business is a doable and affordable solution for the problems in the labor market today. Amway, which represents free enterprise perfectly, postulates and promotes the initiative of the individual, reducing the burden on the public social system.'
There are more than enough reasons to join Amway, it seems: the promise of being your own boss, the possibility of helping others, of making human connections, finding existential purpose, beating boredom and passivity, spending more time with family, earning the admiration of others.
Unfulfilled in your current job? Feeling trapped? Amway frees you.
Shy introvert? Learn to be more outgoing with Amway.
Bored with your life? Feeling adrift? Amway gives you purpose.
Live an overall happier, healthier lifestyle, with a low commitment and the potential to accrue massive wealth – for only the upfront cost of a training manual.
A housewife can do it. A retiree can do it. The physically enfeebled can do it. Those who have only known poverty can do it. Families can do it together.
In the roughly two hundred pages of Cross's book, however, there is virtually no discussion of how Amway actually works. Among entire chapters dedicated to Amway's state-of-the-art manufacturing facilities and its pioneering move onto the World Wide Web, the 'Amway Distributor Profile,' its 'Bootstraps Philosophy,' and Amway's foreign expansion strategy, the closest Cross comes to summarizing Amway's business plan is in this passage:
Attaining goals for greater success and profitability depends on each distributor's ability to sponsor other distributors, who comprise their 'downline.' Patience is a characteristic much required in this step because a distributor can advance in profitability and standing only to the extent that the downline distributors actually sell products and keep on generating volume.
How do they sell those products? Not in retail stores – Amway distributors can only sell their products directly to the public, or to other Amway distributors. This may not seem so bad until one considers that the price point for many Amway products has been reported to be about twice that of similar products found in retail stores. Or that in blind tests, Amway products often score poorly.
So, how is it that Amway continues to profit? Cross quotes James W. Robinson, author of Empire of Freedom: The Amway Story:
The export lifeblood of some countries is oil, for others it is cars, or diamonds, or food. . . . America's most precious export is not a commodity, natural resource, or manufactured product, but an idea: putting free enterprise in the hands of the common man and woman.
Let us not underestimate the power of ideas. Cross provides examples of distributors who let nothing stand in their way. Just listen to the story of the Upchurch family, who persisted in Amway, making any sacrifices necessary, even after Hurricane Fran destroyed their home. Or the Janzes, who were desperately poor new parents with another child on the way when they learned that Amway was bigger than making money; it was a way to overhaul your lifestyle and live your dreams. Or Dexter Yager, who didn't let a stroke stop him from achieving success with Amway and continued to operate his business at the same level even as he was learning to walk and speak again.
Listen to the story of Ed Johnson. Ed's family lost everything when the recession hit San Antonio in the 1980s. Ed's son showed him The Plan in 1992, and after some initial resistance from Ed's wife, soon the whole family was working hard to achieve their dreams the American way.
Then tragedy struck. Just as he was qualifying for Diamond, Ed had to undergo emergency surgery to remove a brain tumor. Then he had to undergo radiation therapy. Did Ed let this stop him? Of course he didn't. He 'showed his mettle' and his 'desire to get on with his life' by prospecting three doctors and six nurses while he was in the hospital recovering from brain cancer treatment – enabling the Johnsons to go Diamond sixty-two months after joining Amway.
'Although Ed's challenges would have devastated most families, the Johnsons saw them as an opportunity to pull together,' Cross says.
'There are no excuses,' he quotes Ed as saying, 'just performance.'
*
bullard drive, clearwater, fl33762
9 bed, bath, 9,498 sq. ft.
$2,002,000
We've gone Diamond, we tell the Realtor. We're buying a house in Feather Sound. We're starting a family.
This one sits on a double executive lot. An artificial creek snakes around the yard. Flashes of yellow and orange spotted koi pass beneath our feet as we approach from the brick walkway. The house is split-level with two wings, a custom pool with cascading waterfall, billiard room, media room, workout room, steam room, six-car garage, state-of-the-art workshop, custom built-in bar, loft for quiet relaxation, hurricane shutters, large views of the golf course – and two bedrooms above the garage sequestered for the help.
'It's very dark,' I observe. We've begun in the middle: a room with wood paneling, shellacked stone floors and walls, and a recessed circular area for entertaining, carpeted in emerald. Behind me, a pool table occupies most of a Turkish rug annexing the area beneath the open-style second-floor balcony. The Realtor stands near a grand piano and a stone planter housing ferns.
'Tastewise, it may not be your taste,' she says. She is wary of us – I can hear it in her tone. 'Or it may, depending. But this is a blank canvas, you know. If you really wanted to make your own touch, you can certainly do that.'
'I'm not going to want to remodel a house while I'm pregnant,' I say to my husband. 'Or with a new baby.'
'Let's take a look,' he says. 'No harm in that.'
'It's too big,' I say.
'Let's take a look.'
He takes my arm. The Realtor smiles.
'The house is divided into two parts,' she says. 'This side over here is the original part of the house.' She indicates the area behind us. 'On this side, there's five bedrooms. And then there's this middle area, which is a big entertainment space. And then on the other side, you've got a very, very large master suite and another bedroom.'
She leads us toward the original wing, descending three carpeted stairs, and proceeds down a narrow wood-paneled hallway, pausing at the entrance of each bedroom to invite us inside. The windows are covered with wooden shutters blocking out the light. A musty smell rises from the linens. We wander silently in and out of rooms.
'Seems like it's been a while since anyone did anything with the place,' I say, pausing before a marble-patterned dresser built into the wall.
'Particleboard,' says my husband from the bathroom.
'Well, back in the day . . .' says the Realtor.
'See, open this up,' I say, unlatching the shutters. Light pours across the bedspread and a shelf of porcelain dolls. 'Isn't that better? Why would you want to close it off?'
My husband appears in the doorway. 'They don't like the light here,' he says.
'You know, I had some friends who came out of New Orleans after Katrina,' says the Realtor, leading us suddenly back toward the front. 'It's funny, we go out and we have dinner with them and it still comes up.'
We follow her into the kitchen. A set of wooden cabinets hangs above the island counter. Others wrap around the walls, enclosing the space. Each of the glass doors is etched in the corners with flowers. My husband flicks a light switch, only dimly illuminating the countertops.
'It has a sort of ski lodge vibe,' he says. The breakfast nook is decorated with white-and-green floral wallpaper and a white crocheted tablecloth. 'You could throw some parties here,' he says with a smirk.
The Realtor passes between us and opens a glass door to three beeps. We step into a spacious screened-in porch holding several upholstered deck chairs and a chiminea, a level above the pool and overlooking the golf course.
'Through most of the windows and doors, you can see pretty much three fairways,' she says. 'Which is really pretty and serene. The water is not normally like this.'
In the middle distance, a large body of water has overflown its banks and seeps outward into the grass.
'I thought that was a lake,' I say.
'Usually you can walk right out to that golf course. I've never seen it like this. This is so full. The birds are loving it.'
'Are there a lot of birds out here?'
'The pool deck is really very large and has multiple levels on it, so – '
'I didn't notice,' says my husband. 'Is this a shingle roof?'
'It is.'
'The exterior really calls for shingles,' he says. 'You can't go and put a Spanish tile on this roof, the way the exterior is.'
'And that is cedar siding,' she says, looking from my husband to me. 'People ask, 'Why is it discolored?' It's meant to do that. You can restain it if you want.'
'I like the variation,' I say.
'It doesn't attract termites,' she says. 'Termites will not eat cedar.'
*
When I was ten, my parents bought a house for $200,000. My dad had been running his advertising agency out of the spare bedroom of our house on Twelfth Avenue, and when he hired his third employee, he set up a desk in my bedroom for the graphic artist to work at while I was at school. Then a neighbor called the city about all the cars parked on the street, and my parents cracked a plan to move into a bigger house and bring the agency into the new house with us. By that time, though, business had gone gangbusters, so it turned out that moving the company into the new house wasn't necessary, after all – my dad rented an office, instead. The new house was entirely ours.
It was a single-story, with four bedrooms, three and a half baths, a roundabout drive, and a screened-in pool. 'You'll see the gates,' I'd say to my friends when giving them directions to my new house, feeling endowed with importance, despite the fact that these were not real gates – they were only for show. 'They're metal arches that say 'Carlton Estates,'' I'd say. These words tasted like gold. Carlton was a surname hyphenated invisibly after my own. I lived in Carlton Estates: that was surely worth something.
We had a fireplace, a poolside grill, and a river-rock deck with closing screens. We had an island counter. We had walls covered with mirrors. To get to my parents' master bathroom, I passed through a dressing area connected to a walk-in closet. The bedroom next to mine was expressly for guests; the one at the end of the hall became a study. One of two living rooms seemed intended only for show, and the planter inside the front door housed pots of plants – silk, they never wilted. The bathroom off the family room had an outside door and a shower for people coming in from the pool. We bought new furniture, new rugs, new artwork. I had never felt more proud.
The houses in Carlton Estates were a magnitude above those in our old neighborhood, where all of the concrete homes followed more or less the same design. These sat on larger lots and had deeper lawns, and each was entirely unique. There were second and third stories, and sloping, multilevel roofs. There were bamboo thickets obscuring homes from the street. Stone and wood exteriors. Stained glass windows. No sidewalks. No streetlights.
I would peer over the wooden fence wrapped around our backyard into the lives of those around us. A noisy macaw lived in a sculpted metal cage on the pool deck next door. At the house behind ours, a gazebo covered in vines sat next to a pool, larger than ours, which sat beneath an even taller screen.
Going door-to-door for a school fund-raiser, I walked the winding, Anglophile streets – Kent Drive, Kings Point Drive – that looped around to the Intracoastal Waterway and back again in a closed circuit. The farther I strayed from our street, the larger the houses became. One house looked like an old-time plantation. Another had a waterfall in the center of its circular driveway, and a bright blue roof. I stood in dark foyers and bright, airy kitchens, saw antique furniture and shiny out-of-the-box appliances and mysterious works of art.
At the top of our street, I found a squat house with no windows – they'd all been cemented over. The grass yard had been replaced with gravel. The pool was covered and the cover was filled with leaves.
At the bottom of our street, I found an iron gate with a code confining three mansions bordering the Intracoastal. I slipped through it and knocked on the door of the mansion farthest to the right. A man answered with an angry-looking English bulldog at his feet. 'How'd you get in here?' he demanded.
*
The pool deck is made of a flexible material the color of sunbaked fiberglass and molded to look like stones. It bows beneath our feet when we walk over it, as if hollow underneath. I see my husband notice it, too.
'What is this material?' I ask, pointing to the deck.
'I've never asked and I probably should,' says the Realtor. She's been telling us about the pool pumps.
'It's some sort of fiberglass or plastic composite,' says my husband.
'It does flex to some degree,' she says.
'I'd want to replace it,' I say.
'It's better than those concrete pool decks they put in,' my husband says. 'I bet it looks beautiful from the golf course.'
'It does,' she says. 'Have you seen it from Google Earth? It really gives you a perspective of where you are in relation to Tampa Bay.'
My husband approaches the edge of the deck and looks out over the hedges and across the golf course. A flock of ibis has congregated around the standing water. I join him and see that he's smiling.
'You like this?' I say.
'I really like this,' he says. He turns to the Realtor. 'My father's a big golfer. I bet he'd sit right here and watch them try.'
'There's only one little problem with this house,' says the Realtor as we follow her back inside through a different door, 'and that's 'Which door should I go in?' There are so many doors!'
We're back in the central area. From an adjacent room comes the sound of a television and we make our way toward it. The room is ruby-carpeted with red-and-gray-striped wallpaper, three tapered wall lamps, and a giant projection screen angled downward. A man faces away from us in a floral upholstered recliner. He pauses the television when we come in.
'Don't stop for us,' says my husband. 'What are you watching?'
'Law and Order,' says the man.
We commence watching television. The man is indifferent. At the commercial break, my husband asks the Realtor what kind of wood is used for the paneling on three of four walls in this room.
'Brazilian cherry,' she says.
We move to the base of the stairs and she opens a closet to three beeps. Inside is a circuit board and a mass of wires. 'This house obviously has a lot of lines and cables in it,' she says. 'This is the command center, the central nervous system.' She shuts the door again.
At the landing of the stairs, she turns to face us. 'The one thing you need to know about this house is that the whole area as you go up on this side is a safe area. So, you can see that this will roll down.' She points to a metal compartment above us, which neither my husband nor I had noticed. 'I'm going to show you that all the hurricane shutters will also come down,' she says.
The top of the stairs leads into the master suite. It is carpeted in ruby with burgundy walls. Gold curtains hang over the bed, which sits on a raised platform in the center of the room. The wall behind the bed is papered in gold filigree.
One corner of the room opens onto a green and white marble bathroom with a wall of mirrors. In the next room, we find two bookshelves and a leather-topped desk.
'The master study,' says my husband.
I kneel to peer through the double-sided fireplace and see the master suite on the other side.
'I think it does get chilly here in winter,' says the Realtor, 'and so I think it's neat to have a double-sided fireplace.'
'Forty at night,' says my husband in agreement. 'Sixty, maybe sixty-five the next day.'
I leave the room. On the other side of the hall, I find a girl's bedroom. The walls are lavender and pink with white crown molding. There's a bay window to my left and a set of white wooden bookshelves piled high with worn books. A pair of autographed pointe shoes hangs on the wall before me.
'We have a dancer here,' I say, noticing the Realtor beside me.
'Are you a dancer?' she asks.
'I danced for a few years.'
'She's being modest,' says my husband.
The bay window overlooks the length of the roof, which stretches on for a long, long time. I imagine going out there to be alone.
'She had a great room,' says the Realtor.
'How many kids were there?'
'Six. It's a great house for a lot of kids.'
'You could easily sneak out this window,' I say.
'Oh, yeah.' The Realtor laughs. 'So, all those hurricane shutters will come down. And those will come down.' She points to the bay window. 'And those will come down, too.' She points to the other window.
*
It is rare to see poverty mentioned in Amway's literature. When it is, it's usually in the context of an Amway distributor having escaped it. Success is equated with wealth. With wealth is promised an enhanced way of life, one crafted of your own dreams – and Amway gives you The Plan to achieve that life. To let your attention stray from The Plan is to invite doubt and negative thinking, which can only result in failure. 'As successful distributors tell people they are recruiting, the pursuit of excellence can be achieved only when they discipline themselves to tune in the positive dialogues and tune out the negative ones,' says Cross. Poverty makes us feel bad. Feeling bad is negative. Negativity causes failure. It makes poverty feel contagious. So don't think about it.
Occasionally, though, it can be useful to mention poverty in a certain context. Inspired by the personal and business philosophies of DeVos and Van Andel, Cross spent the ten years after writing Commitment to Excellence researching the two men, culminating in his 1995 self-help book Choices with Clout: How to Make Things Happen – by Making the Right Decisions Every Day of Your Life. Much of the book is compiled from interviews with the Amway founders and top-level distributors. In a passage about excellence, Van Andel outlines the proper way for an Amway distributor to rationalize the issue of poverty:
People think in terms of excellence, including success, wealth achievements, and gracious living. We feel uncomfortable about things at the lower end of the scale. We become anxious about peoples and nations in the grip of poverty. It makes us uneasy and often guilty to think of starving children and realize what bounties we have in America. Yet we should always bear in mind that poor people cannot help poor people. What we can do, however, is to condition ourselves to speak out and stand up for those things in which we believe. To do this effectively, we must first have faith – faith in self, faith in God, faith in our convictions. Once these conditions are met, you will be amazed at how easy it is to speak out.
Success usually requires sacrifice. You have to give up certain pleasures in order to devote time and effort to goals with higher priorities. Are you ready now?
Implicit in this is that those who have failed have failed because they have not made the necessary sacrifices to succeed. These are poor people. You're not a poor person, are you?
To achieve success through Amway, we must not only work hard but also have faith. We know that we should have faith in ourselves – Amway tells us this all the time. And we must have faith in our convictions – for instance, in the efficacy of free enterprise. The theologian, author, and 'longtime friend of Amway and believer in its work ethic' Dr. Robert Schuller takes this one step further. In his writing he actually provides a list of six 'existing strengths' in which Amway distributors should have faith, both individually and collectively: yourself, family, community, free enterprise, America, and faith itself.
But having faith in God, as Van Andel instructs above, is different. If you want to achieve success so that you can stand up for what you believe in, he says – you must have faith in God.
Amway's official position is that it doesn't endorse a single religion. Anyone can be an Amway distributor, it says – just look at the diversity of people around the world who are doing it. You see people of all races, political affiliations, and creeds succeeding in Amway.
And yet God frequently makes appearances in Amway's literature and teachings. Faith in God is given as the motivation underwriting everything from recruiting more distributors to persisting in The Business through every hardship to succeeding financially. Free enterprise is a blessing from God, says Amway. In Simply Rich, DeVos says:
And then of course one question always comes up: 'Should I even have this much wealth in the first place?' I feel the Lord allocated some money for us to use for our pleasure, some for our ability to experience His world, some for investing to help create economic expansion and job opportunities for others – and of course, some for sharing with those who have a real need.

It's not because we're better or entitled to more money; we have been entrusted with it, and therefore need to be especially responsible. We just make sure personal spending doesn't become a priority over the giving side. Once you learn the budgeting process of setting aside for giving first, then what you have left you can allocate elsewhere – including a home or an airplane or a boat. One could always argue that these things aren't necessary and that you could give away more, and that's always true. But if you look at it that way, you'd never do anything more than take the bus.
*
the bayou club
7979 bayou club boulevard, largo, fl 33777
We've gone Diamond, we tell the membership director. We're joining the Bayou Club. We're starting a family.
The club recently underwent a $1 million renovation: new roof, redecorated dining hall and casual-attire bar and grille, revamped golf shop, locker rooms, fitness center, renovated driving range and greens. It closed for an extended period of time over the summer so that they could replace the greens and restore them to their original Tom Fazio PGA Tour–quality design. They use only Champion Dwarf Bermudagrass because, as the turf farm's website says, 'even among the ultradwarf cultivars, there is no other grass capable of producing the incredible ball roll of a well-maintained Champion green.'
We meet Dale at the top of the stairs at the Bayou Club's entrance. The room is cavernous – much bigger than it appears from the beach-colored exterior, where it seems miniaturized alongside the vastness of the course. He wears khaki pants, a too-small blue button-down shirt, and penny loafers. He reminds me of a shoe salesman.
He tells us the club no longer has an initiation fee – they were forced to waive it six years ago in response to the economic downturn. 'You have the top two or three clubs in the area – Bayou Club, Belleair Country Club, and probably Feather Sound – with no initiation fees to join,' he says. 'It makes it very easy to be part of a club these days.'
My husband seems pleased by this. His shoulders relax, and his gaze begins to wander around the place with familiarity.
We follow Dale into the casual grillroom. There are four square wooden tables and blue upholstered wooden chairs along a wooden bar that wraps around to another room with more tables. Floor-to-ceiling windows display the ninth and eighteenth holes.
'Shorts are fine here, jeans are fine. Casual attire, golf attire, tennis,' says Dale. 'What we train our staff on here, constantly, is the difference between a country club and a normal restaurant. We have a membership: they're paying X amount of dollars just to walk in the door and come have a hamburger. So, we encourage the staff to make introductions if there are two members sitting here and they don't know each other. To get them involved, help them meet each other, help them make friends – because that's what's going to make them participate more and stay members longer. It's like a church. Like trying to get your congregation active and engaged and involved.'
In the formal dining area, the windows are even taller, and peaked at the top. The area is bordered with potted palms and lit overhead by three chandeliers. Each table has a tall, skinny vase with lavender in its center. 'We do a lot of weddings now because that's good business for the club,' Dale says.
'This is a beautiful place for a wedding reception,' I say.
'It is, and it's reasonable. I think that's where a lot of private clubs have leaned.'
'Are those baby ducks out there on the course?' my husband says, moving toward the windows.
'A lot of wildlife,' says Dale. 'If we take the cart out, I can show you some of the real natural bayous in the golf course – the golf course is built around them to showcase that natural bayou setting.'
We exit onto the back patio. It overlooks the pool on the lower level and the golf course, bordered by houses of the Bayou Club community. It's begun to rain lightly, but the sun is still out. We pass through an outdoor dining area and reenter through the fitness center: a room the size of a small apartment with mirrored walls, two rows of exercise machines, and a flat-screen TV mounted in the corner. A man and a woman exercise separately.
'We're just taking a quick peek,' says Dale. 'We'll be out of here in a minute. Morning, Dave!'
'Morning,' says Dave.
'The gym used to be the men's smoking lounge,' Dale says to us. 'This is a pretty young club, but already we've seen a lot of changes. It's not all about the men saying, 'I want to join a golf club.' Now, with women having a much larger role in the family, they want to know, 'Well, what's in it for me?' There's got to be a fitness center, there's got to be some activities for ladies and kids, and it has to be more of a family culture. A lot of traditional men's golf clubs have had to really evolve into family clubs.'
'Have you seen a racial shift in the membership as well?' says my husband.
'Not here in Florida. Not really. Pretty white around here. That's just how it works out.'
'But I would say we're a pretty open club,' Dale continues. 'What we do have are a lot of same-sex couples at the club. That's become very common here. I think it's pretty popular in Florida and Tampa Bay.'
On our way back to the front, Dale walks us through the pro shop. Two men lean across the counter talking to each other among displays of golf attire and equipment. One of them, the general manager, introduces himself to my husband.
'As long as you're a golf member, you're open to playing all the tournaments and games,' Dale says to me. 'There's something for the ladies, and then if couples play together, we have a couples' golf on Sundays. We have a senior group, and then a young under-forty-year-old guy group.' He shows me a schedule pinned to a corkboard near the door. 'These are kind of the core golf groups. And then we have a formal Men's Golf Association as well, one tournament per month. If they win that tournament, there are parking spots up for grabs, if you want a nice parking spot – or some trophies. You know, when you love a game and you watch it on TV, to be able to still play it and go out there with a large group of guys, and then win a tournament? These guys are having a blast. They feel like they're on the PGA Tour. That's what it's all about.'
The general manager is making recommendations for the best seafood restaurants in the area. I tell him my parents live in Belleair.
'If you can't find good seafood around there, something's wrong with you,' he says.
On the way out, we pass a frame on the wall bearing a quote by Robert Dedman Sr., founder of ClubCorp. My husband stops to read it: ''A club is a haven of refuge and accord in a world torn by strife and discord. A club is a place where kindred spirits gather to have fun and make friends. A club is a place of courtesy, good breeding, and good manners. A club is a place expressly for camaraderie, merriment, goodwill, and good cheer. A club humbles the mighty, draws out the timid, and casts out the sorehead. A club is one of the noblest inventions of mankind.''
'The owners liked it so much, they called me up and said, 'I'm sending you something. I want you to put it on the wall,'' Dale says as we cross the parking lot toward a row of golf carts. 'By the way,' he adds, 'you should know that Florida clubs tend to be less stuffy than northern clubs.'
*
In 2015, Forbes named the DeVos family twentieth on their list of America's 50 Top Givers, with lifetime charity donations of $1.2 billion. Most of that money has stayed in West Michigan – Amway's headquarters are in Ada, and the DeVos and Van Andel families own or have bequeathed a considerable portion of Grand Rapids, and are often credited for catalyzing the revitalization of downtown. Of the $94 million the DeVos family gave in 2014 alone, $54 million of it stayed in Grand Rapids. Much of it went to public schools and Grand Rapids–based hospitals, arts programs, and faith-based organizations providing services to the homeless.
That same year over $4 million of DeVos's money went to Hope College, a private liberal arts school affiliated with the Reformed Church in America – in which Rich DeVos was raised – while $2.2 million went to Calvin College, associated with the Christian Reformed Church in North America. Of the $90.9 million in philanthropic donations the DeVos family made in 2013, 13 percent went to churches and faith-based organizations: $7.5 million to the King's College, a Christian college in New York City; $6.8 million to the Grand Rapids Christian Schools; and $1.05 million to the Chicago-based Willow Creek Community Church, an evangelical megachurch. As DeVos puts it in Simply Rich, 'My Christian faith and outreach . . . remain strong after all these years. The Christian church and Christian education are high on our list of giving.' He goes on to say:
Collectively, our family has given away millions, but if the government increases our taxes by a big number, that makes it tough to have that number to give away. If the government takes it, then 
I can't give it – and I enjoy giving. My giving it puts the money in better hands than the government's.
Each year, Rich DeVos attends The Gathering, a below-theradar conference of hard-right Christian organizations and their biggest funders. Featured speakers have included the president and CEO of Alliance Defending Freedom, the president of Focus on the Family, and the head of the Family Research Council. The philanthropists in attendance are representatives of some of America's wealthiest dynasties and family foundations, and of the National Christian Foundation, America's largest provider of donor-advised funds given to Christian causes. Donors who meet at The Gathering dispense upwards of $1 billion a year in grants.
The family is also heavily invested in right-wing politics, earning comparisons to the Kochs for the enthusiasm with which they back Republican candidates like Newt Gingrich, Rick Santorum, Jeb Bush, Scott Walker, and Marco Rubio, and their sizable donations to ultraconservative organizations like Focus on the Family and the Family Research Council, both of which promote Christian value-based public policy such as anti-abortion legislation and bans on same-sex marriage. In 2014, the DeVoses donated in the six figures to Michigan-based conservative think tanks including the Acton Institute for the Study of Religion and Liberty, which promotes free market economics within a Christian framework, and the Mackinac Center for Public Policy, also a supporter of free market economics. Elsewhere, conservative organizations that received DeVos funding of over a million dollars each include the American Enterprise Institute, another free market think tank; the Alliance Defending Freedom, the right's preeminent legal defense fund; and the Heritage Foundation, which promotes free market economics and 'traditional American values.'
In the last quarter of 2015, DeVos family donations accounted for over half of those made to the Michigan Republican Party. Dick DeVos, Rich's oldest son, who served as president of the company before passing the torch to his younger brother Doug, made an unsuccessful run for Michigan governor in 2006. His wife, Betsy, has served as chair of the Michigan Republican Party and finance chair for the National Republican Senatorial Committee, and now chairs the board of directors of the American Federation for Children, a nonprofit which promotes giving students taxpayer-funded vouchers to attend private schools.
On a more personal note, Rich DeVos was close friends with Gerald Ford. They met when Ford was still a US congressman, and he regularly attended product launches when the company was still doing them out of DeVos's basement. As far as US presidents go, DeVos was also partial to Ronald Reagan – who appointed DeVos as finance chairman of the Republican National Committee and to the AIDS commission, about which DeVos has said:
When HIV first came out, President Reagan formed a commission and I was honored to be on that commission. I listened to 300 witnesses tell us that it was everybody else's fault but their own. Nothing to do with their conduct, just that the government didn't fix this disease. At the end of that I put in the document – it was the conclusion document from the commission – that actions have consequences and you are responsible for yours. AIDS is a disease people gain because of their actions. It wasn't like cancer. We all made the exceptions for how you got it, by accident, that was all solved a long time ago.

That's when they started hanging me in effigy because I wasn't sympathetic to all their requests for special treatment. Because at that time it was always someone else's fault. I said, you are responsible for your actions, too, you know. Conduct yourself properly, which is a pretty solid Christian principle.
In Simply Rich, DeVos describes buying full-page advertisements for Reagan in popular magazines during his presidential runs because 'we wanted the Amway distributors and their customers to know that we supported Reagan, in the hope that they would support him, too.' Adding, 'We also thought the ads might further help Amway distributors recognize the importance of free enterprise to their success.' This is not the only time Amway has encouraged its sales force to back its political agenda. In 1994, Amway Crown Ambassador and motivational mogul Dexter Yager used Amway's extensive voice mail system to raise almost half of Amway distributor and 'strong conservative' congresswoman Sue Myrick's campaign funds when she ran for North Carolina's ninth congressional district. The year Myrick was elected, Amway donated $1.3 million to the San Diego Convention and Visitors Bureau to pay for Republican 'infomercials' airing on televangelist Pat Robertson's Family Channel during the party's August convention.
Yager, for his part, knows something about influence. He is nicknamed the 'Master Dream Builder' and commonly referred to as a 'hero' of The Business. Like most of Amway's top earners, he has been in it since its early days – Yager's business now employs four million Amway team members in over forty countries.
Yager made a name for himself as the father of the 'Yager System,' one of the first and most profitable motivational 'tools' businesses run by Amway distributors (also called 'tools scams' by detractors). Distributors produce motivational tapes and videos, or 'tools,' and sell them directly to their downlines for immediate profit. Tools promote Amway's free market philosophy but are not themselves Amway products – though the Yager Group is still today an Amway-approved training provider. The Charlotte Observer has said of Yager, 'He sells not only soap but an ideology and a way of life. Admirers speak of him with reverence, as if his next plateau of Amway achievement were sainthood itself.' The title of Yager's first book, Don't Let Anybody Steal Your Dream, was a Gerard household motto. We said it to one another with a near-religious zeal – like we were speaking in high-fives. I still feel nostalgic for my childhood when I hear it.
*
My husband rides in the front of the golf cart with Dale; I ride in the back. We strike out over the gently rolling fairways. 'We're a longer course,' says Dale. 'Total length, if you play from back tees, seventy-one hundred yards. No one, not even the younger guys, play from the tips. I'm just going to show you the prettiest part and then head back so we stay dry.'
We follow the right edge of the course, past houses hiding behind rows of palms: pool screens and burnt-orange rooftops flash by, one after another. Dale tells us that the country club owner's philosophy is not to overseed the fairways and greens but to preserve their natural beauty through proper maintenance. The tee boxes are overseeded with rye grass because people are taking strokes off them every day.
'We got some diehards here!' he says, slowing next to two older men preparing to tee off. They exchange hellos.
'He's a Clearwater fire chief,' Dale says as we pull away. 'And he's a pilot – a New Yorker.'
A third of Bayou Club's membership is seasonal. People join the club to make friends because it's difficult finding a community when you're not from the area. Here, they know, people will remember their name.
A small waterway intersects the course ahead of us. We pull up to a wooden bridge, and Dale stops.
'We've got a little bit of surge here,' he says. 'Water levels are high. This is the Bayou Crossing Waterway. That way would take you out to Boca Ciega Bay, and eventually the Gulf of Mexico. When there's a huge tidal surge, these live bodies of water, the Bayou Crossing Waterway, feeds into, and overflows into, all these lakes and bayous around the course. And then when the water recedes, any fish and the water that gets in there gets trapped in there and can't get out.'
I snap a photo with my phone as we cross the bridge.
'Tom Fazio is the golf course designer,' says Dale. 'He was pretty green and environmental-friendly, kind of before it was all really cool, and that's what he does, is he builds the course around the natural landscape without changing it.'
'Doesn't the golf course itself change it?' I say.
'Does the course change the landscape?' says Dale.
'Yeah, doesn't the golf course itself change the landscape,' I say.
'It does, but I think he tries to not change the natural landscape, but to design the course around it,' says Dale. 'Like, all these holes going right next to the Bayou Crossing Waterway. It's . . . it's . . . it's part of it.'
We drive on.
'And then the bayous, the natural bayous, having those as, um, hazards to hit over and around,' he says. 'It's just fun.'
'I bet there are some nice balls in these bayous,' says my husband.
'You know, we actually have a guy who's on contract with us.
He pays us an annual fee to remove the balls from our lakes and ponds.'
'What kinds of species do you see out here?' I say.
'A lot of mullet, some sea trout,' says Dale. 'Birds, some blue heron, some osprey, ibis. Definitely some gators. We don't reach too far into the bushes to get our balls.'
Dale hangs a left, and we circle back toward the clubhouse. Halfway there, he slows by a pond. A family of ducks crosses the course and alights on the water.
'What happens if we're members for six or seven years and suddenly we can't afford the membership fee anymore?' says my husband.
'Then you can resign,' says Dale. 'We have a medical leave program if there's a medical issue. If it's a money thing, it's financial. We do lose members, but that's not something either you or we can control.'
Back in the clubhouse, Dale shows us the locker rooms and the administrative offices, pointing out the one for the Bayou Club community association. He pauses before a plaque outside his office, displaying several rows of names.
'One of our traditions is this Hole in One Club,' he says. 'We don't use this plaque anymore, but we do make a plaque with a picture of the hole and the date you made it and your name. Some people go their whole lives and never make a hole in one, so we make a big deal out of it. You have to have a witness – you come back to the clubhouse, your witness has to verify with the pro shop. Then we open a free bar tab for you for the rest of the day. All golf members are part of it, so the insurance on it is: If someone makes a hole in one, every golf member is charged one dollar. So, that creates a three-hundred-thirty-dollar credit that you will receive. If you don't use it at the bar, you'll get a certificate to use around the club for anything else.'
'I've always wanted to make a hole in one,' says my husband.
'It's a rare thing,' says Dale. 'Sure, there's a lot of skill – you have to hit it just right – but in the end, it's kind of luck. It's kind of a little bit of luck, too. Maybe eighty percent skill, twenty percent luck.'
'Have you ever gotten one?' says my husband.
'No,' says Dale. 'I've only been playing seriously for six or seven years, and I don't have much time, working in hospitality. But I love playing at Bayou Club. You join a private club hoping that during season when every other golf course is swamped – I mean, we own a public course nearby, and they're running on six-minute tee times. They're herded through there like cattle. It's tough during season, and it's not enjoyable golf. Because if you're playing golf, especially if you're kind of a quick player, when you run into someone else and then you have to stop and you have to wait for those people to play ahead of you, to get out of the way, it interrupts your rhythm playing the game.'
He walks us to the front with a membership application. We promise we'll return it to him within the week – then walk across the parking lot back toward our Porsche.
*
My parents more or less broke even in Amway. They didn't lose any money; they also didn't make any. I learned recently that my mom was against it from the start. 'She never wanted to do it, never warmed up to it,' says my dad. She believed it was a cult, and wasn't happy about giving their time and money to it. She hated Amway's rightwing political propaganda and evangelical bullying. She hated that it kept the two of them from spending time with me. 'She wasn't going to leave me,' my dad says. 'But there was tension because she didn't want to go do these things.' Even as he admits he agreed with her on some level, he wanted to believe that The Business was viable.
In four years, they built up their downline to something like forty people. It was a cumbersome organization, but the people they were working with, save for one, were all honest. A lot of them had families we'd grown close to – the kids were my friends. I'd go to their houses on the weekends, and after school, and whenever my parents needed a babysitter. After we left Amway, I never saw them again.
In the beginning, my parents put between ten and fifteen hours a week into their business – per the company's recommendation. But over time, my dad's enthusiasm began to wear off. 'You say to yourself, 'What the hell for?'' he says now. 'So that somebody can come in and then not return your calls? You take them to a meeting and there's a jerk up there who's embarrassing? I had no way, no avenue to get people in there and get them excited.'
The embarrassing jerk was my parents' upline, Vincent, who had Emerald status. I don't remember this man. My dad says, 'He was a creepy guy, just an incredibly creepy guy. I don't know how else to describe him . . . You actually felt, after being around the guy, that you needed to take a shower. Nobody wanted to be around him. He was a jerk, he was a liar. Just a despicable person.'
This is not the man who brought my dad in but a man somewhere above him. He was what The Business calls a 'phony Emerald.' To meet the criteria for the pin level, he'd force the people in his organization to order extra product in order to grow his volume and push him across the finish line each month – not that he turned much of a profit doing so, as he had to pass it all on to his own upline. 'Well, the Emerald pin doesn't mean anything unless your organization is solid,' said my dad. 'So you got a pin – you're not making the money.' Eventually, my dad says, Vincent was stripped of the Emerald pin because he couldn't maintain the sales by force alone.
It was hard enough to get people to sign up for Amway. My parents, in describing their experience, said that most people had heard of the company and believed it was a pyramid scheme. In fact, part of my parents' strategy for 'showing The Plan' was that they didn't even tell people it was Amway until the very end of their presentation – then they signed them up on the spot. If they couldn't sign them up right then, they invited them to a meeting. Most of the time, even though they told them not to talk to anybody about Amway before the meeting, the prospect would go to their brother-in-law, who would tell them it was crap. 'And if they make it to the meeting, this guy' – the creepy guy in the upline – 'stands up there and is a complete ass,' says my dad. 'And the people that you encouraged and cajoled, they take a look at you and say, 'What?' And then they don't return your phone call.'
Not everybody in the world has a big vision of what life can be. Most people go to work, they get a check, they go home, and that's their life: they don't have a big vision.
'To build that in somebody is a great effort,' says my dad. 'And then, once you do build it, to have somebody go and tear it apart because he's a jackass . . .'
On top of that, my dad's advertising business was taking off. He didn't have time for two entrepreneurial ventures. Forced to choose between them, the best option was clear.
I think of my family's time in Amway as achievement tourism. We left reality for a moment and believed the impossible was possible. My dad still wonders if there's more he could have done, if there's a way for him to have succeeded in Amway – admitting in the next breath that there isn't. My parents tried everything. At each turn, the people they thought were supposed to be helping them – their upline, yes, but really the overall structure of the Amway Corporation itself – actually stood in their way. They built dreams and worked to achieve them, but the only people who benefited from their work were the people already on top.
For my part, I'm now skeptical of my materialist impulses. The dreams I built in Amway don't appeal to me anymore. I find them claustrophobic. Ultimately they made the walls close in on my family as we reduced our visions for ourselves to what we owned rather than who we were and how we lived our lives.
*
Directly across the state from my family, on Florida's Atlantic coast, is the Windsor country club. Home architecture here is strictly regulated. Residents drive around on golf carts, on and off the eighteen-hole course. There's an equestrian center, tennis courts, a concierge, and a gun club. Occasionally Prince Charles pays a visit. This is where you go when you bypass Palm Beach on your way to vacation – there's no kitsch in Windsor, only the highly refined. Among its residents are retail billionaire W. Galen Weston, the Swarovski clan – and the DeVoses, who own three houses here and spend eight weeks a year or more on the waterfront.
'I never wanted to have a house in Florida,' Betsy DeVos explained to the Wall Street Journal. 'But Windsor is so different from the rest of Florida.'
There's no such thing as class in Windsor – everyone is as rich as everybody else. In Windsor, Rich DeVos can catch some rays in peace. No one bothers him about 'ethical this' and 'fraudulent that.' He plays golf all day. He never has to mow the lawn or wait at a traffic light.
In Windsor, Rich is surrounded by civilized people. There are no termites. The pool is always eighty degrees. The beach is walking distance. There are no sharks in the water, even at night. Birds never shit on his car in Windsor. There are no loud tourists in Windsor. There's no media. There's plenty of shade. There are no alligators.
The people are all Rich's friends in Windsor. People always agree with him here. In Windsor, there is only small talk. Everyone donates to the charities of Rich's choosing. He gets a hole in one every day.
*
In 2010, Amway reached a settlement reportedly valued at $100 million in a California class action lawsuit filed by three former distributors who claimed the company was operating as a pyramid scheme. In addition to paying the plaintiffs and their attorneys, the company announced in a letter to its employees that, as part of the settlement, it was taking action to address many of the concerns raised in the case. Among the actions taken were tripling investments in IBO education programs and more than doubling the number of professional trainers, such as the Yagers, across the country. A year after the California case was settled, Amway offices in India were raided for the second time among multiple complaints about the company's practices and its upper-level distributors. The following year, they were raided again, and the CEO of Amway India was arrested for fraud.
In 2014, Founders Crown Ambassadors Barry Chi and Holly Chen, who run the biggest Amway distributorship in the world based in Taiwan, were sued by nine Chinese immigrants in the Southern California region who claimed that, although Chi and Chen promised they could potentially make millions in commissions, Amway business owners make closer to $200 a month.
Some things never change.
Photographs courtesy of the author
'Going Diamond' appears in Sarah Gerard's essay collection Sunshine State, published by Harper Perennial on April 11, 2017