It was after midnight and Andrew George was exhausted. He'd been chopping, slicing and steaming in the harshly lit, windowless kitchen since eight that morning. He knew that if his team was to stand a chance, he had to forget about the fatigue. Unlike some of the other more-seasoned competitors, neither George nor his four teammates had ever competed at the Culinary Olympics. The kitchen was in chaos – pots bubbling on the stove, frying pans sizzling, his teammates dashing to the walk-in fridge.
At twenty-eight, George was the youngest on the team, and he knew this meant he had to work harder to prove himself. He was used to this sort of pressure though, thrived on it. George wore his tall starched chef's hat with such regularity that he forgot it was there; an imprint of it was often left on his black hair long after he finished work. His forearms were peppered with faint scars from ten years of labouring in kitchens. George and his teammates were each taking a turn as executive chef, and it was now George's moment, and he was going for the gold.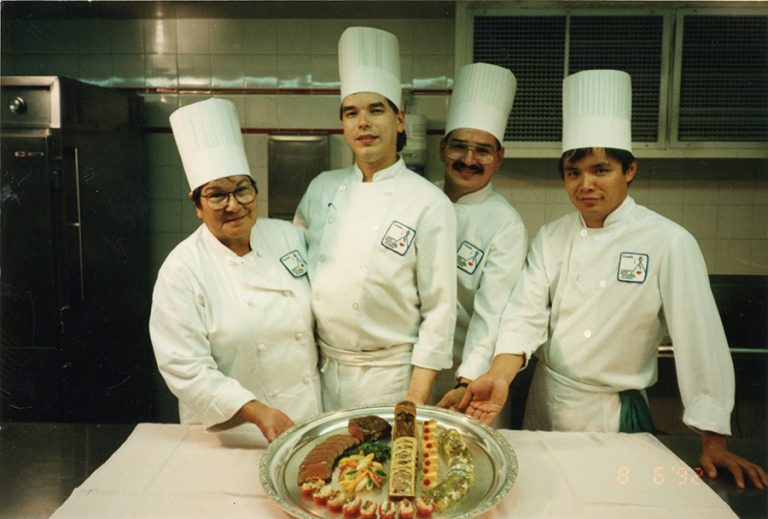 Photograph of the Native Canadian Haute Cuisine Team: with (from left) Bertha Skye, David Wolfman,  Arnold Olson, Andrew George Jr. / Courtesy of Andrew George
The 1992 Culinary Olympics were being held in Frankfurt, Germany during a cold spell in October. The competitions took place in the exhibition hall of the Messegelände convention center in the city's west end, but George's team, like many others, were doing their prep off-site. His team had spent countless hours on their feet, wearing their checkered black-and-white chef pants, in the kitchen at the Marriott Hotel. George had hung a clean set of his chef's whites in a little room off of the kitchen, past the industrial stoves and the vents that pushed out air and produced a soundtrack of white noise. He wanted to look sharp when he presented his dishes to the judges, but knew he wouldn't have time to snap back to his hotel room to change beforehand. His team's name had been embroidered on the coat: Canadian Native Haute Cuisine Team. They were the first team of Indigenous chefs to ever compete at the Culinary Olympics.
That year, more than a thousand sauciers, chefs and patissiers from over fifty countries had shown up to compete. Chefs had been training since the last medal ceremony four years before, recipes had been rehearsed, glazes perfected. France, everyone said, was the team to watch. The five-day event was known for launching careers and food trends. It was, and still is, one of the biggest and most prestigious culinary competitions in the world. For any chef, attending the Culinary Olympics is the highlight of a career. For five Indigenous chefs whose cuisines weren't even on the map back in Canada, it was a chance to show the world the recipes from their lands, the foods of their Nations.
The captain of the Native Haute Cuisine Team was David Wolfman, a tall guy from the Xaxli'p Nation, a community at the base of the Coast Mountains just north of Vancouver. Wolfman had been running a successful Indigenous catering company in Toronto before he'd started training for Frankfurt. With him was Bertha Skye, an Ahtahkakoop Cree who had married into the Cayuga Nation and had taken up their Haudenosaunee culinary traditions. Arnold Olson was a year older than George, Cree, and wore a dark, thick mustache. Brian Sappier, who travelled with the team as a back-up chef in case someone from the team fell ill or got injured, was Wolastoqiyik and from a reserve on the north side of the Tobique River in the heart of New Brunswick. They'd been training together for over a year. The bleached tiles and stainless steel surfaces of the Frankfurt kitchen were new to them but the chefs worked together in perfect rhythm, each recipe memorized, the steps choreographed and well-rehearsed.
There was still much to do before they would be ready to plate the dishes. It was day five, the final day of the competition, and the team was heartened by the fistful of medals they'd won already and by the press they'd received from the German media. Olson's menu, 'From the Sea and Forest', featured papery sliced perch, and moose knuckle with the cut, white bone revealing chestnut-coloured marrow, its flavour buttery and unctuous. For her menu, Skye cooked Three Sisters Soup, made with corn, beans and squash, a recipe her Haudenosaunee mother-in-law had taught her.
George's menu was from the Northwest, and showcased the foods from his Wet'suwet'en Nation. Foods that his parents and grandparents had taught him to trap, hunt, fish and gather. Foods that, standing on a stool next to the stove, he'd watched his mother make, and his grandmother down the road, and his dad in the bush. Foods from their land.
George stood at the stainless-steel countertop and looked down at the ingredient that he hoped would get him noticed, if he could just pull off the technique. He needed to cook the beaver that had been flown in for his soup. For the past year, he had been practicing the intricacies of this dish at the Queen Elizabeth Hotel in Montreal, where his team had been training. The dish called on techniques George had learned in professional kitchens, as well as on the traditional teachings of his parents and grandparents – he had a foot in two worlds, and had been straddling them his whole life.
He touched the dark leathery tail of the beaver in this foreign kitchen. It lay before him on the stark metal counter. Holding his Henckels knife, its weight familiar in his hand, he thought about being out with his father in their territories in the wintertime when the snow-capped mountains looked over their valley – the best time to trap a beaver. George had taken care preparing the tail, he'd poached it in a pot of water for nearly an hour and it was finally cool enough to handle. Using his knife he started to peel back the skin. He remembered being out on the traplines, and the dried tobacco leaves that they placed on the snow as an offering of thanks. The tail had poached well, the skin peeled back effortlessly to reveal a flesh that was gelatinous and rich, the colour of the palest salal flowers. As he worked, the earthy smell of the beaver – like poplar trees and willows – was both comforting and disorienting. Something so familiar in this setting so far from home. The next step was to add the meat from the tail to his stock simmering on the stove. He set to work.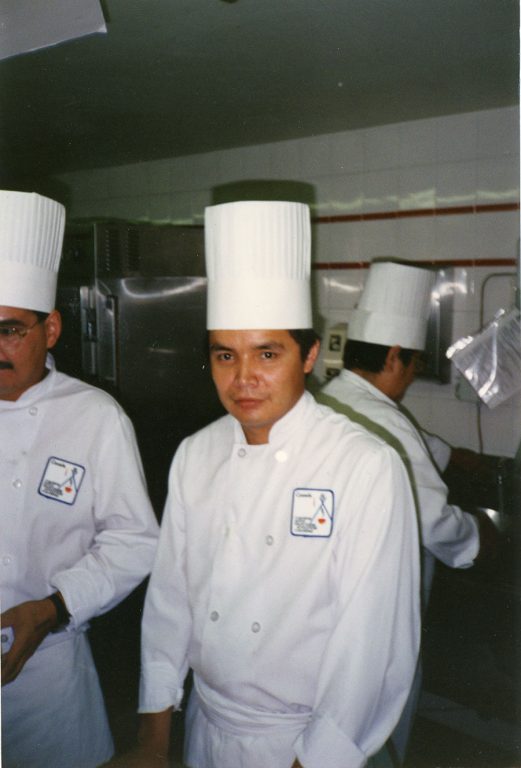 Photograph of Andrew George, Jr. / Courtesy of Andrew George
In 1959, George's grandfather Paddy Isaac boarded a bus from Telkwa, British Columbia, to Smithers and set out to find a place to stay for the night. The handful of hotels scattered near the mountain highway had signs posted in the windows that read: white patrons only. When every hotel refused Isaac because he was Indigenous, he asked the local police station if he could pay to sleep in a cell. There he spent the night, paying the cost of bail.
George was born four years later. When he turned nineteen he told his friends he was moving to the city to train as a chef. They thought he was crazy. White tablecloths, béchamel and béarnaise were everyday for some people, but to them felt as far away as the moon. 'Twenty years ago we weren't even allowed to go eat in those places. You're going to go cook in those places?' A few months later, George was wearing chef whites and learning his mise en place at the Vancouver Vocational Institute downtown.
When he started cooking school, George was one of only two Indigenous students in his program, he remembers. Those days were tough. Racism wasn't the main story, but it was there. 'There were people who said "Indians can't cook."' He had to grow a thick skin in the kitchen.
Once he'd completed his culinary training, George cut his teeth working in prominent Vancouver restaurants including Quilicum, the only Indigenous restaurant in the city. George manned the wood-burning grill there until he got a gig as head cook at the First Nations Restaurant at Expo 86. Four years later, on a summer day, he drove sixteen hours north to Telkwa, caught 300 trout with his cousins, packed them in ice and drove back to Vancouver to grill them for the opening of his own restaurant and catering business, which he called Toody Ni after a shale hill in his home territory known for its abundant juniper berries. The restaurant was located on a quiet strip of East Hastings Street, and the menu featured salmon and bannock, salmon soup, venison and bison, and plenty of herring roe. A few months after opening, in the middle of a dinner rush, George got a phone call that would forever change his culinary career. It was Chef Wolfman, captain of the Native Haute Cuisine Team.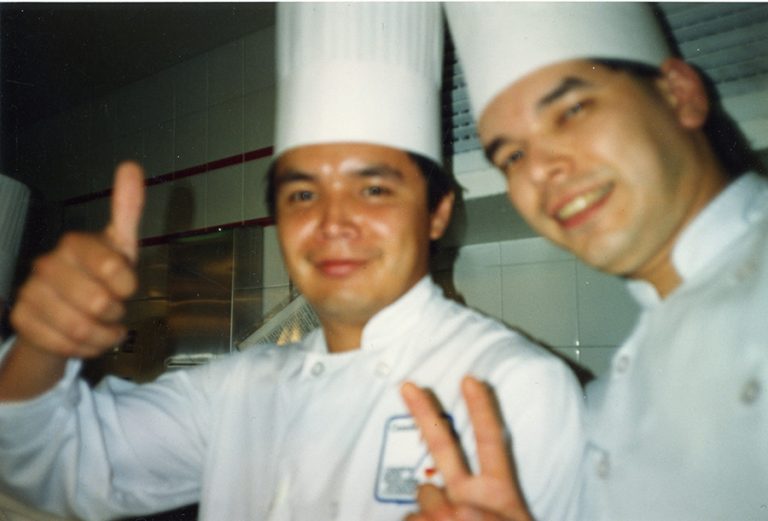 Photograph of Andrew George, Jr.  (Wet'suwet'en Nation) and David Wolfman (Xaxli'p Nation), in Frankfurt / Courtesy of Andrew George
The night before the competition George and his teammates hardly slept. It was raining in the morning, and still dark when they arrived at the convention center. Despite the early hour, chefs were buzzing about carrying dishes and trays. The judges would be arriving in a few short hours.
The team set about displaying their dishes: terrine of smoked fish, smoked arctic char, venison tenderloin, and the beaver tail soup. The soup had turned out perfectly, a deep brown, but clear and light like a consommé. Its aroma was somewhere between a beef broth and roast turkey. If he were back home, George would've hung the skinned beaver in the smokehouse the way his mom had taught him, by keeping a fire going with alder or cottonwood until the carcass had dried out over a couple of days. He would've brought the smoked meat to the feast hall and passed it around. George knew the elders at home might prefer a more traditional approach to his soup, but he had worked hard at mastering the classical culinary techniques and he liked the challenge of blending these methods with the foods and teachings he'd grown up with. When George left for culinary school he was reminded of advice his grandfather had given him, to get a Western education to match his traditional one, to have a balance. You can survive in the city and you can survive in the bush.
The judges were touring the room carrying their clipboards. George looked around and saw a gathering of mostly white chefs. It wasn't too different from other restaurant kitchens that he'd worked in. Still, George was nervous. He thought of his parents back home in the Wet'sutwet'en territories, of his father, whom he'd watched prepare beaver so many times.
Then the results were in. George and his teammates held their breath. 'Gold. Das kanadische Team eingeborener Köche.'
George didn't need to hear the translation – he had picked up enough German to understand. They had done it. Applause broke out from around the room. The Canadian Native Haute Cuisine Team had won the gold.
By the end of the Olympics, George's team had won seven gold medals, two silver, and two bronze. Eleven medals in all. All this in a year when the judging in Frankfurt was said to be the toughest in the event's 92-year history. All this by the first ever Indigenous culinary team.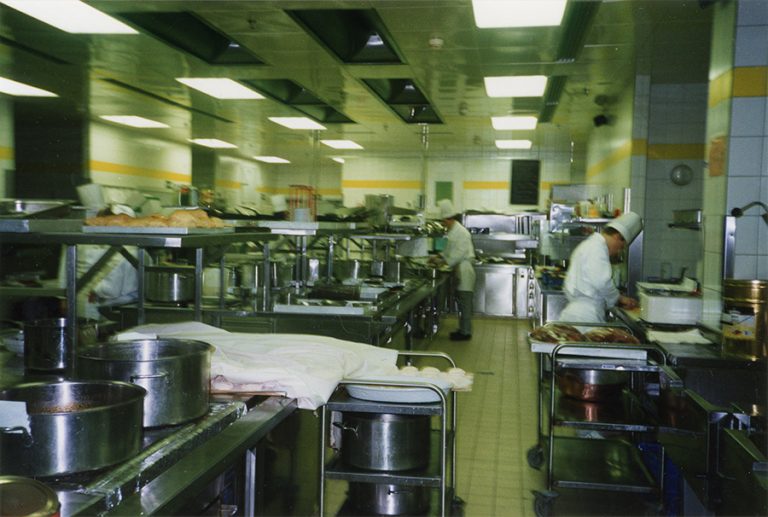 Photograph of hotel kitchen in Frankfurt, where the Canadian Native Haute Cuisine Team did their prep for the 1992 Culinary Olympics / Courtesy of Andrew George
It's a hot evening twenty-three years later, in June, and George and his mom Rita sit around the dining table in his three-story townhouse on the outskirts of Vancouver. The rows of suburban homes alongside George's are identical – cream-coloured wood panelling, chocolate brown trim, mowed lawns, low-lying hedges. George, his wife Cecilia, and their two kids moved into the four-bedroom home eight years ago. Inside, the walls have been painted a light sage. A print of Roy Henry Vicker's painting Siwash Rock hangs on a kitchen wall, and a copy of George's first cookbook Feast! is on display on a nearby bookshelf. Behind the white kitchen cabinet doors are cans of salmon from Rita, dried seaweed, and maroon and burgundy berry preserves.
After the Culinary Olympics, George was offered a contract teaching Indigenous cuisine at a cooking school in Montreal – the first of its kind in Canada. He's been instructing on Indigenous cuisine ever since. 'There's a reason why they've brought in an Aboriginal chef,' he says. 'I know the story.' He knows the short history of Indigenous haute cuisine, in part because he's been there since its dawning moment at the Culinary Olympics. Since 1992, George has been a culinary instructor for over 400 Indigenous students, and that's a modest estimate. George has taught and cooked all over Canada, but Coast Salish territory – where Vancouver and its outflow of suburbs are situated – is where he's lived and worked, mostly, since starting his culinary training in the early 80s.
George sets a glass jar of soapberries on the wooden tabletop. They are bright red and lustrous, like salmon roe. Rita canned the berries last summer. When whipped, she says, they foam up like soap. The thick froth is eaten as a dessert and is often called soapberry ice cream.
Every year Rita goes into the woods with her sister, brother and cousins to gather the berries, just as her people have done for thousands of years. Everyone knows that soapberries are most efficiently picked not painstakingly by hand, but with a little bit of gentle violence. A tarp or a pan is laid out on the ground beneath the shrub, which is also known as soopolallie or buffaloberry. They beat the branches and the ripe berries just fall right off. Rita has flown south from Smithers, from the Babine and Telkwa mountain ranges, to visit her son George in the city, but her thoughts drift to home, where the soapberries have ripened early. If she weren't here she'd be out picking on the hillsides near her house.
Home, for the Georges, is the north-western central interior of British Columbia, a place where thimble berries and bunchberries grow beneath the canopies of spruce and subalpine fir. Rita is from the Bear Clan and like George, her third-born, she is a hereditary chief. She lives on the outskirts of Smithers in the foothills of the Babine Mountains, next to the Bulkley River, on a quiet road not far from Toody Ni – Wet'suwet'en for 'where the hill faces the river'. Toody Ni is where Rita and her late husband built a small house, years ago, and raised their six children. She'll be flying north, back to her home, in a couple of days. George and his mom have crossed this terrain by car and plane many times. He hopes to make it back for moose hunting in the fall.
Rita measures a tablespoon of the soapberries and drops it into a metal mixing bowl along with a tablespoon of water and a spoonful of white sugar. George's wife Cecilia is in the kitchen cleaning up the last dishes from dinner. 'Where's that egg beater?' Rita asks. Cecilia pulls it from a cupboard. When Rita was younger she whipped the soapberries by hand, which takes about ten vigorous minutes, roughly the same amount of time it takes to whip egg whites into a meringue by hand. Traditionally, the berries were whipped into a foam using a salal bough, thimbleberry leaves or a bundle of inner cedar bark. Several years ago the community held a soapberry ice-cream-making contest in which competitors had to beat the berries by hand. Rita took away first prize.
Over the whir of the egg beater, the colour changes. It shifts from crimson to a powdery pink. The mixture turns from liquid, to froth, to a thick foam. She switches off the beater. The foam has peaks like a stiff whipped cream. But on the tongue, the texture is much lighter, delicate. It tastes similar to currants, but more bitter, like cranberries or wild gooseberries. When eaten raw, straight from the branch, the bitterness is so intense that the soft, fleshy berries will make your tongue curl. George likes his soapberry ice cream with huckleberry juice, which he pulls out of the fridge.
Indigenous ingredients like the soapberry are staples in some Indigenous cuisines. But you won't see soapberry foam or coulis or compote on any menu in Canada, because across this vast country, there are very few restaurants serving Indigenous cuisine. And these restaurants represent a vast increase in numbers over time – when George set out for the Olympics in 1992, Indigenous cuisine was almost invisible.
Getting Indigenous cuisine into restaurants is something George has been working at tirelessly since he started his culinary career. 'I still have a hard time convincing people that there is an Aboriginal cuisine. They say, "Well, there's no restaurants." Just because you don't see First Nations foods in restaurants doesn't mean it's not alive and well. We know how to cook our own foods. Aboriginal cuisine does exist.'
Part of the issue is that there is not just one Indigenous cuisine. Rather, there are Indigenous cuisines. Even the most notable European culinary traditions, like French cooking, were sculpted over time from different regional cuisines like Provençal, Lyonnaise and Bordelaise. In the same way, the notion of a unified Indigenous cuisine loosely collects an astonishing diversity of dishes, ingredients and cooking methods from hundreds of Indigenous nations and geographies.
For George though, the singular – 'Indigenous cuisine' – makes sense. And his three cookbooks spell out why. George's recipes call for fiddleheads, butter clams, oolichan oil, seaweed, coho and sockeye salmon, herring roe, and grouse bones for stock. You'll find a Plains Cree wild rice recipe on one page, and a Six Nations corn soup on the next. While George draws heavily from his Wet'sutwet'en background, he has made pilgrimages to Indigenous communities across the country – from Tofino to the Arctic Circle – to talk to elders about their recipes. He can trace a line across culinary traditions, from the Wolastoqiyik to the Musqueam. For him, Indigenous cuisine means cooking from the land and the waters and the sky.
Like any other cuisine in the world, Indigenous cuisine is tied to place and is influenced by the trade routes that have passed through those landscapes. Think of Provençale cuisine – rich with tomatoes and eggplants and lemons and fragrant with rosemary and thyme and oregano, ingredients that grow on the hillsides and in the fields that stretch north from the French Riviera. Some of these ingredients are native to the area, and others have been imported – long ago or recently, over the course of immigrations and explorations and invasions – from distant fields and shores.
The first time I asked George why he thought Indigenous cuisine wasn't more present was a few years ago, while we were drinking bottomless coffees in a suburban diner. He said, 'I think it's coming. I think there's going to be a big wave coming.' He tends to talk in surges. In the classroom, George teaches the foundational culinary skills using French techniques, the core of pretty much every chef-training program in the world, and he ties these classical teachings to Indigenous methods and ingredients. He wants to see his Indigenous students succeed in the Western education system, he says, but he wants them to marry that schooling with their traditional teachings. George admits that his approach to culinary teaching has gotten him accused of assimilation from some Indigenous people. 'There's still this leeriness of getting a Western education, this leeriness of a white man's education,' says George. 'And it boils down to the residential school syndrome.' He means the Canadian legacy of state-mandated assimilation, forced on  generations of Indigenous children at church-run boarding schools. What has been officially referred to as 'cultural genocide'.
Terroir, in Indigenous cuisine, is political, and has been ever since the Old World crashed into the New. George knows that the wounds are still healing. 'You're not being assimilated into the melting pot of chefs,' George says. 'You're given an opportunity to have an identity. And that's what Aboriginal food does for you. It identifies who you are.'
*
Canadian cuisine is often conceived as a haphazard patchwork of Québécois- and English-heritage dishes, many of which involve European-origin ingredients. Poutine, donuts, Canadian bacon, the Nanaimo bar. But all of it was preceded by, and often built from, foods that are native to North America – like maple syrup, an Indigenous food staple that had been around for thousands of years before colonists tapped it for their own.
Today, in Canada, Indigenous cuisines are on the rise. Indigenous chefs are carving out more space for their recipes, in restaurants, menus and cookbooks. Alongside Andrew George are chefs like Shane Chartrand, who has said: 'Indigenous cuisine, ultimately it's Canadian cuisine. It's our identity.' Indigenous chefs will tell you that their dishes are Indigenous, not Canadian. With the plate, these chefs demonstrate that the food is the land, and that the land is still theirs.
On a cool and clear spring day, Chartrand was on Birch Island in the middle of Lac la Biche, Alberta, about 700 kilometers north of the American border, where he and fourteen other chefs had travelled for Cook It Raw. The chinook salmon he was standing in front of had been drying in the wind for days. Their silver skins caught the early October sun. When Chartrand cut into the red flesh and felt the resistance against his knife, he knew it was time to untie the salmon tails hanging from the rack made of aspen branches.
For the next week, Chartrand, a Cree/Métis chef with tattoo-covered arms, would try to forget about his executive chef duties at Sage Bistro (since rebranded as SC) on the Enoch Cree Nation's reserve. In professional cooking, an invitation to Cook It Raw is one the most coveted prizes. The event isn't a competition, but a coming together of the culinary elite to collaborate and innovate. Created and curated by Alessandro Porcelli, previous Cook It Raw gatherings have been held in places like Lapland and Copenhagen with heavy-hitter chefs like David Chang, Massimo Bottura, Alex Atala and René Redzepi in attendance. This year, Porcelli decided to hold the event in Chartand's home territory.
Chartrand's first job, like many chefs, was in the dish pit, where he was introduced to the rhythms of a professional kitchen. After tearing through a series of line-cook jobs, he signed up for culinary school and versed himself in classical techniques. Once he'd earned his chef whites, he worked his way up through kitchens before landing his role as executive chef. It was at Sage that he started to experiment by fusing his Indigenous roots with his culinary training. The pages of his notebooks are filled with recipe ideas like bison tartare, sage-infused elk, and quail legs with 'war paint' sauce. His approach in the kitchen, which he calls 'Progressive Indigenous Cuisine', earned him a spot on the Food Network's Chopped and attention from the culinary top tier, including Porcelli.
Chartrand, who is working on his first cookbook, Marrow, is one of a handful of young Indigenous chefs who are building on classic culinary techniques – concasse, chiffonade, julienne – and, as Chartand says, 'Indigenizing' them.
On an overcast Friday in late April, about a year ago, at the opening of Anishinaabe chef Johl Whiteduck Ringuette's restaurant NishDish in Toronto, diners were lined up on the sidewalk before the front door was even unlocked. Whiteduck Ringuette's menu presents Three Sisters Soup, venison stew with sage, and Labrador tea made from the dark green leaves of a wetland shrub common in western Canada. (It's said to be good for the lungs.) At Kukum (Cree for grandmother), which opened in Toronto shortly after NishDish, Haudenosaunee chef Joseph Shawana is known for his seal tartare, pickled cattail hearts, roasted elk and oysters served with a mignonette of sweet cedar tea brine. At Nikosi Bistro in Wakefield, Quebec, Métis restaurateur Wapokunie Riel-Lachapelle serves up a mélange of game meats, but it's her drink list that stands out – a sprucey negroni with a reduction of evergreen tips and juniper berries, a bourbon and rum cocktail with maple syrup by the name of Colonial Blues, and The Bloody Patriot mixed with blackcurrant liqueur. She also stocks Coureur des Bois maple whiskey.
Then there's Rich Francis. Four years ago, Francis became the first Indigenous chef to compete on Top Chef Canada – he cooked with a Haudenosaunee flag sewn to the sleeve of his white uniform. Tables for his recent pop-up restaurant, Cooking For Reconciliation, were fully booked. He served razor clams, bison tomahawk and braised sea lion (which tasted like a tender malty brisket), along with halibut wrapped in deep green moss and baked with the fronds and rhizomes of licorice ferns. At Salmon n' Bannock, Nuxalk restaurateur Inez Cook has curated a menu of game charcuterie, wild rice risotto, cedar jelly and sage-blueberry preserves. Her restaurant might offer elk osso bucco one night, and on another, bison ribs and bone marrow served with bannock.
Back at Lac la Biche, the skies were clear and the air cool from the lake. Chartand had already prepped his Saskatoon berries. His bison bone marrow and suet were ready. It was time to pound the dried chinook down to make pemmican. He learns from the elders and knows the importance of following protocol when making dishes from different nations. He gathers this knowledge and ties it to his culinary training; he might sous-vide elk tenderloins or incorporate sage smoke with moose ribs. 'I'm a chef and I can cook how I choose to cook,' he says.
Still, authenticity can hang like a trap in the culinary world and Chartrand moves carefully around it. He knows that it's there, a slippery concept. The notion of authentic cuisine, that there is a pure Indigenous food, an essential and true form, can constrict a chef as much as it inspires. Chartrand respects traditions and histories, and he knows that nothing is really authentic. Cuisines, like cultures, are not fixed in a distant past, but fluid and in motion like the lake at his back.
*
In 1884, in an amendment to the Indian Act, the potlatch feast was banned. Up and down the west coast, the potlatch (from the Nuu-chah-nulth word paɬaˑč, 'to give') had been the foundation of social, political, legal, spiritual and economic systems. They established the rights to land, hunting grounds, berry patches and fishing areas. It was the means through which food and resources were redistributed, and cultural knowledge was transferred to future generations – and remains so despite the sixty-seven years during which it was illegal. Potlatches still mark marriages, memorials, naming of children, totem pole raisings.
Long ago, potlatches lasted for weeks and stretched out over the winter months. Chiefs and hosts invited hundreds of guests from neighbouring nations. Giant cedar welcome poles stood at the water's edge, often with outstretched arms to greet the guests arriving by canoe. Visitors stepped onto the shores dressed in glistening woven cedar shawls, button blankets stitched with mother-of-pearl sequins, and hats woven from fine spruce roots and painted with family crests. Inside darkened longhouses sunbeams highlighted the smoke hovering near ceiling rafters. Elaborately carved dishes the size of coffee tables held moose head stew, whale meat and broiled seal. Sun-dried red laver seaweed was served alongside steamed highbush cranberry. The starchy bright white flesh of roasted camas bulbs, gathered from meadows carpeted by their purple flowers, were savoured for their sweet nutty flavour.
Colonial administrators and missionaries saw the sharing of food and wealth at potlatches as wasteful, but mostly they saw that the potlatch was at the centre of everything. They saw that potlatching was tied to culture, was culture, and it was getting in the way of their assimilation project. The potlatch ban lasted until 1951. Some defied the order and went to jail. Hundreds of potlatch items – carved copper shields, sacred masks, family heirlooms – were confiscated by Indian Agents and many were never returned.
A history of erasure, the violent scrubbing out of Indigenous culture, is central to colonization. Today, the invisibility of Indigenous cuisine and the claiming of Indigenous ingredients as 'Canadian' is a continuation of this history. Terra nullius, or 'empty land', was the enabling colonial concept of the eighteenth and nineteenth centuries. When settlers arrived on North American shores, Indigenous cultivation methods didn't register in the European view, so the land was 'empty' for the taking. The European agricultural footprint was one of fences and roads and tree-clearing and cattle. The extensive Indigenous methods already in place in the 'discovered' land didn't count. The rock-buttressed clam gardens, the coastal beds of springbank clover and silverweed, the pruning of hazelnut trees, the burning of alpine meadows and lowland prairies to promote the growth of roots and berries – none of this fit the European model. From their ships, settlers unloaded their pigs and cows and planted their potatoes in rows and tore up the gardens they could not see, or did not want to see, and planted their own.
*
'The fat of the bear is just like pork,' says Rita George.
We're in Andrew George's car, an old silver Chevy Malibu, driving east along the Fraser River on Highway 17. An eagle feather hangs from the rearview mirror next to a rose made from cedar bark.
'Yeah, they taste like pork,' says George. 'The purest lard you can get is from the bear, but it depends what they eat.'
Traffic has slowed because of construction. Outside the car windows, cranes hoist steel culverts and concrete slabs.
George's mother is describing the value and versatility of bear grease. 'Eat that with dried salmon,' Rita tells me. 'Dip the dried salmon in it.' She sighs, as if reminded of a craving.
Rita grew up eating bear. George did too, but waves of colonial settlement brought industrial development, resource extraction and environmental destruction that altered the landscape as well as the bears' food sources. 'They're all around the dumps,' says Rita of today's bears. 'And that's why we don't eat them, because of what they're eating.'
'Dried salmon was traded,' says George from behind the steering wheel. 'And, that's where the grease trails came in.'
A member of the smelt family, the oolichan is a little silver fish about the length of a butter knife. Oolichan oil or 'grease' was transported along trade routes, or 'grease trails', that extended far beyond the watersheds where the fish were rendered into a silky oil. The oil was traded as far as the eastern foothills of the Rocky Mountains, a distance of roughly 1,500 kilometers. Oolichan grease was gifted and sold in communities up and down the coast; it was, and still is, a valuable currency for many coastal First Nations. 'Yellow Gold', 'Dark Gold', 'Haisla Gold', 'White Gold' and 'Nass Gold' are different types of grease made in villages along the Northwest Coast. It's not uncommon of for an oolichan fisherman to use the language of karats to describe his oil's hue. Many of the grease trails went on to become wagon roads, and many of the highways in the Northwest have been simply built on top of those routes.
Oolichan is sometimes referred to as the candlefish – it's so oily that you can actually light it with a wick once it's been dried. Among the Tsimshian, one of the names for oolichan is 'hali'mootk' which literally means 'saviour fish' or 'salvation fish'. The oolichan return to the rivers to spawn at the end of the winter, even before the spring salmon runs, at a time when fresh food supplies were usually low. The arrival of the oolichan, in lean years, meant the difference between life or starvation. In Tsimshian territories the arrival of the fish was traditionally announced with the cry: 'Hlaa aat'ixshl halimootxw!' or 'Our Saviour has just arrived!'
Fishermen guard their formulas for making the grease, but the process is more or less the same everywhere: the fish are fermented in big wooden tubs, mixed with water and boiled – the rendered fat is the oil. Some Haisla add hot rocks to theirs, an added step to purify the grease. Some Nisga'a keep the fires going and the oil bubbling for eighteen hours. Some ferment the fish for several days and others for nearly two weeks. Depending on the oolichan run and the cooking process, the oil takes on a different taste and a different shade of amber.
The fish are also smoked, air dried, pan fried, or battered and deep fried. They taste a bit like sardines, a dark oily fishy peaty flavor that hits you at the back of the tongue. One can almost taste the hemlock boughs dipping into the waters where the fish spawn, the cedars that drop their needles nearby. Many people butter their toast with it. But unless you have ties to one of the Indigenous nations who make grease, you will likely never get to taste it. Like so many Indigenous delicacies, it isn't for sale. For those who make it, there is power in keeping it close to home. Oolichans are classified as endangered in every river system in Canada except the Nass and Skeena.
After George moved to Vancouver in the early 80s, his mother would pack up her car every fall with the fish, game and berries she had gathered and preserved with her late husband. 'I used to load up my car with everything,' says Rita. 'All the moose meat, salmon and berries.' She would then drive the jars one-thousand-plus kilometers and drop them off at George's apartment in the city. 'As a family, we're very connected to the land. And it's strong. It's really strong.'
'I think of home all the time,' George says.
I ask George a question I've asked him many times, where he thinks Indigenous cuisine is headed.
'We're not going to be anywhere without our territories,' he tells me. 'The land back home has sustained us. Even though we live in the city, we still reach back like reaching back into the cupboard.'
Photograph of Andrew George, Jr. in his Native Canadian Haute Cuisine Team chef's coat / Courtesy of Andrew George / © Mike Haimes & Associates Ltd.
The Tsleil-Waututh reserve faces the sea, has one main road, and is equal distance to the city (about twenty minutes to downtown Vancouver) and the wilderness (a half hour by boat up the Burrard Inlet to a forested shore). A mounted elk head, shot by the chief, overlooks the kitchen entrance. For the first time in over a century, the elk are back in Tsleil-Waututh territory and are being hunted again by the Nation.
'When that frying pan heats up, you can go ahead and add the ground elk,' George tells a group of Indigenous culinary arts students on a cloudy Tuesday morning in the middle of October. George is teaching a professional cooking course on the Tsleil-Waututh reserve. Knives and cutting boards, notebooks and metal bowls, and a recipe for spicy elk wraps from his cookbook Modern Native Feasts are laid out on the stainless-steel countertops.
'When you see that the meat is starting to brown, add the minced garlic and ginger that you've prepped at your stations. Then you want to continue stirring it for another minute until it's fragrant.'
George walks around the kitchen, Andrew George – Chef de Cuisine stitched above the left breast pocket of his chef jacket. He leans in and answers questions as he tours the room. The kitchen is heating up and someone has cracked open the side door. The smell of cool fall air mingles with the aromas that are now coming from the stoves: somewhere between ground beef and venison, rich and gamey.
In a few days, these students will graduate from the first level of the 28-week culinary program George has developed. The course teaches foundational culinary skills using French techniques and Indigenous methods and ingredients: smoking drying, brining, seaweeds, berries and game meats.
As George talks to the class, instructing them on the next steps for his recipe, I'm reminded of something he said that day when we were driving along the Fraser River with his mom: 'It's finally time for the Aboriginal peoples' cuisine to make its presence in the world.' Then he turned back to the elk and garlic coming together on the stove.