Lists, particularly when they are read aloud, become salvos, each name a shot, the air trembles and shakes with the gunfire. Lists of the dead – the murdered – are direct and threatening. They beat out a staccato rhythm like a march, out of them speak the dead, saying Look at us. They offer us their short lives, their faces, their passions and fears, the rooms in which they dreamed, the streets they loved, their clothes, their books, their medical records. But, we have our own dreams and our own faintheartedness and a new age, we don't have time to concern ourselves with the dead/murdered. Chess, a game of liquidation, chess-playing liquidators, what irony.
The holocaust – in addition to the chess players who stand behind me as I play with Ada, who whisper to me not that one, not that move, others too surge into our gloomy Rovinj space, from everywhere, from Poland, from Austria, from Czechoslovakia, from Hungary, from Ukraine and Belarus, and after them come those from Stalin's U.S.S.R., oh yes, and then there's a crowd, we're surrounded by statues, granite effigies with living eyes. Those eyes are dry and their gaze is hard, we are surrounded by monuments with lips that move, from which a threatening soundlessness falls like a breeze onto our stone floor. Then there is not enough air. And the light is extinguished.
Here, some chess players, victims of Nazism:
Leon Kremer (1901–40)
Jakub Kolski (1900–41)
Yakov Vilner (1899–1941)
Abram Szpiro (1910–41)
Leon Schwarzman (1887–1942)
Emil Zinner (1873–1942)
Henryk Friedman (1903–43)
Henryk Pogoriely (1908–43)
Eduard Gerstenfeld (1915–43)
Heinrich Wolf (1875–1943)
Léon Monosson (1892–1943)
Wilhelm Orbach (1894–1944)
Endre Steiner (1901–44)
Izidor Gross, Kislod, Hungary, b. 25 June, 1860, d. transit camp Jasenovac, 1942, the Croatian chess Grandmaster and cantor of the Jewish community in Karlovac.
In 1940, after a police (S.S.) raid on the Warsaw chess club, the 59-year-old Polish chess champion Dawid Przepiórka is murdered, while other chess masters end their days, some in mass executions, some in concentration camps: Achilles Frydman, Stanisław Kohn and Moishe Lowtzky. Salo Landau (1903–44) also died in the gas chamber of some Nazi concentration camp in Poland, while his wife and daughter disappeared the same year in Auschwitz. With intensive chess-playing and the anticipation of feeling Stalin's fatherly hand on one's shoulder, in that combination a man really can go mad. It is said that during a tournament in Łódź in 1938, Achilles Frydmann, stressed out by losing matches, and just before his match with Tartakower, who had been waiting for him at the table for fifteen minutes, ran naked through the hotel, shouting Fire! After that he was put into a lunatic asylum.
There are too many of them. So many lives of which the centre was a small wooden board with sixty-four black and white squares over which they played, as it turned out in the end, their lost battles. Murderers in the service of the secret police forces, and the secret police themselves, love forests, in forests and woods they love shooting people in the back of the head and letting them topple in free fall into pits, it is such clean work and does not require much commitment. Throughout the world there are many forests through whose beautiful canopies the breath of the dead wafts. And the disintegrated bodies of those dead people nourish the soil, where edible mushrooms and asparagus then grow. The soil is moist, soft and yielding. In forests.
Chess players.
The Nazis do not liquidate only Polish chess players, not at all, the honour is bestowed wherever the S.S. boot treads. The famous Czech chess player Karel Treybal (b. 1885) is falsely accused of hiding weapons for members of the Resistance Movement, and after a brief trial is liquidated in 1941 in Prague. His body is never found. And so on, not to extend the story, which of its own accord stretches in space and time here and there, left and right, forwards and backwards, endlessly.
As early as 1940, in Kraków, in 'his' magnificent fortress-palace of Wavel, Hans Frank played host to the Grandmaster Bogolyubov, who was meant to run a chess school with the then world champion Alyokhin. Towards evening he would leaf through his rich collection of chess literature and, when his work cleansing terrain (Polish land, of Poles) allowed, he would play a game or two with some invited Grandmaster. At the Nüremberg trials, in 1946, Hans Frank was condemned to death and hanged.
That jolly squadron amused itself in the occupied countries of the Third Reich. Frank's chief of police Friedrich-Wilhelm Krüger, when arrests in Poland became somehow routine, indeed tedious, joined the 'Prinz Eugen' 7th S.S. Mountain Division, in which he lived, in which the Volksdeutsch spoke German, even Serbian, would you believe, in which the Croats spoke Croatian, they all understood each other and slaughtered civilians and partisans in unison. Alright, in 1945 Krüger killed himself somewhere near Bleiburg, so there's nothing more to say about that. Besides, Krüger didn't play chess.
Krüger was replaced in Frank's group by a tall 47-year-old police commander (Höhere S.S. und Polizeiführer), the monstrous Karl Heinrich Wilhelm Koppe, who deported Poles and Polish Jews en masse to camps and, so as not to get irritated in his work by unnecessary delay, he liquidated many of them at once, in the open. He was particularly irritated by psychiatric patients, and showered 1,558 of them with gas. He wasn't especially enamoured of consumptives either, because they posed a serious threat to the whole pure-blooded German population, so he summarily removed some thirty thousand (30,000) of them from this world. At the end of the war Koppe did not kill himself, no chance, but he did not play chess. Koppe took his wife's surname (so as not to be recognised) and in Bonn managed the Sarotti factory, known for chocolate confectionery, and so settled down and grew increasingly fat. The fact that Koppe was arrested in 1960 is irrelevant, because he was released two years later, just as he was two years after his second arrest in 1964, ostensibly because of poor health, when he was accused of collaborating in the mass liquidation of 145,000 people. Poland sought his extradition, but Germany said Keine Chance, nein, and that was that. Koppe died in 1975, in Bonn, blessed, buried and carefree.
Why have I strayed so far? The paths of human thought really are mysterious.
But still, Alexander Alyokhin (1892–1946). Alexander Alyokhin, born in Moscow, is among the greatest chess players of all time and also among the most loathsome. At the board a fierce, frequently aggressive player, in life an insecure, obsessive conformist who ran around the world like a lunatic, searching for protection under the skirts of various parties and wives/mothers. For him chess was a refuge, a sanctuary, a cocooned personal reality, a salvation and protection from 'the slings and arrows of outrageous fortune'. Immediately after the First World War, the Cheka arrested him and accused him of counterespionage, that is, for having contact with the White Army, and for the nth time he set out his chessboard, fled into its embrace, while it enfolded its child Alyokhin on its breast and rocked him, to and fro. In 1920, Alyokhin was the star of the First Chess Championship of the U.S.S.R., he worked as an interpreter for the Komintern and as a secretary in the Department of Education, he divorced his Russian baroness wife and married a Swiss journalist thirteen years older than him, thanks to her he was granted permission to leave Russia, and then, in Paris, he left her, Annelise Ruegg, too, and flew around the world in pursuit of his obsession, the hard-to-beat Capablanca. Just as many chess players become cunning strategists in their play, elegant or cruel attackers, refined but crude opponents, in reality, which often passes them by, they somehow melt away and life crushes them vengefully. It was the 1930s. Now a Frenchman, Alexandre Alyokhin, the hero of a tale outside time, swoops down on the politics of the U.S.S.R. and the Soviets proclaim him an enemy of the people, and since they could not immediately dispose of the World Chess Champion, the N.K.V.D. liquidated his brother, Aleksey Alyokhin, who went nowhere, ran away from no-one, just occasionally played chess in his homeland.
Then comes 1933. The Reichstag is burning, the Nazis arrest their political opponents, the National Socialists seize power, Hitler proclaims the Third Reich, Dachau receives its first 'guests', the Gestapo is founded, with the help of students and their professors, throughout Germany between eighty and ninety thousand books are publicly burned, and that is just the introduction, where books are burned, in the end they will burn people, as Heine warned as early as 1821. In 1933 Heine's books were burned too, but who, in the heat of general euphoria, is going to listen to the voice of reason? Through its history, bit by bit, Croatia too loses its mind and now it is quite mad. The rubbish skips from the 1990s full of 'undesirable' books, the films about Madonnas, those orthographies and differential dictionaries, that dispersal of the population, that several-months-long camp for war invalids under a circus tent in the city centre and their rolling down the streets like members of some dark sect in black T-shirts, with enormous white crosses on their chests warning of a potential inquisition for the execution of those who think differently – what a performance! – people accused of war crimes being greeted euphorically, the paranoia, the songs, the black uniforms, the gravestones glorifying Ustasha criminals, the foreign currency, the chequerboarding of pavements, the yelling and, in the midst of that insupportable din, a general, a deadly silence. O.K., that's not the topic now.
---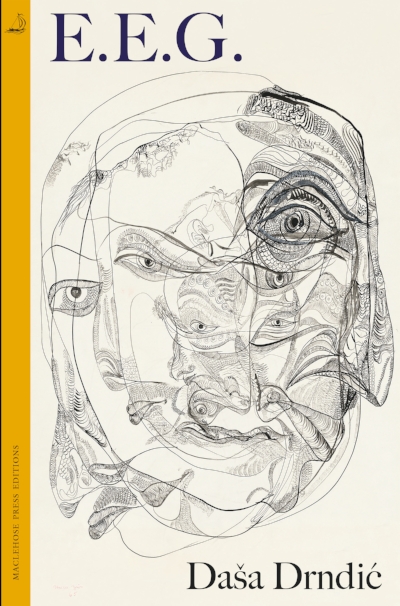 The above is taken from Daša Drndić 's novel, E.E.G., translated from the Croatian by Celia Hawkesworth. Order your copy here.
artwork © cea+