Today, one in seven people is a migrant. This year, crossings of the Mediterranean Sea have already exceeded 300,000, and at least 2,500 lives have been lost in the process. What does it mean to be a migrant – or a refugee – in our time? What human rights can we rely on? And what hope is there for those who have fled their homes? Granta asks its authors to share their reactions to this profound human crisis. Click here to read the other responses in this collection of statements, poems, images and personal reflections from across Europe and beyond.
From the clean, modern metro station, I went up the stairs, through the glass doors and the stench hit me. It was Friday morning. There were hundreds of people lying in the corridors off Keleti Station's main square, they hadn't washed for weeks, so they couldn't pray, they only had eight portable toilets at their disposal, their clothes were dirty, they were feeding their children, wiping their bottoms, making phone calls and trying to find a way out the situation. The day before, there had been an announcement telling them to board a train to Austria, and some had let themselves be fooled – forty kilometres away they were taken off the train and shut in a camp. So the rest hadn't opted for the trains, nor were there any others going towards Austria, so what could they do? That afternoon a thousand desperate itinerants got up from the sticky, dirty floor and set off for Vienna on foot. On the way some Hungarians gave them water, others gave them the finger.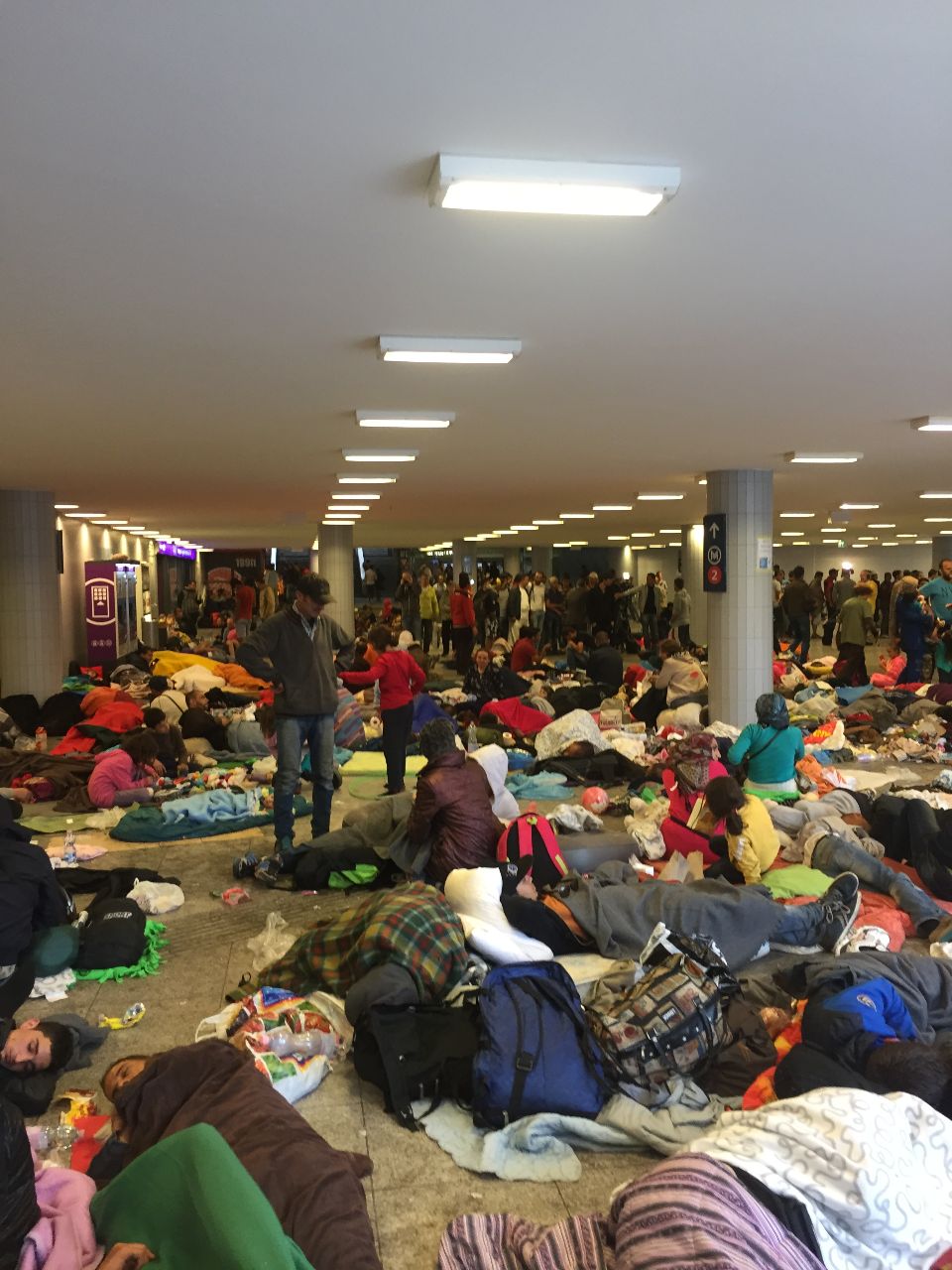 Towards midnight there were helicopters hovering above Keleti Station, and the crowd reacted by screaming and whistling – people who have come from a war zone are scared of helicopters. There were police sirens howling, police in full gear, the traffic was blocked, someone was shouting in Arabic to get underground, out of danger – it could have had something to do with the Hungary–Romania soccer match that had just ended. The prime minister had been at the match, eight thousand neo-Nazis were roaming the area, people kept saying they might attack but did nothing about it, they just went on kicking a football about. In the end no neo-Nazis appeared, it was just nonsense, a bit of drama, but coaches did appear, a hundred city buses, and everyone leaped to their feet: the pregnant and the feeding mothers, the lame, the blind and all the rest. The news had come through that Germany, uniquely and immediately, was taking in the refugees stranded in Hungary.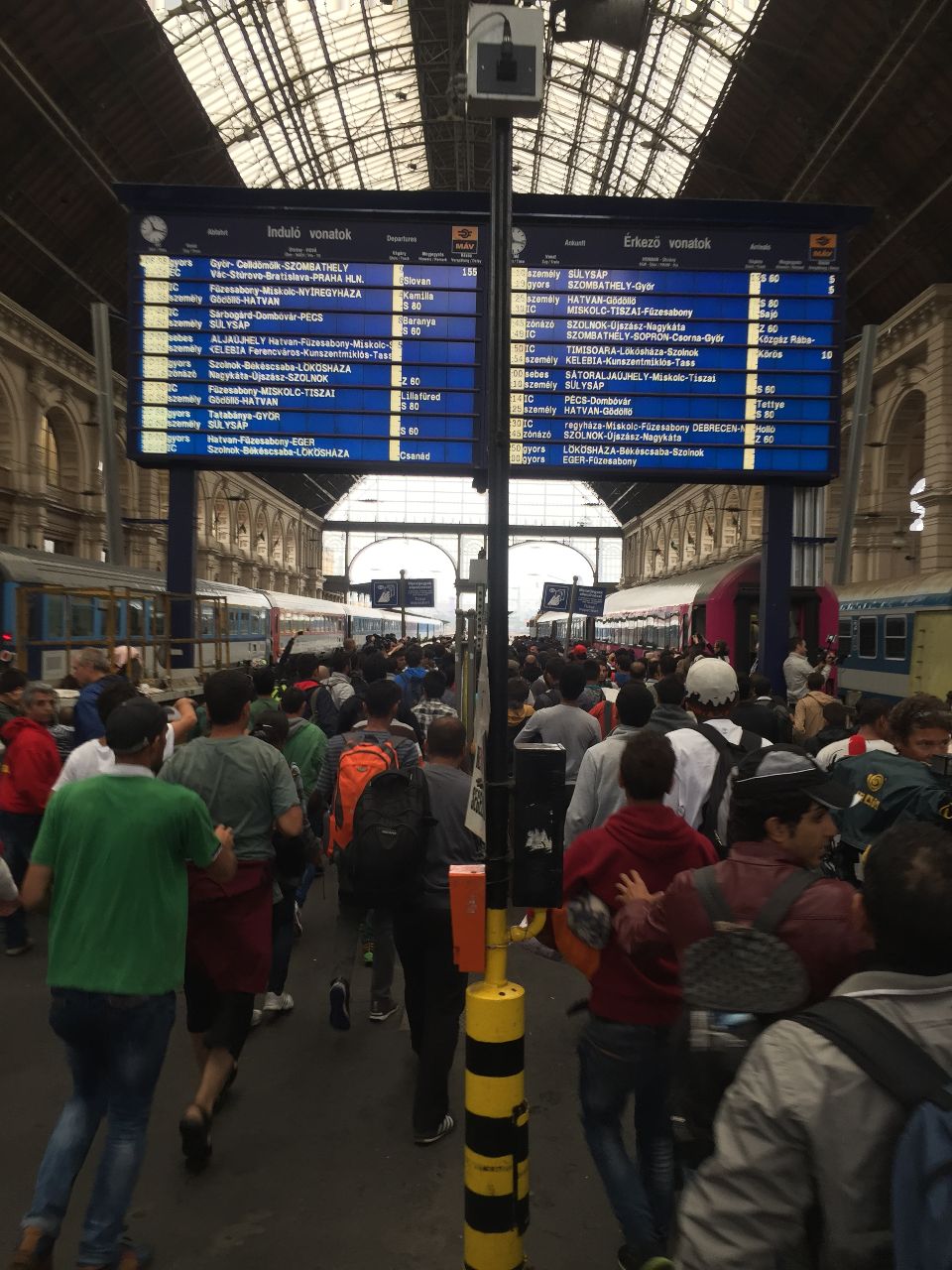 Cleaners in masks were power-washing the floor with hot water as the next wave of refugees arrived from the southern border. They had paid at least one hundred euros per person for a lift to the capital. That's what the Hungarian taxi drivers were taking. Thanks to their involvement, on Saturday Keleti Station was packed with exhausted people again.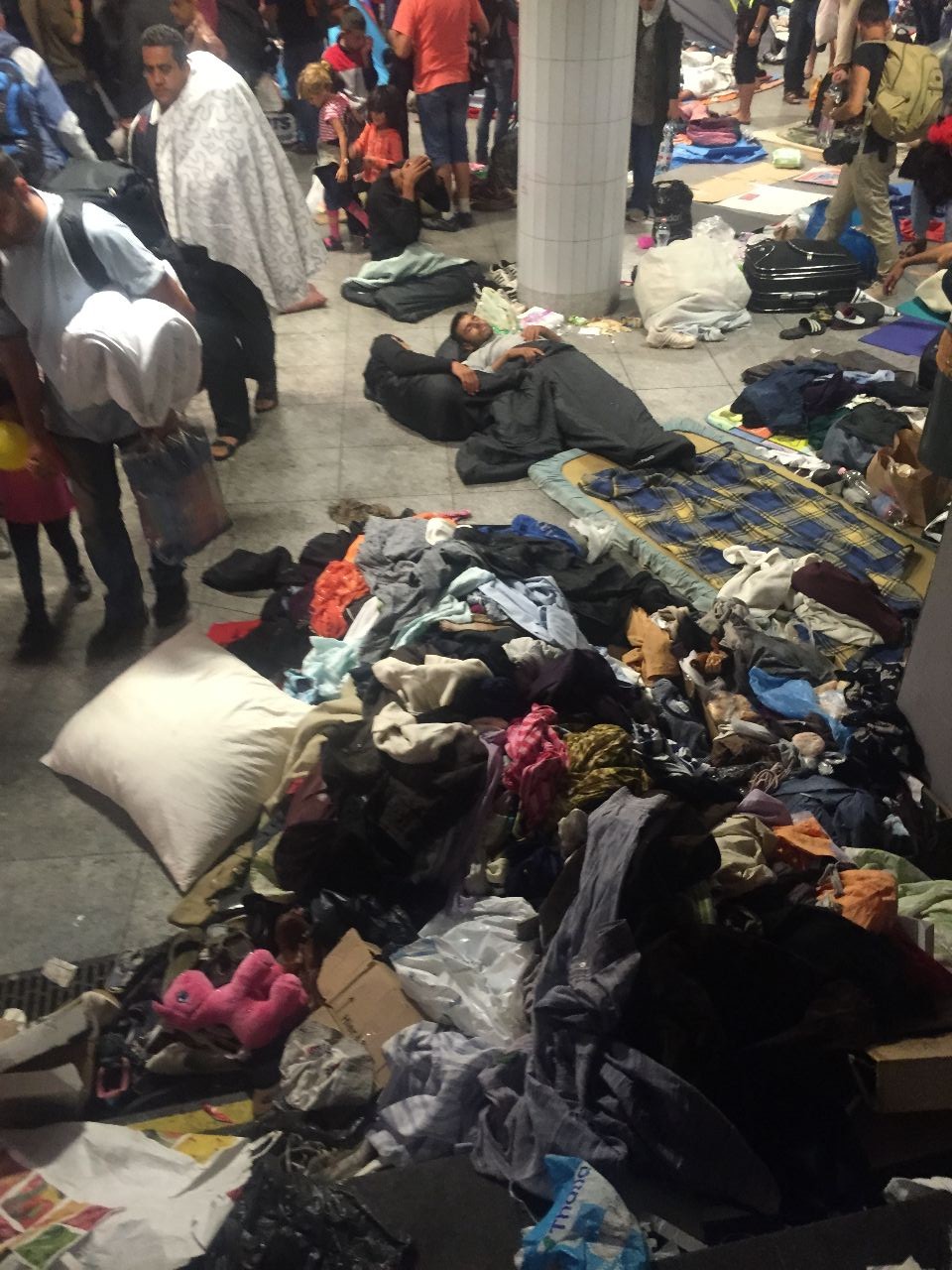 Local residents came along. The children shared toys with their Arab peers. To the delight of the little kids, who had seen a good deal of killing in their lives, a middle-aged man blew soap bubbles. These were rare, spontaneous initiatives, not a Hungarian mass movement.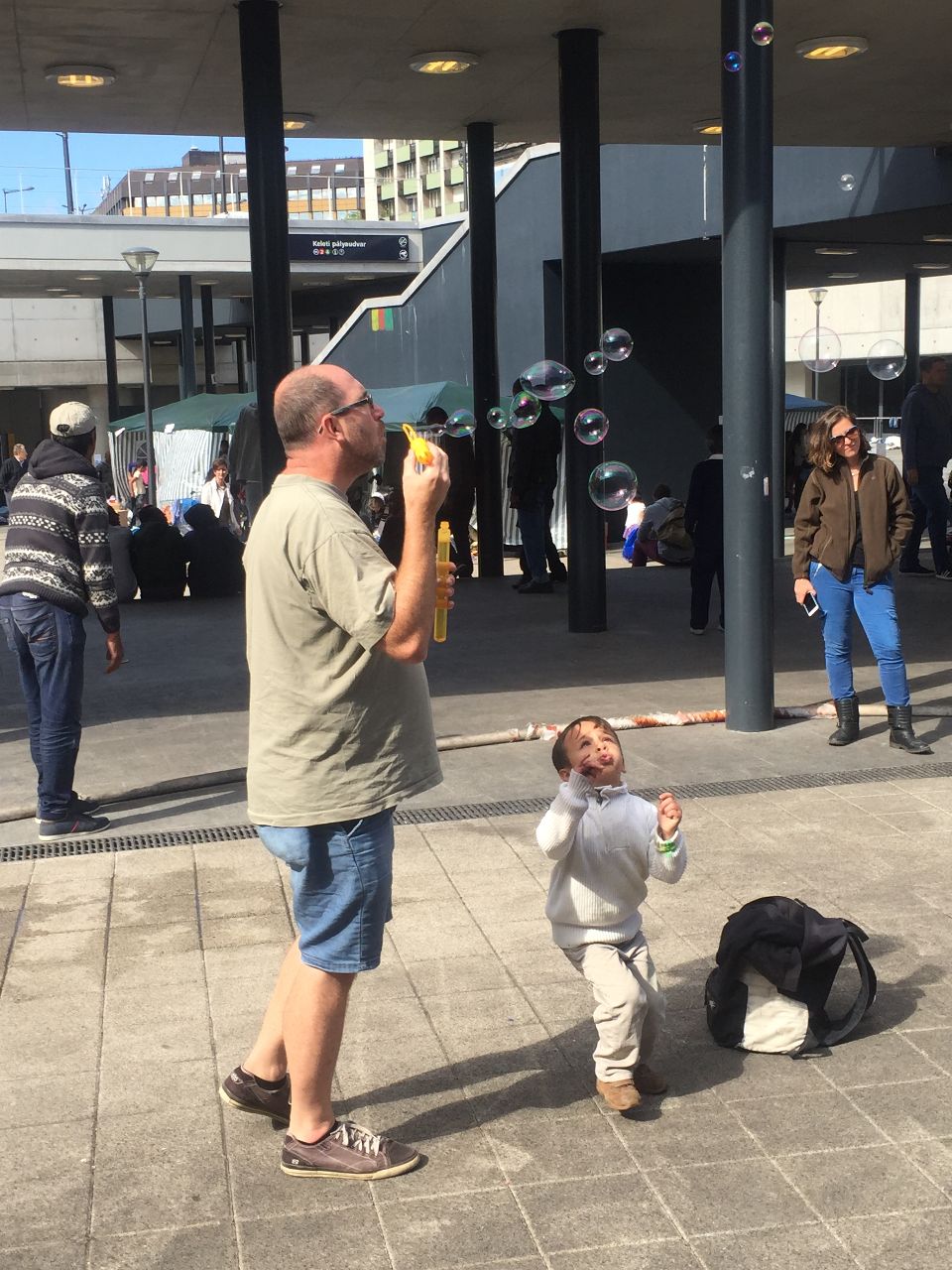 The NGOs and their volunteers were hard at work; there was mineral water and food. We left for the south. We parked our car on a deserted road; with me were Hungarian friends and the invaluable Magda Nimer, a student of the Polish School of Reportage who speaks Arabic. We headed along railway tracks cutting across flat, gloomy fields and smiled at the people walking towards us out of nowhere. They came in small groups, shabby and mistrustful. We saw the barriers – coils of barbed wire had been carefully extended to left and right, but the passage along the track remained open. Two Hungarian policemen were standing to the side, discreetly, as if they weren't going to obstruct anyone.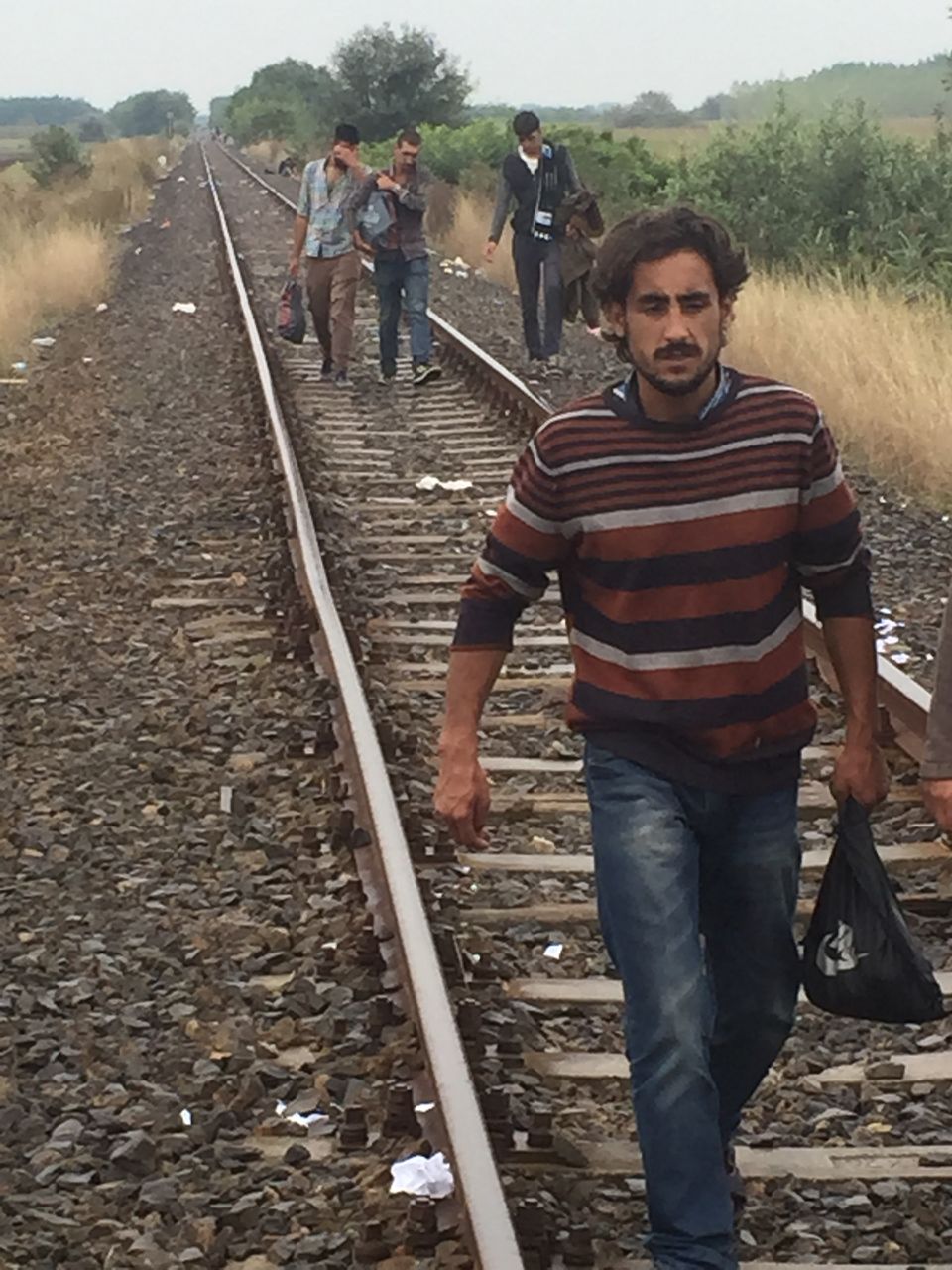 We leaned against the border posts. They were standing a metre away – in Serbia. Twenty men appeared, some carrying children, among them a doctor, an engineer and a mathematician. A month on the road, they said, or two. Apart from the war, their grimmest memories were of the boat, the longest three hours of their lives, but that was in the past. Now, their wives were waiting in the nearby bushes for the signal to continue the journey, but first the smugglers had to find them here – there's hope in the people-smugglers, not the Hungarian authorities. They would not go a step further without the smugglers, because on the Hungarian side there's compulsory registration, there wasn't any in Greece or Serbia. Anyone who gives their fingerprints in Hungary, said the itinerants with certainty, even if he gets to Germany, will have to go back to Hungary, and it's a poor country, the people here don't like refugees who come from a war zone. The whole time others kept passing us, more and more of them, about fifty in the course of an hour, whole families on the railway tracks, the registration evidently didn't scare them, and the policemen weren't detaining anyone. At the road, only a kilometre further on, the new arrivals were told to wait. Some portable toilets had been set up there, and tents, where the mothers were changing their babies and a pregnant woman was resting. The authorities knew where these worn-out people would enter the country, where they would start to stagger, but they hadn't sent any medical help. They had sent a self-important policeman. He drove towards us at over one hundred kilometres per hour, siren blaring, down the deserted highway leading to nowhere, and only just managed to stop his car in front of a group of men so indifferent by now that they hadn't moved out of the way. He leaped out in a fury, sure of his Hungarian status and his power over the weak, waving his rubber baton and shouting while people stood in horror. I took a few pictures of him: the first Hungarian face seen by those arriving from the war, the cold face of a monster.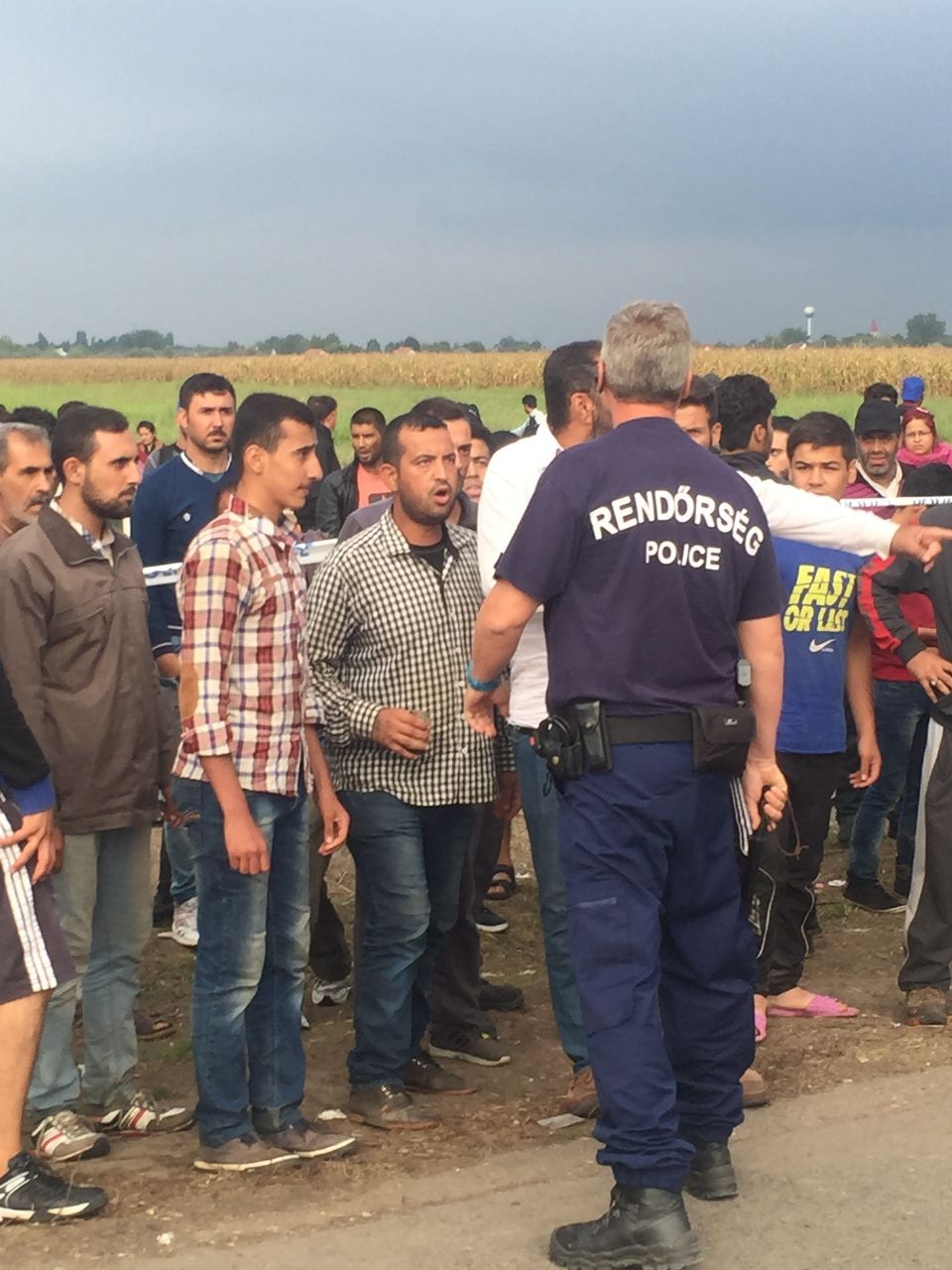 Sometime later we were approached by an Iraqi, a law student from Karbala. He'd gotten here on his own. Tears were flowing from his intelligent eyes. He'd lost everything on the boat when it started to take in water, and he'd had to throw all his things away. He had nothing left but the clothes on his back and a little money, but he was out of strength, out of hope that this torment, this degradation would end, he wanted to go home or kill himself. We talked to him – listen, don't kill yourself, you're through the worst – but he didn't believe us, he was going to do it – listen, going back is death – we gave him a mobile phone, he talked to his mother in Karbala for a while, he wept, we wept, finally we left him on that road, what could we do? The lawyer from a major NGO, who was with us to make sure we didn't break the law, reminded us that transporting refugees is people-smuggling – let's be careful – so we left the student on the cold railway crossing and drove back to Budapest.
All the next day and the ones that followed we looked for him at Keleti Station. Instead of him, in the middle of Sunday night, we came upon three Eritreans: a woman and two men. They were young, they spoke good English, they were frozen and had just arrived from the border; realizing they had evaded registration the taxi driver had demanded €250 from each of them, and they'd paid.
They caught our attention because there they stood at night, motionless, as if made of stone. They asked us what to do next. 'There might be a train,' we smiled, what else could we do? 'There might not. In the morning they'll open the ticket office, try to buy tickets to the Austrian border. Do you know where it is?'
They didn't. We took them by the hand and went to the ticket office, where two beautiful angels were waiting for us, smiling, a man and a woman in their early twenties, and they asked our Eritreans if they wanted to make the journey.
'You do,' we told them.
'We do,' they repeated.
'There's a train at five a.m. How many tickets?'
'Three,' they said and glanced at us. 'We haven't any money.'
It hadn't occurred to us. All the refugees we'd spoken to had stressed that they did have money, they just want to be allowed to continue their journey. They refused to let us buy them so much as a phone card. Syrians. With Eritreans things were different.
We only had a few forints on us, so we'd have to go to an ATM. But before we'd had time to think of it, the angels were making sympathetic faces. 'You won't need any money. Three tickets, right?'
And off they flew to the ticket office, which was open. They soon came back and handed each Eritrean a ticket.
That, in a nutshell, was my first weekend of September 2015.
I'm documenting this so that, as the great Polish reporter Hanna Krall teaches us, it will be on record.