The best book of 2000 has nothing to do with the worst film of 2003 (which starred Tom Cruise), though if you mention their shared title to anyone now they'll assume the novel inspired the film, and if you Google the title you'll find the following on Wikipedia: 'This article is about the film. For the unrelated novel, see The Last Samurai (novel).' When the best book of 2000 was published it sold more than 100,000 copies and was longlisted for the Orange Prize for Fiction, but by the time I discovered it, around five years ago, it was out of stock in every bookshop. You had to order copies to be printed especially.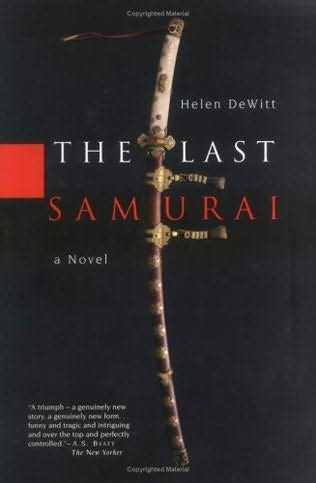 The best book of 2000, Helen Dewitt's
The Last Samurai,
is about murky origins and overlooked genius. It is a novel of two competing quests told by two competing narrators. The first is Sibylla, a brilliant young mother living a penniless existence in London, who, for want of a better father figure for her son Ludo, decides to raise him on Akira Kurosawa's
Seven Samurai
, a film which, to Sibylla, embodies the best of masculinity. But Sibylla's narrative is constantly being interrupted by Ludo, who wants, like all children, his mother's love and attention. As Ludo grows older, his charming, scattered, precocious voice begins to dominate. Sibylla's narrative vanishes into an ominous silence. And so a second quest begins, as Ludo sets out in search of a series of father figures, hoping to save his mother from her creeping sorrow.
When I first read The Last Samurai back in 2011, it overwhelmed me. There is so much contained within its pages – the rich strangeness of Sibylla's maternal love; Ludo's brave determination; the layers and lessons of ancient Greek; the explorations of Kurosawa and his samurais – and this plenitude is heartening, even when the themes of DeWitt's writing are themselves very sad. It is the novel I have read which best expresses the honest and sad truth of art: that it is often produced in precarity and performed in near silence, but that it can also redeem a life. The best book of 2000 was one that showed, just as the millennium was beginning, that the novel could and should do new things in new forms. I doubt we'll see anything like it for another decade, but that's OK – you can still have it specially printed.