For me, the candidates for the author of the most quintessentially American sentences of the post-war twentieth Century include Joy Williams, John Ashbery and most certainly Don DeLillo. Mao II, a mordantly funny, casually prescient, hypnotically condensed novel about art, about terror, is one of my favourite DeLillo books. It is short, loosely plotted but simultaneously tight as a drum, and is pretty much written exclusively in aphorisms.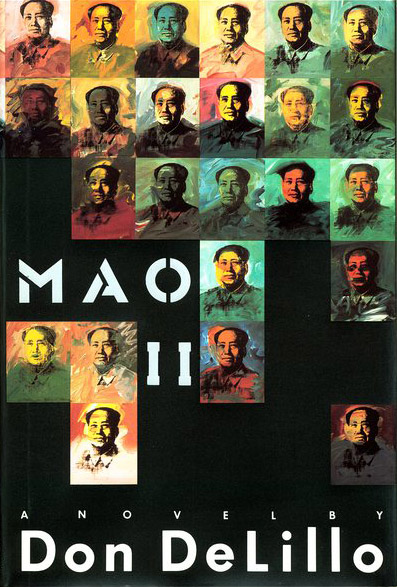 The main plot concerns the reclusive, semi-legendary, magisterially prevaricating novelist called Bill Gray – like most of his accursed kind, the blocked Gray is sinking tremendous quantities of creative integrity and conviction into the writing he is assiduously not doing – who is drawn out of his careful seclusion first by the visit of a photographer specializing in the portraiture of living writers, and then by a mysterious offer to help broker the release of a Swiss poet being held hostage in Beirut.
Of course, the book is about everything else too. Like most of DeLillo's work, much of the fun and profundity in Mao II comes from the tangential riffing, the stunning set-pieces and DeLillo's mesmerizing renderings of the perpetually off-kilter, spaced-out conversations that comprise public intercourse in late twentieth century Western society.
One of the fears articulated in the book – Mao II is a comfortably pre-9/11 book that is also the best post-9/11 book ever written (also why Falling Man, DeLillo's actual novelistic response to 9/11 is one of his less successful, vivid efforts. He'd said all he had to say about the post-9/11 mindset well before it actually happened) – is that art is being superseded by terror as the shaping force of the culture's consciousness, though Mao II goes beyond the easy tack of offering art as some humanistic antidote to terror, and instead delineates their uneasy commonalities. Art, like terrorism, is the preserve of what DeLillo has elsewhere wryly dubbed 'the man in the small room . . . a man who has shut himself away . . . hiding from acts of violence, or planning acts of violence.' The ultimate goal of each act of art, each work of terror, is to demolish the old, incumbent reality, and create a new one. The more serious point being made by DeLillo, a point he has reiterated time and again across his incredible ouevre, is that 'Reality' is up for grabs: it always has been and always will be, a bitter truth that has resonated so brutally in this year of all years.
I love Mao II for all these reasons, and also because it is an anguishedly witty book on the bottomless, self-aggrandizing torture of being a writer; 'Then he looked at the pages he'd written and didn't think he could do any more. It was too hard. It was harder than major surgery and it didn't even keep you alive.'