One August morning, at the Marlboro Music Festival in Vermont, I sat in on a rehearsal of Beethoven's Choral Fantasy – a piece I didn't know well at the time, which is traditionally performed to close Marlboro's summer season. It was gray and humid and some friends and I trekked up a grassy hill slick with rain to the great barn of an auditorium, where we were treated to Richard Goode on the piano, a group of young singers, and the Choral Fantasy itself, which Beethoven conceived as something of an experiment: a layering of musical forms. The piece begins with the rising chords of a solo piano, which are joined by the strings after the first theme is introduced, followed by the winds, and then a chorus and the rest of the orchestra. The Choral Fantasy is the kernel of the Ninth Symphony, an abbreviated pastiche of that much longer work, keyed in C Minor, which in 1808 was thought to be 'emotionally stormy'. The performers rehearsed the piece twice and, through all of it, I wept.
Why? My friends wanted to know. I was puzzled myself.
It had something to do with my relationship to music, to the violin, which I studied seriously for fourteen years, and, to my parents, my teachers and the friends with whom I played chamber music – simply an acute sense of loss for the music that had been the focus of my childhood.
Music was central to my parents' marriage. They met, as students, at some sort of musical event. Or was it that one happened upon the other playing the organ after midnight in the university chapel? They both sang in various groups on campus. Both played the piano; my father played the cello as well. A year or so after graduating from college, my mother received a Fulbright scholarship and went to Paris to study musicology at the Sorbonne. Six months later, well before the end of her stint, my father proposed marriage, but with an expiring option tied to an acceptance deadline. In 1958, and at twenty-five, my mother thought she had better accept. She was too 'old' to be unmarried, and, besides, Paris was overwhelming, her first cosmopolis. More importantly, she believed she was a woman madly in love. She abandoned the fellowship and moved to Chapel Hill to marry my father.
It can't have surprised my parents that, a few years after my arrival on the scene, I wanted to play the piano. My father played nearly every evening when I was a child, and from early on I was convinced that Beethoven's Waldstein Sonata was a ballet. He would come home from a day of teaching logic, aesthetics and ethics at the University of New Orleans and pound away, while I whirled and jumped and threw myself headlong into the sofa. Then, exhausted, I'd stretch out underneath the piano to see what he did with his feet on the pedals. I wanted to be a pianist, to play the Waldstein and all the other sonatas in the big Peters Edition that never moved from its spot on the rack. I begged him to show me how to read the music, and which notes were which. He pointed out that my five-year-old hand couldn't span an octave, 'nor would it ever!' My grandparents thought otherwise, and gave me a toy piano, which I played with sweeping confidence. However, I disliked its plaintive tinny timbre, its childish voice. Several times, I dreamed that the toy piano sounded like a real piano. I played for my father in a great hall under bright lights. I played my own music.
With complete obliviousness to my passion for all things pianoforte, my father decided that I should be a violinist. From the dustiest corner of our apartment he spirited out a dreadful little violin sporting a lonely E-string, which had belonged to a great-grandfather who had owned a grocery store in Western North Carolina. The idea was that we would have a family trio: my mother on the piano, my father on the cello, and I was to have lessons in a Suzuki group at the university until I learned to sight read. And then? We were to be the very picture of familial bourgeois bliss; add this to the Saturday afternoon Met Opera broadcasts with Milton Cross and you've got the outline of a perhaps typical, mid-century American musical education.
But I was having none of it.
In a Suzuki class of similarly uninspired six-year-olds (with similarly aspiring parents), I was, for an hour or so, 'taught' by a couple of weary, impatient graduate students sawing away at tunes in which badly named aunts wept over dead grey geese, and one rowed upon a river lightly, but decidedly badly, and worst –perhaps most unforgivably – in countless variations, 'Twinkle Twinkle Little Star'. Over and over again, the class squeaked its way through the great barnyard of Mr Suzuki's beginners' pieces, most of which referred in some way to life in or near the farm. I escaped censure, or correction, or even notice by ignoring the command to cover the hair on the bow well with rosin, and by drawing it across the strings without emitting even a squawk. I adopted a neutral, or concentrated expression, while working skilfully to produce as little sound as possible, and hoping for the class to end before my ruse was exposed. Six months or so went by in this fashion, and I was admonished for not practising, but why did I need to practise not playing the violin? I was going to be great a pianist! I put up my hair like Clara Schumann, with those hysteria-inducing loops of hair around my ears.
A year after the violin lessons began, we moved to New Orleans and I was put in the hands of a teacher of arctic demeanor. She had met the great Suzuki himself in Japan, was part of the first influx of North American teachers to bring back the 'method', and hoped to create her own special cadre of 'gifted' students with a modified version of the programme. She adored all things Japanese. The walls of her house were covered in ancient screens. She had a drawer filled with netsuke, fascinating miniatures which I might get to see after a particularly good lesson as a treat. Her house was a nineteenth-century wonder – Greek Revival, beautiful inside and out, but it is the interior I recall: elegant, subdued and, in its way, intimidating, like her. I saw that my parents felt the disparity between their middle-class and her upper-middle-class rank. They deferred to her judgment always.
At our first meeting, I was told that I would have to 'begin again,' to correct all the awful habits instilled through the particular mode of un-playing that I had perfected. I was filled with dread. This teacher possessed great powers of scrutiny; she was extremely tall, with piercing features. I don't think she cared very much for children. She had none of her own, and had taken to teaching very dogmatically. She attracted a series of expatriate Japanese students, one of whom became a great friend of mine during the time when we both studied with her. Koji was my age, and full of small-boy energy and mischief. We sometimes played duets together, or performed in a group at small, local concerts. Koji would go into our teacher's yard, and scarf down unhealthy handfuls of loquats, spitting out the seeds and laughing defiantly. Or I would beg him to lie on the ground and play his violin, which he could do with perfect ease, even performing his pieces backwards! He had the makings of a showman, and when he returned to Japan, when I was ten, all the fun went with him. He informed our teacher that he would return one day and play her the Beethoven Romanze – and he did, first standing, and then lying on the carpet.
Her Standard Poodle, Princess, was a constant presence at my lessons, and Princess's needs took precedence, like those of a great-aunt at a card party. Fat and pampered, at the very least Princess was living proof of my teacher's capacity for indulgence. She was a fine musician, but a terror lay within her – one that would ultimately infect me, and she trapped me within a baroque repertoire, which was the fashion at the time and limiting.
I recall only two occasions in the seven years I studied with this teacher in which she praised me unequivocally. Even my father, who promised me a German Roller canary if I practised an hour every day for a month, would periodically shout out 'Not bad!' from the depths of his study – that is, if he could restrain himself from a running commentary. It was my father who took me to most of my lessons, my father who supervised my playing, my father who believed in 'slow practising', which meant taking a difficult phrase completely apart, as he did on the piano. His ideas about how I should practise and play informed everything I did.
I kept at it, watching the clock and the calendar. Scales, etudes, both wrists heavy, loose, controlled, the hair on the bow placed thoughtfully for effect between fingerboard and bridge. Calluses deepened; the hickey on my neck toughened up. At last we fetched a canary, rescuing him from a dull life alongside a bunch of untalented budgies. When I played, he sang.
The second most important arrival after the German Roller canary was a half-size Balestrieri, eighteenth-century, from Cremona. I formed a new kind of attachment, to a living and breathing object of supernatural beauty. The violin had an undulant belly that rose so high the clearance to the fingerboard was worryingly minute, especially in our humid climate – things can come unglued and did. But the sound created by all that internal space was superlative. Suddenly, I had immense tonal power.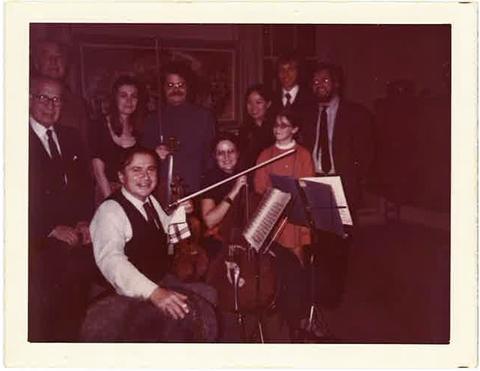 Standing from left in the rear, Peter Hansen, pianist/harpsichordist, in front, an unknown gentleman in spectacles, Janelle Adams, violist Charles Adams (New Orleans Symphony), 'Fuzzy Wuzzy' and Fuzzy Wuzzy's husband in the rear, in front of him, Catherine Tice, John Tice. Seated from left, Henryk Szeryng, Laura McClellan, cellist (New Orleans Symphony). Standing in front, Princess, the poodle.
At eleven, I felt that I might actually play anything on this violin. The Balestrieri gave me confidence, a strong and elegant voice. Ironically, I had an absolutely lousy bow. I couldn't play spiccato (when the bow bounces lightly on the string). Not anywhere on the bow, nor by angling the hairs of the bow on the string in a particular way, neither quickly, nor slowly – not at all. My teacher put this handicap down to either stubbornness or moral failure, or both. Blaming the bow was 'childish'. (I would be vindicated much later.)
I went to a local audition for a series of afternoon solo concerts with the New Orleans Symphony – playing the same first movement of Vivaldi's A Minor Concerto that everyone in the world of young violinists had to play. The audition was a shaky business. One of the judges was the orchestra's conductor, Werner Torkanowksy, who was also a violinist, and he was, for some reason, kind to me. I hit several notes badly, but tried to make up for these in my posture. I put most of my weight into my left foot, and pivoted with my right, so that all of the thought, and music as it were, would flow from my left and right shoulder blades, more or less unimpeded by other parts of me, into my arms and fingers. I felt that this lent my tone a kind of purposefulness. I never pictured the score in my head, and I never fixed my gaze on any particular thing. This could be exhilarating, if the adrenaline worked for me. If it worked against me, I'd shake and tremble, sending my vibrato all to hell. In any event, I took first place in my age group.
This meant that there would be three or four concerts, primarily for schoolchildren, with the New Orleans Symphony, and I would play the Vivaldi. Torkanowksy did not conduct; this job fell to the concertmaster, and in the first rehearsal, I experienced something quite wonderful. I was relaxed, because there was no audience – just the orchestra. We began, and played through the movement easily enough, at a tempo slightly slower than what I'd thought to expect. At the end of the piece, there was silence, followed by a sudden thunder of feet and bows on the stands. A thrilling noise. I felt vindicated and by adults who also happened to be musicians. I had begun to earn my place among them.
I was working on the first movement of Haydn's Fourth Violin Concerto in G Major. Around this time, Henryk Szeryng, a concert violinist of some prominence, came to play the Sibelius violin concerto with the New Orleans Symphony, while he was on a national tour. He was certainly not as well known as Isaac Stern or David Oistrakh – those very great violinists of the twentieth century. Nevertheless he had had the distinction of being rediscovered by Arthur Rubinstein who 'found' him in Mexico City in 1954 and encouraged him to resume his concert career, which had been curtailed by the Second World War.
Szeryng was acquainted with my teacher, who had attended a master class he gave for pedagogues, and she invited him to her house to hear two of her most promising students. I was asked to play the first movement of the Haydn for him, a performance that was followed by an exhausting two-hour lesson at ten in the evening, during which my fourth finger was put through its paces in a strengthening exercise devised by the great Carl Flesch, Szeryng's own teacher from the ages of nine to thirteen. Szeryng was the temperamental opposite of my teacher, but no less formidable. I had stage fright, with the attendant shaking that sent my vibrato to pieces. However, he won me over with his persistence: he was patient, encouraging, exacting, formal. Surprisingly, he appeared to like nursery rhymes and could reproduce them in several languages.
There was one adult student who came that evening as well, and tried on a fugue from one of the Bach partitas; when she produced a certain amount of muddiness in her transitions between double and triple stops, Szeryng interrupted her to say, 'Fuzzy wuzzy was a bear.' He showed her how to stop her bow without appearing to do anything of the kind, and where to place it exactly between these very tricky stops so that she wouldn't pick up the interfering other strings.
Szeryng's teaching, because it was novel, made me see how well I might fare under a new wing. After dinner and cake, he addressed me warmly as his 'potential student,' and invited my parents to bring me to Paris to study with him. He said that I was musical, and that he would enjoy teaching me. There was no artifice in his manner to suggest mere politeness. He reiterated this invitation to my teacher. It could be arranged.
I had been to Paris for the first time the previous summer, and I remember imagining how I would once again drag my feet through the gravel in the Jardin de Luxembourg. I pictured myself practising in my room in the pension we had stayed in, on Rue Madame, with its fantastic acoustics, and a bed that sank like a hammock in the middle. I would go to Père LaChaise on Sundays to pay my respects to all the illustrious dead; I especially liked La Fontaine's lofty sarcophagus under a canopy of elms (or was it poplars?). I would set up camp in the Louvre whenever I liked, and was determined to love coffee. I would do all of this and learn from a working concert musician, who appreciated my technical facility. He had an idea of where I might be led, educated, and formed musically, as well as intellectually. It was a marvellous opportunity. But Szeryng's invitation was summarily refused. 'She ought to have a normal life,' my mother said.
At thirteen, I studied all of the Bach A Minor Concerto, another pillar of the violin's baroque repertoire and played the first movement for another New Orleans Symphony audition, this time judged by the very same concertmaster who had conducted when I played the Vivaldi. I failed to win, largely because he felt that I demonstrated little technical progress since he'd last heard me. I ought to be playing the Mendelssohn violin concerto by now, he wrote in his comments. I was hurt by politics as well, because earlier on he'd approached my parents suggesting that I study with him and had been gently refused. In any event, I felt this to be a crushing blow. Moreover, I had by this time outgrown the Balestieri. I tried out two eighteenth-century Italian instruments: one, from Cremona where Stradaveri lived, was superior in tone and in price. The second came from Bergamo, the less reputable locale, and had lain unplayed in an attic for several decades. The decision to buy the latter was purely fiscal, and this was discouraging to me. I pleaded with my parents to appeal to my well-to-do grandparents, who had always been supportive, but the decision had been made. This violin, with its gentle, less expressive voice, imparted another character to my playing: more reserve, less enthusiasm. The same might have been said of me.
Eventually I learned to play chamber music and, at fourteen, transferred to a fancy northeastern prep school on a scholarship. On the second or third day after my arrival, I jumped into a piano trio. The pianist was an exceptional musician who trained at Curtis after we graduated. Our cellist was, until fate intervened, destined for a huge career as a rock musician. He was cruel to me about my poor sight-reading. I cannot blame him. We had an imperfect rapport, the three of us, but we worked at sounding as if we understood one another. I was inexperienced still at this kind of playing; it called for a kind of intimacy that I found both alluring and unsettling.
By the time I was sixteen, I had an ever diminishing sense of purpose, but that summer I went with my father to Innsbruck for a summer course he was teaching, and we spent a weekend in Munich where we met up with his old friend, the American composer Russell Smith. Russell asked me to read through Beethoven's Spring Sonata with him. He had to sing a few bars for me, but anyway was the kind of pianist who liked to sing the first few bars of the violin part just to get things moving. I knew the piece by ear, having heard it many times. He accompanied me on the piano, and somehow everything seemed to fall into place on the second reading. I flew. It was a tremendous high. I liked Russell nearly as much as the Spring Sonata. Even at that age, it was clear to me that Russell was charming and flirtatious with anything remotely female. The summer I was twelve, he had seduced and then, cruelly announcing his boredom to all, summarily dropped the most beautiful woman among my parents' acquaintances. It was the first unhappy adult love affair I had known anything about, and of course I had been a bit in love with the object of his affection myself. She was Viennese – a confection of mystery, beauty and elegance. She played the piano, rather languidly and apologetically (she introduced me to Schubert's violin sonatas), wore elaborate brassieres and a heavenly scent I've never come across since. She, too, had been encouraging of my playing and had brought me round one evening after a crippling spasm of stage fright. I think of them both when I hear the Spring Sonata.
The summer between high school and college I practised as little as possible, and had no lessons to speak of. Instead, I played the first movement of Fauré's first violin sonata, with a pianist I met through a friend in New Orleans. He was going to Peabody – a real conservatory – and I was bound for New York. We made a hash of it, but it was fun. We squeezed our playing in before going to plastic nightclubs in Fat City, or driving after midnight to the Catholic Church where he had been confirmed so that he could break in and bang away on the organ. Not exactly high jinks, even for sacrilege.
By the time I arrived in New York, I had technical problems. My left hand had become inflexible – practically arthritic, atrophied, in fact. Consequently, I played very badly, so badly I couldn't recognize myself in an audition for the college philharmonia. I began several pieces, including the Haydn concerto I'd played when twelve, couldn't get through one, and was ashamed (and secretly relieved). I noted that the concertmistress of this outfit was studying with the very famous Ivan Galamian at Julliard, and was struck by how far I'd fallen behind. I was turned away, and I turned away from being a violinist. I needed to detach myself from my father's ambition and control, although, to be fair, he was steadily relinquishing this role. I knew he would be very angry that I had bombed the audition, and he was; he noted tersely that I 'had not practised for an entire summer'.
My second year in New York, I moved into an apartment on West 173rd Street with a flutist and a guitarist studying at the Manhattan School of Music. My old friend with whom I had shared the first chair in high school stopped by, and we read the double Bach violin concerto together for a rousing bit of late-evening excitement. My father was also in evidence for the weekend, and in a particularly grim and cruel moment, stormed out as we were playing, announcing at the top of his lungs that I had lost all my technique, and that I had disgraced my younger self, the 'real' violinist. An abusive turn. I saw that my arrival at a point of enjoyable mediocrity was an even and terribly disappointing match for his own as a pianist. We were both musical failures.
I never had the makings of a prodigy. I had something else. Easy to say that I have this in common with thousands of others who took up, or were persuaded to take up, and eventually to put down, perhaps with some relief, a musical instrument. The 'something else' is what is sometimes called musicianship, which I am too inexpert to define, but at the time when it was just shy of full flower, I nearly gave myself over to the violin completely. I became musically exceptional for a child, but I lacked an essential psychological immunity to the dark side of self-criticism. When essential support was withdrawn by degrees it became increasingly difficult for me to do and be what I initially had no intention whatsoever of doing and being. Moreover, it simply isn't enough to be good.
There is still regret. I miss very much the feeling that I might express something beautifully in music, and I suppose when I listen to others play or sing, the experience is sometimes tinged with both envy and remorse. I realize now that a performance becomes all the more poignant when I see and hear young musicians in a place I might even have gone to myself. So it was at Marlboro last summer, when in Beethoven's Choral Fantasy they sang:
Hat ein Geist sich aufgeschwungen
Hallt ihm stets ein Geisterchor,
Nehmt denn hin, ihr schönen Seelen,
Froh die Gaben schöner Kunst
Once one's being has taken flight,
A Choir of spirits resounds in response.
Accept then, you beautiful souls,
Joyously the gifts of high art.
Feature image © Roland Tanglao
In-text image courtesy of Catherine Tice.