After focusses earlier this year on film and then music, our latest special theme on Granta.com, starting today, is travel. Granta has a rich history of travel writing, which began with Bill Buford's landmark travel issue from 1983. Several articles from that issue will be reproduced later this week, but we start with four new drawings by artist George Butler. Last year, George Butler took a six-month trip through North and West Africa, drawing as he went, often scanning this work and sending it back to England for publication. He travelled a total of over 11,000 miles through Tunisia, Algeria, Mali, Senegal, Gambia, Burkina Faso, Ghana, Nigeria, Cameroon and Gabon. The first drawing is from Mopti, Mali.
Mopti is a trade town built by the French at the start of the 20th century. Like most towns in Mali, it is strapped to the side of the Niger. These beef cows were kept in and around a small workshop – with the most useless, old motorbikes used as fencing.
Two months and about 300 hours of public transport after visiting Mali, I found myself in tropical jungle in Cross River State, Nigeria, where I spent three weeks in a primate rehabilitation ranch. Places like Drill Ranch are unimaginably valuable to these animals' survival. Archie is an African Grey parrot, who kept me company around the ranch for ten days. He had learned several languages, including Afrikaans and English, from previous owners. His favourite trick was to unscrew the backs of chairs – which would eventually collapse under our weight.
The Mandrill is another animal rehabilitated by the Drill Ranch project. The trade in bush meat has meant they are rare to see in the wild. They do make good life models though, often standing stock-still and staring you down while you draw them.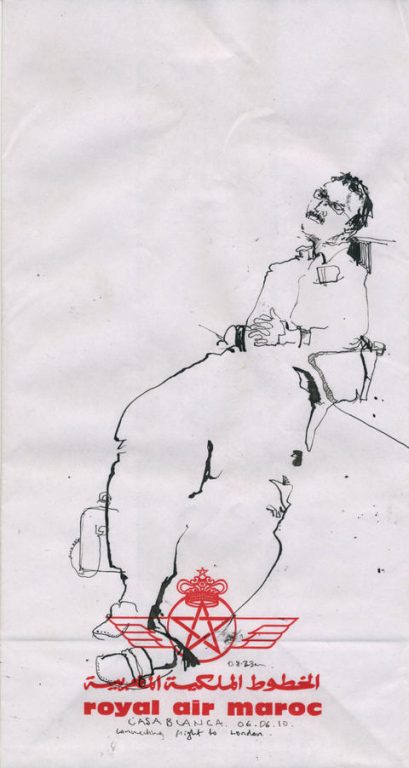 The last drawing of my trip: on a sick bag, a man exhausted, waiting for his changeover flight in Casablanca.
Photograph by Phalinn Ooi