She was reclining on the shore of the lake when I made my own appearance naked – and I get sentimental remembering my young manhood and the young woman who became my wife.
And as I remember, she did nothing to stop me – no stop! – stop!
A story is told about this very same lake – something about a man who was swimming in it and displeasing the gods and they did everything to stop him.
But when I swam across it, I had the sensation that I would never get tired.
And that day of the swim I picked up a stone that is likely an ancient whetstone or chisel – and I can summon up a dour primitive person making good use of it.
Somebody lost his whetstone or died beside his whetstone. He was slain! Or in a rage, he lobbed the thing away.
Or let's just say he is modern and he doesn't need it.
*
At present, I am an old man – guessing that the major events of my life are done with, except, of course, for my final downfall.
I heard shouting and a loud a-hah! – a-heh! – a-hah – a-heh-heh! in the street, and Yvette is still here with me and she moved with short, jerky movements toward the sofa to lie down and she's not one to be laughing with me, but she still loves conversation, parties and good food. And, the lake – rather – the lack of affection that she now has for me is something for which no person can be blamed.
For are we not surrounded by objects we defer to – for only a certain stretch of our choosing? And, isn't there an august mountain visible from my balcony that I have no need to look at anymore?
Well, the front door lock clacked and opened, and our son Ben came in and he's nearly elderly himself.
Yvette said, 'You need to be here some of the time.'
Ben wore a tee shirt that had these words all over it – ROCKS THAT LOOK LIKE TREES. His face was flaccid. The street sounds had ceased.
He bent over his mother, his hands on her hands and although she's old, she's beautiful and she was so very docile.
She reminds me of a Greek relic I once saw inside of a glass case that I have never forgotten – a terracotta siren with a dove's body and a most affable female face.
Yvette said, 'Play the piano, Ben!'
And then there was that demoralizing outgush – the piano is so responsive – smiling, crying, just trying for now.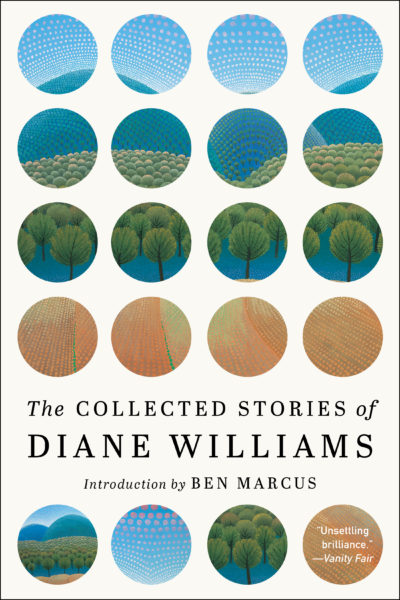 'The Fucking Lake' is taken from The Collected Stories of Diane Williams, published by Soho Press on 2 October 2018, with an introduction by Ben Marcus.
Image © Gabriela Palai