Today the barb wire choking me real hard, ramming into my flesh. When I tumbled out on Flatbush Avenue my throat was dry dry. Lucky thing my feet could find Stop & Shop all by they-self. Blindfold me and I can still find the cake section. Aisle 3. Sometimes, if the shop's quiet, I close my eyes tight tight and try to find a birthday cake. And candles. Can't forget the candles.
Pushing the buzzer to Loretta's apartment above Eddy's Laundry & Dry Cleaning sinks the wires deeper into my brain. I'm grinding my teeth. Her voice through the intercom tightens the wires banding my belly. My brain's clogged. By the time Loretta opens her front door with the peeling dark green paint, I'm no longer in pain. I am all pain.
Hi, how are you? Good to see you, Solo.
I am nodding, my eyes on her tired face, afraid to take in the sight of her pale boobies or her shaved punanny through the piece of red nightie she's wearing.
You've finished working on that new health centre in Manhattan?
I wanted her to see me as a real man, with a little swagger, cool as this fall evening. Instead I opened my mouth and all kind of gibberish fell out. The mirror reflects a skinny Indian, eyes big big like he's just seen a jumbie.
For me?
I give her the Stop & Shop bag and a small envelope. Although she knows exactly what's in the bag she plays along and acts surprised.
Oh my god. A birthday cake! One sec. I'll take it out the box.
I hang up my battered jacket and go through to the bedroom. The double bed is pushed up to the wall. She has crammed in a small, white table next to a plastic chair. I have that same chair in my apartment. My socks and sneakers I push under the bed. Loretta's already singing in her off-key voice,
Happy birthday to you.
Happy birthday to you.
Happy birthday dear Solo.
Happy birthday to you.
Carefully, she rests the cake with five candles on the little table. Once I didn't walk with a cake and she had said, no problem, honey, and shoved an old birthday candle in a chocolate chip muffin. I'm shame to say but I remember letting out one loud steupse. The woman was only trying to please. But no. I needed a whole cake and five candles.
Make a wish. But don't tell me or it won't come true. Go on sweetheart.
I bent down and sucked in the air around me. In one breath I out all the candles while same time spraying spit everywhere.
Loretta's clapping.
Wow, that's great. What a good boy. Good boy. Solo's a good boy.
I can hear Mammy saying, make a wish. She told me Daddy used to tell me, Solo boy, you go get married, drink rum, have children and then dead.
I don't have to ask. Loretta's fingers are already undoing the special belt I wear for us. She's ordering me, take down your pants. Now. I tell her no.
Take off your pants. If I say get 'em off, then get 'em off now. You're disobeying me?
I turn away. The belt lands on the back of my legs.
Bradaps.
Then a next one.
Bradaps.
Is licks in my tail. The belt swings in time with her words.
Take. Them. Off.
She lashes me even while I'm trying to be a good boy and pull down my jeans.
Take that.
Bradaps.
When it's bad the pain inside coils the barb wire tight right through my body. Loretta knows exactly how to cut me loose. The belt swipes my bare bamsee and the noise in my head dies down. I try to pick the jeans off the floor and connect with a next lash.
I need to hang up my clothes. That's what I'm wearing to go home. She can see what I'm doing but that's not stopping her. I fling the jeans and they land on the chair.
Bradaps.
Oh lord. You hit my balls.
Can't take a little lash? Call yourself a real man?
Bradaps.
Bradaps.
Get that shirt off.
Between lashing me the linoleum on the floor was taking some good licks too. I wondered if the people in the laundry downstairs does hear what going on.
Solo! Come here. Take it like a real man.
For a slim thing she could well hit hard. I got one hard lash across my back and before I straightened up a next one flicked my leg. As I turned to one side she came again strong.
Bradaps.
Please don't hit me. I promise to behave.
Bradaps.
You're a pussy.
Bradaps.
Pussy boy.
Bradaps.
Stand up and take your licks like a real man. Pussy boy.
Now this was cut ass. My skin's on fire and I'm bawling. Just when I thought, nah, I can't take it, the blows soften and then stop. The brain fog is clearing. Each welt on my body has cut the barb wire. Quiet quiet in my ears I hear her,
You're ready? I want to fuck you.
I curl up on the bed. It's hard to see through the tears. Does she know how grateful I am? Beautiful Loretta. The flimsy nightie's gone and she's smiling like an angel. A dirty, kiss-my-ass angel all the way from St Lucia to the Statue of Liberty. I for one real happy she's here. Is not any and every woman will give you solid licks then fuck your ass because that is exactly what you're begging for. She looked me straight in the eye.
I'm going to fuck you so hard you'll be limping all the way back to Queens.
Give Loretta her due. That woman does keep she word.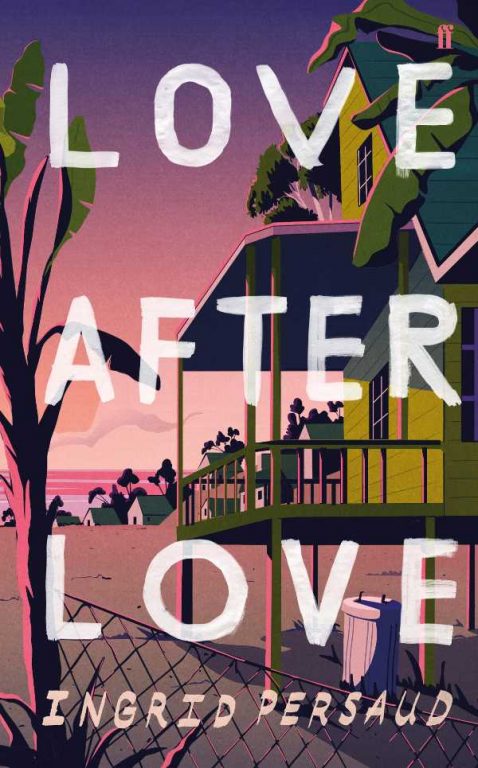 The above is an excerpt from Ingrid Persaud's Love After Love, forthcoming from Faber & Faber.
Image © Chris Ford