On a Sunday chat show called Vivement dimanche, a staple of French television since the late 1990s, Belgian-Rwandan singer Stromae drifts and staggers onstage. He's performing 'Formidable', a song of regret and disappointment – disappointment funnelled into aggression aimed at the happiness and hopes of passers-by. He makes an unnervingly convincing show of drunkenness: the aimlessness punctuated by sudden jerky purpose; the precarious centre of gravity; the grand, wobbling gestures; the slightly rolling eyes.
He stumbles down the stage steps, into the studio audience, and fixes on the two men watching from the sofas: Michel Drucker, the show's long-time presenter, and his guest, the French-Algerian actor Dany Boon. Zeroing in on them, just as an agitated drunk latches on to whoever swims into view, he addresses the song to them, mocking their optimism, their luck, and reminding them of the truth: that love dies, that life is suffering.
He lunges over to sit down next to Drucker, who shifts slightly in his seat, alarmed. Dany Boon, on the other hand, is mouthing the words of the song, tears in his eyes. Speaking his lessons of pessimism to the men at his side, Stromae then registers the audience – and stands up, defiant but unsteady on his feet. He reproaches them for staring at him like he's a monkey – Et qu'est-ce que vous avez tous à m'regarder comme un singe, bande de macaques vous – 'you bunch of apes, you' – and mocks them for what he takes to be their pose of saintliness. He's distressed, his face contorted, on the verge of tears – his voice a grainy, growling howl. The song ends with a strangulated whoop and a disintegration; he falls back onto the sofa, weeping.
It's painful to watch. There's a lull. Stromae composes himself; the audience is on its feet; there's a standing ovation. Stromae is a huge star in Europe, though he is far less well known in the UK. His music bounces with the insistent drive of house music, but is woven through with French chanson (there are endless comparisons to Jacques Brel in the press), American hip-hop, Cape Verdean morna and Congolese rumba. He is a formidable and unusual dancer; he hints towards breakdancing and body-popping, but doesn't fully inhabit these; his dancing is more strange and idiosyncratic. It feels informed by the mime tradition of Marcel Marceau – for instance, in the video for 'Papaoutai', a song about fathers, Stromae is an eerie, doll-like figure, an immobile, wooden stand-in for a real-life, flesh-and-blood father. A young boy dances inventively, in frustration, in front of this ersatz father, and eventually, in resignation, also takes on his rigid, wide-eyed stance. When performing the song live, Stromae begins in this mannequin pose (sometimes he gets carried onstage in this stance), later moving into his jerky yet controlled, warped robotic dancing – with grimaces, uncomfortable contortions, a strange painful twisting of himself.
The comparisons to Brel are not wrong. Like Brel's, Stromae's songs are often an intoxicating mix of absurdity and tragedy, of play and mourning. And like Brel he uses his entire self – every inch of his body, every joint, muscle, facial expression – to inhabit the song. Tiny details speak volumes. In live versions of 'Papaoutai', Stromae ornaments his vocal line, tapping into the intricate wavering of Algerian rai, the music that became a vehicle for political protest in French-colonised Algeria.
Algerian singers Rachid Taha and Khaled have had huge success in Europe, as has Turkish singer Tarkan; his 1997 hit 'Şımarık' featured in Claire Denis's 1999 film Beau Travail, an exploration of the erotics of colonial power, through a depiction of the French Foreign Legion's presence in Djibouti. Rachid Taha's music was deeply infused with rai, and chaabi, popular folk music. But he mixed these up with pop and rock, singing in both Arabic and French. With his band Carte de Séjour ('green card' or 'residence permit'), in 1987 he covered legendary French crooner Charles Trenet's 'Douce France', a tribute to a picture-postcard, deeply French France, with its villages and its church bells, its meadows and its rivers. This annoyed a lot of people – what was an Arab doing singing this treasure of Frenchness? – and the song was banned from some radio stations. The band's records were not sold in shops reluctant to have Arabs as customers. The mingling of genres in the work of these musicians reveals the traces of colonial power, while simultaneously talking back to that power in an assertion of hybridity, of history's material legacy.
When I was growing up in Brussels, where I was born after my father got a teaching job there in 1976, we would sometimes take the trams – wheezing and whistling through the streets – right out of town to Tervuren, a leafy, grand suburb. The number 81 would trundle from Ixelles where we lived, an area both shabby and elegant, through Montgomery, a monumental, portentous part of the city dominated by the Cinquantenaire, a park built by Leopold II in the 1880s to mark the fiftieth anniversary of the revolutions that led to the creation of Belgium. The museums in the Cinquantenaire were to bring together and exhibit the nation's knowledge, and were a crucial component of the 1897 International Exposition. Knowledge of Africa was displayed in the Palace of the Colonies, located further out in Tervuren. The palace was designed to exhibit the riches of the Free State of the Congo, as it was then known, despite being in fact the personal property of Leopold II until 1908, after which it became a Belgian colony. A 'human zoo' graced the Palace during the Exposition, displaying 267 Congolese people; many became ill and died, and the fate of others is unknown. At Montgomery, we would change over to the 44 tram, would weave through the streets and out of the city, into the Forêt de Soignes – a magical forest of beech and oak trees stretching like long tapered fingers to the sky. Each time the tram reached the forest and penetrated its silky quiet, a spell was cast. We were crossing a threshold, entering a strange new world.
That strange new world was a monument to, and an unintentionally horrifying record of, the colonialist mindset. Meant to provide a window onto the Congo, and an insight into 'the African', it instead unwittingly held up a light to the systematic condescension, acquisitiveness and violence of nineteenth-century imperialism. The tram would emerge from the forest and set us down opposite the museum, where a car park positioned itself around a sculpture of an elephant, the emblem of the Africa Belgium colonised so viciously, its trunk raised triumphantly. The elephant is also the iconic image of Belgium's Côte d'Or chocolate, made from cocoa beans in what is now Ghana, then a British colony called the Gold Coast, by a company founded in the 1880s. In Stromae's video for 'Humain à l'eau' (Person Overboard) – a terse, unforgiving poem of a song about environmentalism, globalisation and race – Stromae dances in a supermarket aisle accompanied by lurid hologram versions of himself; an elephant trumpets periodically.
The main hall of the Congo museum, housed in an imposing neoclassical structure overlooking a glorious lake and parkland, was graced by a more defeated and mournful, though huge, taxidermied elephant. We spent hours, as kids, lolloping around that creature, marvelling at its huge ears, its dejected trunk, its terrifying testicles. I can still smell the museum: an odour of institutions, of polished floors, of musty display cases and of decay. I knew the rooms by heart; the cases to linger over, the ones to avoid. The stuffed animals were fascinating; the pinned insects horrifying. I skipped past the moths, the spiders, the creatures I almost didn't dare examine. There were mocked-up humans holding spears. There were countless photos of 'natives'. There were tired dioramas. There was a great deal to feel uncomfortable about. I remember my mother saying: 'It's stuck in time; it's a museum of a museum.'
Visiting it was to observe colonialism set in stone, embalmed, slowly gathering dust. Yet there was not much at stake for us, for a white family visiting on a day from the city, living a life among the bricks and mortar that were the riches of atrocity. It was not I who was being humiliated by the museum's images, its objects, its very rationale. Eventually, some recognition of this – of the fossilised museum's fundamental partiality – filtered through, and in 2013 it closed for several years, undergoing a substantial reorganisation in the knowledge, finally, that it could no longer fail to critique the colonialism that was once its raison d'être.
In the sparse music of 'Humain à l'eau', Stromae speaks in a sort of pidgin French – the kind that French speakers sometimes use when imitating Africans: unconjugated verbs, the language stripped down to its bare, unelaborated components. You no understand; me explain – that sort of thing. This naive Afro-French speak is a familiar feature from European caricatures of Africa, not least in the famous Tintin books of cartoonist Hergé – a staple of Belgian childhoods. Also peppered into the iconography of Stromae's act (which is a highly polished, thought-through aesthetic) are the two gormless, neurotic detectives of the Tintin series, Dupont et Dupond (Thomson and Thompson). The two musicians behind Stromae in his live performances wear bowler hats and an identical get-up – half smart, half boyish – that cannot fail to trigger associations with the lovable fools in the comic books. Stromae plays with a sense of himself as a cartoon character, a cardboard cut-out standing in for the immobile, absent father in 'Papaoutai'. His own Rwandan father was killed in the Tutsi genocide in 1994.
On Vivement dimanche, the host Drucker, moved by Stromae's performance, says to him: 'I've been doing this job for fifty years – and I've never experienced that, I've never experienced a moment like that.' He doesn't elaborate; what is it that he's never experienced? Stromae has enjoyed huge praise in Belgium and beyond, and has also endured some formidable projections, by virtue of his history, his skin and his act. He became an emblem of a Europe that would refuse austerity's sectarian hardening; his first big hit, 'Alors on danse', which came out hard on the heels of the 2008 global recession, was a melancholy celebration of music and dance as a retreat from the grinding cycle of unfulfilling work and crippling debt. In his stage shows, Stromae addresses audiences in Belgium – a country which, for all its associations in the English mind with federalism, is painfully, dysfunctionally split along factional lines of language, religion and politics – in both French and Flemish. That this simple gesture is worth noting reveals how deep the linguistic fissures go. Journalists were keen to claim him as their own, a Belgian 'melting pot' encapsulating 'everything of our era'. He became, for a while, a container for all of Belgium's confusion about race and nation; a symbol of the virtues of multiplicity, connection and mixedness against the rise of far-right nationalism in Europe. Commentators, in their exaltation of him, also at times indulged in a fetishisation of his features, of this 'beautiful hybrid'. And yet he looks like the kind of young man that the Belgian police have routinely harassed, the kind that shopkeepers would casually insult to white customers like me.
One can sense, in the adulation of him, the praise upon praise upon praise, a confused mix of feelings. There is a pride about him – and yet pride is often about the person feeling the pride; commentators are implicitly lauding themselves for embracing their mixed progeny. There is also a sense of relief and wonder that a young man, raised by a single mother, with a murdered father, in a riven country beleaguered by its own racism, could rise above the violence or vindictiveness that all this might have engendered. White admiration for him – for his art, for his nuance in the face of political questions – sits troublingly close to a worrying congratulation of him for having turned out so well; for having surprised the gatekeepers. A white audience which praises him, which is tearful as he performs for it, is moved for good reasons – he really is remarkable – but also for dubious ones. Stromae confounds the audience's low expectations of him, an audience that is moved by his reaching the high standards of a culture imagined as white. Stromae, for his part, has in the last few years taken a step back from performing.
I went back to the museum when it reopened to fanfare and scrutiny in December 2018 – its name now the Royal Museum of Central Africa (known locally as AfricaMuseum). A sleek glass building had been constructed to the side of the main neoclassical edifice, within the imposing grounds. This new structure, shimmering and atmospheric, sat atop elegant, minimalist concrete conference and event spaces, deep in the ground. It was linked to the original building by a tunnel, in which one extended stretch was starkly dominated by a pirogue, the long canoe I remembered from my childhood hours in the museum.
At the press conference, the museum's enduring director, Guido Gryseels, spoke of the museum's need to reckon with the past. Journalists asked difficult questions: how exactly has the museum been decolonised? Why not a change of directorship? Why so late, this reckoning? One answer to this last question was a shift of emphasis, after Congo's independence in 1960, away from the museum as an educational resource, towards the institution as a research hub for scholars. The museum, as a result, fell into neglect. And while temporary exhibitions engaged more fully with critiques of empire and scientific racism, the permanent collections remained untouched. This reopening was the fruit, we were told, of many years of reflection and work in response to changing public discourse about colonialism. Various members of the museum staff emphasised the collaborations undertaken with contemporary artists from the Democratic Republic of Congo, whose work was now taking pride of place in the museum; the education projects; the partnership with, for example, the new national museum in Kinshasa; the space given to the history of the institution itself. There is no conclusive position on colonialism, it was pointed out; a cacophony of voices and perspectives would emerge, and individuals could make up their own minds about the past. On the thorny issue of artefact repatriation, for example – the museum has an enormous collection and is attempting to trace which objects were legally and which illegally acquired – 'we are open to discussion', said the director.
The museum was opening to the public in a matter of days. As we went on our tour of the revamped exhibits, workmen were frantically installing, drilling and tweaking while curators paced the halls with headsets. Many of the new features were high-tech, interactive installations that were not quite up and running – we saw quite a few half-empty rooms half announcing their renewed political consciousness. There were many thoughtful exhibits pointing to the scientific racism of early colonial museum practice; photography and its captions contextualised earlier iterations of the very space we were in. Much, however, was unchanged. In the rooms crammed with the artefacts that had made such an impression on me as a child – the lions, the hippo, the leopard, the zebra – the sense of the static, of preservation, of frozen time – intensified for me by this encounter with my past – was stifling. The stuffed animals were less moth-eaten now, but I recognised every one of them. Maps, birds, headdresses and masks were beautifully lit in glorious new cases; everything looked updated, sharper; it was like having one's eyesight corrected. I drifted away from the tour group, suddenly weary from my early rise in London, noticing for the first time the art deco details of the ceilings, the original nineteenth-century paintings of the Congo River on the walls, as I eavesdropped on the conversations unfolding around me. An elderly white couple spoke glowingly of the new cases. A Belgian-Congolese journalist spoke angrily with a friend and I asked her what she made of the revamped space. 'They've made themselves feel better,' she told me. 'It's not a decolonised museum, it's a renovated one.'
She was right. On our journey underground from the press conference in the new glass building to the original neoclassical one, we had passed through a room containing a long plinth, on which a multitude of statues stood crammed together. It looked higgledy-piggledy, as if this were a holding room and the statues were yet to be arranged, artfully, elsewhere. But this was an exhibit, entitled Hors Jeu (Out of Play): a room in which the most problematic and offensive images of colonial racism were themselves put on display, but framed as if set aside in the theatre, the spectacle, the game of the museum. Are they out of play, though? In the museum's earlier incarnation, these statues had been dotted throughout the building, without any commentary. The 'new' museum is attempting to provide that commentary; to point to itself, its own history. But, segregated from the rest of the museum, as the statues were in this room, and hastily partitioned off, the gesture seemed flimsy to me, and also telling, unintentionally articulate. We don't know what to do with our shame; let's assemble it all together, cram it into one self-conscious space, underground, and move on. The statues themselves, of course, remained almost unbearable to behold. Les Aniota (the Leopard Man) was there – a sculpture by Paul Wissaert commissioned by the Belgian Ministry of Colonies and acquired by the museum in 1913. It depicts a figure from the Aniota, an allegedly cannibalistic secret society with possible animist roots in West Africa. Members were thought to practise ritual murder dressed as leopards, and in the Congo in the nineteenth and twentieth centuries, often of African chiefs deemed too friendly to colonial forces. A malevolent, scheming leopard man features prominently in Hergé's early and staggeringly racist Tintin in the Congo (1931). As Jonny Pitts notes in Afropean: Notes From Black Europe, Hergé undoubtedly got his knowledge of the Aniota from the museum, where it figures as a conveniently 'savage' emblem of why the Congo needed 'civilising' by its European masters.
Also on the plinth in Hors Jeu were several sculptures of slaves: muscular, bulging, their strength fetishised while also being a source of contempt. How should we, either the beneficiaries of racism or its targets, look at these objects? Should we look at them at all? I don't know. But that room was not a solution; instead of a decolonising gesture, it was a splitting one, a gesture of compartmentalisation and denial.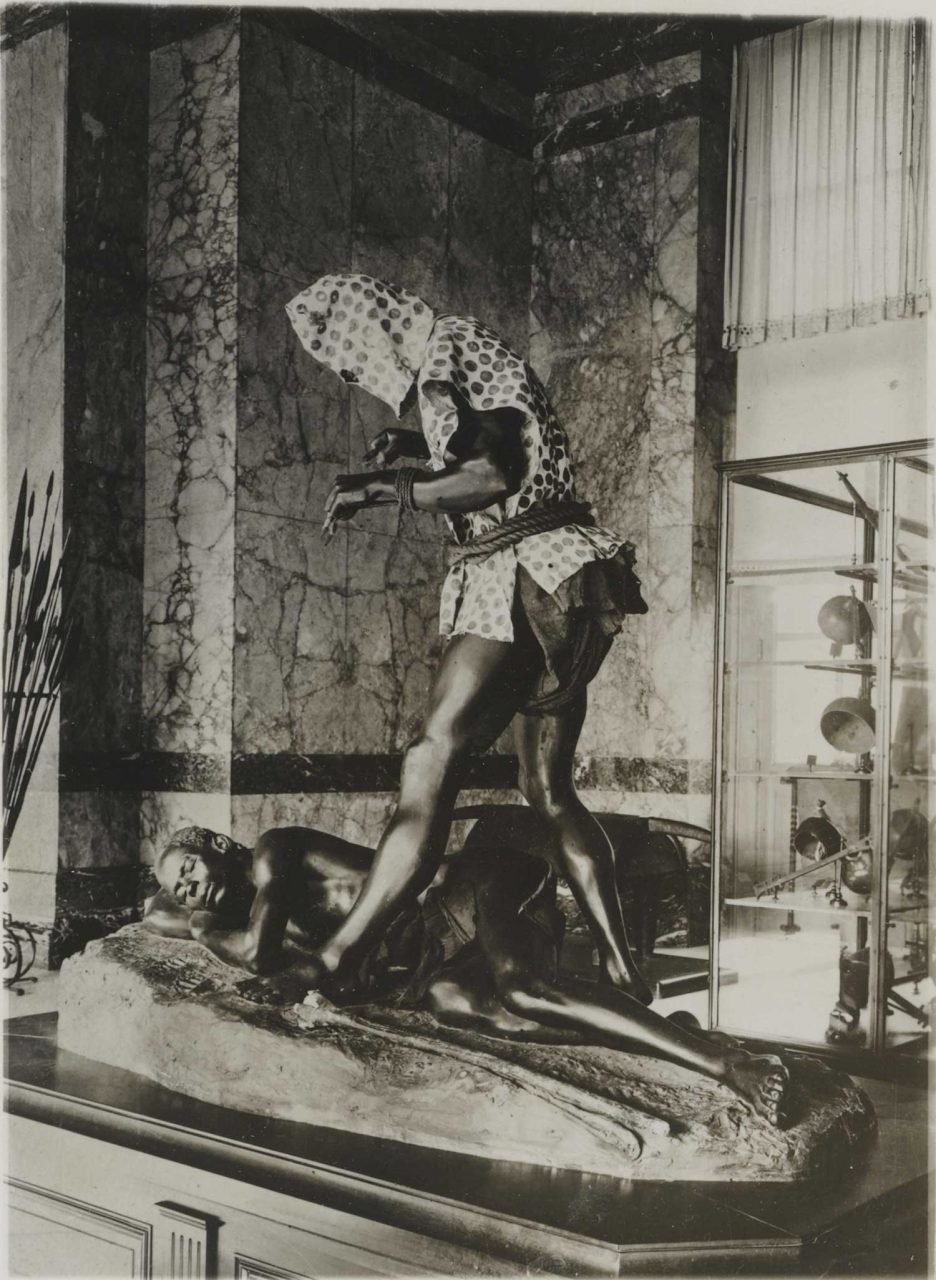 I was born and grew up in Belgium, my British parents' adopted country. I am Belgian and not-Belgian, and I am British and not-British. I barely knew the country my parents came from. It was exciting to me as a kid – our annual trips to relatives were full of unknown exoticisms: Channel 4 and its surreal, knowing adverts, fruit gums, allotments, ancient train carriages with baffling doors (you had to lean out from the inside to open them), people speaking English everywhere. The train from Dover would creak and clank into London, passing the occasional cricket ground in some village in Kent – it would make me laugh as it was both shockingly unfamiliar and iconically recognisable. I felt England unfold before me, scene by scene, as if from some unplaceable film that had been vaguely playing in my childhood, on a flickering TV to which I wasn't paying much attention. Even now, when I return to England after only a couple of days spent in Germany, or France, or Belgium, and my train pulls in to a station with its WHSmith, its Boots, the plastic glare of white and blue, I experience a sharp sensation of being familiar with something by virtue of its unfamiliarity. I recognise a deeply familiar feeling of experiencing England as foreign.
As a teenager, my sense of England was overwhelmingly filtered through the urban melancholy of Morrissey and the Pet Shop Boys: signals from a post-post-punk world, painfully imprinted by the Thatcher years, the dark 1970s. My sense of England was formed by flares from a land that arrived on my TV and Walkman full of strangeness and nostalgia, full of longing and the uncanny. Morrissey standing on bleak, grainy street corners, loafing desultorily in front of Centre Point, singing of the dole and of despair; the Pet Shop Boys walking with detached purpose through dilapidated Soho, two sinister private detectives observing the moral chaos of an unequal society. A society in decay, a decadent world rife with mundane injustices, spinning into destruction. The power-dressing elites gorging themselves on their own excess; the Vicomte de Valmonts and Marquise de Merteuils of the yuppie 1980s, aristocratic teeth bared in their death throes. And the tender nostalgia for the hedonism of youth, for the hedonism of pre-Aids youth; the friends, some here, some no more.
These signals that reached me from England painted it as a place of excitement and drab horror; a place of disintegration, of violence, disappointment and energy. I've never quite shifted that feeling of England, of London in particular: ugly, jolie laide, drab, bleak, strange. I need to go home, I sometimes say. It's ugly, I say. I find it ugly. Yes, an English friend said to me once, after a pause, but I guess it's my ugly. Perhaps that's it: perhaps home is the ugliness you can live with and love.
I came to England in 1995, to university, and more or less stayed. Two years ago, I watched Patrick Keiller's London and Robinson in Space, feature-length essay-films made in the 1990s. They dwell on topography, architecture, vacant lots, roads; Leicester Square, the BT Tower, IRA bombs. The footage, the images, all appeared so familiar; it was as if I was looking back to the 1980s and 90s, but I had barely seen these things at the time; or I had largely seen them through the TV screen, through hours watching MTV, poised to press 'record' on the videotape the moment the Smiths came on.
Watching the Keiller films felt like walking into one of those videos; stepping in, just like the girl in a-ha's 'Take On Me' video, the girl who climbs into the graphic story she is reading, from which Morten Harket beckons improbably. England's past is always on a reel for me. And yet that past is also surging forward, coming back to the future. To live in London now, for the past ten years, has been to feel time going backwards, going back to the shabby streets of central London, the sharp rise in homelessness, that marker of recession and inequality surging all around. Ken Clarke returning to our TV screens, Eurosceptics and Europhobes foaming at the mouth; the present as a Spitting Image sketch of the past.
Every time I come back into England, back into London, I have a flash of feeling: why am I here, in this city I love so little, this city of which I am only fond? There's much talk of homelessness at the moment: political homelessness, cultural homelessness; not feeling at home in one's country, in a political party. But who ever felt at home in the first place? Whose home is valued? And whose burns down? 'Each of us knows,' wrote Günther Anders in 1950, 'that our mother is mortal, but none of us knows that our home is mortal.'
Back in the museum, I thanked the curator who had shown us around and made my way out; back to the tram stop, back through the forest, back through the streets of Saint-Gilles and Ixelles, where Stromae roamed as a teenager, going from club to club in search of his musical identity. At the Gare du Midi, I stocked up on my favourite biscuits and made my way back under the Channel, to carry on looking at this home from that one, at that home from this one – at here from there and at there from here.
Feature artwork © Benjamin Brolet, Papaoutai, 2013
In-text photograph © Paul Wissaert, Les Aniota, 1913, Royal Museum of Central Africa
Lyrics from 'Formidable' by Stromae, from the album Racine carrée, reproduced with kind permission. © 2013 Mosaert Label