'There you are! And you've had a baked potato, good.'
You turn away from your screen and look up. A man is there – a tall man, thin and spectacled. From where you are sitting, you can see almost into the black slipper-soles of his nostrils.
'Graham?'
'That's right, I'm Graham. Ready for your orientation?'
'Yes, I think so!'
'Good,' says Graham. 'Good-good-good.'
You realise that you've seen him already today – this Graham. He was in the unisex toilets at about ten a.m. He was using moisturiser on his hands, humming quietly as he massaged the cream into the skin between his long fingers. You remember his relentless technique, the way he seemed to find it musical, the amount of cream he was using, and his humming, which struck you as both joyless and secretive.
'You've read the documentation I sent to you?' Graham asks.
The documentation he is referring to is a PDF called Finding Your Feet. So far, you have managed to scroll to the end, just to see how long the document is (657 pages including appendices). You have read the first forty or so pages. This covered the sections entitled:
Overview
Introduction
Welcome
Getting Started (A Check List)
Here You Are
Hi There! – A View From the Leadership Team
As you examined the First Things First section, you were gripped by a sensation that you were melting. Actually melting. It was during the melting phase that you decided to take a break and buy a baked potato from the little van outside. Most of it is still in the Styrofoam box on your desk, cold and too hard to eat.
'Well, I've read a good chunk of it,' you say.
'Oh good – which sections, exactly, have you read?'
When you tell him the sections you have read, Graham looks disappointed.
'But I really think I got a good sense of what's expected of me,' you say. 'I'm keen to get my orientation done, you know? I have been told that it's an essential part of the onboarding process and –'
'Have to interrupt you there,' Graham says. 'The onboarding process begins after your orientation.'
'Right, yes. I just mean, I came from an agency, and they were quite vague about the role, so I am keen to meet my line manager and that sort of thing.'
Graham raises his eyebrows. He checks his clipboard.
'You're writing the training material. That's what I have here.'
'Well, yes, but that's very broad,' you say. You start explaining that you need to know some key details before you can really do that work. Graham listens for a moment or two, but then becomes visibly bored.
'I think we should get on,' he says, cutting you off just as you were explaining about the essential need to identify the key stakeholders for the training material.
'Oh sure, you say.' Sure-sure-sure. 'Sorry. I'm just –'
'Just what?'
You let out a breath and decide to just be honest about how you are feeling. 'Sorry,' you say. 'I had a long journey here this morning. I feel a bit lost, to tell you the truth.' You tell Graham about your difficulty finding this office, and how you seemed to have been in a GPS black hole as you walked between here and the station – getting lost in the same industrial mews three times before you eventually called a taxi you could not afford. Graham looks bored again, so you repeat quickly that you are just keen to find your feet.
'Maybe,' he says, smiling, 'if you had read all of Finding Your Feet, you would know where they are!'
'Ha,' you say.
'Yes, funny things, haha,' Graham says. 'Just to give you an overview of the format, this orientation is tailored especially to your needs. I have studied your profile and the requirements of your role to get an idea of what you require.' You tell Graham you think that sounds great. You tell him that normally these things are just, 'There's the fire escape.There's the first aid blanket. Here's a list of marshals.'
'Marshals are important,' Graham says. He puts a finger to his lips in contemplation. 'We don't have a first aid blanket. The heat blanket and the dehydration blankets are in the first aid kits. But that is not part of your orientation.'
He is looking at you now, somewhat expectantly. You don't know what to do. It feels like he might say 'Let's begin,' or something, but he doesn't.
During this awkward moment, you notice that his apple green tie is incredibly long. It rides smoothly over his thin but undulating body, over his pale grey belt. The wide chevron of it points to his balls.
'Ready then?' Graham says.
You nod. 'Yeah, sure.'
'Good. This way.'
Graham walks away and you have to rush to catch up with him.
As you follow Graham around the office, something about his speed gives you a weirdly urgent need to talk. You spout on about how glad you are to be here finally. You tell him it feels like you have been answering security questionnaires and pre-screening questions for literally months since being offered the job. Even though actually it has only been six weeks, and most of that was waiting for one of your referees to come back from holiday.
'I read all your references. Very impressive. No trouble there.'
'Thank you,' you say, even though it's a surprise that Graham would have any business looking at your references. He's just the health and safety guy, isn't he?
'That's good to hear,' you say.
'Very impressive what some people said about you,' Graham repeats. 'Very creative, they said.'
You wonder which of your previous employers would have described you as creative, and what they would have meant by it. Your job is not about creating anything; it's about producing accurate, relevant material for a specific audience.
Graham stops abruptly next to a desk. It's a normal enough desk, at which there sits a slim, pale man. He is wearing a sad-looking white shirt and black trousers. He has eye sockets that look much too big for his eyes. Graham seems like he is about to speak to the man – he even rests a hand on the man's shoulder. But in fact, he is just using the man as something to lean on while he talks to you.
'Have you eaten?' Graham asks. 'Yes, I had a jacket potato.'
'Oh yes. Of course! I saw the box. Cheese'n'bean, was it?'
'Yes. Cheese'n'bean, I think that's right.'
'Excellenté!' Graham says. He mwah-kisses his fingers, spins on his heel and sets off again with renewed speed. You leave the pale man with an apologetic smile, and catch Graham as he prowls past various pods of desks. He is talking to you over his shoulder, saying,
'Bins
Recycling
Window
Box storage
Bulk items
Sales team bin.'
You appear to be heading towards the kitchen area.
'Are we going upstairs?' you ask. 'I heard that the team I'm working with are on the second floor?'
'Just this way first, to the kitchen and food preparation area.'
You tell him that someone already showed you the kitchen area when you first arrived.
'Not properly,' Graham says making a note on one of his clipboards.
'This is the kitchen area,' he announces. 'Ah, you can see. Coffee. Tea there. Cups in this cu– oh. Well, normally there are cups in this cupboard. If you can't find any here, you may have to look in the dishwasher, which is here. Or in the sink. Sometimes people leave cups in the sink.'
You nod. You say, 'Sure. Got it.'
He starts touching the taps on the sink with the flat of his hand. 'This is the water for washing up. This one here is for making coffee. It's attached to a boiler, see? It's always hot, so be careful because you might burn yourself if you try to use this for washing up.'
'I'll remember that,' you say.
The tap Graham is referring to has a massive sign on it that says, Do not use for washing up, and has a hand-drawn figure covered in burning liquid. The figure is visibly screaming. The eyes are wide with horror and agonising pain.
'Please familiarise yourself with the safety message on the hot water tap, and the boiler more generally,' Graham says.
Aside from the hand-made sign, the boiler is a normal boiler. A white box with a large ugly dial on it. There is a dirty mark where someone has peeled away a sticker. A long thin pipe with a tap pokes out of the bottom. You have been looking at it now for well over twenty seconds. It's a fairly depressing object.
Graham is still watching you. 'Do you want to try it?' He says.
'You mean the tap? I guess I could. Sure.'
You reach out a hand to turn the tap on the boiler, but Graham stops you.
'No,' he says sharply. 'Don't actually touch it. It's best if you simply enact the process. You can just improvise. No need to waste water.'
'You want me to just pretend?'
'Improvise, yes. Or enact.'
You approach the sink and pretend to wash up an imaginary cup using the water boiler, then pretending to realise the danger of using boiling water to wash up with, you stop and pretend to wash up using the correct tap.
You look at Graham. 'Like that?'
'I'd say you're about fifty percent of the way there.' Graham gestures towards the draining board.
You place the imaginary cup onto the washing up rack on the draining board and flick imaginary water off your hands. You do the water flicking as a kind of joke.
'I'd use a cloth to dry your hands, usually,' Graham says. 'Too much flicked water can cause slippages.'
He moves to another area of the kitchen.
'There's a microwave over there,' he says. 'So you can heat up food or whatever. Some people use it to warm their hot drinks. I personally find myself in so many meetings –' Graham's hands are now juggling the air '– that my tea goes cold and needs to be reheated three or four times before I actually manage to, ah, to drink it.'
Someone comes in – it's Craig. You met Craig when you came for your interview. In the interview, he introduced himself along with his job title, but you can't remember what it is, or what you said to him, or what he said to you. You do remember that throughout the interview he looked mostly at the backs of his own hands.
Craig is holding some Tupperware. He says hello to you, and hello to Graham. He says, 'Excuse me,' and you shuffle out of his way so he can get to the microwave.
'Yes, stand back,' Graham says, looking down at where your feet are and inching backwards himself, as though there is some kind of safety line on the floor. Then to Craig he says, 'We're just observing, please continue.'
Craig thanks him again then puts his Tupperware into the microwave.
Graham whispers, 'Watch how Craig uses the microwave. See how he places the Tupperware container into the oven with the lid slightly loose. That is very important. Then he closes the door. Then he uses the dial to select the amount of time to cook it for. Try to memorise this, if you can. Although the full manufacturer instructions for this microwave model are included in the Finding Your Feet documentation, which you still have to read.'
To Craig, in a much louder voice, Graham says, 'What have you got today then, Craig?'
Craig reacts to Graham's question by stopping the microwave and removing the Tupperware. He opens it and wordlessly reveals, first to Graham, then to you, what's inside. Craig's Tupperware pot is squirming with noodles, shredded spring onion and floppy strips of red and yellow peppers, all collected together in a sort of shiny glue.
Craig details the recipe, describing the method he used to create the dish. He talks about it for almost five minutes, providing a lot of detail and making a lot of gestures. He uses the word 'bosh' and many other loud and destructive-sounding verbs to describe how you cook the noodle dish he is now, once again, reheating in the microwave. He also uses the word 'banging' to describe how it tastes.
'That sounds delicious, doesn't it?' Graham says to you. 'How long will you microwave that for then, Craig?'
'Eleven minutes.'
'Wow,' you say. 'Eleven minutes! Is it frozen?'
'No,' Craig says.
'Remember, of course, that we don't put anything metal into the microwave,' Graham says.
Graham and Craig move closer together and jointly watch the Tupperware full of noodles go round and round in the microwave. There is quite a smell now, in the kitchen, coming from the microwave. It doesn't seem to register with either Graham or Craig, but it reminds you of being at a childhood friend's house for dinner one time and wishing you could go home.
As Craig's food rotates, you find yourself remembering how that wash of homesickness swept over you, and the small tremulous panic of knowing you couldn't leave. It's strange how far into the memory you go. You remember that your friend . . . James? His name was James. James would not let you ask his father to take you home. He said it would be too much trouble. Even though you should be focusing on the safety advice in the kitchen area, you struggle to stop thinking about that boy, and his father boiling and boiling and boiling up that food. Sad little James.
You only snap out of it when you notice that Graham and Craig are standing so close to each other that their cheeks are almost touching as they watch the food turning in the microwave. The timer on the microwave says there are still 03:09 minutes left until the end.
Shaken by the memory of sad James and his father, you turn your gaze away from Craig and Graham, and explore the off-white walls. They are mostly bare except for a few angry red and grey food stains above the little eating table. There is a notice board covering the wall beside the cupboards and the sink.
You step closer to the board and start reading. There is a sponsorship poster for someone called Dean, who is raising money for cancer research. Dean is planning to walk a marathon at night, it says, through the city. You cannot see which city; it doesn't seem to say. Next to Dean's sponsorship poster is a sponsorship poster for someone else – this time it's Martin. Martin is raising money for testicular cancer. He will also do a marathon, but in the daytime, and will run the marathon in the traditional way. You reckon you can probably spare some money, you think. But you will clear it with your partner first, since there have been some worrying conversations in the dark between you recently, just before you fall asleep.
Underneath these two posters is an advert for a car valeting service called Car-Man-Geddit.
'It's a nice kitchen,' you say, hoping to be able to move on, but also not wanting to ruin the moment for Craig and Graham, who are still standing incredibly close to each other, rapt by the turning of the noodles.
'I like the notice board. I might sponsor Dean, maybe.'
Graham is still watching the microwave. You hear him whisper something into Craig's ear. Something like, 'There you are.'
'I know,' Craig says.
The microwave finally bleeps and Graham snaps back into life. 'Shall we get on?' he says, moving away from Craig.
You nod. Then, as an afterthought, you say, 'Before I forget, Graham, could you give me some walking directions for the best way back to the station? I got quite lost on my way here and had to pay for a taxi.'
Graham raises his eyebrows and shakes his head, as if he cannot believe what you have said. 'You were sent a very good map,' he says.
You are about to tell him that you were not sent any such map, but he starts talking again. 'As I'm sure you have guessed, there is the ground floor kitchen fire escape to look at next.'
After a look at the fire escape, which is a door in the corner of the kitchen, Graham leads you back through the office to the stairwell. The door to the stairwell requires a security pass. Graham stands up on tiptoe and thrusts out his pelvis to get the pass that is attached to his belt onto the pass reader.
'Most people choose the necklace lanyard type for their blue badge,' he says, 'but I prefer the more secure belt hoop lock. Of course, my badge has access to more areas than yours, so it's probably safe for you to have the necklace type.'
You tell him whatever is easiest is fine with you.
On a small landing between flights of stairs, Graham gestures to the window. 'Come and look out of this window. Many bird varieties have reportedly been seen from this vantage point.'
'Oh really?'
'Yes, really. I haven't seen all of them myself, but all of the sightings have been from reliable sources. Daphne, who you won't know, saw a young egret with its mother just last month.'
You approach the window and look out.
'If you look closely at the willow tree,' Graham says, 'just there in the mid-range – about fifteen yards from the yellow pole. Can you see?'
You nod, even though you cannot see any such willow, or any such pole. The whole landscape is blank. Just grass, and fencing. In the distance you can see a few clumps of trees, but it's really not possible to discern willows. It's just trees.
'Well, just to the right of that willow is the rally-point in the event of a fire. You see, near the disused children's slide?'
You can see no such slide. You feel you really ought to tell Graham that actually there is a problem, maybe with the angle you are viewing from, or the perspective, because you cannot see the same things that he can see. Before you get the chance to speak, he holds up his hand.
'If you hear the fire alarm, which is a constant, high pitch siren, like this:
eeeeeeeeeeeeeeeoooooowwwww
eeeeeeeeeeeeeeeoooooowwwww
eeeeeeeeeeeeeeeoooooowwwww
eeeeeeeeeeeeeeeoooooowwwww
eeeeeeeeeeeeeeeoooooowwwww
eeeeeeeeeeeeeeeoooooowwwww
Then you are to leave through one of the fire escapes and head for that point.'
You still cannot see where he means, but then, you reason, if there ever is a fire you will just follow everyone else out of the building and go where they go.
'Are you now familiar with the fire muster point?' Graham asks.
'Er, yes?'
'Good.' Graham makes a mark on one of clipboards. 'What the hell?' Graham shouts suddenly. 'No! No! No-no-no-no-no!'
You flinch at the volume of his voice. You ask Graham what's wrong, but he acts as though you are not there. He continues to stare out of the window, his whole body is tense, ducking his head this way and that, as though watching something move. Every now and then he curses politely but firmly under his breath. You have no choice but to remain where you are while this goes on – you cannot see whatever outrage Graham can see. You cannot see a living soul, nor any detail whatsoever.
Graham gets out his phone and loudly taps out a message. 'Unreal,' he says to himself. 'Un-fucking-real.'
You try again to follow his gaze, but the sun has come out from behind a cloud and you are dazzled, and suddenly very hot.
'This way,' Graham mutters. He barges past you, knocking you out of the way, then springs up the next flight of stairs, taking them two at a time.
You rub the top of your arm as you follow Graham. You are short of breath and prickly by the time you reach the first floor.
Graham looks at you. 'Is there a problem?' he says.
'It's nothing really,' you say. 'I mean, I'm sure it was an accident, but you really bashed me back then. My arm hurts quite a lot actually.'
Graham doesn't acknowledge your pain. He nods, checks his clipboards then checks his phone angrily.
You feel quite disoriented.
'Let's go into the first floor now,' Graham says.
The first floor is nearly identical to the ground floor. Maybe the air is slightly cooler, and maybe the smell is slightly less depressing. Also, the computers look newer, which is probably also the reason it smells different. Otherwise, it is the same as downstairs.
'All the rooms on this floor,' Graham says, 'are named after sports cars.'
Ferrari is the biggest of these rooms. There is also a Lotus room and another that maybe says Triumph, but you can't quite see it properly.
Through the frosted glass wall of Ferrari, a heated discussion is taking place between eight or nine men wearing different coloured pastel shirts. One of the men, who is wearing an apricot shirt, breaks away from the heated discussion and clutches his face in his hands. He looks like he is experiencing serious despair. He notices that you are looking, takes his hands away from his face and stares intensely at you through the glass wall.
You look away and exaggerate the action of exploring the office space with your eyes. You can see several desks that still have tinsel on them, though it has not been Christmas for a long time and it will not be again for an almost equally long time. You can also see more than one Simpsons character, or scene, pinned to the dividers of the various working areas, but if you had to count them, you would not be able to. If you had to walk towards the picture of a specific scene or character from The Simpsons, you would not be able to do it either. You simply know that they are there.
You realise that Graham is no longer by your side. He is four rows of desks away, almost in the centre of the room, giving a woman in a blue cardigan a tender look. He is touching her on the arm. Both Graham and the woman have their eyes closed. They part and the woman places a dried oak leaf into Graham's open hand.
You think Graham is telling the woman that he is Orientating you.
The woman in the blue cardigan looks at you and nods very solemnly. She has more leaves in her hands.
Graham places the leaf she gave him into his trouser pocket. He tilts his head and smiles. The woman looks relieved, or perhaps pacified is more accurate. She moves from foot to foot. There are leaves all around her on the floor.
Abruptly, Graham is on the move again. He passes you, walking briskly towards the first floor kitchen area. Over his shoulder he says, 'I bet you're wondering what that was all about!'
'Well, yeah,' you say. 'Did she just give you a leaf?'
'She has given me many things.'
This appears to be the only explanation Graham is prepared to give you. 'This way!' he says. His walking speed has increased by about fifty percent. You have to canter to keep up with him. You try to ask him again, as you speed along the office floor, what is the best way to the train station?
Graham stops walking so suddenly that you almost crash into him. 'Why do you want to know that?' he says. 'Why do you keep asking me that?'
'Well, for when I go home.'
'But there are hours before the end of the day. You're here now.'
'Yes, but for later.'
'I don't see why you need to know. There isn't time for this sort of thing.'
He races off again, into the first floor kitchen.
This kitchen is virtually identical to the one downstairs. Graham still seems angry with you. He touches the different objects, says their names just like he did on the ground floor. He does not mention the huge table-football table that takes up most of the kitchen space, the only major difference between here and the ground floor. He talks loudly to be heard over the sound that the four men in their twenties are making as they play a rowdy game of table football.
'Boiler
Microwave
Window
Sink
Taps
Lucid printout of boiler flume technical drawings for reference
Cups.'
When he comes to the end of his list, the football match also seems to come to an end. The four players wave and nod to Graham as they leave.
'There you are, lads,' he says.
'Yep,' one of them says back. The others all nod.
Now that it's quiet, Graham turns to you with a half-smile.
'You'll like this,' he says. He moves to the wall opposite the sink and opens a floor-length cupboard door. You try to remember if there was a corresponding door in the kitchen downstairs, but you can't recall any details of that kitchen anymore.
Graham gestures for you to look inside the cupboard.
'This is the stationery cupboard,' he says. 'Watch this. This'll cheer you up!'
He enters the stationery cupboard, but not in a normal way. He seems to be imitating a train as he moves forward. He folds his arms at the elbow, puffs out his cheeks, and thrusts his folded arms back and forth. He progresses deep into the cupboard, making little puffing steam-engine noises. Once inside, he blows loudly through his mouth and comes to a slow stop at the far end of the cupboard.
He calls out to you from within the darkness, 'What am I?'
You give no answer. You just stare at the back of Graham's head and body. It seems easier than you would have expected to allow this silence to linger. You glance out of the kitchen window. You feel sure that this window faces the same way as the one in the stairwell, but the view is not the same. You can see hundreds of trees clumped with startling green leaves that seem to separate in the wind, revealing fields and far away sheep. There are employees out there, walking about in the leaves, kicking them into the air.
'You can come in if you like,' Graham says. 'There's a chair just inside the door, you can unfold it and sit down while you work out my little puzzle.'
Graham hasn't moved. He is standing completely still. When you don't reply, he says, 'Sit. Down. Please, OK?'
'OK, fine.'
You press into the stationery cupboard. You can smell Graham's different odours – washing up liquid, unscented hand cream, pine flavoured bleach.
'It will be very disappointing if I have to tell you the answer,' he says. 'What am I?'
In your pocket, your phone is vibrating. You think for an instant how exciting the outside world could be. It could be anyone – it could be good news about another job. It could be news that your partner has secured work, which would mean you don't need to extend any more lines of credit. And, for some reason, you imagine that it could be sad little James, the boy who's house you wanted to leave when his dad was cooking. Sad little James could be calling to remind you that, when you asked him if he could ask his Dad to take you home, not only did he refuse, but he left you alone in the room. He shut the door of the windowless room you were in, and from the outside turned off the light. So you sat in the dark. Sad little James, you think, could be calling you to remind you that you sometimes remember this moment of being in his smelly pitch black room and wonder if in fact you are still there now, and everything that has happened in the intervening years has simply been your imagination.
You remember that you sometimes think you are still in the dark room and have rapidly assembled a complex imagined world that includes:
Electric cars
Your entire secondary school, college and university education
iPhones
Sexual experiences
Your partner's life story
The true capabilities of the internet
This orientation in this office
The demise of Pop-Tarts
Everything – all of it.
You don't answer the phone. You are afraid, you realise, of Graham's reaction. You are afraid of what is happening. The phone stops ringing.
'Why did that woman give you a leaf, Graham?'
'What? That isn't relevant now!' Graham's voice in the dark cupboard is strange and manic. 'Look closely at my body!' He says. 'Come on! I bet you could get it if you would just look. What am I?'
You still don't make any guesses. You clear your throat. You know what you should say, but you can't say it for some reason.
'I am stationary!' Graham shouts at last. His voice rings with triumph. 'Stationery! This is the stationery cupboard and I am stationary. It's a joke! You can laugh, you know:
Graham exalts in his punchline, then almost immediately leaves the stationery cupboard, flowing out of it in his soft, sensible way.
You are about to follow him, but he slams the door.
You are shut in the cupboard, in the dark.
'Graham, let me out, please.'
You can hear Graham's voice, but he seems to be talking to someone else. The other person sounds very familiar to you.
'Graham!' you shout. But he does not respond.
You hear him saying, 'Let's go and see the second floor,' before leaving you there, in the dark.
You hear the familiar voice saying, 'Sure, that sounds good.'
You stand in the dark, reaching out and touching nothing.
Your hands do not even find the reassuring touch of pencils or spiral-bound notepads.
You can hear Graham say he has a surprise for you.
'Let's go up to the second floor, shall we?' Graham says. 'Yeah, sure, that sounds good,' you say. You feel as though you have forgotten something.
You follow Graham back out to the stairwell. On the way past some toilets, without looking round he extends one of his arms towards them and says,
At the top of the stairs, Graham checks his reflection in the reinforced glass of the door. He licks his teeth.
You follow Graham around the second floor. He raises his arms and points at things but does not say what their meaning is, nor what they are for. He stops next to a photocopier and brushes his hand down the arm of an employee in her mid-thirties. He runs his hand up and down her arm four or five times, then pats it. She waits for him to stop, then picks up her photocopying.
'There you are,' he says to her.
The employee smiles and then takes her photocopying away. As she goes, you notice that the top page of the photocopying is just an entirely black rectangle. You look at Graham's face. He has raised his eyebrows and is smiling at you.
'Graham,' you say. 'Did something happen? I feel as though I've missed some steps.'
'We are doing your orientation, that's all. It has been a bit of a fuss, to be honest. You have been distracted, but it's OK now. Let's just go back downstairs,' he says. 'I have a surprise for you.'
You follow him back to the stairwell. He points up at the ceiling in the stairwell. 'There is an upstairs,' he says. 'But we won't do that today.'
Graham holds out an open palm towards the stairs, and you walk ahead of him. You only get a few steps before you hear his voice in your ear.
'Don't er– sorry. Could you not clutch the railing like that as we go back down the stairs? Thank you. In the  event of a fire, that would have a negative effect on others, wouldn't it? How would they get past you?'
You let go of the railing, becoming aware of how tightly you have been holding on.
'You recognise this area here,' Graham says. 'It's reception of course. And . . . this is your blue ID card.'
Graham lifts an ID card on a blue lanyard from the counter of the reception area. He clears his throat, and then he places the lanyard around your neck, like he is awarding you a medal. His face almost touches yours as he drapes it on you. He lets out a little breath onto your skin.
'There,' he says. 'There you are.'
'Thank you,' you say, tapping the blue pass on your chest.
You tilt the pass upwards to examine the picture on it, of your face. You look at your name and your staff number. Your face in the picture is too small for your shoulders. The picture makes you feel very sad.
'Come out here, please.'
You stop looking at your face on the card and follow Graham out into the car park. He gestures in the direction of the fire mustering-point he mentioned earlier. Just as before, you do not clearly see where it is. Your conviction is strengthened that, in the event of an actual fire, you will simply become part of the herd. You will be in amongst them as you shuffle through the smell of burning plastics as all the photocopiers and servers and vending machines burn. There will be black smoke and the faint excitement of knowing you will get paid no matter what happens. There will be the soft, accidental loveliness of someone's smart-casual shoulder as you are buffeted forward in the crush.
You are still imagining the fire when you realise that Graham is leading you towards the back of the car park. 'We have time for a short recce of the town and surrounding area, if you like? I know you got lost on your way here from the station.'
'Yes, horribly lost,' you say. 'But it's just part of finding my feet, I suppose.'
'Yes, finding your feet – the comprehensive guide which you have not yet read. So, tell me, have you found them?'
You look down as a joke, about to say, 'There they are,' but a sort of blankness comes over you, and you can't see your feet. Then a bird like a big heron calls loudly overhead, and you look up. There is no bird. There is just Graham, smiling at you next to his car.
You are not sure why, and you are not sure that you should be, but you are getting into Graham's car. He is smiling at you as he holds open the door. You do up your seatbelt and wait for Graham to get in. He doesn't get in straight away, and you can't quite see where he has gone. You can hear the sound of him bumping against the car somewhere behind you. It feels like it would be impolite to fully spin round and look at him. Finally, he gets in, he seems out of breath.
'Sorry about that. Right, ready? Let's go. A little surprise.'
He hums a tune as he drives out of the car park. As you pass the office building, you see a face looking down at you from a small window near the roof. The face looks sickeningly familiar. You strain to look closer, but you are distracted by a young professional man wearing headphones and strutting towards the office complex. When you look back to the window, the face is gone. Your phone vibrates in your pocket. You reach into your pocket to answer the call, but Graham makes an abrupt, nasal sound which stops you in your tracks.
You ask Graham if he is feeling alright.
He says, 'Please don't use your phone during the orientation, unless it's an emergency.'
You tell him you didn't realise you were still doing the orientation.
'It's not for my benefit,' he tells you. 'But don't you think it would be a good idea to pay attention – we don't want you to get lost again, do we?'
You tell him you agree with him, and then you start laughing at how lost you were on your way to work, and how you are even more lost now than ever. Even after you have been oriented.
'Over there,' Graham says, ignoring your joke about being oriented, 'is the bakery some people like. They sell a range of different sandwiches, and baps. They have pastries too, of course. If you ask them, I think they still do toasted sandwiches. Do you like toasted sandwiches?'
You nod.
Graham nods too, as if you have given him the correct answer.
He tells you fillings:
ham and cheese;
mayonnaise with prawns;
just cheese;
two types of cheese; and
hoi sin duck with mayonnaise.
'If you ask them,' he says, 'they will tell you which fillings are best in a toasty. Prawns and mayonnaise is nice in a toasty, I find, but they are reluctant to make it unless you ask very specifically, unless you actually insist upon it. They told me once that hot mayonnaise and prawns is not   a good idea! I said to them, how ridiculous. Hot mayonnaise is delicious. In France, they keep it out, they don't   put it in the fridge, it sits out in the sun. Hot mayonnaise     is fine!' he shouts. 'Do you like hot mayonnaise?' he asks.
You clear your throat and you nod. 'Yes,' you say. Yes to hot mayonnaise, even though nothing could horrify you more than coagulated mayonnaise and steamy little prawns.
'They also have a selection of soft drinks, and an espresso machine,' Graham continues. 'You can get a cup of Americano there for one pound thirty. Over there, on the left, is The Smiling Pig. That's a pub we sometimes go to after work. A few of the guys from the second floor and me have a quiz team. We do the weekly quiz at The Smiling Pig, and also another pub, which you won't have seen, because it's in Wolkingham. One of the guys from the team has a sister in Wolkingham, and she sometimes cooks us all supper before the quiz. She is a very kind woman. Very kind.'
Minutes go by as Graham continues to drive the car in near silence, in and out of populated areas, occasionally pointing at another bakery and raising his eyebrows and saying something like, 'Medium sized sausage rolls in there.'
The populated areas become fewer and further apart. After a period of driving that feels desperately long, Graham pulls, quite suddenly into a car park.
You did not read the sign properly, but the main building looks like a hospital of some kind. Or perhaps a home. You sit there in silence for a moment after Graham turns off the ignition. Graham doesn't move, just sits there staring straight forward.
'You don't mind, do you? I find it hard to drive past without stopping in.'
You say, 'No, of course not.'
Graham looks relieved.
You follow him into the low, single-story building. Is it a hospital? You confirm to yourself that it must be.
Although the sign by the door calls it a Centre. The John David Richards Trust Centre.
'Pot plant has been here for seven years,' Graham says. Then, as you stroll through the corridors, he points things out to you:
'Tiles designed by children from a local school.
Mosaic from a factory.
That window is broken, you cannot open it anymore.
Lemon smell here for some reason, always.'
You arrive eventually at a ward. The ward is almost completely empty, but in a corner, in a cardigan, there is a man. He has loose, leathery skin, and holes in his ears where there once must have hung heavy jewellery. His eyelids have eyelids. His smile is the smile of a nice donkey. Wrinkled, faded tattoos peep out of his burgundy pyjama top. Graham goes over to him and rests a hand on his shoulder.
Graham whispers to you, 'This is James. He used to be in the delivery team. There you are, James. Poor little James,' Graham says.
James extends his massive smile. He has four gold teeth on his top front set. The rest are a series of crags, ranged in a sad gradient of grey to orange.
'He left us to go travelling in 2007. Almost immediately after completing his orientation. He took up with a curator, didn't you Jim? An art curator, you know? I thought you would like to meet James because you were talking about him earlier.'
'Was I?' You do not remember saying anything out loud about James. Sad little James from your past.
'Oh yes, on and on, about how you sometimes imagine that you are locked in a dark room and everything you think you are experiencing is simply a memory.'
'But, no, it was the other way around,' you say. 'I sometimes imagine that all of this is a dream.'
Graham ignores you, cutting away as if you have said something annoyingly dull. He turns back to the old man. 'Are you alright, James?' he says.
James nods his head. James, you think, must have been administered lots of drugs recently. Graham tells you about James's journey around Europe. He went to all the cities. He worked, occasionally, as a gallery assistant. He fell in with some Italians and some French people too. He ate good food. He learnt new languages.
'As you can see,' Graham says. 'He rather over did it. But I can still see you, James, in there. The old you. There you are.'
Graham nods and James nods, and both men smile and sniff. Graham holds one of James's long hands and squeezes it. With that, he spins on his smooth heeled shoes and leaves the room, or ward, you're not sure which.
And then, as you follow him out through the network of corridors, past other doors and rooms and curtains, you realise something very strange.
'Nobody works here! There are no staff or anything!'
Graham looks down at you as he strides through the corridors. His lips are tight. There is rage there, bunched in his smooth walk.
'I really thought you would have had something to say about James, actually, rather than the absence of the Centre staff. I really thought you and he would have had a connection, which is why I brought you all the way out here, using my own petrol. Doesn't it mean anything to you? The effort I have put in to show you this other creative person that I know? No. All you care about is "where's the train station?" "Who's phoning me up?" "Where have all the nurses gone?" I think you could be more grateful. Much, much more grateful.'
In the silence that follows, with Graham staring at you, you grope for an appropriate apology, but, emerging into the fumes and the bluster of the car park, your words are swallowed by the wind.
'Over there, of course, is the station.' Graham flaps a hand towards some trees. 'As any idiot knows.'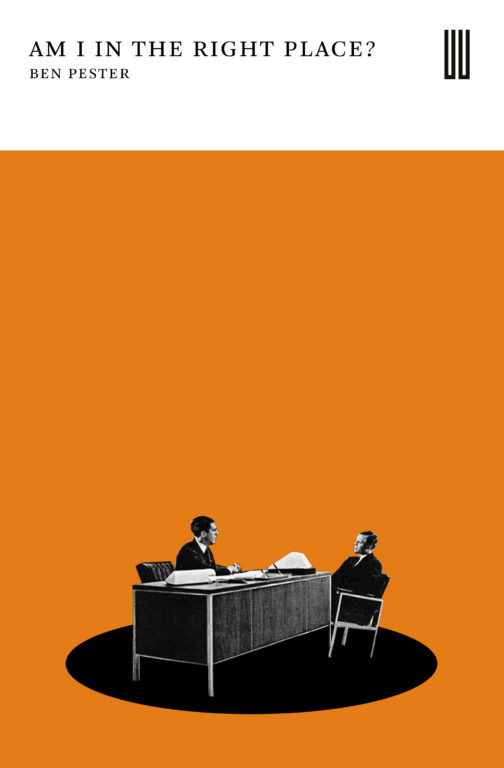 'Orientation' is included in Ben Pester's collection of short stories Am I in the Right Place, available now from Boiler House Press.