'I ordinarily answer such as ask me the reason for my travels, "that I know very well what I fly from, but not what I seek." '
– Michel de Montaigne, translated from the French by Charles Cotton
1
In 1890 Anton Chekhov took an axe to his life. He went to the prison island of Sakhalin, more than 4,000 miles from his home in Moscow. The journey took him eleven weeks by road, river and sea. His three months on the island were spent mainly in the capital, Alexandrovsk, interviewing convicts and former convicts, voluntary exiles, administrators and prison overseers. The resulting description of squalor, mass sexual abuse, incompetence and systemic cruelty at the far edge of the empire would become a cause célèbre back in European Russia when it was serialised, then published as a book, three years later, and lead to a secret government inquiry into the running of the penal colony. 'I regret that I am not a sentimental person,' he told his publisher before he left, 'otherwise I would say that we should make pilgrimages to places like Sakhalin as Turks go to Mecca.'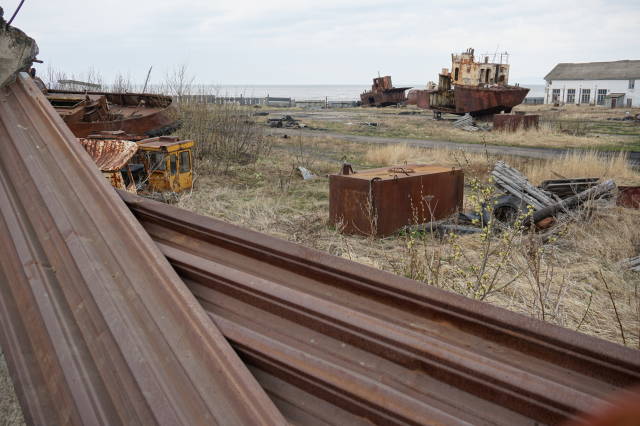 At the derelict harbour in Alexandrovsk, as I was taking a photo of a plaque commemorating his arrival on the island, there was a pain in my calf so deep and startling that I was caught, like Buridan's ass, between shrieking and puking, and instead ceased, for a while, to breathe. It was my fault: the dog had been barking from its lookout of rubble with that squint-eyed ripping motion of serious dogs, and I'd turned away. It did its job so well that all memory of its appearance has gone – big or small; what breed or colour. I took off my sock and tied it around the wound and, my shoe slopping with blood, flagged down a car.
Pushing the needle into my back an hour later, the nurse said, 'Now you have something to write about, don't you?' The doctor battled an undoctorly smirk while jotting down his notes.
I went back to the town's solitary hotel, the Three Brothers, shook the blood from my shoe into the toilet, swallowed some antibiotics and went to bed. Next morning, when I was told that a minor earthquake had struck while I was sleeping, it didn't come as a surprise, and not only because Sakhalin lies in a region of seismic unrest.
2
In Moscow a week earlier the intersections around Red Square were blocked by orange municipal dump trucks; bullet-vested police were guarding the approaches and by 9 a.m. bands of bearded young proto-Cossacks were standing in circles roaring battle songs into the sky. It was Victory Day, celebrating the surrender of Nazi Germany, and later President Putin would be addressing the troops. By design or accident, an international a cappella festival was on at the same time. The outdoor stages were set up in the same squares as makeshift screens playing looped war footage, so that the singers' earnest harmonising – a beatbox version of 'Superstition', for instance – vied for your attention with, say, the Red Army Choir doing 'Arise, Great Country', reaching an equilibrium of volume that became intolerable until the a cappella people hit the chorus.
On Pushkin Square 300 members of the Moscow Communist Interbrigade were carrying flags bearing the hammer and sickle and Lenin's face. Among them was a green flag with another stencilled likeness – Che? No, Gaddafi. 'Net kapitalizmu! Net fashizmu! ' a man was chanting into a loudhailer. Over the heads of the crowd it was possible to glimpse, beyond the barricades, a ballistic missile as big as a grain silo creeping down Tverskaya towards Red Square.
Meanwhile, a mile away, Putin was mid-speech: 'Our nation is well aware of what war is. It brought grief and immeasurable suffering to every family. We have not forgotten anything. We remember everything . . .'
But the past wasn't for everyone. In the bars of Kitay Gorod half the women seemed to be wearing the same brand of denim trench coat, printed across the back: 'Good things come to those who hustle'.
In the Pushkin State Museum of Fine Arts I lingered over Lucas Cranach the Elder's The Fall of Man: Adam and Eve as pale and delicate as rhizomes, about to be kicked out of the Garden of Eden. No longer innocent, maybe, but they can't really comprehend what their new life will be like.
---