My reading life began with my parents' bookshelves. I would read anything with a naked woman on the cover. I picked up the 1967 Picador edition of Ice with its image of a pale girl at the foot of a flight of stairs and read it breathlessly in a way that mostly eludes me now. It was so new to me, a sort of apocalyptic not-quite-science fiction that crackles with erotic violence and dread.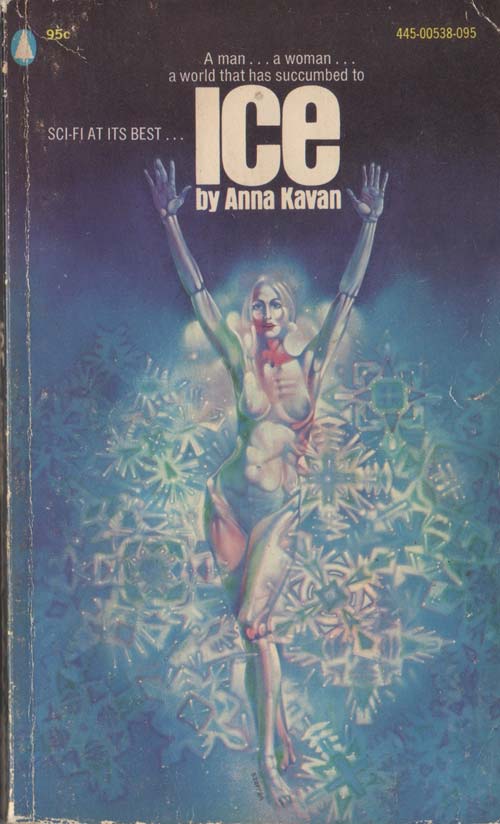 Kavan makes such great assumptions of her reader that it is almost flattering how obscure, how ungenerous she is willing to be with her writing. The narrator's hallucinations or dreams interrupt the text with no warning and nothing – not a single character – is given a name. As a young woman who suffered from extremely disturbing dreams there was comfort in the way Kavan gave my fright a shape and a beauty and did not try and explain anything away. The book is full of half-heard snatches of conversation, shimmering snow and bruised flesh. Just as we think we have found our way, like the narrator we are plunged elsewhere to negotiate an unfamiliar landscape – or a room that appears a certain way in one moment and completely transformed the next. Even the girl in the story is an amorphous beast, transparent and silent and growing thinner by the moment. 'She's dying,' her husband tells the narrator at one point. 'As we all are.'
Some people see the book as a metaphor for Kavan's heroin addiction. I think that is terribly neat and boring. It's unfortunate that a writer's biography has to be laboured over, especially if that writer is a woman. But Kavan systematically destroyed personal correspondence and diaries in an attempt to resist precisely this. What a writer, and what a vision. What a perfect book to read in preparation for the end of the world.