New Writing on Granta.com
'Nights at the opera in Ukraine – where everything, including every kind of music, has changed.'

Ed Vulliamy on music in Ukraine.
'It's a paper bag filled with pastries. Chicken turnovers.'

An extract from Family Meal by Bryan Washington.
'When and where does the crisis of war begin and end?'

Y-Dang Troeung on the longevity of war.
'A pink plastic glove arrives, I say hello, pink plastic glove, you've arrived.'

Poetry by Dolors Miquel, translated by Peter Bush.
'A twenty-five-kilo dog is too small to survive in the countryside.'

An extract from Irene Solà's forthcoming novel, translated by Mara Faye Lethem.
'We're going to go crazy today, Merche exclaimed and then let out an electric shriek.'

Fiction by Montserrat Roig, translated by Julia Sanches.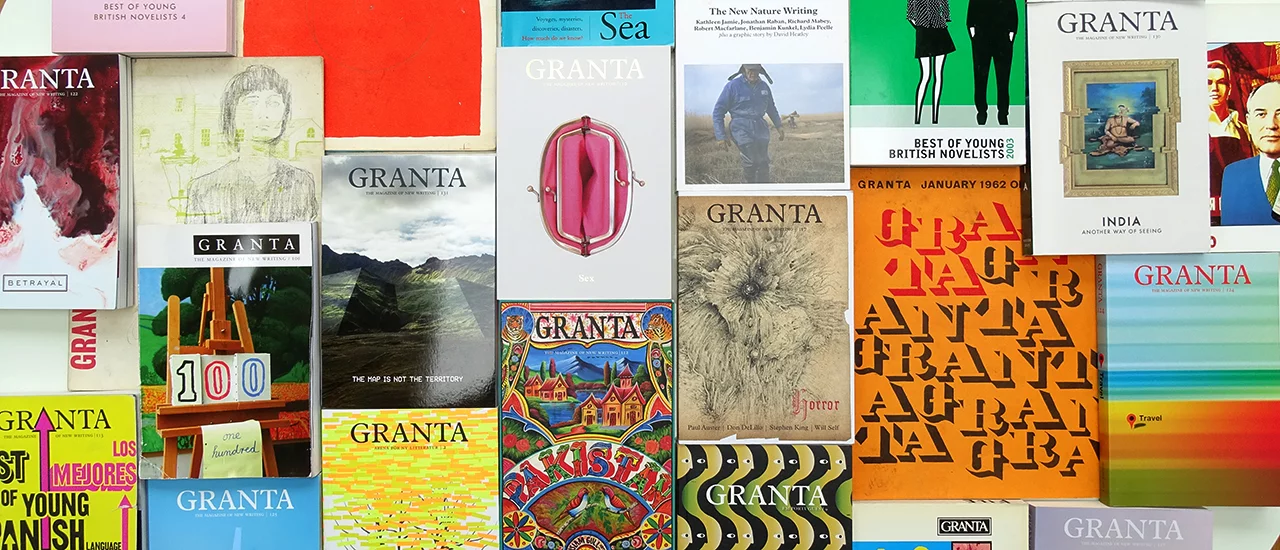 Championing New Voices
Since its inception as a literary quarterly in 1979, Granta has been committed to championing the best in new writing. As part of our ongoing mission to support new and emerging writers, we are launching a programme of workshops designed to offer writers the tools to develop their technical skills, and the ability to understand the nuances of excellent literary craftsmanship.
These online, tutored courses are hosted on a fully accessible virtual platform, available anywhere in the world, offering flexible learning at a time and pace to suit individual needs. Each course draws on the archive of world-class literature published in the pages of Granta over the past forty years. Students will develop their authorial voice while honing their prose through practical assignments, one-to-one tutor feedback and peer learning with a cohort of committed students.
Course entry is by application.
Constructing a Nervous System
Margo Jefferson
Winner of the Rathbones Folio Prize Book of the Year
In this intimate and innovative memoir, Pulitzer prize-winning author Margo Jefferson gives us her own personal and intellectual formation.
From Josephine Baker's radiant transformations, to Willa Cather's aesthetics of whiteness, Jefferson shows us how we can find space in cultures that will not make room for us, and how, even in times of stricture, we might learn to construct ourselves.
'In a sense we are always haunted by our past and what psychoanalysis is, for me, is not about cure but about understanding those ghosts.'

Lynne Tillman on her books Weird Fucks and Haunted Houses.
'How do we perform our politics, our outrage and our grievances when we are among a group?'

Anthony Anaxagorou talks about his collection Heritage Aesthetics.
Highlights From Granta Books
New fiction from Golnoosh Nour's debut collection about the lives of young, queer Iranians.
'Each day we re-enact, on ourselves, what was done to us.'
'As a child, my grandmother brushed her teeth every day with radioactive toothpaste.'
'Our Father had perhaps two sons and sent her the younger one.'

An excerpt from The Gospel According to the New World, by Maryse Condé, translated from the French by Richard Philcox.
'Another spring, another sequel.'

A poem by Sasha Debevec-McKenney.
Leila Guerriero investigates the collusion that left so many graves unmarked decades after the Falklands War.
'Sometimes, it is better to not know what is behind the veil, decode the sign.'

Lucy Mercer on motherhood, emblems and obscurity.
When I Sing, Mountains Dance by Irene Sola (trans. Mara Faye Lethem) and Chilean Poet by Alejandro Zambra (trans. Megan McDowell) are both shortlisted for the Oxford-Weidenfeld Translation Prize.
Our Share of Night by Mariana Enriquez (trans. Megan McDowell) is shortlisted for The Kitschies Red Tentacle award, awarded to speculative, sci-fi and fantasy novels.
I'm A Fan by Sheena Patel wins the Book of the Year: Discover Award at the British Book Awards.