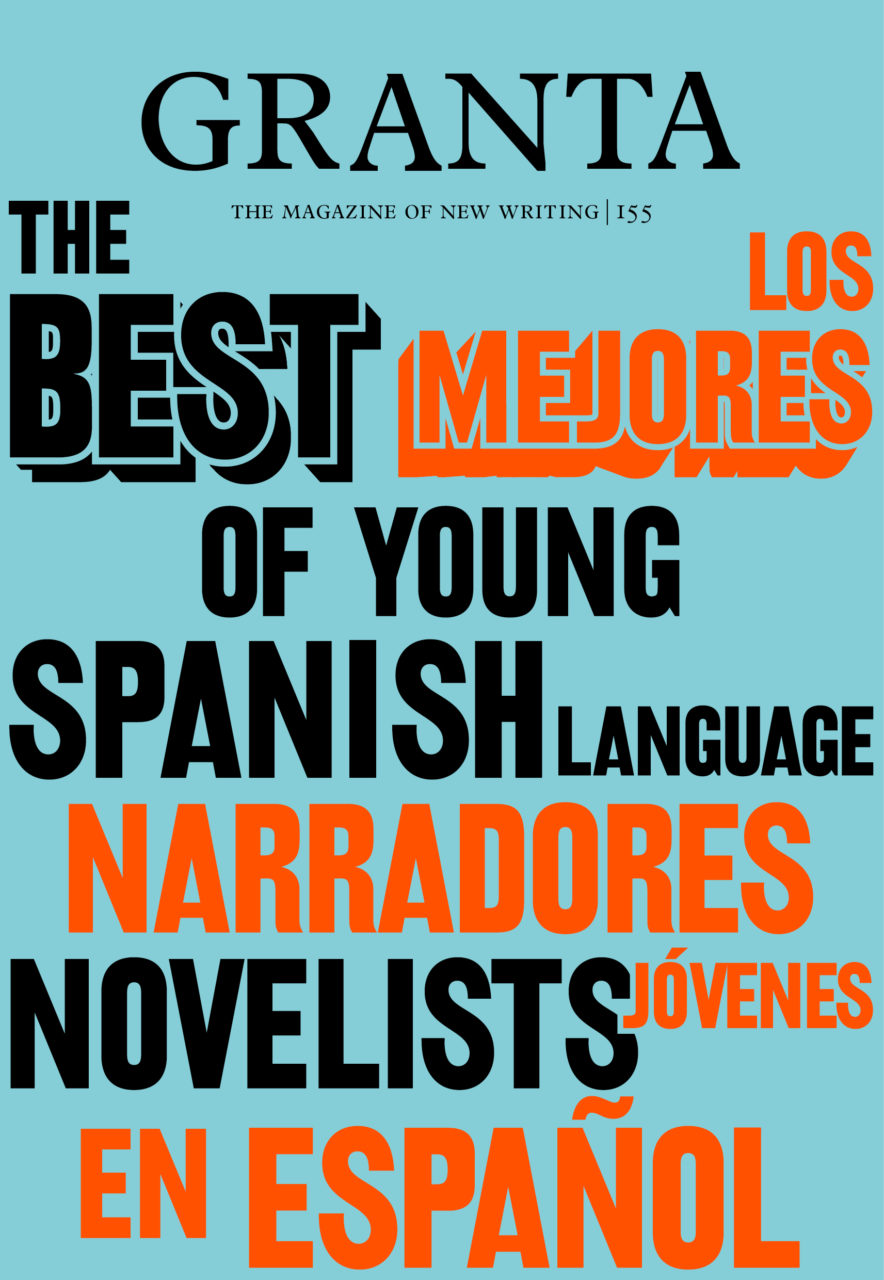 Granta's second list celebrating young Spanish-language novelists showcases the next generation of literary talent. This issue contains new writing from twenty-five of the most exciting writers aged thirty-five and under from across the Spanish-speaking world.
The judges Chloe Aridjis, Horacio Castellanos Moya, Rodrigo Fresán, Aurelio Major, Gaby Wood and editor Valerie Miles present an authoritative list of the best writers of this generation, and have created a lasting snapshot of a vibrant and diverse literary scene.
The list of names is announced at the Cervantes Institute, Madrid, Spain, at 1 p.m. CEST on Wednesday 7 April.
Granta 155: Best of Young Spanish-Language Novelists 2 will be published on 29 April in the UK, on 6 May in the US and in Spain as Granta en Español 23: Los Mejores Narradores Jóvenes en Español 2 (Editorial Candaya) on 12 April.
Valerie Miles, an editor, writer and translator, co-founded Granta en Español in 2003. She established the NYRB Classics series in Spanish, curated the exhibition dedicated to Roberto Bolaño's archival papers and edited his posthumous work. She teaches translation and creative writing at the Pompeu Fabra University, has written for the New York Times, the New Yorker, El País and the Paris Review, and is the author of A Thousand Forests in One Acorn. She lives in Barcelona, Spain, and is available for interview.
authors
Andrea Abreu (1995) was born in Tenerife, Spain. She is author of the poetry collection Mujer sin párpados. Her first novel, Panza de burro, will be translated into various languages and adapted for the screen by El Estudio. Photograph © Alex de la Torre
José Adiak Montoya (1987) was born in Managua, Nicaragua. His most recent novels are Lennon bajo el sol and Aunque nada perdure. In 2016, the Guadalajara International Book Fair featured him on their list of noteworthy Latin American writers born in the 1980s. Photograph © Luza Alvarado
David Aliaga (1989) was born in L'Hospitalet de Llobregat, near Barcelona, Spain. He has written about the question of Jewish identity in literature for Avispero, Jewish Renaissance, Mozaika and Quimera. His fiction books include Y no me llamaré más Jacob and El año nuevo de los árboles. Photograph © Andrea Roche
Carlos Manuel Álvarez (1989) was born in Matanzas, Cuba. He is the editor of El Estornudo and has written for El País, the New York Times and the Washington Post. He has published a collection of essays, La tribu, and two novels, Los caídos and Falsa Guerra. Photograph © Arien Chang
José Ardila (1985) was born in Chigorodó, Colombia, and has lived in Medellín for almost twenty years. He is the author of Divagaciones en el interior de una ballena and Libro del tedio, and he is currently working on his first novel. Photograph © Pablo Restrepo Giraldo
Gonzalo Baz (1985) was born in Montevideo, Uruguay. He directs the publishing house Pez en el Hielo. His first fiction book Animales que vuelven won the Ópera Prima Award from the Ministry of Education in Uruguay. His first novel, Los pasajes comunes, was published in 2020. Photograph courtesy of the author.
Miluska Benavides (1986) was born in Lima, Peru. In 2012 she translated Arthur Rimbaud's A Season in Hell and her story collection, La caza espiritual, was published in 2015. She is in the process of completing Hechos, the novel from which 'Kingdoms' has been excerpted. Photograph courtesy of the author.
Martín Felipe Castagnet (1986) was born in La Plata, Argentina. He is the author of the novels Bodies of Summer (translated into English by Frances Riddle) and Los mantras modernos. In 2017 he was selected by Bogotá39 as one of the best young Latin American writers. Photograph © Andi Parejas
Andrea Chapela (1990) was born in Mexico City. She is the author of the tetralogy Vâudïz, the essay collection Grados de miopía and the fiction books Un año de servicio a la habitación and Ansibles, perfiladores y otras máquinas de ingenio. Photograph © Alván Prado
Camila Fabbri (1989) was born in Buenos Aires, Argentina. She is a writer, director and actor. Her first work of fiction was Los accidentes, and her second was the novel El día que apagaron la luz. Photograph © Marcos Huisman
Paulina Flores (1988) was born in Santiago, Chile. Her story collection Humiliation (Qué vergüenza) was published in English in 2019. Her first novel Isla decepción will be published in 2021. 'Buda Flaite' is the first chapter of what she hopes will become her next book. Photograph © Rocío Aguirre
Carlos Fonseca (1987) was born in San José, Costa Rica, but spent his teenage years in Puerto Rico. He is the author of the novels Colonel Lágrimas (Coronel Lágrimas) and Natural History (Museo animal), both translated into English by Megan McDowell. He teaches at Trinity College, Cambridge University. Photograph © Gabriel Piovanetti-Ferrer
Mateo García Elizondo (1987) was born in Mexico City. He wrote the film Desierto, and has written for magazines such as Nexos, as well as graphic novel scripts for Premier Comics and Entropy Magazine. His first novel, Una cita con la Lady, won the City of Barcelona Award. Photograph © Andrea Belmont
Aura García-Junco (1988) was born in Mexico City. She is the author of the novel Anticitera, artefacto dentado and a forthcoming collection of essays about love. 'Sea of Stone' is an excerpt from her forthcoming novel, Mar de Piedra. Photograph © Mónica García
Munir Hachemi (1989) was born in Madrid, Spain. His first stories appeared in fanzines, published by the collective Los Escritores Bárbaros. He is the author of Los pistoleros del eclipse, 廢墟 and most recently, Cosas vivas. Photograph © Carlos Gil
Dainerys Machado Vento (1986) was born in Havana, Cuba, and is co-founder of the publisher Sualos/Swallows. She is the author of Las noventa Habanas. 'The Color of Balloons' is part of a new project, El álbum de las treintañeras. Photograph courtesy of the author.
Estanislao Medina Huesca (1990) was born in Malabo, Equatorial Guinea. He is a teacher, writer, scriptwriter and audiovisual producer. He is the author of Barlock: Los hijos del gran búho, El albino Micó and Suspéh: Memorias de un expandillero. Photograph courtesy of the author.
Cristina Morales (1985) is from Granada, Spain, and is the author of Los combatientes, Últimas tardes con Teresa de Jesús, Terroristas modernos and Lectura fácil. She works with the contemporary dance company Iniciativa Sexual Femenina and is executive producer of the punk band At-Asko. Photograph © Carlota Vida
Alejandro Morellón (1985) was born in Madrid, Spain. He is the author of La noche en que caemos, which won the 2013 MonteLeón Foundation Award, El estado natural de las cosas, which won the 2017 Gabriel García Márquez Hispano-American Short Story Prize and, most recently, Caballo sea la noche. Photograph © Matías Candeira
Michel Nieva (1988) was born in Buenos Aires, Argentina. He is the author of the poetry collection Papelera de reciclaje, the novels ¿Sueñan los gauchoides con ñandúes eléctricos? and Ascenso y apogeo del imperio argentino and the essay collection Tecnología y barbarie. Photograph © Agustina Battezzati
Mónica Ojeda (1988) was born in Guayaquil, Ecuador. She is the author of the novels La desfiguración Silva, Nefando and Mandíbula, as well as the poetry collections El ciclo de las piedras and Historia de la leche. Photograph © Gianella Silva
Eudris Planche Savón (1985) was born in Guantánamo, Cuba. He is a doctor and writer. His first novel, Hermanas de intercambio, won the Pinos Nuevos Award and the 2019–20 World Literary Excellence Award. His story collection, Cero cuentos, was published in 2020. Photograph courtesy of the author.
Irene Reyes-Noguerol (1997) was born in Seville, Spain. She is the recipient of the Tigre Juan YoungWriters' Award, the Brocense Award and the Camilo José Cela Award. She is the author of two collections of stories, Caleidoscopios and De Homero y otros dioses. Photograph courtesy of the author.
Aniela Rodríguez (1992) was born in Chihuahua, Mexico. She received the 2016 Comala National Prize for Short Fiction by Young Writers for the story collection El problema de los tres cuerpos and she is also the author of the poetry collection Insurgencia. Photograph © Gala Phenia
Diego Zúñiga (1987) was born in Iquique, Chile. He is the author of the novels Chungungo, Camanchaca and Racimo, the story collection Niños héroes and the non-fiction works Soy de Católica and María Luisa Bombal, el teatro de los muertos. Photograph © Lorena Amaro
translators
Esther Allen's translation of Antonio Di Benedetto's Zama received the 2017 National Translation Award. A professor at City University of New York, she has published essays and translations in the New York Review of Books, Poetryfoundation.org, the Los Angeles Review of Books, the Paris Review, LitHub, Words Without Borders and elsewhere. For Granta 155, Esther Allen translated 'The Animal Gesture' by Alejandro Morellón.
Sarah Booker is a doctoral candidate at UNC-Chapel Hill and translator from Spanish. Recent or forthcoming translations include The Iliac Crest and Grieving: Dispatches from a Wounded Country by Cristina Rivera Garza and Jawbone by Mónica Ojeda. For Granta 155, Sarah Booker translated 'Inti Raymi' by Mónica Ojeda.
Nick Caistor is a British translator of more than eighty books from Spanish, French and Portuguese. He is a three-time winner of the Premio Valle-Inclán for translation from Spanish. For Granta 155, Nick Caistor translated 'Vital Signs' by Munir Hachemi.
Jennifer Croft won the 2020 William Saroyan International Prize for Writing for her memoir Homesick and the 2018 Man Booker International Prize for her translation from Polish of Nobel laureate Olga Tokarczuk's Flights. She is the author of Serpientes y escaleras and Notes on Postcards and holds a PhD in Comparative Literary Studies from Northwestern University. For Granta 155, Jennifer Croft translated 'Nobody Knows What They're Doing' by Camila Fabbri.
Lizzie Davis is an editor at Coffee House Press and a translator from Spanish. Her recent projects include Ornamental by Juan Cárdenas and The Wonders by Elena Medel, co-translated with Thomas Bunstead. She has received translation fellowships from the Omi International Arts Center and the Bread Loaf Translators' Conference. For Granta 155, Lizzie Davis translated 'Sea of Stone' by Aura García-Junco.
Kevin Gerry Dunn is a Spanish–English translator whose published works include Easy Reading by Cristina Morales (forthcoming in 2022), for which he received a PEN/Heim Translation Fund Grant, Countersexual Manifesto by Paul B. Preciado, and writing by Daniela Tarazona, Ousman Umar and Cristian Perfumo. For Granta 155, Kevin Gerry Dunn translated 'Ode to Cristina Morales' by Cristina Morales.
Lucy Greaves is a literary translator and bike mechanic who lives in Bristol, UK. They won the 2013 Harvill Secker Young Translators' Prize and their co-translation of Gabriela Wiener's Sexographies is published by Restless Books. For Granta 155, Lucy Greaves translated 'Lost Children' by Irene Reyes-Noguerol.
Lindsay Griffiths is a PhD candidate in the Department of English at Princeton University. She is the translator of Mercedes Cebrián's Burp: Adventures in Eating and Cooking, and the co-translator, with Adrián Izquierdo, of the forthcoming translation of Uno nunca sabe por qué grita la gente by Mario Michelena. For Granta 155, Lindsay Griffiths translated 'Jauncho, baile' by José Ardila, with co-translator Adrián Izquierdo.
Daniel Hahn is a writer, editor and translator with seventy-something books to his name. His translations (from Portuguese, Spanish and French) have won him the Independent Foreign Fiction Prize and the International Dublin Literary Award and been shortlisted for the Man Booker International Prize, among many others. For Granta 155, Daniel Hahn translated 'Insomnia of the Statues' by David Aliaga.
Sophie Hughes has translated writers such as Alia Trabucco Zerán, Laia Jufresa, Rodrigo Hasbún, Enrique Vila-Matas and José Revueltas. She has been shortlisted twice for the International Booker Prize, most recently in 2020 for Fernanda Melchor's Hurricane Season. For Granta 155, Sophie Hughes translated 'Days of Ruin' by Aniela Rodríguez.
Adrián Izquierdo is an Assistant Professor at Baruch College, City University of New York, where he teaches courses on great works of literature, translation studies and Renaissance literature. For Granta 155, Adrián Izquierdo translated 'Jauncho, baile' by José Ardila, with co-translator Lindsay Griffiths.
Margaret Jull Costa has worked as a translator for over thirty years, translating the works of many Spanish and Portuguese writers, among them novelists: Javier Marías, Bernardo Atxaga, José Saramago and Eça de Queiroz; and poets: Fernando Pessoa, Sophia de Mello Breyner Andresen, Mário de Sá-Carneiro and Ana Luísa Amaral. For Granta 155, Margaret Jull Costa translated 'Travellers Inside the Marquee' by Eudris Planche Savón.
Mara Faye Lethem's recent translations include Don't Shed Your Tears for Anyone Who Lives on These Streets by Patricio Pron, Learning to Talk to Plants by Marta Orriols and The Adventures and Misadventures of the Extraordinary and Admirable Joan Orpí, Conquistador and Founder of New Catalonia by Max Besora. Forthcoming is When I Sing, Mountains Dance by Irene Solà. For Granta 155, Mara Faye Lethem translated 'Wanjala' by Estanislao Medina Huesca.
Megan McDowell is an awardwinning Spanish-language translator from Kentucky. She has translated books by Alejandro Zambra, Samanta Schweblin, Mariana Enríquez and Lina Meruane, among others, and her short story translations have appeared in the New Yorker, the Paris Review, Harper's and Tin House. She lives in Santiago, Chile. For Granta 155, Megan McDowell translated three stories: 'Buda Flaite' by Paulina Flores, 'Ruins in Reverse' by Carlos Fonseca and 'A Story of the Sea' by Diego Zúñiga.
Christina MacSweeney is an award-winning translator of Latin American literature. She has worked with authors such as Valeria Luiselli, Daniel Saldaña París, Verónica Gerber Bicecci, Julián Herbert and Jazmina Barrera. She has also contributed to anthologies of Latin American literature and published articles and interviews on a wide variety of platforms. For Granta 155, Christina MacSweeney translated 'Uninhabitants' by Gonzalo Baz.
Robin Myers is a Mexico City-based poet and translator. Recent book-length translations include The Restless Dead by Cristina Rivera Garza, Cars on Fire by Mónica Ramón Ríos and Animals at the End of the World by Gloria Susana Esquivel. She writes a monthly column on translation for Palette Poetry. For Granta 155, Robin Myers translated 'Capsule' by Mateo García Elizondo.
Frances Riddle translates Latin American literature to English. Her most recent book-length translations include Cockfight by María Fernanda Ampuero, Slum Virgin by Gabriela Cabezón Cámara and Theatre of War by Andrea Jeftanovic. Her translations of Elena Knows by Claudia Piñeiro and Violeta by Isabel Allende are forthcoming in 2021. She lives in Buenos Aires, Argentina. For Granta 155, Frances Riddle translated 'Our Windowless Home' by Martín Felipe Castagnet.
Julia Sanches was born in Brazil and grew up in Mexico, the US, Switzerland, Scotland and Catalonia. She translates from Portuguese, Spanish and Catalan into English, and has worked with Geovani Martins, Claudia Hernández, Dolores Reyes and Eva Baltasar, among others. For Granta 155, Julia Sanches translated 'The New Me' by Andrea Abreu.
Samantha Schnee's translation of Carmen Boullosa's Texas: The Great Theft was shortlisted for the 2015 PEN America Translation Prize. She won the 2015 Gulf Coast Prize in Translation for her excerpt of Boullosa's The Conspiracy of the Romantics, and her translation of Boullosa's novel The Book of Anna was published by Coffee House Press in 2020. For Granta 155, Samantha Schnee translated 'Levert's Appearance' by José Adiak Montoya.
Katherine Silver is a writer and an award-winning literary translator. She is the former director of the Banff International Literary Translation Centre and the author of Echo Under Story. She does volunteer interpreting for asylum seekers. For Granta 155, Katherine Silver translated 'Kingdoms' by Miluska Benavides.
Kelsi Vanada's translations include Sergio Espinosa's Into Muteness and Berta García Faet's The Eligible Age, and she is the author of the poetry chapbook Rare Earth. Vanada is the Program Manager of the American Literary Translators Association (ALTA) in Tucson, Arizona. For Granta 155, Kelsi Vanada translated 'Borromean Rings' by Andrea Chapela.
Will Vanderhyden is a freelance translator of Spanish and Latin American literature. He has received fellowships from the NEA and Lannan foundations. His translation of Rodrigo Fresán's The Invented Part won the 2018 Best Translated Book Award for fiction. For Granta 155, Will Vanderhyden translated 'The Color of Balloons' by Dainerys Machado Vento.
Natasha Wimmer is the translator of nine books by Roberto Bolaño, including The Savage Detectives and 2666. Her most recent translations are Space Invaders by Nona Fernández and Sudden Death by Álvaro Enrigue. For Granta 155, Natasha Wimmer translated 'Dengue Boy' by Michel Nieva.
Frank Wynne is an Irish literary translator. In a career spanning twenty years, he has translated numerous French and Hispanic authors, including Michel Houellebecq, Virginie Despentes, Javier Cercas and Emiliano Monge. A number of his translations have won prizes, including the International Dublin Literary Award, the Scott Moncrieff Prize and the Premio Valle-Inclán. For Granta 155, Frank Wynne translated 'Bitter Cherries' by Carlos Manuel Álvarez.
High-resolution images are available to download here. For interview requests and all other queries, please contact:
uk publicity
Pru Rowlandson
[email protected]
+44 7906587195
us publicity
Veronica Esposito
[email protected]
+1 415-205-9145
Granta 155: Best of Young Spanish-Language Novelists 2
978-1-909-889-39-2
145 × 210 × 21.5mm
352 pages
UK Publication Date: 29 April 2021
£14.99
US Publication Date: 6 May 2021
$19.99