Evelyn Waugh in 1935 went in search of 'the pre-war Georgian era' in the pages of old numbers of Punch and the Illustrated London News. I find myself in 1985 refreshing my memory of 1937 and 1938 in an old commonplace book and very fragmentary diary of my own: there are verses copied there which I must have chosen for their significance at these moments of my life, and in the diary literary gossip, bizarre crimes and divorces wrenched from newspapers, the sickness of my children (a little girl of five, a boy of two) which seemed more to be feared than the voice of Hitler ranting on the radio, a mysterious arrival at a Channel port of an unknown individual who caused the mobilization of 10,000 police, and then suddenly the digging of trenches on Clapham Common outside our windows, the distribution of gas masks, the evacuation of children, municipal muddle, ending in the temporary peace of Munich – all that period summed up in Stephen Spender's poem written then: 'We who live under the shadow of a war,/What can we do that matters?' I have cut and selected, but I have altered nothing, and the long distances between dates represent either laziness or in one case absence from England in Mexico, and not self-censorship.
1937
December 26. Discussed film with [John Stuart] Menzies. Two notions for future film. A political situation like that in Spain. A decimation order. Ten men in prison draw lots with matches. A rich man draws the longest match. Offers all his money to anyone who will take his place. One, for the sake of his family, agrees. Later when he is released the former rich man anonymously visits the family who possess his money, he himself now with nothing but his life . . .
The other idea, a kind of fable: the two young men at the crossroads, penniless. They toss up and separate. One road leads to riches, the other to the scaffold, but both end in the same town on the morning of a public execution.
The hand that signed the treaty bred a fever,
And famine grew, and locusts came;
Great is the hand that holds dominion over
Man by a scribbled name.
The five kings count the dead but do not soften
The crusted wound nor pat the brow;
A hand rules pity as a hand rules heaven;
Hands have no tears to flow.
I remember Geoffrey Grigson telling me of the disastrous dinner Cyril Connolly gave to launch this twenty-three-year-old poet. A suave New Statesman gathering of patrons: Desmond McCarthy, Peter Quennell. Thomas arrived an hour late, drunk, and all through dinner told McCarthy a series of very stale, old dirty stories, of which he made himself the subject.
December 28. Handed to Menzies the last of the copy for my Korda film [presumably The Green Cockatoo].
Henry James in an essay on Crackenthorpe: 'No element assuredly in the artistic temperament of Mr Rudyard Kipling but operates with the ease and exactitude of an alarm clock set to the hour.'
December 29. Ran into Arthur Calder-Marshall and lunched with him at a pub by Leicester Square station. He had been spending the morning joining the Communist Party. Langdon-Davies having lunch in the same pub. About to return to the Spanish Civil War to take moving pictures on sixteen millimetre film which he finally hopes to enlarge for public showing. L.-D. one of those extreme left-wingers who give the impression of a lack of intellectual hardness at the centre. Spender another. They are very pleased with violence and ruthlessness theoretically, but with them it is less a rational policy than a sentimental reaction to their own softness. Like Stevenson playing with pirates.
1938
January 1. Lunch at the Commercio with Oliver Bell and John McMillan. After a bottle and a half of white Orvieta, sherry and brandy, decided to break all engagements for the afternoon. Bought a bottle of brandy and took it back to Bell's roof. A lovely view in the thin rain over Seven Dials and the Great White Lion streets. Nelson's column sticking up out of the mist and the houses on top of the Hippodrome. I had never before realized there were houses on the Hippodrome. Climbed recklessly down fire escapes with the brandy and delayed the work on the Queen Mary's sister ship. [A mysterious statement. And were there houses on the Hippodrome?]
Bought London Life. Advertisements for men's corsets. All stories and articles deal with corsets, tight lacing and high-heeled shoes. An odd kind of sadistic pleasure over corsets. Completely depraved and completely uncensorable:
I had not, however, bargained for my friend. After I had worn the corsets for a few days with the lacing loose, she suggested that a general tightening-up was desirable. She gave me lessons in deportment and half an hour of slimming exercises, and my training had begun. The corsets were put around me and laced tight at the back and hips, my stockings pulled up and tightly suspended, and a pair of Court shoes slipped on.
At nights my friend insisted on my wearing a shorter pair of corsets. These were not quite so restrictive, but she saw that I did not tamper with the laces, and I had to bear it.
Correspondence columns full of the same subject.
A Mistress and Her Maids. Very fine black silk stockings are always worn, and our shoes are patent leather Court shoes with tapering 4½ inch heels. An unusual addition to our uniform is that with this costume we wear black kid long gloves, usually of sixteen-button length. This may seem strange for constant wear, but our mistress always attaches great importance to gloves, wearing long gloves of various kinds with nearly all her costumes; and it must be remembered that we are her personal maids for dressing and waiting on her alone, and do not do housework etc. Otherwise, to wear expensive gloves all day would hardly be practical.
As regards another important point, our mistress always insists that we should be well corsetted, and at present we are wearing rather close-fitting perforated rubber corsets with zip fasteners.
Another subject with obviously sexual appeal: Long Hair.
January 2. Saw the film tests [of The Green Cockatoo] at Denham. The excitement of hearing one's own dialogue on the screen for the first time. Good dialogue it sounded too.
Virginia Woolf. Something brought back to mind the story I have heard from two sources of her madness: how she believed she was the Brownings' dog, Flush, and wandered unhappily about the house until Leonard Woolf found her some straw to have her litter of puppies on.
Lunch at Denham with Menzies and Arthur Wimperis. Wimperis one of those faintly arrogant elderly men with the appearance of naval officers whose chaff goes down so well with their mental inferiors who feel complimented at being noticed at all. I found him curiously unbearable. Harrow and hunting in his manner, and nothing in his career to justify his self-confidence. One of those elderly men who take too much care of their bodies.
He spoke of his only trip to America to write a play for Flo Ziegfeld, how unhappy he was, for Z. was surrounded by yes-men who resented an Englishman being introduced to the circle and stuck in their knives as soon as his back was turned. Luckily the play – Louis Quatorze – was a success.
Menzies spoke of Ziegfeld's gambling. One night a man – call him S. – lost $20,000 to Z. and paid by cheque. The next night Z. lost $100,000 to S. and also paid by cheque – but Z's cheque was worthless, and S. was never able to get back the 20,000 he had paid.
January 3. Poor little Lucy [my daughter] had a bad night. Vivien now is beginning a cough and Francis is worse [my wife, my son]. It is horrifying how anxious and torn one is by these small creatures' small (I hope to God) sicknesses. How will one feel when the major illnesses come: appendicitis, measles, adolescence? Diphtheria cases at Mitcham, and the lights in the '88' buses which come from there seem unnaturally dim.
Spent the day trying to remove every trace of American influence from the dialogue in my film.
January 4. The first public presentation of television in a cinema [the Dominion, I seem to remember, in Tottenham Court Road]. The screen was eight feet by six, but it looked like a small postage stamp in the corner of the bigger screen. The manager introduced the performers: Lansbury, Bill Bennet, some other comedian who had a back-chat with a performer on the stage, and last Baird [the inventor] gave a short speech. The faces came out with varying clearness. There were times when Lansbury's almost faded out, the outlines were so blurred, presumably by his whiskers. They were like the early telegraphed newspaper pictures; long parallel lines running down the screen took the place of the dots.
Met Tom Harrisson, author of Savage Civilisations. A very young, agile-witted man. He has collected £3,000 towards an expedition into the centre of Papua. He plans to stay four years and be fed by aeroplane.
January 5. A note from Harrisson suggesting I might come to New Guinea too. Wrote back that four-year expeditions were impossible for me with a family of three to support.
January 27. F. T. Bason, young man who keeps a bookselling business in Walworth. Mother and father in the old clothes business. B, jumpy and bumptious, writes to authors, actresses etc. Makes up albums of boxing scraps with boxers' autographs collected at the Ring [at Blackfriars] and sells for 10/- an album. Cigarette cards. Complete 'modern' sets of about fifty sell for 3d. Have to be in mint condition. Earliest cards a set of ten Variety Fair about 1896. Worth about £8.10/- mint, 2/6d soiled. Sets double in value in five years. Collectors very fussy. Sent off 1,400 cards to a collector: he could choose any he wanted six a penny. Returned the whole lot. Not in good enough condition. Bason gave me his very ingenuously written bibliography of Maugham. Photo of Maugham taken in a backyard, the dustbin scratched out. Album consisting of picture postcards sent by Maugham from abroad. Signed photograph of Madeleine Carroll. Mrs Bason described tea with Baroness Orczy [creator of the Scarlet Pimpernel]. So badly dressed. 'She was just like the cook when I was in service.' Old Bason pays 52/- a year for his weekly stand in the market. Bought Hueffer's [Ford Madox Ford's] Fifth Queen Crowned from B. for 2/6. Had tea in the kitchen. A hint of rather poisoned sexuality in his jumpy and neurotic movements, arms flung out, in his conception of 'shocker' as a book to shock sexually, but above all in his deplorable efforts to paint: a dreadful little crude garish canvas of a woman's torso in flaring yellow, naked with stockings on, stretched on a purple couch, a knife stuck in under one breast: 'Payment'. He retained with pride the rejection slip of the Royal Academy.
Memory of an evening at Violet Hunt's. Good subject for a short story. V. H.'s old anaemic brain reminiscing in circles. Mrs Cecil Chesterton [the widow of G. K. Chesterton's brother], with bright, dyed red hair, the face of a disreputable hard hawky madame, a voice with a grating accent, and a nameless vulgar and mysterious young man in her company. The talk turns on V.'s memoirs, disconnected pages of MSS kept in a box. She has left them to Douglas Goldring. To the hawky madame's disappointment. 'But, my dear Violet, Douglas is a sweet old thing, but you need someone with taste, sympathy, imagination.' The Hawk fishes page after page from the box: memories written with delicious felinity of Mrs G. W. Stevens [wife of the war correspondent who wrote With Kitchener to Khartoum], an eighteen-year-old girl's memory of Oscar Wilde. 'You know,' the old brain persisted at intervals, 'he wanted to marry me. He asked my father.' The harsh voice reads on, a hand sawing for silence. At intervals: 'These are priceless. You know, Violet, you are very naughty.' The vulgar man repeats by rote with awful geniality, 'Very naughty.'
February 2. An advertisement for rubber sheaths:
For the connoisseur we recommend the Comac Special Extra-Extra-Thin Transparent.
All sheaths are tested twice, once by the manufacturer and then by us.
Post to us the enclosed postcard and we will forward you seven assorted (with instructions) of which you can use any one, and if you decide to keep the remaining half-dozen, you pay us 3/6 special price; if on the other hand, you decide not to keep them, return the half-dozen to us within fourteen days and the matter will be closed.
What sexual starvation is indicated by a five-year guarantee? The address Bournemouth.
February 18.
Eloquence is the varnish of falsehood; truth has none . . . Burke is eloquent; I am not. If I write better than he does, it is because I have seen things more distinctly, and have had the courage to turn them up, soft or hard, pretty or ugly, and to turn them on their backs in despite of tooth or claw.
Tom Paine in Landor's Imaginary Conversations
'To the Sculptor Chosen to Execute the Statue of
Washington'
Take from the mine the coldest, hardest stone,
It needs no fashion: it is Washington.
But if you chisel, let the stroke be rude,
And on his heart engrave – Ingratitude.
He that would make his own liberty secure must guard even his enemy from oppression.
Only an author who is aware of the ridiculous and merciless egotism of human beings inspires me with confidence when he does draw attention to the strange intermittent nobility of human nature. When Maupassant melts or admires, I trust him.
One must know oneself to the pitch of being horrified.
The French Constitution says, There shall be no more titles; and, of consequence, all that class of equivocal generation which in some countries is called aristocracy and in others nobility is done away, and the peer is exalted into MAN. Titles are but nicknames, and every nickname is a title. The thing is perfectly harmless in itself, but it marks a sort of foppery in the human character, which degrades it. It reduces man into the diminutive of man in things which are great, and the counterfeit of women in things which are little. It talks about its fine blue ribbon like a girl and shows its new garter like a child.
March 28. 'It is ignorance which today keeps many from detesting Christ.' François Mauriac.
May 21. The most pornographic – at any rate the most attractively pornographic – magazine to be exported to this country seems to be Sex Appeal. Since banned. Flagellation is the stock-in-trade of a series of magazines called Hollywood so-and-so – Hollywood Revels, Nights etc. To the man in the know Hollywood is apparently the keyword.
June 4. Bought Cotton's Poems on Several Occasions (1689) for 15/- from Storey in Cecil Court.
Martha is not so tall nor yet so fair
As any of the other lovely three,
Her chiefest Grace is poor Simplicity,
Yet were the rest away, she were a Star.
August 28. 'Upon a Gardiner'.
Could he forget his death? that every hour
Was emblem'd to it by the fading flowre:
Should he not mind his end? yes, needs he must,
That still was conversent 'mongst bedds of dust.
Then let no onyon in an handkercher
Tempt your sad eyes into a needlesse feare;
If he that thinkes on death well lives and dies,
The gardner sure is gone to Paradise.
September 12.
Man's like the earth, his hair like grass is grown,
His veins the rivers are, his heart the stone.
'Humour is the drunkenness of a Nation which no sleep can cure.' Davenant, Preface to Gondibert.
September 30.'– All the torments and agonies wrought on scaffolds, in torture chambers, mad houses, operating theatres, under the vaults of bridges in late autumn . . .' Rilke, Notebook of Make Laurids Brigge.
'It is only those who love that draw Him to them; not those who wait with a small talent for being loved, as with a lamp gone cold.' Rilke, Notebook.
'– An empty horrible alley, an alley in a foreign town, in a town where nothing is forgiven.' Rilke, Notebook.
Peter Fleming mentioned at lunch that he had been asked by the Deutsche Lufthansa to look for two men who had been lost in Sinkiang. He told them they must go cap in hand to the Editor of The Times for permission – a bitter blow considering The Times's correspondent, Ebbutt, had just been expelled from Germany. Their face – and Fleming's journey – was saved by the men turning up safely in an Afghanistan prison.
October 2. At Sherborne. Alec Waugh's The Loom of Youth is still banned in Sherborne in 1938. The booksellers are forbidden to stock it.
Story of Earle-Drax fifty years ago who used to be carried daily to his mausoleum in his coffin, cursing his bearers if they shook him.
Grave-digger's wise-crack: 'We only bury the deaf and dumb in this bit.' The same grave-digger remarked to an inn-keeper who drove us into Cerne Abbas: 'Like a second-hand grave cheap?' The walls of a newly-dug grave had fallen in and left too little room. 'We can't dig to the left because there's a policeman buried there and we don't want to get on the wrong side of the law. And we can't dig to the right because of the old woman there – she might wake up.'
Pack Fair at Sherborne. On the Sunday at midnight a procession goes round banging on tin cans – this represents the builders of the Abbey packing up their tools. The fair is on the Monday. Pickpockets, gipsies, drunkenness, reinforcements of police. The gipsies 'they fight like dragons'.
Extract from Newspaper:
Alice Etheridge, aged thirty-nine, was charged with the murder of her husband, Jesse Edward Etheridge, aged forty-three, at Chichester Road, Edmonton, on September 21.
'About five o'clock today he went to bed after dinner and after he had gone I had a feeling that if I did not kill him he would kill me.
'I went upstairs and saw him in bed asleep. I looked at some long daggers in the corner but I thought I could not use them because I would have to stand on the bed springs and the noise of it would wake him up and he would kill me.
'I went downstairs. Oh! I had such a funny feeling. I saw the bread knife. I sharpened it up and thought if only I had the strength I could push it in with one go.
'I went upstairs. My husband was lying on his back: I pulled back the bedclothes, and holding the knife in both hands I made sure to get him in the right place.
'I do not know, but it seemed someone hit my hands down with a mallet. The knife went in as if his body was rotten. He sat up in the bed and hollaed out, "Hi, hi, hi!"
'I took a packet of pepper up with me because I was thinking if he woke up I would throw the pepper in his eyes, and he could not get after me. I flew downstairs out into the street into a neighbour's house.'
October 9. 'The Pleasure in the Act of Venus is the greatest of the Pleasures of the Senses; the Matching of it with the Itch is unproper.' Francis Bacon's Natural Historie.
'It hath been observed by the Ancients, and is yet believed, that the Sperme of Drunken Men is Unfruitfull. The Cause is, for that it is Overmoistened and wanteth Spissitude. And wee have a merrie Saying, that they that goe Drunke to Bed, get Daughters.' Bacon's Natural Historie.
October 25. 'I feel my own death will be unworthy because I will go out through the falling-in of walls of clay, whereas I should by the will before this been able to find a secret radiant gateway into the spirit and gone out by my own will, and not been forced out.' A. E. in a letter.
November 18.
All life is but a wandering to find home;
When we're gone we're there. Happy were man
Could here his voyage end; he should not, then,
Answer how well or ill he steered his soul
By Heaven's or by Hell's compass; how he put in –
Losing blessed goodness shore – at such a sin;
Nor how life's dear provision he has spent,
Nor how far he in's navigation went
Beyond commission: this were a fine reign,
To do ill and not hear of it again.
Perhaps it was on this day that I found in the last two lines the epigraph for Brighton Rock on which I was working.
November 28. 'He judges not as the judge judges, but as the sun falling round a helpless thing.' Walt Whitman.
November 30. Herbert Read told me yesterday at the Stage Society's performance of Queen Christina (Strindberg) that Heinemann had actually to pay very little in the libel action brought by the Duke of Windsor. The Daily Mail had said £10,000, but this was an entirely fictitious figure. Presumably the Duke was glad that a large sum was rumoured.
The loves of the Patmores. The red-haired, amusing, rather bitchy mother of Derek Patmore was formerly Richard Aldington's mistress and now her daughter-in-law has followed her.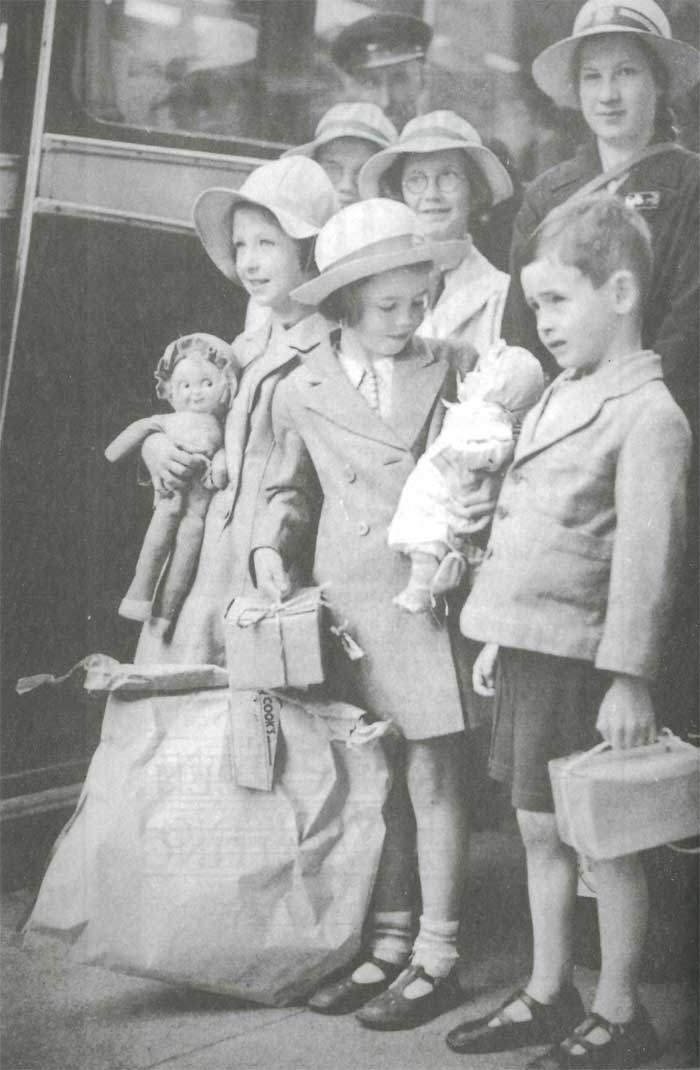 1939
January 7. At Mrs Belloc Lowndes's. She told me that the money Thomas Hardy was announced as leaving was an entirely fictitious figure founded on copyrights. The authorities put an absurd price on these and Mrs Hardy had great difficulty in paying the death duties. [Hardy before his death had sold the film rights of Tess, and the story goes that the copyrights of all his other novels were calculated on the basis of their value if films were made of them.] She was left so badly off that she found it hard to keep up the small drab villa, Max Gate, at Dorchester. Meanwhile her husband was buried in the Abbey.
January 11. Le Maître, an Admiralty official and my neighbour, told me an odd story about the Duke of Kent's wedding. A foreigner landed from a schooner at Shoreham with a Gladstone bag and a brown-paper parcel and no passport. The local customs officer let him through because he showed a letter from the Lords of the Admiralty saying they would like to have a demonstration of his invention. The 'invention' was contained in the parcel. The letter turned out to be forged and the man had disappeared without trace. The Admiralty feared the man was planning an attempt against the life of the Regent of Yugoslavia (it was not long since the King had been murdered), and they were panic-stricken. 10,000 police were drafted in to line the route from the Palace to the Abbey. No attempt was made, and nothing was ever discovered about the man.
January 12.
With all the charms of Peace possest,
Secure from Life's Tormentor, Pain,
Sleep and indulge thyself with Rest,
Nor dream thou ere shall rise again.
Past is the Fear of future Doubt,
The Sun is from the Dial gone,
The Sands are sunk, the Glass is out,
The Folly of the Farce is done.
And they say that religion is an escape. The man who believes in eternity must often experience an acute nostalgia for atheism – to indulge himself with rest. There is the real escape.
January 25. At lunch with Denyse Clairouin [then my French agent and translator, who was to die, after working for the British Secret Service, in a German concentration camp.] She tells me that Doctor Freud is staying at – of all places in town – Mount Royal, the cheap palace for the illicit loves of public school boys.
July 2. Stopped outside Gallup's [a second-hand bookshop which bought review copies for a third of the published price – a boon for reviewers] by a square-set dingy woman in black. 'Excuse me. Can you tell me if there are any Book Societies besides the Right and the Left?' Harsh and middle-aged and hungry for what she dreamed of as intellectual companionship. Read Berdyaev. Brought up as a Calvinist. Wildly anti-Catholic. Been on her back for ten years – insomnia for fifteen. If she does sleep, dreams of her father – a hideous nightmare. Out of touch with her family – one brother in America: the other in England, in London probably, never sees him. Owes her £500. 'Would I meet interesting people at Foyle's lunches?'
Impossible to get away from her Ancient Mariner grasp. A basketful of tinned food, greying hair cut in page-boy fashion.
August 2. 'Art nowadays must be the mouthpiece of misery, for misery is the keynote of modern life.' George Gissing.
'"People trifle with love. I deny that love is a strong passion. Fear is the strong passion; it is with fear that you must trifle, if you wish to taste the intensest joy of living. Envy me – envy me, sir," he said with a chuckle, "I am a coward.'" Mr Malthus in Robert Louis Stevenson's The Young Man with Cream Tarts.
September 14. A curious air of unreality – a rather silent Common – too many strangers talking together in pairs. The papers: CRISIS LATEST, FRENCH WAR CHIEFS HERE, HITLER CALLS HIS GENERALS, THE NEXT FEW HOURS WILL DECIDE PEACE OR WAR.
Francis's birthday [my son, aged two] – a day late. The rocking horses. Thunderstorm in the air and later slow rain. I discover in myself a desire for peace, for just going on. The nursery – everything – looking prettier than I remembered it.
Impossible to work properly – though I somehow got through a review of The History of the Film. Who on earth will bother about that? Will reviews be paid for, printed?
Nothing to do but go out and look at the latest posters. This heavy day, one feels, can't end in peace. Reading Scoop.
'Poverty and lust seek each other out and call to each other in the darkness like two famished beasts.' Bernanos.
'You see, Pity is like an animal. An animal from which one can make great demands – but must not ask too much. Pity is powerful and devouring.' Bernanos.
September 24. 7.15 p.m. Chamberlain's second meeting with Hitler apparently ended in failure. Czech mobilization. Back again where we were on September 14 with war almost certain. Parents called to Notre Dame Convent tomorrow by an urgent notice to discuss what to do with the children. Rain pouring down: a dreadful unreality over everything. But this morning and afternoon, till the doctor had been, the most important thing in the world was a fall Francis had on the stone steps at the back: a war seemed nothing in comparison. Just as last year the Shirley Temple libel action – and possible ruin – seemed unimportant because Lucy was ill.1 
September 25. Sunday. The meeting in the gymnasium. A crowd of tradesmen and their wives in their dingy Sunday best or sports clothes. Evacuation plan explained by a small, rather timid-looking man, the headmaster of an L.C.C. school, while an aeroplane droned low overhead. Railways to be taken over, children to be sent to unknown destinations – the parents informed later by telegram. The Mother Superior, an old lady with a bone-white face and a twitching upper lip, sat taking notes. One woman sat crying silently but rather melodramatically. Questions afterwards – avid women put them on a too-personal basis – can Philip go with James and so on. The men better at the general questions. Most of the London boroughs fitting gas masks; in some cases, as in Chelsea, distributing them. Not Wandsworth [our borough].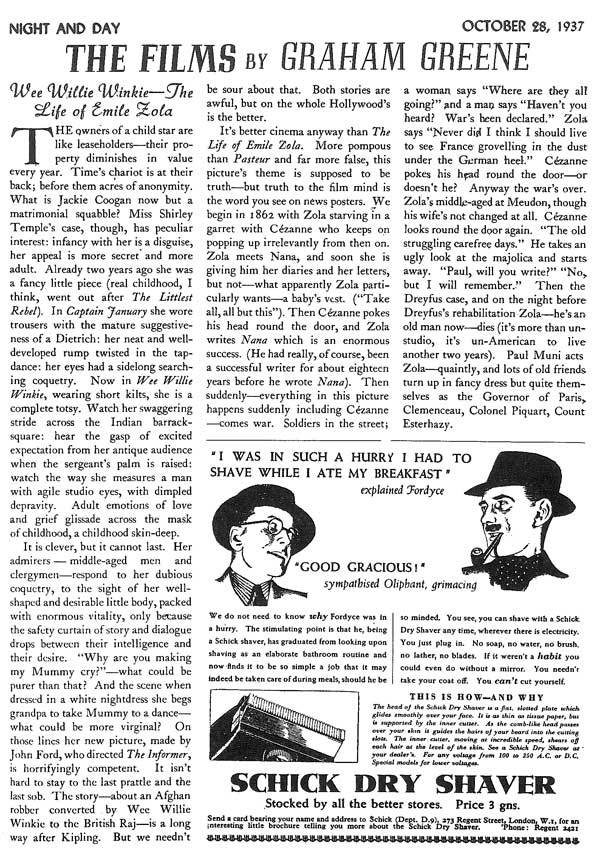 September 26. Monday. No notices anywhere about gas masks, but when I rang up the council I was told fitting was in progress at Clapham baths. Not even a notice at the public library. Went in the afternoon. Almost had to drag our old cook.
'Oh, I'm much too busy washing up.'
'Will you go with Mrs Greene tomorrow?'
'Oh no, that's my day off. I'll tell you what. I'll go on Friday.'
Queued up for an hour. An unpleasant thing!
Had to pack a bag for Lucy to take to school in case of evacuation. Blanket, one change of underclothes, food for one day. Marked H 105, the mark of the school.
A grim wet night. Elisabeth [my sister] came to dinner and we played poker dice for pennies and Hitler spoke in Berlin. A notice on the radio warned ships that in certain waters owing to 'obstructions', they must proceed at their own risk if without a pilot.
September 27. Vivien, Lucy and Frieda [our maid] stood for an hour and three quarters before being told there was to be no fitting. Masks were to come to houses. Absolutely exhausted. No coordination between councils. Chelsea, for instance, distributed from the first. Brixton didn't fit, but took measurements.
All the Macaulay telephone exchange not working (deliberate?). Anti-aircraft guns set up on Common and trenches apparently being dug.
Have planned to evacuate family by car with Eleanor [my brother Raymond's wife] tomorrow afternoon.
This is the desert, this the solitude:
How populous, how vital is the grave.
Life being what it is, one dreams of revenge. Gauguin.
The best of what we do and are,
Just God, forgive!
I take it that no man is educated who has never dallied with the thought of suicide. William James in a letter.
The wife, in letters written to her husband in a tone of justifiable bitterness, had said she thought he might have kept their home and yacht a little sacred.
Newspaper report of a divorce case.
---
1 In 1937, writing for Night and Day, the short-lived weekly magazine he then co-edited, Graham Greene described Shirley Temple, in a review of Wee Willie Winkie, in the terms of a pre-adolescent Marlene Dietrich. Twentieth Century Fox sued, claiming that Graham Greene had accused the film company of procuring Shirley Temple for immoral purposes, and was awarded £3,500 in damages, £500 of which – equal roughly to £15,000 today – was to be paid by Graham Greene himself.