On 2 April 2001, Ichiro Suzuki made his Major League Baseball debut with the Seattle Mariners. He went on to become a ten-time Gold Glove winner, a ten-time All-Star, and has shattered numerous records both in America and Japan. Suzuki – known simply as 'Ichiro' – is widely considered to be the greatest Japanese player in the history of Major League Baseball.
The following are some of the Japanese players who also appeared in the major leagues during the Age of Ichiro.
*
TSUYOSHI SHINJO
Outfielder
New York Mets (2001, 2003), San Francisco Giants (2002)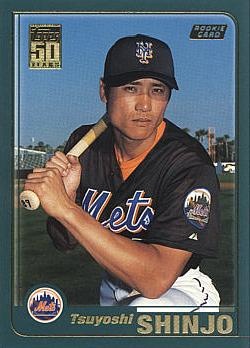 Tsuyoshi Shinjo was the first Japanese transfer to play in the World Series, a distinction that remains his signal achievement. Although talented, the outfielder was undisciplined, unable to capitalize on his physical gifts. Nor was he known for his intellect. He once declared: 'What I want from life is to drive a really cool sports car and dress nice.'
Shinjo was born in Nagasaki and played for the Hanshin Tigers for a decade before signing with the New York Mets. His contract was set at the league minimum of $200,000 a year; in order to join the Mets, Shinjo turned down multi-year contracts with Japanese teams worth as much as $14 million. This did nothing to improve his reputation, and the Japanese press took to calling him 'Spaceman' Shinjo.
When he left Japan, Shinjo was already a celebrity, in part thanks to his ten years with the Hanshin Tigers, in part due to his extracurricular output, which included an autobiography called Dreaming Baby and a pop single imaginatively titled 'True Love'. Ichiro, who made his debut the same year, was reportedly displeased by the fact that he would be joined in the major leagues by a player he openly referred to as a joke. Shinjo's first season with the Mets did nothing to silence his detractors, and after one season he was traded to the San Francisco Giants.
Shinjo lasted one season with the Giants. However, during that year, he made his World Series appearance, starting the first game of the 2002 Fall Classic against the Anaheim Angels. He also had his only major league encounter with Ichiro. This took place during an exhibition game between the Giants and Mariners. At the urging of a Japanese press corps keen for a photograph, Ichiro and Shinjo met at the centre of the field. There was the briefest of handshakes before the two reluctant players made a rapid and mutual retreat.
Shinjo played only three years of Major League Baseball before returning to Japan, where he joined the Hokkaido Nippon-Ham Fighters. Despite his ignominious run in America, his chiselled good looks and extroverted personality ensured that he remained a popular player within Nippon Professional Baseball. During his three-year stint with the Ham Fighters, he became known for wearing bizarre costumes during warm-up, including a frog hat and a Darth Vader suit.
In 2006, the Ham Fighters won their first Japan Series championship, and Shinjo made his last professional baseball appearance. He was visibly emotional as he made his way to the plate for his final at bat. He struck out in dramatic – and by that point unfortunately characteristic – fashion. The cameras captured the tears running down his telegenic face, and he received a standing ovation from the crowd.
Upon retirement, Shinjo announced his intention to pursue a modelling career, beginning by posing in the nude with his wife Shiho Okouchi, a glamour model and television personality. However, the images have yet to surface, and the couple divorced one year later.
Shinjo is now a regular television presence, at one point winning ten million yen on a celebrity episode of Japan's Who Wants To Be a Millionaire?. Despite having reached middle age, his hair is spiky and his skin a glowing orange. He often wears aviator sunglasses, and has been photographed with objects and people including a painting of a horse, a treadmill and Paris Hilton.
*
KAZUHIRO SASAKI
Pitcher
Seattle Mariners (2000 – 2003)
Kazuhiro Sasaki made his major league debut with the Seattle Mariners in April 2000, almost one year to the day before Ichiro. Standing six foot four and weighing 220 pounds, Sasaki was in many ways the physical inverse of the elegant and diminutive Ichiro, who would soon become his teammate. In temperament too, the two players were diametrically opposed. Where Ichiro was focused to the point of diffidence, Sasaki was known for being approachable and outgoing.
Nonetheless, Sasaki made an auspicious debut with the Mariners. Armed with a fastball that sports commentators dubbed 'The Fang', Sasaki was named American League Rookie of the Year and made a remarkable thirty-seven saves in his first season, a record that stood for a decade.
Sasaki was also a success with the fans in Seattle, and a favourite of Mariners team owner (and president of Nintendo) Hiroshi Yamauchi. After one year, Sasaki renewed with a two-year contract worth a reported $8 million annually. Alongside Ichiro and relief pitcher Shigetoshi Hasegawa, Sasaki became part of a trio of Japanese stars. But things rapidly deteriorated and Sasaki eventually left the Mariners in disgrace, forgoing the second year of his contract and a salary worth over $9 million with bonuses.
Sasaki had a noted weakness for women. He married the singer Kaori Shimizu in 1991, but when Sasaki moved to Seattle, Shimizu remained in Japan with their two children. The official reason for the pitcher's departure from the Mariners was his desire to spend more time with his family. Sasaki claimed that the decision was made for him when his two children pleaded, 'Papa, please don't go!'
However, there was speculation that Sasaki bowed to pressure from Yamauchi, who was rumoured to be unimpressed with the public nature of Sasaki's affair with Kanako Enomoto, a doe-eyed model and actress thirteen years his junior. Enomoto had long been a celebrity in her own right, signing a contract to act as a phone company spokesperson when she was only twelve. As a model, Enomoto was often scantily clad, and excelled at wearing the same blank-eyed expression regardless of setting or occasion. She later segued into acting, appearing in stock television dramas in addition to working with acclaimed director Takashi Miike on the live action adaptation of the popular manga Salaryman Kintarō.
Upon his return to Japan, Sasaki returned to the Yokohama BayStars, the team that first drafted him out of university. He also continued his affair with Enomoto, divorcing Shimizu in 2005, one month before Enomoto gave birth to their first child. Later that year, Sasaki played his final game of professional baseball and retired, due to persistent injuries.
He currently lives with Enomoto and their two children, as well as the two children from his previous marriage. Both Sasaki and Enomoto saw their popularity plummet in the wake of the extramarital scandal. Since retiring from baseball, Sasaki has released a techno album, for which he provided vocals.
*
KAZUHITO TADANO
Pitcher
Cleveland Indians (2004 – 2005)
Kazuhito Tadano was an ace pitcher in high school. Like Ichiro, who led his high school team to the legendary Koshien tournament two years in a row, Tadano was responsible for his high school's first Koshien appearance. He continued his success at Rikkyo University and was widely expected to be high draft pick, but instead was hit by a pornography scandal. A video surfaced, allegedly made while Tadano was a student at Rikkyo, in which the pitcher 'engaged in a homosexual act'.
Tadano was not drafted by a single team in the Nippon Professional Baseball League. The following year, he was signed by the Cleveland Indians, working through the farm system and making his major league debut in 2004. However, the pornography scandal resurfaced, and the Cleveland Indians held a press conference where Tadano was forced to address the issue.
Speaking through a translator, Tadano stated: 'I did participate in a video and I regret it very much. It was a one-time incident that showed bad judgement and will never be repeated. I was young, playing baseball and going to college, and my teammates and I needed money. I'm not gay.' Tadano was supported by his teammates in Cleveland, with outfielder Grady Sizemore telling reporters, 'Nobody thought anything more of it. He's a great guy and a great pitcher.'
Online forums, however, were soon awash with debate, largely about Tadano's sexual orientation. Some believed Tadano's statement. Others were more skeptical, and questioned whether Tadano's career could survive the scandal: 'The US can't handle the thought of a gay ballplayer, let alone a gay porn star ballplayer,' and 'I've heard of Gay for Pay and there isn't a straight American male who believes that.'
Tadano was soon traded to the Oakland Athletics, following an injury. The A's sent him down to the minors in 2007, and he returned to Japan the following year where he finally made his much belated NPB debut. Today, he continues to play for the Hokkaido Nippon-Ham Fighters. In total, he pitched fifteen games in the majors.
*
AKINORI IWAMURA
Second Baseman
Tampa Bay Devil Rays (2007 – 2009), Pittsburgh Pirates (2010), Oakland Athletics (2010)
Brothers Akinori and Takashi Iwamura were both baseball players, and were both signed in the 1997 NPB draft – Takashi to the Kintetsu Buffaloes as an outfielder, and Akinori to the Tokyo Yakult Swallows in the position of third baseman. During his tenure with the Swallows, Akinori received numerous awards, including six Golden Gloves; he was also named NPB All-Star three times. Takashi, meanwhile, remained in the Buffaloes' farm system for two years before retiring.
In 2006, Akinori was posted to the American major leagues. That same year, Iwamura's close friend, Daisuke Matsuzaka, was also posted in a landmark bidding war that was eventually won by the Boston Red Sox. The Red Sox bid the extravagant and precise sum of $51,111,111.11 for the right to negotiate with Matsuzaka; they then paid an additional $52 million for a six-year contract with the pitcher.
The total price tag on Matsuzaka was thus over $100 million, an amount estimated to be as much as six times the entire payroll of Matsuzaka's old team, the Seibu Lions. (By contrast, Ichiro's deal with the Mariners was a mere $12 million across three years – an indication of how inflated the market for Japanese transfers had grown, in no small part due to Ichiro's phenomenal success with the Mariners.)
Iwamura's own deal with the major leagues paled by comparison. The Tampa Bay Devil Rays won the right to negotiate with Iwamura for $4,500,000, and signed a three-year contract for $7,700,000. Nonetheless, he was now a millionaire baseball player in the American major leagues.
Iwamura had a shaky start. He performed poorly during spring training, and spent time on the disabled list after being hit in the eye while chasing a fly ball. Once recovered, he struggled for the remainder of his inaugural year, which is mostly remembered for an incident during a game against the New York Yankees. In the second inning, Iwamura's bat was confiscated after Yankees manager Joe Torre questioned its irregular shape. Rays manager Joe Maddon subsequently questioned Alex Rodriguez's bat, later admitting that the action was 'tit for tat'.
Iwamura's career in the major leagues was studded with several such examples of baseball reprisal. In 2008, during a spring training game between the Yankees and the Rays, Yankees player Shelley Duncan slid into base with his spikes off the ground, hitting Iwamura in the thigh. Members of both teams were involved in the altercation that followed, and two players and two coaches were sent off the field.
Several months later, the Rays were playing against the Boston Red Sox. Red Sox outfielder Coco Crisp was injured when attempting to steal second base, sliding head first into shortstop Jason Bartlett. When Crisp attempted to steal second base again, he deliberately slid feet first into Iwamura, in retaliation for his skirmish with Bartlett. The following day, the Red Sox and the Rays met for a second game. Rays pitcher James Shields threw a ball that hit Crisp below the waist. Crisp charged the mound. Eight members of the Rays and the Red Sox were suspended for their part in the ensuing brawl, with the suspensions totaling thirty-eight games.
Iwamura was suspended for three games and issued a fine. Although he contested the suspension, it was not revoked. Iwamura was said to be unhappy with the decision, particularly when Crisp's suspension was reduced from seven games to five games. However, he was muted in his official response, saying only, 'It hurts me that I cannot start the first day against Boston. But at the same time, it's decided by the Commissioner and there's nothing you can do about it.'
Whatever the case, there's little doubt that Iwamura was successful in integrating with his Rays teammates. It was not only in the instance of bench clearing brawls. When Iwamura cut his hair into a Mohawk, the style was emulated by his teammates, followed by the perennially supportive Maddon, followed by loyal Rays fans, who dubbed the haircut 'The Rayhawk'.
In 2009, Iwamura tore his ACL in a game against the Florida Marlins and was forced to undergo surgery. The next year, he was traded to the Pittsburgh Pirates. He was released from the Pirates later that year, and signed with the Oakland Athletics. He was released by the A's less than a month later and returned to Japan.
*
HIDEKI IRABU
Pitcher
New York Yankees (1997 – 1999), Montreal Expos (2000 – 2001), Texas Rangers (2002)
In the height of summer, a distraught man emerged from the front door of a large home in the Los Angeles suburb of Rancho Palos Verdes. He ran down the circular driveway and stopped a passing woman on her way to pick up her son. He asked her to call the police. It was around 4.20 in the afternoon. The man had discovered the body of a friend who had committed suicide by hanging.
The friend's wife had left him several weeks earlier, taking their two children. A pair of children's shoes still sat on the deck when the police arrived. The media would persist in describing the house as a luxury mansion, but in reality it was far from opulent. Pictures show a property with the burnt-out yellow grass that is common to California lawns, devoid of life but still neatly shorn.
Soon, a coroner's seal was placed on the door of Hideki Irabu's house, dated 27 July 2011. The coroner's report would later show that Irabu was inebriated at the time of death and that his body was not found for several days. A memorial display was made outside his home, with traditional Japanese funeral bouquets sent by Irabu's former team, the Hanshin Tigers, and a small altar.
Hideki Irabu made his major league debut with the New York Yankees in July 1997. It was the splashiest Japanese debut since Hideo Nomo in 1995. Irabu was the Yankees' first Japanese pitcher, a pricey acquisition who was paraded before a sold-out stadium in a carnival atmosphere. Vendors sold T-shirts reading 'Typhoon Irabu' and the food stands sold sushi. Enthusiastic fans waved signs reading WELCOME TO NY.
Although the obituaries would note that Irabu paved the way for Ichiro and the wave of Japanese players that followed, in many ways Irabu was Ichiro's antithesis: failing to live up to expectation, struggling to adjust to life in America, a cautionary tale. Soon, the city's tabloids were running headlines reading 'I-Rob-You' and 'Ira-Boo', in reference to his reported $12.8 million contract. Yankees owner George Steinbrenner grew disenchanted with the mercurial player, who was prone to childish fits of temper. Irabu also failed to stay in shape, at one point gaining enough weight for Steinbrenner to publicly dismiss him as a 'fat pussy toad.'
Irabu's inconsistency grew increasingly problematic as his drinking grew heavier, and his bouts of depression more pronounced. In 1999 he was traded to the Montreal Expos, where he played for two years before signing with the Texas Rangers. He had only one more year in Major League Baseball before he returned to Japan, playing with the Hanshin Tigers for two years before retiring. From then on, Irabu's private troubles became increasingly public: in 2007 he was arrested for assaulting a bar manager when his credit card was declined (the staff claimed he had consumed twenty beers at the time of the incident), and in 2010 he was arrested in Redondo Beach for driving under the influence.
By that point, Irabu had moved back to America and bought the house in Rancho Palos Verdes. Although he continued to harbour hopes of restarting his baseball career, Irabu also made an aborted foray into the restaurant business, starting two noodle restaurants that floundered and then closed. Shortly thereafter, his wife and children left.
Irabu killed himself in July, almost exactly fourteen years after he made his major league debut. That distant night, Irabu pitched into the seventh inning and led the Yankees to victory over the Detroit Tigers. When he was replaced, the stadium rose to its feet and in the dugout he received a hero's welcome from his teammates. Later, he told the frenzied crowd of journalists surrounding him, 'The experience was more than I dreamed about or imagined. I wouldn't sell this night for anything.'
Images courtesy of Topps
Featured photograph by Timothy Vollmer