There are places, even in temperate England, where a lack and an excess of water meet, shaping the landscape as surely as the grinding of tectonic plates. The belt of heath known as the Sandlings, on the Suffolk coast between Aldeburgh and Great Yarmouth, lies in one of the driest parts of the country. The low rainfall, about half the national average, is felt keenly by farmers, who must also cope with fast-draining sandy soils. Although the Sandlings was historically relegated to the grazing of sheep, which can make do with dew and grass for long periods, intensive irrigation means that today vegetables can thrive here. In summer, the pulsing silver arcs of spraying machines lend perspective to the flat landscape, their twenty-metre jets casting back and forth over fields of potatoes or onions.
But the history of water in this part of eastern England is not only one of want; the region is also defined by inundation. To look out to sea – it might be from the beach at Sizewell – is to look upon a drowned realm: from time to time, fishing boats will dredge up spearheads or mammoth teeth from the area known as Doggerland, which until the sea rose around 6500 bc connected Britain to mainland Europe. There are more recent losses. The best-known local story of inundation is that of Dunwich, the medieval port and religious centre destroyed by the sea over the course of centuries. Today, little more hangs on than a row of houses and the ruins of the thirteenth-century friary. The sea's work continues. Locals tend to give the gravelly cliffs a wide berth when walking on the beach.
Five miles south of Dunwich, on the edge of the Sandlings, is Leiston, 'a little northern mill town dumped in the middle of Suffolk', as one long-term resident described it to me. Its industrial heritage makes it unusual in a region still dominated by farming. It was out of the land that Leiston's industry emerged, with the founding in 1778 of the Richard Garrett and Sons engineering works, a small manufacturer of agricultural tools – scythes, sickles and later mechanical chaff-cutters – which grew over the course of a century and more to become a world-leading producer of steam engines, trolleybuses and industrial boilers. In 1852 the Long Shop, a cavernous hall with an internal gallery, was built in the centre of Leiston for building portable steam engines, one of the world's first assembly lines. You would find Garrett's machines (and Garrett's sales reps) everywhere, from Patagonia and Siberia to the peat bogs of Ireland. Until the mid-twentieth century, when Garrett's entered its decline, Leiston was essentially a company town. Well into the 1970s the firm employed up to 600 people in a town whose population in 1971 was 4,790. Even Leiston's domestic water was supplied by Garrett's until the First World War. After the war, the firm's fortunes waned; its slow decline, marked by a failure to adapt to modern production methods, culminated in asset-stripping and mass redundancies in the late 1970s and finally closure in 1980. It is in this sense that Leiston can be said to resemble a northern mill town – it is a place with a powerful void at its centre, haunted by bygone affluence, but whose sense of community is no less real for being vestigial.
Today, the renovated Long Shop forms part of a museum. In an adjoining hall stand a horse-drawn clover huller, and a seed drill and a thresher, both of the latter steam-driven via belts; in another room is an industrial steam boiler from the 1970s: 'A boiler/steam generator is a device used to create steam by applying heat energy to water,' reads the sign.
Climb the stairs to the wooden gallery of the Long Shop and, in an uncharacteristically neglected corner, you will find a model of another kind of steam generator: under dusty glass, a maquette of Sizewell B nuclear power station with its distinctive white reactor Dome, which was displayed at the 1983 public inquiry into the proposed development. Some of the model trees have crumbled. Nearby is a poster showing how a pressurised-water reactor works, with its three circuits: one passing pressurised water through the reactor vessel, a second passing steam through the turbines to create electricity, and a third bringing cooling water from the sea to condense that steam back into water. The two crucial substances, it is apparent, are uranium and water.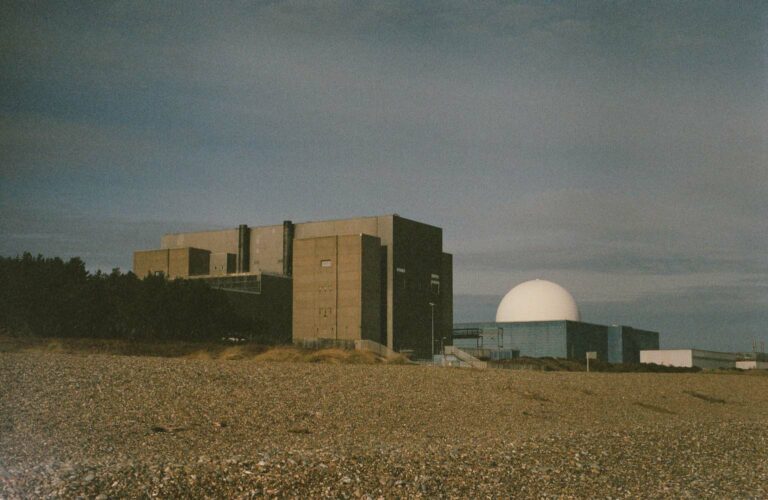 Viewed from a fishing boat off the hamlet of Sizewell, two miles east of Leiston, the reactor Dome stands alongside the low blue hangar of Sizewell B's turbine hall and, to the south, the corrugated grey blocks of Sizewell A's now inactive reactor building and turbine hall.
East Suffolk's flatness means that such tall structures are visible for many miles, even on land. It often looks as if the two stations are one, the 65-metre-tall Dome of Sizewell B seeming to emerge from the cuboids of the decommissioned Sizewell A, though more than 300 metres separate the two. I've seen the Dome – my instinct is to capitalise it – from as far away as Southwold nine miles to the north and the old military testing site at Orford Ness nine miles to the south, and it is frequently sighted unexpectedly from far inland, rising like a moon above a line of trees or under a bank of cloud. Viewed from a low hill near my home in the village of Westleton – a Suffolk mountain, this hill, at twenty metres above sea level – the Dome four miles away shifts in colour throughout the day, and from one day to the next, sometimes appearing as transparent as a contact lens, sometimes solid rose or pale blue, sometimes sunlit white against dark sea-clouds. Its apparent size and proximity, too, vary with the conditions: one day it will seem far more distant than four miles, a foreign dot on the horizon; the next, it is as much a part of the spirit of the place as the line of holm oaks or the thatched church in the village below. At night it glows beneath a yellowish haze.
From out at sea, the Dome dominates the coastline. The boat's skipper, Noel Cattermole, is the only commercial inshore fisherman between Aldeburgh and Southwold, a stretch that was once dominated by fishing. He is one of those people in rural England, like the publican, the parish councillor or the cannabis dealer, who earn a certain kind of local fame. Everyone seems to know him. His stock-in-trade: rock eel, bass, the tenderest Dover sole you will ever eat. In summer there are crabs and lobsters being sluiced out in a tub behind his gutting counter. He's meaning to retire, but he still goes out most mornings.
'That's my son,' he says, when I ask about the boat's name. The Joseph William is a 22-foot longshore beach boat with a dark blue fibreglass hull and an iroko-wood gunnel patinaed from fifteen years' near-daily use. The floor is crammed with plastic crates overflowing with nets. We move north, engine churning, from Sizewell village, with its single line of houses, between the beach and the submerged ridge of sediment known as the Sizewell Bank. Cormorants rise, one by one, from the rusting iron outfall headworks of Sizewell A, its girders lined with disused kittiwake nests like teacups on a dresser. The station stopped operating in 2006 but the site is not expected to be fully cleared and decontaminated for nearly another eighty years. We circle a wooden stanchion 600 metres out that marks the seawater intake for Sizewell B, the surface giving no hint of what is happening below us, the millions of litres of water per minute being sucked into the station's cooling system through two giant tunnels.
If you take the public tour of Sizewell B, they tell you proudly that the Dome is bigger than that of St Paul's Cathedral. But while the impression from any distance is religious, at first sight it is a mosque that Sizewell B suggests: the white of the Dome and the blue of the turbine hall; the broad and low proportions of the latter, like a prayer hall; and the tile-like cladding covering it all. The hulks of Sizewell A, next door, are a franker, more uncompromising presence. In The Rings of Saturn, as W.G. Sebald plods over Dunwich Heath, he sees the reactor building three miles south as a 'glowering mausoleum'. A towering concrete block, like a vast windowless car park, it is more explicitly industrial than its successor. But it is the Dome of B that bears the symbolic burden: it has the function of an emblem, but what precisely that emblem signifies is complex and contested. When I first moved here – when the whole place was strange and I hardly knew north from south – it seemed as sinister, in the secrecy of its form, as an alien vessel or a giant egg erupted from the soil. But like any familiar landmark, after a while you come to regard it with something like affection, even if you recognise it for what it is: a blight.
'There,' says Noel, pointing to a rise of scrubland immediately to its north: 'that's where it'll start.'
I send my partner a photo and she texts: 'Like approaching Istanbul across the Bosporus!'
And it's true. You can imagine, as you head shoreward, that you are coming into an ancient city, having travelled a great distance.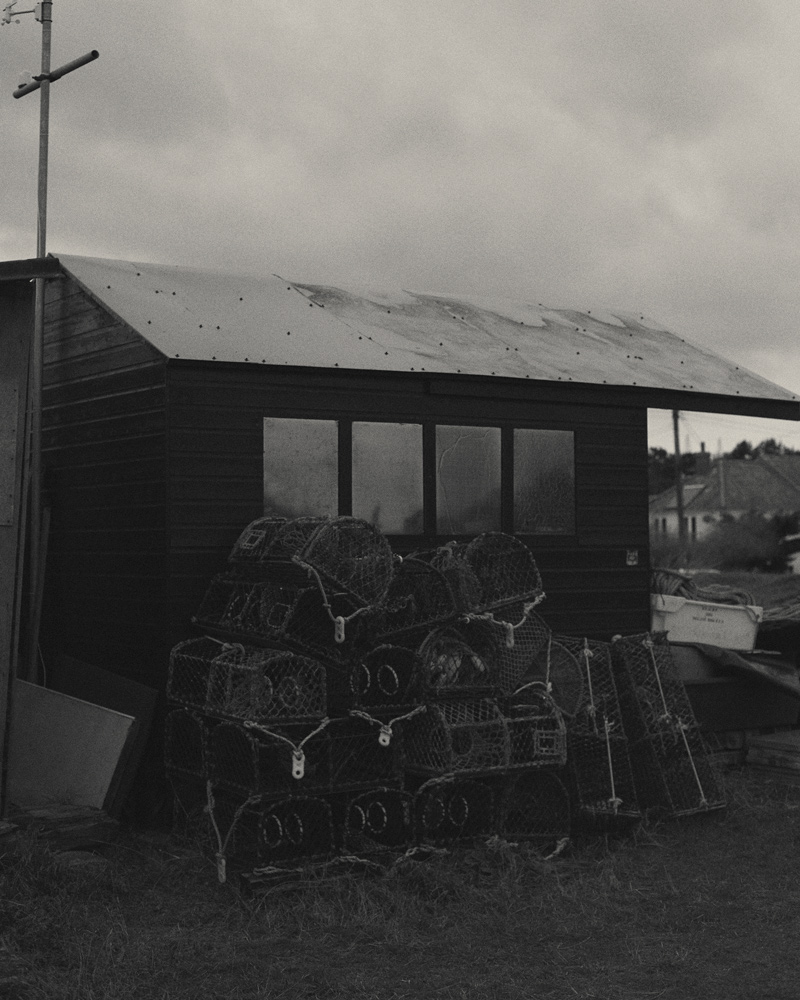 A certain rigour in Noel's gait, even when we get back to his yard, suggests he is moving against a gradient. He doesn't like to be too far from the beach, especially when he is on land. A modestly proprietorial presence in Sizewell village, he is usually found, when not at sea, in the yard next to his house on Sizewell's front, from which he sells his catch direct, or on the beach attending to the Joseph William, or at the cafe, Sizewell Tea, which is run by his son.
Having lived here for more than fifty years, Noel has a unique relationship with the nuclear site. He was eleven when his family moved to the hamlet from a village eight miles inland, well outside the Sandlings. In those days there were half a dozen boats working off this beach. 'I took my O levels and next day I started fishing. And that's all I've ever done.' Sitting in his kitchen, divested of his bib-and-braces, he reflects on recent events in the tone of someone expressing a conclusion he has reached only gradually and with reluctance.
'I've got no axe to grind, but I do find that anti-nuclear people can be very aggressive.'
On a Sunday morning a few weeks earlier, the plain of rabbit-grazed grassland between the dunes and Sizewell B had filled with people. The dominant colours were the fluorescent yellow of the tabards the 600 participants had been asked to wear, and the red and yellow of the stop sizewell c logo, on flags and banners, which by now was familiar to anyone who lived in the area. Stepping between the crowd's legs, a beautiful black whippet carried the same words on a sheet of paper ribboned to its flank. I watched the crowd gather from the top of a dune: the snaking line of DayGlo yellow bodies; the white of the Dome; the blue of the sky. The atmosphere didn't really seem aggressive. Occasionally someone would slip from the line and dash over the dunes for a hidden pee, but before rejoining the hubbub they would halt for a moment to gaze out at the crashing waves. Even more than usual, the line of dunes marked the boundary between two worlds.
Before the end of the current parliament, in 2024, the government has pledged to approve funding for at least one new nuclear power station. It is an arresting fact that all of Britain's eight functioning nuclear power stations are owned by the same company, EDF Energy, a subsidiary of Électricité de France, which in turn is majority owned by the French state. Although it has a monopoly on electricity production in France, EDF's financial position has been precarious since the 2008 crash, and it declined further after the disaster at Fukushima, the Japanese nuclear power station that in 2011 was catastrophically damaged, releasing radioactivity into the atmosphere, as a consequence of the Tohoku earthquake and tsunami. Last year, EDF's debt rose to £34 billion, while its share price has almost halved in the past three years. Its CEO has admitted that without the UK, its most important export market, the nuclear industry in France would cease to be sustainable. In 2012, after a National Policy Statement for Nuclear Power identified eight sites in England and Wales, including Sizewell, where new nuclear power stations could be deployed by 2025, EDF submitted a proposal to build a pair of European pressurised-water reactors (EPR) alongside Sizewell B, which is due to be decommissioned no earlier than 2035.
The centrepiece of EDF's export strategy, the EPR is a powerful advanced version of the standard pressurised-water reactor operating at Sizewell B, and in principle safer and more efficient. Of the four others in the world, however, only a pair at Taishan, China, has ever been commercially operative, and one of them was shut down in June 2021 due to a cracked fuel rod. The Olkiluoto 3 EPR in Finland was turned on in December 2021 after a twelve-year delay, but has yet to be connected to the national grid. In The Fall and Rise of Nuclear Power in Britain (2016), Simon Taylor describes the EPR as 'one of the most complex objects ever built', while Dr Paul Dorfman of UCL's Energy Institute, interviewed in a documentary about EDF's woes (The French Nuclear Trap, 2019), calls the EPR a 'failed reactor', which is 'too complex to build on time or to cost'. Two are currently under construction by EDF at Hinkley Point C in Somerset, Britain's first new nuclear power station since Sizewell B in 1995. It is running ten years late and at least £1.5 billion overbudget. The model for that project, EDF's Flamanville 3, in France, is more than nine years late. The model for Sizewell C is to be Hinkley Point C.
In May 2020 EDF submitted its application for development consent to the government. By the company's own reckoning, Sizewell C, which was to be part-funded by the state-owned China General Nuclear Power Group (CGN), would take up to twelve years to build, at a cost of £20 billion. A new bypass, link roads and roundabout would be needed for the 700 heavy-goods vehicles that would attend the construction zone each day, as well as a temporary railway extension, a loading jetty, and a campus to accommodate up to 2,400 of a peak workforce of nearly 8,000 (almost twice the population of Leiston). Almost 1,380 acres of the Sandlings and the surrounding countryside would be engulfed by the construction site, including a Site of Special Scientific Interest, while spoil heaps and cranes would be visible for miles.
Opponents say it would be a crime to build a third nuclear power station on this famously eroding coast. You only need to consider the North Sea Flood of 1953, which inundated the east coast, Scotland, the Netherlands and parts of Belgium, or for that matter Fukushima, whose backup generators failed after the site was flooded by a tsunami. A map produced by the US-based science journalism organisation Climate Central, marking land that is projected to be below annual flood level in 2050, shows EDF's site largely surrounded by water, a nuclear island. Sizewell C, if it goes ahead, will operate until at least 2095 and take decades to decommission. Some of its stockpile of thousands of tonnes of spent fuel, meanwhile, will remain hazardously radioactive for hundreds of thousands of years. Currently every pellet from Sizewell B's spent assemblies is being stored onsite, in either cooling ponds or sealed canisters, with no plan for their removal.
In autumn 2021, as the protest took place at Sizewell, the six-month public examination into EDF's application was nearing its end, leaving the five-person examining authority to consider its findings and make its recommendation to the Secretary of State for Business, Energy and Industrial Strategy. EDF says Sizewell C will 'save 9 million tonnes of CO² emissions every year' and that without nuclear power Britain will be unable to meet its commitment to reduce its carbon emissions by 100 per cent by 2050 ('net zero'). Sizewell C, it says, will generate thousands of short- and long-term jobs and invest millions into the local economy. (In 2020, a new claim appeared in EDF's regular community newsletter, posted through the door of local homes: 'The project will be a welcome boost to the recovery of the East Anglian economy as we emerge from the Coronavirus pandemic.') The company notes that the coastline at Sizewell has been relatively stable over the past 200 years, and insists the site will be protected from worst-case-scenario sea-level rises and storm surges. Indeed, the purpose of the protest that day was not to draw attention to the risk of inundation but to highlight the extent of the foreshore that would be obliterated by EDF's planned coastal defences.
Participants were instructed to spread out along a line that marked the seaward perimeter of a massive revetment that would bury more than a square mile of the dunes and grassland under up to fourteen metres of rock, concrete and soil. Even in the sunshine it was possible to imagine the mass of earthworks towering over your head. But the mood that morning had not been gloomy; there were children playing tag and people who knew each other from yoga, and a few cheerful veterans from the campaign against Sizewell B.
'I've seen all this with B,' says Noel, who has been fishing off Sizewell since there was just one power station here. 'All the same scenario.'
Press photos from a 1986 anti-Sizewell B march, which drew more than a thousand protesters to the village, suggest something more in keeping with the unionised industrial rallies of the time. Greenpeace activists in inflatable boats attached a banner to the outfall rig, reading vote out nuclear power, and the Campaign for Nuclear Disarmament logo was ubiquitous. Postcards had been printed referencing a Ukrainian town nobody had heard of until six months earlier: sizewell – twinned with chernobyl. The global implications of that disaster were still emerging.
Noel had been more sympathetic back then. 'We didn't know what to think, really. It was a lot bigger than Sizewell A. But we went with it. And at the end of the day, yes we had a few problems. But you have to have something going on, on this island, don't you? Some industry.'
The three groups that organised last week's event, Stop Sizewell C, Together Against Sizewell C and Suffolk Coastal Friends of the Earth, had arranged overflow parking outside the village, and in emails urged participants to avoid trampling the delicate flora of the foreshore; but Noel felt overwhelmed. Inconsiderate parking was one thing; more objectionable was what seemed to him a sort of righteous sanctimony. 'They were offhand, shall we say.'
Sizewell A was already there, newly operational, when he arrived as a boy; he watched as B was approved and slowly went up. Sizewell itself, he maintains, was not massively affected by the influx of temporary construction workers, even if Leiston, where many of them were billeted, was another matter. 'They want women, they want drink and they want betting shops.' (An insistent rumour has it that sex workers were bussed in from Lowestoft.) The one thing Noel regretted, 'my biggest loss', was that the marsh nearby, which had been leased historically to Leiston and District Wildfowlers Association, was handed to the adjoining RSPB Minsmere reserve, meaning he could no longer shoot there. He still likes to go out with his gun and his Labrador. The type who recoils at country sports is the same type, it seems to him, who banned the culling of seals (which take fish from his nets) and imposed quotas that make it virtually impossible for a lone fisherman to earn a living. 'It's all conservation, now. They want me in a picture postcard, but they don't want me catching fish.' He remembers a time when seals would vanish when they saw his boat; now they swim up to it.
Sometimes you'd think nuclear fission were an activity as indigenous to the area as growing beet or catching herring. At the launch of a public inquiry into a proposal for a gas-cooled nuclear-power station at Trawsfynydd, Wales, as long ago as 1958, objectors were outnumbered by people waving banners reading pylons before poverty. The slogans haven't changed much. Addressing a Westminster Environment, Energy and Transport Forum in January 2021, Sizewell C's Director of Financing showed a slide of one of Stop Sizewell C's banners. It had been defaced, using spray paint, with what she told the audience was 'a piece of quite nicely rhyming graffiti', which apparently encapsulated 'a lot of the debate about Sizewell C': jobs not snobs.
Because Noel lives closer to the site than almost anyone, opponents of Sizewell C do tend to expect him to be an ally. 'I might not say what you want me to say,' he had warned me – but he could only speak as he found, even if some people didn't like it. 'They'll say I'm irresponsible, ill-educated, bought-off; whatever. Whatever.' But the people up at the station, whether they were the Central Electricity Generating Board (CEGB), Nuclear Electric, British Energy or, now, EDF, have usually listened to him if he has any concerns. The armed Civil Nuclear Constabulary officers who patrol the beach 24/7 mean there is virtually no crime, and scientists come round every couple of months to test his catch and pass a Geiger counter over his lobster pots. Households within a kilometre of the site are issued with stable-iodine tablets to be taken in the event of a leak, to prevent the body absorbing radiation. But you learn not to worry. If and when C happens, he expects to be compensated for any temporary limitation to his fishing grounds, just as he was when B was built.
'It's still a wonderful place to live. I wouldn't want to live anywhere else.' The protesters were a bit like dinner guests who told you your neighbourhood was going to the dogs. 'It's quite strange when people have moved to this area in the last ten years, people with money, people who could afford to buy a house anywhere in the country . . . You've already got A and B here. If this is such a shit area, why would somebody with all that money move here? Sizewell C has been coming ever since Sizewell B was finished.'
You could say it has been coming even longer. On the 1904 Ordnance Survey map, Sizewell is separated from industrial Leiston by a couple of miles of heathland: an isolated spot in an isolated part of a county itself long considered an English hinterland, despite its proximity to London, eighty miles to the south.
The closeness of the two settlements is suggested by the administrative name of the town council: Leiston-cum-Sizewell. Published for holidaymakers in 1935, the Official Guide to Leiston boasts of 'efficient public services' and a 'pure and abundant' water supply, a significant virtue, at the time, in England's driest region. The guide goes on to extol the 'lovely gorse-clad heathlands stretching eastward to the sand dunes and beaches on the seaboard at Sizewell', and a photo shows a host of children playing among dunes.
In 1957, a 32-year-old bird enthusiast named Michael Gammon came here as part of a tour of the Suffolk coast. He would have found the region interesting on account of RSPB Minsmere, opened ten years earlier, where rare avocets had recently started breeding. But Gammon, a nuclear engineer, had been sent on a quest by his employer, the Central Electricity Generating Board, Britain's nationalised electricity generator, to select a site for a new gas-cooled Magnox nuclear power station, one of eight commissioned in England and Wales over the next nine years. The explicit motivation for this massive investment in nuclear power was a combination of anxiety about domestic coal shortages and, more immediately, the 1956 Suez Crisis, which had highlighted the vulnerability of global oil supplies.
Seven spots along a 22-mile stretch of Suffolk coast were considered by Gammon, including Sizewell. If you examine a map of UK nuclear power stations, you'll see that almost without exception they are sited on the coast (the exception is Trawsfynydd, which stands beside a reservoir).The main reason for this coastal clustering is that a large body of deep water is needed for the station's cooling system. But there is another advantage: if the worst happens, 180 degrees around the site will, for some distance, by definition be free of any dwelling. These are the two factors nuclear developers must reconcile: for safety reasons, population limits are imposed upon the surrounding area; at the same time, a station must be close enough to population centres for the efficient transfer of electricity. The Suffolk coast, then, appealed to Gammon and the CEGB partly for the same reasons it appeals to the thousands of second-homers who travel here from London for the weekend – remote but not too remote, sparsely populated and near the sea. The spot he settled upon consisted, in his words, of 'low-grade agricultural and heathland, with three small woods, mainly on a low plateau above flood level'.
A letter from Leiston town council to the Ministry of Power in 1957 expressed qualified enthusiasm for the project. More impassioned is a letter held in the National Archives from a local resident, Mr Kelly: 'I want to tell you personally, as a private person, how desperately our people are hoping this project may be realised. If, as we hope and pray, it may be realised, a heavy cloud will be lifted, and our morale will soar.' This was at a time when Garrett's fortunes were diminishing: there had been lay-offs, overtime had been cancelled and the factory was considering imposing a four-day week. If the power station did not go ahead, Mr Kelly added, 'it would be hard to see anything to which we could fasten our hopes of improvement.'
When the proposal was announced in the local press in January 1959, only nine objections were raised. 'The station will make no smoke and leave no ash,' one paper assured its readers later that year. The CEGB was confident that a public inquiry would be pointless. 'It seems unlikely that anyone would appear to state any reasoned case against it.' But even Michael Gammon and the Ministry of Power were surprised when East Suffolk County Planning Committee took the same position, and in February 1960, with virtually no public scrutiny, gave the project its approval. Three years later, the Suffolk Mercury celebrated the completion of the cooling-water intake: 'Woman councillor goes through under-sea tunnel at Sizewell'. Mrs Reade, it went on, 'had to complete the journey on her hands and knees'.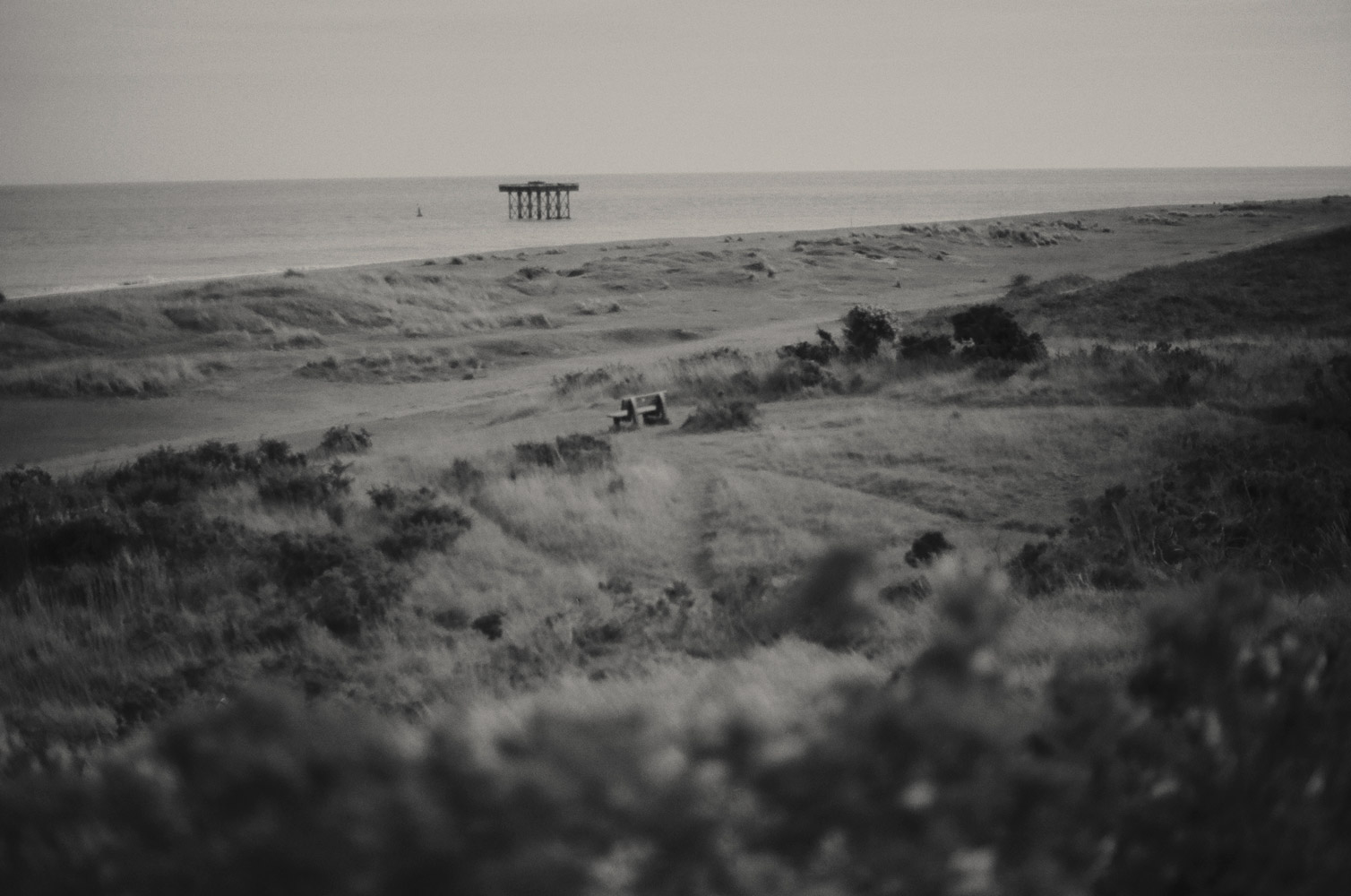 The prospect of Sizewell C revived a despair Joan Girling, a former Labour councillor, has known all her life. 'The government wants it. The district council wants it. The county council – they'll follow the district, because they haven't got enough teeth. And they're all Conservative-led anyway. I'm terrified.'
We are sitting on a bench above Sizewell beach, looking out to the 1960s intake headworks and the waters where Noel fishes, our backs to the silent mountain of Sizewell A. Summer is almost over, and it is not warm, but the undulating grasslands between here and the beach, known locally as the benthills, are scattered with colour: yellow horned poppy, silver-blue sea holly, clusters of blue harebells dancing in the breeze. When Joan was brought here for the first time, on a school trip shortly before Sizewell A was approved in 1960, it seemed perfect to her, actually perfect.
To say the hamlet is overshadowed by the power stations is not quite right: from the beach, A is partly screened by a remnant of the woods Gammon mentioned, and B is in turn screened by A. Perhaps this contributes to Noel's ambivalence: from his yard you are barely aware of the power stations; it's only when you look back from any distance that they rise up, the discrepancy in scale making the village seem like an Everest base camp.
Joan's life has been shaped by the CEGB's decision to put a nuclear power station here in 1959. When she was a girl she lived in an isolated pair of cottages on a T-junction in nearby Darsham, her grandmother in one, Joan and her parents in the other. 'Dad had a letter to say that because they were building a nuclear power plant, they wanted to cut the front off the garden.' Dozens of buses per day would be bringing construction workers to Sizewell from Halesworth, and the junction needed to be 'splayed' to improve visibility. 'Dad's bristles went up: "I'm not selling my land."' But his solicitors warned him the alternative would be compulsory purchase at a lower rate. 'And they cut the whole corner off: a big pond with a beautiful hawthorn hedge and four great big oak trees.'
Joan first lived in Leiston in 1962, after she married. Her then husband was working as a banksman, directing cranes at the Sizewell site. Seventeen years later, after her divorce, she moved with her children to a house just outside Sizewell. Eight years after that, Sizewell B was granted planning permission. Unable to face the disruption, the noise and the destruction, Joan moved once again, to a farmhouse on the outskirts of town, where she lives today. 'It's pained me all my life, the wretched thing.' She might be forgiven for feeling hounded. If Sizewell C goes ahead, EDF wants to build a railway extension that will pass 200 metres from her garden.
Joan co-founded what is now called Together Against Sizewell C (TASC) in 2008 to oppose not just Sizewell C but, according to the group's current constitution, 'all other such nuclear installations as TASC considers it necessary to oppose, and TASC will undertake all lawful activities as it sees fit in order to prevent such developments'. Its chairman is Pete Wilkinson, a co-founder of Greenpeace UK, who was involved in a famous action in 1983 to block the offshore outfall pipe at Sellafield, which was discharging radioactive waste into the Irish Sea. TASC sometimes collaborates with Stop Sizewell C, the other group dedicated to campaigning against a third power station (for example, in organising the protest at Sizewell in September), but the two have chosen not to merge. Their approaches differ.
Stop Sizewell C was founded in 2013 as the Theberton and Eastbridge Action Group, to defend the interests of the two villages likely to be most affected by Sizewell C. The group does not, significantly, describe itself as anti-nuclear and did not at first oppose the power station. It changed its stance – and thus its name – when its members found that EDF was not listening to its concerns. It has a full-time executive director (also ex-Greenpeace) and spent nearly £100,000 on campaigning in 2020. Its most visible action has been the distribution of flyers and yard signs, designed by a local ex-Saatchi creative, in red and yellow with a variety of anti-Sizewell slogans and an ominous red half-circle suggesting a reactor dome. Over the course of 2021, these signs mushroomed in the front windows, gardens and verges of the surrounding communities, albeit few were seen in Leiston or Sizewell.
Joan doesn't visit Sizewell often, any more. Too painful. She is unafraid to acknowledge that the loss of the perfect place she discovered as a teenager might represent the larger losses of her life, whatever they might be. But to object to such harms – to having your peace disturbed by freight trains, to seeing the view you love destroyed – is not sentimental or solipsistic; it is just to insist that environmental harm is an attack on the human soul. As she sees it, 'Sizewell', in whatever iteration, however it might evolve, is a single monolithic disfigurement, the ruin of all that's beautiful to her, the wretched thing. Shortly before we met, at the examining authority's request, EDF had produced a series of 'construction-phase visualisations', Photoshopped mock-ups of various views of Sizewell as it would appear during the up-to-twelve years of construction. The document received little public attention, but to anyone familiar with the view from Dunwich Heath or the beach at RSPB Minsmere, it was enough to make you actually gasp, so closely did it match your worst imaginings. Sizewell A and B were all but hidden by a forest of cranes, perhaps forty in all, the tallest – the world's tallest, at a quarter of a kilometre – dwarfing the Dome. Visible, too, were the spoil heaps towering over Eastbridge and the unloading jetty extending hundreds of metres into the sea. Another visualisation showed the same view at night, the tangle of cranes lit white against a yellow-stained sky. It looked like the building site for a colony on Mars.
In 1983 a fundraising gala for the campaign against the planned Sizewell B, 'Too Hot to Handle', was held at the Apollo Victoria, London. Its line-up included Madness and UB40, and a comic skit in which Michael Palin played a nuclear inspector greasing up the audience.'We're often accused of not caring for the views of rabid, politically motivated minorities,' he said. 'But we do care.' The PM, he went on, had asked him to attend the event, 'in a spirit of reasonableness and cooperation, to talk to you about . . . Sizewell H. It seems inconceivable,' he continued, 'that back in 1983 there were people who said we shouldn't build Sizewell B!'
Sir Frank Layfield QC, the planning inspector who led the Sizewell B public inquiry that had begun earlier that year, recognised the development's sublime ugliness long before it existed, concluding that 'the new station would be a totally inappropriate intrusion into the Suffolk countryside. Its vast, featureless bulk means that it is unlikely to become accepted with time, as have other industrial buildings in rural areas.' So detrimental would be the 'visual effect of Sizewell B on the local landscape . . . that unless the proposal is held to be justified in the national interest, consent and permission should be refused'.
The national-interest argument was powerful, in the view of the CEGB and the government, particularly following the fluctuations in oil prices prompted by the OPEC crisis of 1973 and the Iranian Revolution of 1979. There were also the miners. As the historian of nuclear power Simon Taylor puts it: 'The Conservatives were instinctively pro-nuclear, partly because they were anti-coal.'
Six miles from Sizewell, on the edge of the reedbeds of the River Alde, stands another of those industrial buildings in a rural area, Snape Maltings. The hangar-like brick halls were built in the 1840s by Newson Garrett (grandson of Richard, the Leiston engineer), for malting barley for brewing. In 1967, after the site went out of use, Benjamin Britten and Peter Pears, founders of the Aldeburgh Festival, had the idea of converting the buildings into a concert venue. In the absence of other appropriate public spaces in the region, it was here that the Sizewell B public inquiry was held. It lasted for more than two years, from 11 January 1983 to 7 March 1985, the longest planning inquiry in British history at that time. At a cost of £25 million, it was also the most expensive.
Its expense and scale and frequent obscurity were not accidental. For the CEGB, and the government, it was a means of refining nuclear policy, and it was intended to be sufficiently comprehensive as to settle the whole question of nuclear power's legitimacy for the foreseeable future. In the view of Frank Layfield, the case for building Sizewell A had never been convincingly made. Nor, he said, did its presence alone justify the building of an adjacent successor. Without the associated electricity-transmission works, there would be few grounds to consider the CEGB's chosen site for B. It seems to have been with some sorrow that he finally approved the application to the Energy Secretary in December 1986.
An academic assessment, Sizewell B: An Anatomy of the Inquiry (1988), written by two environmental scientists and a lawyer, concluded that the mammoth inquiry was 'likely to be the first and last of its kind', for the simple reason that 'multinational capital tends to shy away from investing in controversial projects in Britain, when the more clinical and steady French hearing or the efficient and rule-laden German models may provide more favourable investment opportunities'. What was more, 'big inquiries also annoy, embarrass and, at times, frighten governments. The modern version has a habit of getting too close to delicate policy matters.'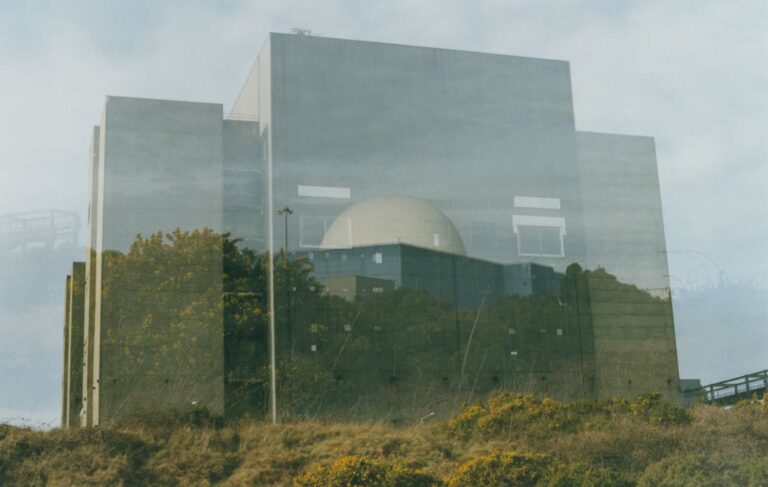 'There was period of time when myself, my brother and one of my uncles were on A-station.' After forty-three years, Danny Bailey was preparing to retire in March. As we spoke, his bosses were interviewing for his successor as Sizewell B maintenance manager. He was born and raised in Leiston, his grandfather was a farmworker, his father went from the land to Garrett's, which paid better, then from Garrett's to Sizewell A, soon after it opened in 1966, which was in turn better paid than Garrett's.
'He could go to the A-station and earn more as an unskilled operator than as a trained welder at Garrett's.' ('A-station'; 'B-station': the insiders' formulation.)
Danny as a boy had wanted to be a soldier, longed to join up. A physical at sixteen identified a hearing problem (he's all but deaf in that ear now), and so for a Leiston boy it was either Garrett's or Sizewell. Offered a place on both apprenticeship schemes, he chose Sizewell for the same reason as his father: good pay, relatively speaking, at a time when Garrett's was no longer a byword for secure employment, let alone a job for life.
From his office in the administration zone, we crossed into the red zone, where protective equipment must be worn, demarked by a double red//green line painted on the ground. There was a constant muffled hum, a hum rendered sinister by its muffling. The red zone, which covers thirty-two acres, is conspicuous for its lack of vegetation, a sanitation and fire-prevention measure. The only life you see, apart from the occasional boiler-suited operative crossing the thoroughfares between buildings, or one of the massive Civil Nuclear Constabulary officers with an automatic rifle, is the herring gulls: in spring they nest on the belts of gravel laid down around the buildings, and become defensive enough to make you glad of your hard hat. Otherwise it's a coldly synthetic world, like a world from a computer game. The smell that hits you as you approach the seaward perimeter, though, is definitely organic. A morgue-like reek, it emanates from the nightmare depths of a six-metre-wide well full of sloshing yellowish foam, the outfall surge-chamber, where the station's used water, millions of litres each hour, is collected before being returned to the sea.
It's surprising to turn a corner, even comforting, in this maze of concrete and steel, and see a technology apparently transplanted from a bygone rural England: a row of four waterwheels, each more than ten metres in diameter, sunk in their pits with water sheeting from their paddles as they turn. Between them and the outer perimeter, facing onto the seafront, is a forty-metre-wide embayment of unhappy brown water drawn from the offshore inlet. It is this reservoir that feeds the wheels. The set-up is designed to filter debris and particulates, anything bigger than a centimetre, from the 3 million litres of water per minute that are being removed from the sea for cooling. Buoys, nets, driftwood, pebbles, fish. The paddles on the four wheels lift anything that makes it through the intake tunnel – millions of fish per year, dozens of species – dropping them into a funnel to be delivered back to sea.
Two weeks earlier, Noel had manoeuvred the Joseph William towards a flurry of white birds: twenty or more herring gulls and cormorants circling and plunging into a maelstrom of brown water, water that was churning with enough energy, when we entered it, to cause the boat to yaw. A seal lifted its head. Fifteen feet down, according to the boat's digital sounding, was the mouth of Sizewell B's outfall tunnel. I saw what the gulls and seal were excited about. The water's surface was a soup of fish, all the smaller or more delicate species – mostly herring and sprat – that had been sucked into the cooling system and could not survive the journey.
A lot of the human energy expended in creating nuclear energy is associated with cleaning water. As well as seawater, a pressurised-water reactor needs large volumes of fresh water, supplied, in the case of Sizewell, from local aquifers. This water, too, is used for cooling – cooling the reactor, and almost as importantly, cooling the spent fuel once it has been removed from the reactor. While seawater for the condenser only needs to be strained of fish and particulates, water for the reactor and cooling ponds must be filtered to an extremely high standard to prevent mineral build-up. Much of Danny's working life – eight years at the radwaste facility alone – has been dedicated to monitoring and regulating the purity of water, first as it enters the station (as an engineer on the water-treatment plant), and then as it leaves (as manager of the radwaste building). The water-treatment plant, which he helped to build, purifies the region's hard, calcium-heavy mains water to a level where it can safely be passed through the reactor and circulated in the spent-fuel ponds. Then, in the radwaste building, irradiated water is cleaned to a quality sufficient, under EDF's environmental licences, for it to be discharged into the sea.
The water-treatment plant was a riddle of pipework and boilers that it was impossible, for a layperson encased in regulation protective glasses, earplugs, gloves and Covid mask, to begin to really perceive, let alone interpret, while the sheer noise meant that Danny's shouted efforts to penetrate my earplugs were largely lost. If Sizewell was a mystery from a distance (from sea, or from the hill near my home), it was a mystery, too, once you were in it. What I understood was that water comes in here!, and goes out there!, and in between is successively demineralised and degassed as it passes through five humming tanks, until it emerges in an almost completely pure state.
The turbine hall was worse: a cavernous gallery as big as an airship hangar, containing twin turbines the size of London buses, spinning in their cylinders at twice the speed of sound. To look up from the gantries was dizzying, to look down was dizzying, the whole experience was dizzying. Even with earplugs the volume was tremendous. By now I understood the basic engineering principles, but I could not begin to comprehend how the ranks of tanks, valves, pumps, ducts and pipes in their thousands interacted – it was like beholding an alien city, or being dropped into the howling heart of some vast spaceship's engine.
What I was left with was simply a distinct feeling of having been in proximity to energy in its purest form, energy of a magnitude I had been exposed to nowhere else save for the natural world at its most Romantically sublime – at sea in a gale, or on a mountain in a thunderstorm. Part of me, as I trailed after Danny along the elevated gantries, was screaming with the thrill and terror of it, and when we emerged into the daylight and could remove our earplugs and glasses, I had to collect myself: it was almost impossible to believe that such a creation existed, here, on this quiet stretch of the English coast, on the edge of drowned Doggerland.
I understood, as I had not really understood before coming here, that the Dome I knew so well stood for something extraordinary and perhaps terrible – and above all that the source of the energy, and of the vibrations that seemed to hum in my bones for hours after, was the collision of hot and cold: that is, ultimately, uranium dug from Australia and H2O pumped from the chalk aquifers beneath our feet.
The realisation was salient because, as the planning examination into Sizewell C was nearing its end, a preoccupation of the five examiners was precisely where fresh water for the two reactors would come from, to say nothing of the water needed to cool the spent fuel or batch the concrete during construction. Sizewell's water supplier, confusingly, is Northumbrian Water, based nearly 220 miles away in Durham. Operating as Essex and Suffolk Water, it supplies 1,000 square miles of eastern England, divided into four water resource zones. In EDF's 2020 planning application, most of the fresh water for construction and operation was to come from the local Blyth zone, but in June Northumbrian Water had told EDF the Blyth aquifers did not contain enough water to serve Sizewell C. Sizewell B already uses about 800,000 litres of fresh water per day, while Sizewell C, with its twin reactors, is expected to use more than 2 million litres per day, and up to 3.5 million during construction. The issue was still being debated days from the end of the six-month public examination. As my guide Danny put it, speaking of Sizewell B, 'You couldn't run a nuclear reactor without clean water.'
The only recorded serious incident at Sizewell, in the nearly sixty years since A had opened, was associated with a shortage of water. One Sunday in January 2007, a pipe feeding the spent-fuel cooling pond at the part-decommissioned Sizewell A ruptured. The alarm that should have sounded failed, and potential disaster was only averted by a contractor who happened to notice a puddle of water on the floor of an adjacent laundry. According to the preliminary report of the Nuclear Installations Inspectorate (now the Office for Nuclear Regulation): 'the pond would have drained down in ten hours and there would have arisen a very significant risk of the uncovered spent fuel igniting and, from this, an airborne off-site release of radioactive fission product'.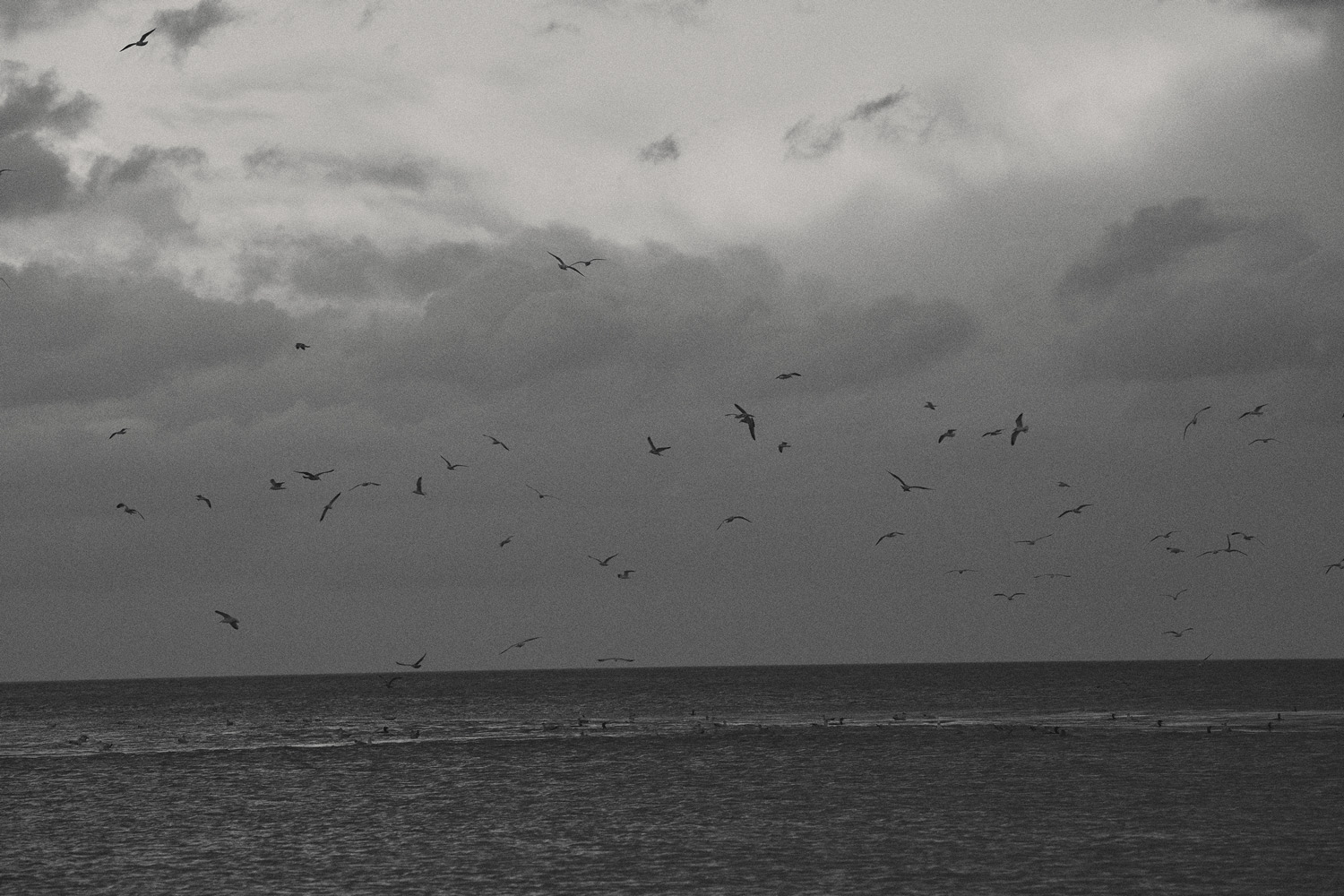 For Danny, Sizewell had been that old-fashioned thing, a job for life. Back across the green line once more, in the human world, I asked about his retirement plans. Canoeing, his grandsons, a disobedient Dalmatian he and his wife walk on Sizewell beach. 'That's where I struggle a little bit,' he said. 'In my retirement, do I really want a big construction site at Sizewell? If there was a real choice, then no, I wouldn't, but if we don't build Sizewell C, we'll probably never start again, and if we never start again, where do we go, as a country, for power?'
That was the point, as he saw it, the bind: there was no real choice. We were speaking during a global energy crisis, with gas shortages in Europe and after a summer of low wind speeds and relatively minimal sunshine hours. Even before Russia's invasion of Ukraine imperilled gas supplies to Europe, EDF, like its counterparts in the 1950s and 1980s, maintained that nuclear was the only way of ensuring national energy security. More than that, nuclear promised an unbroken supply of electricity that did not require the burning of fossil fuels and did not rely, as solar and wind did, on undependable, intermittent phenomena. 'If you look at the overall global crisis, I don't see renewables being the only answer. When the wind doesn't blow and the sun doesn't shine, we have quite a big gap.'
For opponents of Sizewell C, the years and billions it will absorb could more providently be invested in improving domestic energy efficiency and storage technologies for smoothing out the intermittency of wind and solar. It's also the case that nuclear power's very constancy – that it is always 'on', apart from scheduled downtime – means it is an inefficient way of filling the gap. Hinkley Point C, at £23 billion, will by some measures be the most expensive object on Earth. EDF expects Sizewell C to cost £20 billion and take up to twelve years to build, but these figures should be seen in the context of an industry that underestimates both the cost and duration of construction so unfailingly that it can almost be taken for granted that it will run overbudget and overschedule. Since the government decided that China General Nuclear Power Group should not be allowed to maintain its 20 per cent stake, over national security concerns, new partners are being sought. In late 2021, the government introduced legislation for a funding model designed to reduce the perceived risk for potential investors: Regulated Asset Base. RAB guarantees investors intermittent repayments, fixed by a regulator, throughout the course of construction, meaning they can start to recoup their investment before the station has produced either electricity or profit. These payments will be funded not by EDF or the government but by every domestic UK electricity consumer, via a surcharge on bills. For Dieter Helm, Professor of Energy Policy at Oxford University, the funding model only confirms that nuclear power is inherently political, 'because it not only involves very capital-intensive and long-lived assets, but also because it comes with environmental-, military- and technology-specific risks on a scale which no private market can handle on its own'.
As well as the cost, and the local disruption and environmental damage, opponents of Sizewell C also claim the site will be vulnerable to flooding and sea-level rise, long after it has been decommissioned. Back in 1992, walking south from Dunwich, W.G. Sebald reported a bleak vision: Sizewell, as he perceives it in The Rings of Saturn, does not stand where it is shown on a map, 200 metres inshore, but 'upon an island far out in the pallid waters'. He was given to portents.
Underlying every consideration, financial and logistical and moral, is the question that has always haunted the nuclear industry, and the world: what to do with the spent fuel, which by TASC's reckoning amounts to 650 tonnes at Sizewell B. While EDF won't confirm this figure, it is likely to be an underestimate, as TASC recognises, since the company expects Hinkley Point C (on which Sizewell C will be modelled) to produce a total of 3,600 tonnes over its sixty-year lifetime. Decommissioning of Sizewell A is expected to continue until 2098, while Sizewell B is expected to be decommissioned more quickly, by 2055. But whereas A's spent fuel was sent to Sellafield for reprocessing, B's – and by implication C's – will remain onsite indefinitely.
The government's favoured solution has not changed since 1976: 'deep geological disposal' – burial in a geologically stable repository hundreds of metres underground. In those forty-six years, no British community has agreed that it is in its interests to host such a facility. For now, the spent fuel will continue to accumulate in Sizewell's ponds and casks, attended and soothed like a fairy-tale tyrant's dragon. That is something else the Dome stands for.
'I'm sorry it's complicated for you; it's complicated for us, too.' The speaker was David Brock, a retired planning solicitor and one of the Planning Executive's panel for Sizewell C. The examination phase for EDF's application was nearing its end, and there was an air of frustration among the inspectors. It was evident that time was running out, and the issue of water supply for the planned station was becoming urgent.
The panel had five members: as well as Brock, it included a civil engineer, two town planners, and the lead inspector, Wendy McKay. The six-month examination, which began in April 2021, included fifteen issue-specific hearings, covering questions ranging from traffic and visual impact, to biodiversity and air quality, and, in September: flooding, water and coastal processes.
It was very different from the Sizewell B public inquiry. The Planning Act of 2008, passed by Gordon Brown's Labour government, was nominally designed to speed up the approval process for so-called Nationally Significant Infrastructure Projects such as airports, railways and power stations, to reduce upfront costs for investors. The main component was a series of National Policy Statements (NPS), which set out the government's policies on a variety of infrastructure. Applications for new nuclear power stations were to be assessed 'on the basis that the need for such infrastructure has been demonstrated'; the examining authority was therefore to disregard any representations relating to 'the merits of policy set out in a national policy statement'. This meant that public consultation over new nuclear power stations no longer accommodated discussions about the rights and wrongs of nuclear power itself – its inherent safety, the implications of long-term waste storage, the enduring bonds between the civil and military sectors. It also meant that national campaign groups such as CND and Greenpeace were sidelined. Those, like Joan, who objected to nuclear power in principle could have been forgiven for feeling that the reactors' foundations had already been poured.
The old Sizewell B-style public inquiry, which under Frank Layfield had been virtually unlimited in duration and scope, was replaced by a simplified 'development consent regime', whereby the developer's planning application, once accepted, was succeeded by a public examination lasting no longer than six months. The committee then had three months to make a recommendation to the relevant Secretary of State (Kwasi Kwarteng, in the case of energy infrastructure), who, in turn, would have three months to announce a decision.
On 14 September 2021, nearly thirty years after the Sizewell B inquiry and exactly one month before the end of the Sizewell C examination, the malthouses at Snape were again the stage for a discussion about a proposed nuclear power station six miles away at Sizewell.
As a venue, it cannot have been any more convenient for EDF's representatives than it was for their predecessors in 1983. For local parties, it was more accessible in principle, even if no buses went there. That day's meeting was one of four day-long hearings, which the planning committee had decided to hold in person following an easing of Covid restrictions (these twenty or so hours turned out to be the only in-person element of the six-month examination). The participants sat theatrically lit, like one of those plays based on transcripts of legal hearings, around a rectangle of white-clothed tables, before the dark and silent auditorium. Two unmanned video cameras invigilated. Representatives of the Environment Agency, Suffolk County Council and Northumbrian Water, as well as 'interested parties' like representatives of TASC and Stop Sizewell C, were beamed in over Teams. Sometimes a child could be heard singing in someone's home, or a dog barking.
The government's Climate Change Risk Assessment in 2017 ranked water shortages third in terms of risk to the UK, after flooding and health. Suffolk is described by the Environment Agency as seriously water-stressed, a condition that is due partly to low rainfall and partly to demand from agriculture in a county where irrigation represents 22.5 per cent of water use, compared to less than 1 per cent in the UK as a whole. By 2043, eight years into Sizewell C's anticipated sixty-year operating life, the Environment Agency anticipates a water deficit in the county of around 7.1 million litres per day, based on current supply and demand projections.
The solution agreed between EDF, which would need up to 3.5 million litres of water per day, and Northumbrian Water was that the water company would build a pipeline from the River Waveney, eighteen miles to the north. But then in August, Northumbrian Water received a letter from the Environment Agency, the body that issues water-abstraction licences. The information contained in that letter, Northumbrian Water told the examiners, presented a 'significant risk' that it would be unable to supply 'any sustainable water' to Sizewell C. (It was unusual to see both underlining and italics in these documents, a combination that, given the circumstances, seemed to carry a mild note of hysteria.)
The Waveney is the river that forms the boundary between the counties of Suffolk and Norfolk. Naturally sluggish, it is prone to flowing very slowly in summer, resulting in low dissolved-oxygen levels. In dry summers thousands of fish have been known to die. Northumbrian Water's intake currently operates all day, every day, and extracts up to 2.8 million litres per day. Following preliminary modelling commissioned by the company itself, the Environment Agency had warned that, in order to preserve downstream water levels, Northumbrian Water's existing abstraction licence was very likely to be reduced by as much as 60 per cent. Further modelling was required to confirm the situation, but if the reduction was imposed, Northumbrian Water would be unable to supply water to Sizewell C not only in the short term but for the foreseeable future, in the absence of alternative sources.
At Snape Maltings, Covid precautions meant there were at most only three or four members of the public present at any one time in the 340-capacity Britten Studio. Sixty-seven of us tuned in from our homes, however, to watch the bench of five examining inspectors facing EDF's council, which was led by Hereward Phillpot QC.
A specialist in planning and environmental law, Phillpot often sought discreetly to transmute the sometimes unfocused or incomplete representations of EDF's experts into a more seductive legalese. He was supported by EDF's planning adviser, John Rhodes, who had been involved in drafting the government's National Planning Policy Framework and previously appeared as an expert witness at the planning inquiry into EDF's Hinkley Point C.
The lead examiner, Wendy McKay, asked Rhodes an apparently simple question: what was EDF's alternative solution if it turned out water couldn't be obtained from the Waveney, as Northumbrian Water now seemed to think was likely? 'What's your plan B?'
'Other options would need to be considered,' he said, but he added that the 'water undertaker', Northumbrian Water, had a statutory obligation to provide water, under the 1991 Water Industry Act.
'So,' said Neil Humphrey, one of the other examiners, 'your stance, then, is it's the water company's responsibility to supply you with water, it's not your responsibility to demonstrate you have a supply of water.'
'Sir, that's right . . .' said Rhodes.
David Brock, the other examiner, intervened: as none of the panel was, quite evidently, an expert on water law, they would need a written note from EDF, 'succinct, to the point', spelling out the legal position.
Phillpot, hearing the word 'succinct', emphasised the complex nature of the Water Industry Act and that the 'factual position was still evolving'. A note would, perforce, have to set out the full context of the legal position. Would that be acceptable to the examining authority?
Brock leaned forward, pressed the button on his desk mike and folded his arms. 'It sounds to me as though it's probably the best that you can manage.'
On 5 October, nine days before the end of the examination, a further hearing took place – back online, after the fleeting novelty of the concert hall.
While the pipeline from the Waveney was being built – which would take up to four years, if indeed it was approved – a supply of water would be required for construction, up to 3.5 million litres per day. EDF's proposed solution was a temporary desalination plant to turn seawater into fresh water, a solution EDF itself had rejected in January, 'due to concerns with power consumption, sustainability, cost, and wastewater discharge'. Desalination is noisy, expensive and energy-intensive. The plant would remove up to 10 million litres of water from the sea each day, and discharge back into it some 6 million litres per day of saline concentrate and phosphorus. The UK's only current large-scale desalination plant, Thames Water's Beckton facility in London, uses about twice as much energy as a conventional water-treatment plant. Until such time as a permanent electricity supply was installed, Sizewell C's desalination plant would be powered by diesel generators.
But even if a desalination plant were to be approved, the question remained of where water would come from for running the station once it was built.
'There is a likely scenario, at the end of the examination,' said Neil Humphrey, 'that you will have no guaranteed long-term water supply.'
A heavier figure than Phillpot, blank-faced in headphones, Humphrey had a tendency to glance at a supplementary screen positioned above his eye level, giving the impression he was rolling his eyes. He allowed himself a frown. 'Is that a correct statement?'
This time Phillpot was alone in a headset, the skyline of Inner Temple visible through the venetian blinds: 'Well, sir, in terms of where that water would come from, there is no guarantee.' He went on, 'We take the view that even if there is not certainty as to what the source will be, what that background provides' – the background being the Water Industry Act – 'is a sufficient certainty to ensure that there would be a source.'
'So in the applicant's view, you understand that there won't be a guaranteed water supply at the close of examination, but you believe that the water company will provide the water at some point in the future?' Surely, Humphrey went on, 'there must be a scenario where a water company cannot identify a sustainable source of water. That is a risk, is it not?'
'They may not be able to identify, now, a sustainable source of water,' said Phillpot. Nevertheless, 'It's not a situation where water undertakers can simply say, well, we can't find a source.'
It turned out that while the Water Industry Act does stipulate that domestic premises, including Sizewell C's proposed worker-accommodation campus, have to be supplied, Northumbrian Water is under no absolute duty to supply water for non-domestic purposes, if the regulator, Ofwat, deems that doing so will be unreasonably costly or jeopardise existing commitments.
At the end of September, the two firms signed a statement of common ground, agreeing that the water undertaker would 'use its reasonable endeavours' to supply Sizewell C with a non-domestic water supply 'as soon as reasonably practicable', on condition that EDF agreed not to sue Northumbrian Water if it failed to meet its duty to provide a domestic supply for the up to 2,400 workers in its accommodation campus.
By the time it became apparent that, save for the sluggish Waveney, no long-term water source had been identified, the end of the examination was nine days away. The final water modelling would not be completed in time, there could be no extension to the examination, and it was too late for cross-examination. Northumbrian Water confirmed that it would be unable to supply Sizewell C with one drop of water during construction. The desalination plant EDF had originally proposed as a temporary measure would therefore have to meet all the site's needs for the up to twelve years the power station would take to build. Beyond that time frame there was no plan.
Like its assurances on the malfunction-prone European pressurised-water reactor, EDF's assurances on the availability of water – 'that there would be a source' – were consistent, it seemed, with the entire industry's foundational article of faith: that a solution will be found for sparing the world from the 250,000 tonnes of spent fuel that already exist, including the hundreds of tonnes sitting at Sizewell B, and the thousands more that will be produced by Sizewell C.
That there will be a solution, in other words, because it is required that there be a solution.
In late January 2022, about a hundred people were standing at the entrance to the Sizewell B access road, some of whom I recognised from the protest back in September. There were several red-and-yellow stop sizewell c face masks, and a woman wearing a bright-green foam dinosaur costume was chatting to a Civil Nuclear Constabulary officer cradling a Heckler & Koch assault rifle.
A week before Christmas, the Planning Inspectorate had written to the Secretary of State for Business, Energy and Industrial Strategy, Kwasi Kwarteng, requesting a six-week extension to its reporting deadline, which had originally been mid January. They needed more time to consider the application, they said, due to no fewer than sixteen material changes EDF had made to its application, including last-minute ones such as the desalination plant. There had also been 'unexpected health issues' among the inspectors. The Secretary of State approved the extension, but asked that the inspectorate build 'greater resilience' into its processes, pointing out that large volumes of documentation and material changes were to be expected in such an application. Future timetables, his office said, should be adhered to, 'so that developer confidence in the certainty of timings . . . is not eroded'.
The crowd outside Sizewell B had been waiting for a while, following a tip-off that Kwarteng was to visit the station for a press call. With a month to go before the Planning Inspectorate's delayed recommendation, it had been announced that morning that the government would be granting a £100 million development loan to EDF, 'to maximise investor confidence' in Sizewell C.
I looked for Joan, but it wasn't her scene. A week earlier she'd shown me an album of photos of the house she'd lived in as a child, the house in Darsham with the pond and trees that were destroyed for Sizewell A. Part of me had assumed that her description of the place, when we'd spoken on Sizewell beach back in October, was tinted by nostalgia, but the pond in the pictures was larger and lovelier than I'd imagined, its surface adorned with flowering lilies and dappled with oak-shade.
After waiting for the Secretary of State for forty minutes, I decided to cut my losses and walked the hundred metres to Noel's yard, where I found him filleting the last of a bucketful of bass he'd caught that morning.
Small ones today, so I bought three fillets. He seemed gently amused by the protest. Each to their own. As he wrapped the fish in newspaper, he mentioned that the Secretary of State had arrived hours ago, he was already inside. The protesters had missed him.
That night, Kwarteng appeared on the TV news: the funding package, he explained, represented a 'green light for new nuclear capacity'. Over his shoulder, the Dome looked as two-dimensional as a stage flat, and I understood that it was being made to stand for something else: the future.