Fernweh – literally, 'far-woe' – describes a longing for distant places. Teju Cole takes the word as the title of his meditative new photobook, out with MACK.
The images, taken between 2014 and 2018, explore the modern terrain of Switzerland: we see well-trimmed lawns, rubbish-free streets, freshly painted road lines, and beyond them, the sublimity of the Alps. Only a handful of humans crop up in these photos, and most exist through reflections and panes of glass, what Cole calls, 'traces of the human without human presence'. Granta spoke to the photographer and critic about drama, beauty and longing.
You have said that when you first flew to Switzerland, you didn't know you would spend your time there taking photographs. How did that happen?
I have been photographing seriously, at this point, for maybe fifteen years. 'Seriously' in the sense of taking photographs that are not family pictures or tourist pictures, but photographs for publication or with some kind of artistic intention behind them. During that time I have been developing – or attempting to develop – a voice. I have been trying to understand what it is I want to do with photographs. At the same time, I have also been developing as a photography critic, and in that writing necessarily taking in a very wide range of styles. Of course, as an artist, it's not easy to be a specialist in all styles, nor do you want to be. You want to find a particular language and find out what you can do with it. And something of that sort happened around the time that I arrived in Switzerland.
At that point, I had a pretty good idea that my photographic style was something pretty calm, something quite present. It was not dynamic or macho, like certain street photographers I had appreciated in the past: René Burri photographing four men on a rooftop in São Paulo, or Henri Cartier-Bresson, or the photojournalists who followed them in Magnum.
I found out that that was not what I wanted to do. I wanted to photograph in colour, I wanted to photograph landscape, and I wanted to think about the relationship between reality and images. I had started moving in that direction a few years before I got to Switzerland. When I did get to Switzerland, I found that it was a place that really agreed with that style. As soon as I got there and started photographing, I found that there was a lucidity about what I was looking at, where everything seemed curiously direct: bright sunshine, clear colours, the air very clear, everything 'organised'. And yet, certain photographs made in that terrain still seemed to hold a lot of mystery. I came to see that mystery did not mean something had to be in black and white and full of shadow, or feature complicated lighting, or require somebody to walk into frame just so at the exact moment that a bird is flying past.
The way I would put it is this: when I was younger, I wanted to make images that made people go wow. As I developed as a photographer, I realised I wanted to make images that make people go hmm. That transition was something that happened in Switzerland.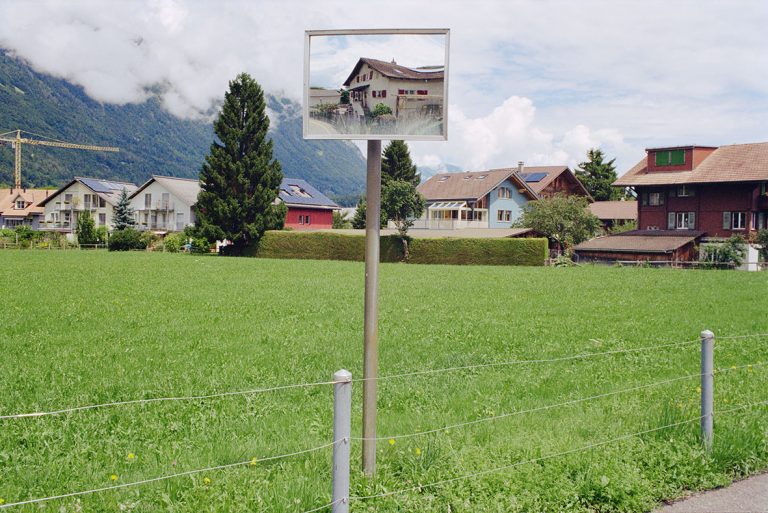 One of the things you have spoken about is different cameras telling different stories. How did that play out for you with this project?
When I arrived in Switzerland, I had been shooting film for a while. But it was around that time that I first started using tripods. There is something about setting up a tripod that really slows things down. You're no longer taking images on the fly. There's no decisive moment. I wouldn't say that these images are static, but they're formal and slow, and the tripod contributed to that.
The other thing is that, not long after I got to Switzerland, in the summer of 2014, I started to commit to Portra 400 film. Portra film, which is made by Kodak, has a very particular palette. It's pale, it's gentle. It has a kind of pastel tendency. One of the most famous colour films in the history of photography was Kodachrome, which was famous for having vivid, dramatic reds. By way of contrast, I would say Porta is known for its powder blues, a certain focus on pink and delicate greens, nothing too aggressive.
Midway through the project, I was shooting only with a 50mm lens. That's significant because it doesn't distort at all. It's not a zoom lens, and it's not a telephoto lens. It doesn't get too close to the subject, but it's not a wide-angle lens either. So again, there's that feeling of calmness. A 50mm lens sees the way the eye sees.
Many things were coming together. It seemed as if everything was combining to lower the dramatic quotient of the images. Even the fact that it was shot on film meant that the contrasts were somewhat subdued compared to digital. But, of course, despite all this, there is drama: there's the drama of the landscape.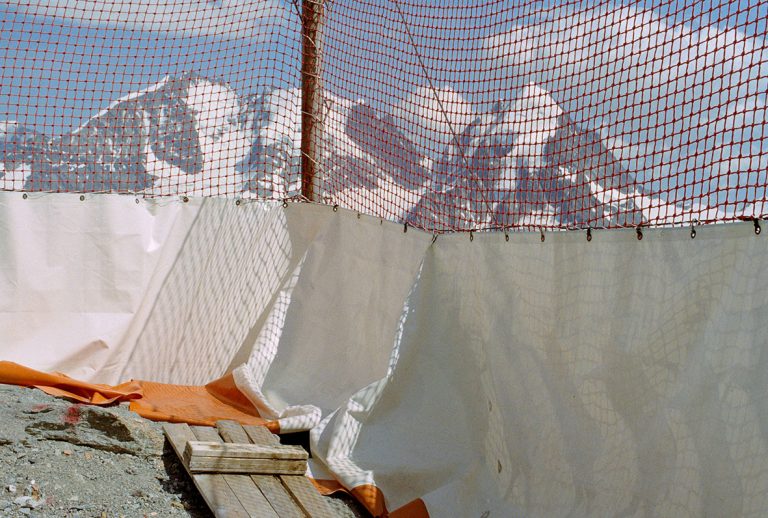 The Alps offer a remarkable backdrop – sometimes partially visible, sometimes amusingly cropped out in favour of street signs and bits of paper. What was it like to be amid a landscape that has been so thoroughly photographed?
Back in the time of our great-grandparents – or not really my grandparents, but a lot of people's grandparents – the ideal travel destination was Switzerland. It isn't really the case for our generation – people want to go to Berlin or Barcelona, or to Mexico. But for earlier generations, Switzerland was the place to go. You went to Interlaken. For the Victorians, that was the place. It arose as a tourist destination pretty much at the same time that photography became popular – popular enough to be something that all sorts of people were doing on their travels. So, Switzerland is well-understood as a spectacular place, in that sense.
I thought this would be an interesting challenge. For me, as someone who grew up in Lagos, Nigeria, photographing Lagos in all its dynamism and mess would be one kind of challenge. But an even deeper challenge would be to go to a place that is thought to be, not just well understood, but well-understood to the point of not being interesting anymore. 'Switzerland? We get it. It's over.' And to find out if there was some way such a place could speak to me, if I could say something new about a place where all that could be said about it had allegedly been said.
How did you go about doing that? There are playful images where you allow a metal railing to interrupt an Alpine vista. But you allow some landscapes to sit on their own on a page – that simplicity seems almost rebellious, in the context of a project where you're trying to –
– be a twenty-first-century photographer? Yes, I think a project like this can very easily find its way to an ironic or even sarcastic pose: we're modern and contemporary photographers and we don't go in for all that beauty. The world has been ruined.
Well, I didn't really want to do sarcasm. There's a little bit of irony in the book, but I think it's very gentle. It was important to me to be true to the experience of looking at such landscapes. When you look at that landscape, you see that it has been curated for you. To get up to the mountaintop you go on a cable car. When you reach the top, there might be a railing there, or a pane of glass surrounding the café from which you look out onto the Alps. And so I include all that.
Sometimes, too, when you have a spectacular view of mountains in front of you, you have this double take. You're not sure whether you're looking at mountains, or a picture of mountains. This particularly comes through when I look at a picture of a mountainous scene. Someone could have got the photograph by going all the way to Graubünden and climbing to the top of a mountain: three hours from Zürich, a cable car and then a thirty-minute hike, then the photo. That's one interpretation of the image. But it could also be that you were standing at a bus stop in Basel and there was an advertisement with a mountain in it, and you photographed that ad.
This double take is always happening in Switzerland, where not only is it full of spectacular potential images you could make but it is also full of images of its own spectacle. There's a recursiveness there, and to convey that slightly destabilizing feeling of unreality to come across, I had to include some 'real' images as well as the images of images.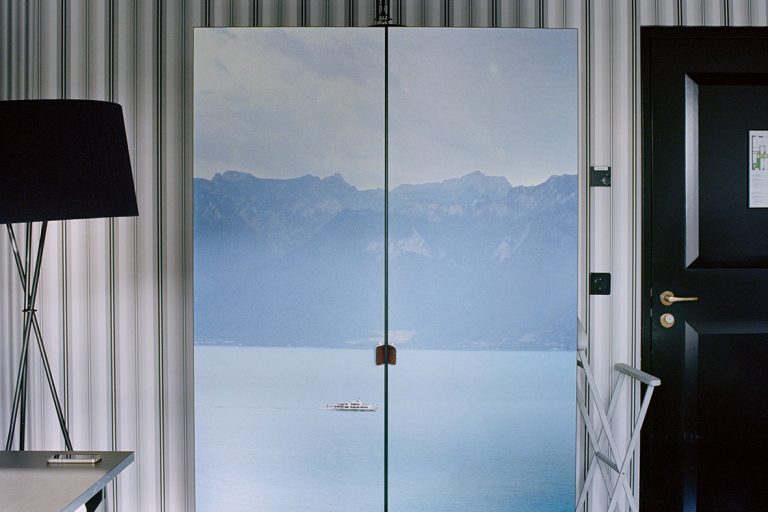 It's an interesting impression that you give of the country. The photobook is beautiful but it is not in any simple sense a love letter, there is an ambivalence.
I do like Switzerland very much and I go there all the time. I like it in the sense of never wanting to belong to it. I also understand that the country has a role it plays in the modern world, which is by no means a purely positive role. It is rich because it engages in trade with the rest of the world, but it also wants to pretend not to be part of the rest of the world – it identifies as 'above it all', and not only in terms altitude. It may be neutral but it is also a weapons dealer, and it is economically protectionist in certain ways. It lets in some refugees but not very many. It comes very close to being a functional democracy, much more than other countries, but at the same time, it has many 'guest workers' who don't really have full rights, people pouring in from Italy and Germany, some of whom are treated as second-class citizens. There are many contradictions.
I did not want this project to be about all that, however. I was more interested in the tone of mystery than the tone of anger. Because anger is not what I feel when I go there, and the project was not about going to Switzerland to do a photojournalistic report. Quite the contrary. What I wanted to explore was the feeling that – after visiting many, many countries – Switzerland was a particular place that I still like to visit without getting involved in its political problems. It was about recognizing my own need for a break, somewhere, anywhere, on this earth.
In many other places, I experience a tension that cannot be ignored or suspended for long. When I'm in the UK, I'm a post-colonial subject. I have very clear 'meaning' on the street in London, because my relationship to British racism is a very direct and inescapable one. When my parents were in school in Nigeria, they were colonial subjects under British rule, second-class citizens under white supremacy. And so, my relationship to being in London is already defined by that. When I'm in Paris, it's a version of the same thing. Even if I want to be anonymous on the street, for French people – for white French people – I have a meaning already. And, of course, in the US, I have an inescapable meaning too. I'm presumed to be either African or a black American. Each of those has a clear and fraught political meaning, and I have to participate politically in that meaning. Which means that there's a certain kind of relaxation that I can never really engage in while in the US, what with the cops or the well-meaning liberals, or the racist right-wingers or the fellow black people in America who want me to be attentive to the struggles that are going on. All of which is, you know, fine. But I don't want that to be my only experience of life.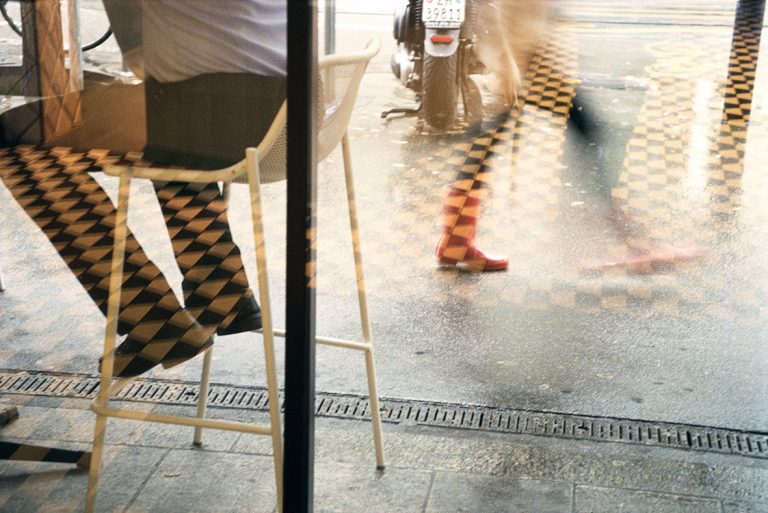 And Switzerland?
If I'm hiking in Valais in Switzerland and someone meets me on the hiking path, I think their first thought is, 'Oh, here's a hiker'. If I'm in a hotel in Lugano, people see that I'm black or I might be a bit unusual, sure, but they're not thinking, 'Here's a post-colonial subject', or 'Here's someone who's moved to my country'. They're probably thinking, 'Here's somebody who can afford to stay at this hotel'. Yes, you stand out, but the meaning of your standing out is not quite the meaning it has in other places. That's my experience of the place. I'm sure it's different for other people.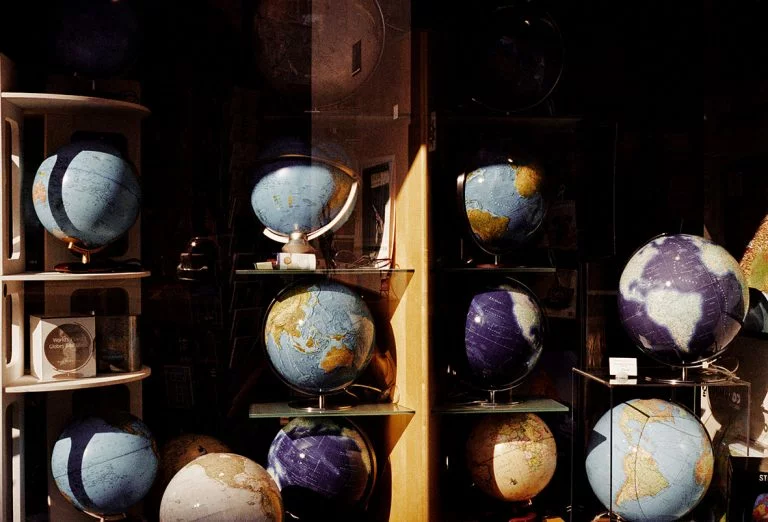 Does this connect to the title of the book? Fernweh, a German word meaning something like far-woe.
Yes. I translate it in my head as 'far away from here', the longing to be elsewhere.
What is this elsewhere that one is longing to be in? Part of the answer to this question, for me, is Switzerland. It is the place that, when I'm not there, I long to be there. But it is also a conceptual container for such longing. It is the object of the longing, but it's a theoretical shape that I can use to think through the question of longing. I'm also thinking about farness in general, as a desirable, as a restorative. And that's a farness that could, in theory, happen elsewhere as well. My years of revisiting Switzerland have been, I'd say, a lucky instance of putting that theory into practice. And now that I've put it into a book, who knows what will happen?
Author portrait © Maggie Janik