Nawzat Shamdin is an Iraqi Kurdish writer and journalist who was born and lived for forty years in Mosul, Iraq's second largest city, until he was forced to seek refuge outside of Iraq in February of this year. I interviewed Nawzat in a series of Skype calls in August 2014, as the situation in Mosul and northern Iraq was climbing back into international news headlines. Our translator was Basim Mardan, one of three Iraqi journalists and translators I interviewed in 2006, not long after they had been forced to flee the violence in Mosul that year. Both Nawzat and Basim received sanctuary through ICORN, the International Cities of Refuge Network, which has helped scores of writers and journalists facing imminent threats reach safe havens where they can resume their work.
Larry Siems: Nawzat, we are talking to each other at a time when the US has again begun airstrikes in Iraq, this time targeting ISIS forces that have gained control of large portions of the country, including your home city of Mosul. Like many others I am trying to understand how this situation developed – so suddenly, it seems – and where it may be heading.
Nawzat Shamdin: Well, the important thing to know is that this is not so sudden, certainly not for the residents of Mosul. For several years, journalists in Mosul were trying to tell the truth of what was going on. I wrote a piece about what was actually happening in 2007 and at the end of 2012 I published a two part article titled 'Everybody Knows the Secret: Pay the Islamic State or You Will Be Killed'. The series explained how the Islamic extremists were gaining control of the city, and how all factions of society, like doctors and teachers and other professionals, were paying money to those groups. At the time, more than 50,000 soldiers and policemen had turned the city more or less into a military camp; they had blocked off a lot of neighbourhoods, leaving just one entrance for the residents to come and go and had set up checkpoints all over the streets of the city as well as by the bridges and city entrances. So the question a lot of us were asking was, with all of these policemen and all of this military presence in the city, how could the Islamic State be so in control?
LS: But wasn't this pre-ISIS?
NS: ISIS were already exerting some influence and control over the city. They were already officially declaring responsibility for the killings of journalists, for example.
LS: Journalists have paid a very heavy price in Mosul, haven't they?
NS: Very heavy. From 2003 to today, some figures suggest we've lost almost forty journalists and media workers, the largest number for any city anywhere in the world. The situation has been escalating since August 2013, when my friend Kahtn Sami was killed. He was killed in broad daylight right in front of a military checkpoint and his corpse remained in the street for two hours, with nobody daring to take the body away. Two months later, two more of my colleagues, Mohammed Ghanem and Mohammed Karim al-Badrani, who both worked for Al Sharqiya satellite TV, were also killed in broad daylight in Serichana market in the city center, an area that's always crowded with policemen. A couple of days after that, they killed Bashar al-Nuaimi, a journalist who used to work with Al Mosuliya TV. And after that, Nawras al-Nuaimi, from the same station, was also killed. That's how this terrible series of assassinations started. And in each of those cases, ISIS claimed they were the ones responsible.
Interestingly, after they took over the city on 9 June and established the Islamic parliament, ISIS leaked that they had found a list of the names of the assassinated journalists in a military camp belonging to the Iraqi army. In doing this, they were sending a message to the community in Mosul that ISIS had nothing to do with those assassinations. But then what about the confessions that they had posted earlier on their websites announcing that they were the ones who had carried out the operations, that they were responsible?
LS: You yourself were targeted, I understand?
NS: Twice, and I sort of miraculously escaped both times. The threats started as far back as 2009. One time, when I went to my favorite bookstore in al-Dawasa in the central market area of Mosul, a place I had been going to buy newspapers since I was a child, the owner told me that he had heard that Al Mada, the news agency where I was working, was receiving funding from the Israeli Mossad – the equivalent of a death warrant against me in Mosul. It was the first message warning me to leave that agency. And then I got many SMSs telling me either to leave the city or declare my repentance, which essentially meant quitting as a journalist. In one of those SMSs, I was asked to pay a big sum of money to avoid being murdered. I knew at the time those SMSs were from strangers who didn't know me personally, because Mosul in general was a peaceful and well-educated community.
And then, in February, I was in the marketplace in Mosul, metres away from the place where Mohammed Karim al-Badrani was assassinated. There was a boy between twelve and fifteen years old. I saw him pulling a gun. The gun looked strange because the barrel was so long. And then I realized that the gun had a silencer. He was pulling this gun with its long barrel from a sack and pointing it at me. For a second I didn't understand what was going on because I was just turning onto the main street, into the main market. At that exact moment, in that same area, a bomb exploded. Then this little boy just disappeared. The place was filled with smoke and the smell of powder and everything, and he just vanished; he must have run away.
LS: A twelve- or thirteen- or fourteen-year-old boy?
NS: A lot of the killings are carried out by boys that age. The security officials used to tell us that teenagers could be mobilized very quickly and wouldn't attract a lot of attention, not even from the victims. They could run fast, and they also used bicycles. There's a lot of unemployment in Mosul these days, and so some teenagers are recruited very easily. We heard that the boy who assassinated one of our friends received just 50,000 Iraqi dinars to do it, which is around forty dollars, very cheap for a human being. Do we have confirmation of that? No, we don't. Whenever someone is killed, the official announcement from the security officers just says, 'An unknown person has assassinated this person.' For journalists, it became a joke: any murder that takes place, well, 'Unknown' did it.
LS: And the second attempt?
NS: Not long after that, I was driving in the al-Arabic quarter outside of Mosul, and suddenly the windscreen of my car started to fall; it just landed in pieces on my lap and at my feet. I found out it was an assassination attempt when I stopped at a checkpoint nearby. Afterwards, the soldier who inspected me must have leaked the news of this assassination attempt. I was working as the news manager for Sama Al Mosul TV and for another TV channel called Nino Al Huq at the time, and we did not say anything about the incident. But soon two Iraqi news networks were reporting the news. They were claiming they had gotten the news from me, but I had never given them interviews. Many of my colleagues who work as correspondents at other news agencies, like Al Jazeera Arabic, contacted me for confirmation. I asked them not to confirm it or go public with it, because I have a lot of friends and family members all over the country and outside who would have been terrified if they heard the news, and because my staff would have become extremely frightened.
By that point I really had no choice but to leave. My wife and children were deeply affected by these incidents. Some time before, I had applied to the International Cities of Refuge Network (ICORN), and by then we had run out of options for our salvation other than waiting for a reply to our application. I am so lucky that ICORN saved me and my family.
LS: That was at the end of February, right?
NS: Yes.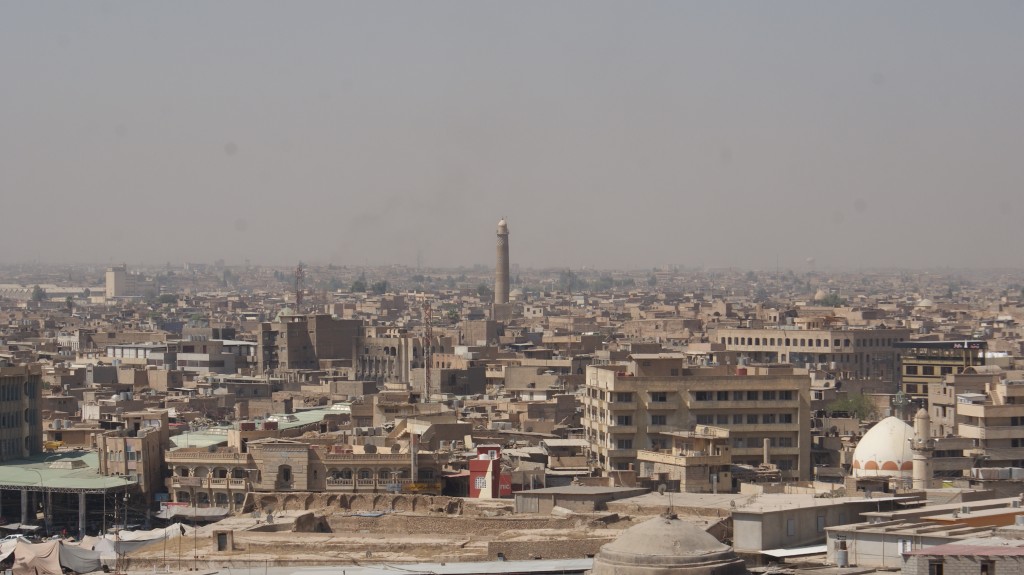 LS: When you left Iraq, did you think you were leaving permanently, or did you think would be able to go back sometime?
NS: Sometimes human beings grieve very deeply. For me, one of those times, only the second time in my life I felt deep grief, was the moment that I was watching the lights as the plane was leaving Erbil for Jordan. But at that moment, my life actually began, because in Mosul I really was a corpse.
One evening, a couple of days after I arrived in Norway, my friend Wathiq al-Ghadhanfari, who was one of the most famous anchormen in Mosul and a public spokesman for the city government, called me to tell me he was very happy that I got out of Iraq and that I was finally free. The next afternoon I saw on the news that he had been killed. He was the last colleague of mine to be killed before ISIS took control of Mosul in June. But the killing has continued, of course. Just a few weeks ago I heard about the death of Jamal Ibrahim al-Masri and a female journalist, Masun al-Jiladi. About one hundred journalists or media workers have been driven out of their homes, and some of them were deported after the ISIS invasion. Many others have been arrested by the ISIS courts.
The rest of my friends and colleagues are stuck in the city. I'll give you one example, a friend of mine who has six children left Mosul earlier with his family to go to Amman, Jordan. He stayed there for a while, but he used up all of his savings and had to return to Mosul. And now his family is trapped. They cannot leave any more; there is no access to Kurdistan now; the roads to Kurdistan are blocked. The roads to Baghdad are blocked. Any roads that aren't blocked are extremely unsafe.
LS: What do you hear from your friends back home about the situation there now?
NS: ISIS has stopped all artistic activity. The Academy of Arts has been shut down. There are no galleries any more, and any paintings that contained a human form or a human face have been destroyed. No newspapers can be issued; now we have armies of unemployed journalists and literary men and women. The law school has been closed. When ISIS entered the city, they told the judges no harm would come to them, but then they changed their minds. A few judges managed to escape, but most have been arrested, and several have been killed.
ISIS is also chasing all former military officers who were in the army before 2003. They're imposing a huge tax on any product or car that enters the city, especially cars that are carrying food; the value of that tax, according to Islamic sharia, is about a quarter of the value of the products.
The scene in the streets of the city since the withdrawal of the Iraqi army and the entrance of ISIS is as though Mosul has turned into something like Kandahar in Afghanistan. You can't find any of the familiar architectural features of the city because they have been destroyed. Everywhere you look you see bearded men dressed as Afghan men dress, and even many of the original inhabitants of the city have started to grow beards in order to feel safe. The general atmosphere in Mosul is one of fear – of disappointment when it comes to the central government in Baghdad, and of fear of the future under the so-called caliphate and ISIS. New rules are being imposed all the time; now smoking can bring public flogging. There are rumours everywhere that female circumcision is taking place, and something called jihad al-nikah, which basically means that mujahideens who come from outside the city are entitled to temporarily marry any woman they choose, according, they claim, to an Arabic tradition – though in fact it is neither an Arabic nor an Islamic tradition. So people are very scared and very worried, because this is not how they used to live.
LS: I want to talk with you about just that: about how people used to live in Mosul and, especially, how you used to live in Mosul. Can you talk a little about your childhood, and how a Kurdish Iraqi boy growing up in Mosul not so long ago would become a writer and a journalist?
NS: I was born in the al-Faisialiyya neighbourhood of Mosul on 1 August 1970. My family was originally from the city of Zakho, in the far north of Iraq near the Turkish border. For most of the first half of the twentieth century, the Shamrin family controlled a large area of Kurdistan, and one of my relatives was actually a member of the Iraqi Parliament from 1921 to 1958. But at the end of 1958, after the Baathist coup, a new law was passed – an agrarian reform law – and all of the lands that belonged to my family were confiscated. My grandfather found himself forced to move to Mosul, which is how I came to be born there. I lived with him, my grandmother and my mother and father until I was four. But unfortunately my father and mother separated, so I had to go and live with my aunt, who is really the one who raised me. I lived with her up until I got a bachelor's degree in law from the University of Mosul.
That environment, and especially the sort of loneliness I experienced when I was living with my aunt, gave me the motivation to read and write from a very early age. By the time I was seven I'd started reading newspapers, like the very famous Kuwaiti newspaper al-Jamahir, another newspaper called al-Rassid and another very famous Iraqi magazine called Alif Baa. This was alongside many other magazines specifically for children, like al-Mizmar and Majalati, which included poetry, puzzles and crosswords, sports news and short stories written for children. Not to mention comic books – the same ones that you have in the States, especially Superman.
LS: And all of these materials were freely available?
NS: In the early eighties the government distributed those children's magazines in the schools, so we got them easily. But the other newspapers and magazines, that was another story. They came every day from Baghdad. They were released very early in the morning, but they wouldn't reach Mosul until around 10 a.m. We would know they had arrived by the airplanes: when we saw the plane land at the Mosul airport, we knew the newspapers and magazines had arrived. I and two other friends of mine, children my age, would actually race to a bookstore and wait for those newspapers, magazines and comics to arrive.
It was a special kind of joy. I didn't understand many things in those newspapers, so I used to read them backwards, from the end to the beginning, not from the beginning to the end. Of course I was trying to ignore all the news on the front pages, which was the news of death and war. I needed another twenty-five years to learn how to start reading a newspaper or magazine from the first page to the last – something I finally learned because of my work as a journalist.
LS: Were your friends Kurdish or Arabic speaking? And which language did you speak at home?
NS: When I lived with my parents and grandparents, we spoke Kurdish at home, naturally, and it was the same when I lived with my aunt. But Mosul is a predominantly Arab city, and the majority of the people who lived around me were Arab-speaking. The city of Mosul has something very special about its Arabic, a very specific accent, and as a child and teenager my friends and companions all spoke this typical Moslawi Arabic, which of course influenced me a great deal. And my wife is Arab. So for the last ten years, since we got married, I don't remember speaking a word of Kurdish in the house. I'm watching my children grow up speaking Arabic. I haven't taught them Kurdish; I've failed in that.
LS: You mentioned the headlines of your youth were dominated by news of death and war; this, of course, would have been the Iran–Iraq war. How conscious were you of that conflict, and how did it shape daily life in Mosul?
NS: I was full of fears. One of those fears was of the Iranian jet fighters that were bombing randomly, everywhere in the country. Then there were the black banners that were spreading in the city, the banners were used to identify the houses of martyrs, of those killed in the war. Every family who lost someone would hang a black banner on their house. There were the propaganda films about the war released on Iraqi television, on the one and only television station we had in Iraq at that time. And above all, there was the talk of the adults, a continuous conversation about people disappearing and people who were brutally killed in the war, and my own natural fear that I would have to spend the rest of my life without a mother and a father. All of this seems to have created the person talking to you now.
LS: How would you describe your political consciousness at the time?
NS: Interestingly, my first understanding of the situation came from literature. The first book that I read was for adults, East of the Mediterranean, by the renowned author Abdul Rahman Munif. I read it when I was eight years old. The main character of this novel is an Arab person living in a prison. Munif never actually identifies the country where the events of the novel are taking place. Munif himself was from Syria, but his mother was from Saudi Arabia. So I had the sense that the setting of the novel was somewhere not so very far away, and the scenario of a character living alone in a prison cell, in solitary confinement, had a huge effect on me. The character was subjected to torture: they put him in a very big bowl of water in the middle of the desert, and they left him chained there, frying.
You can imagine, for a child my age those images were extremely terrifying. All the images that I was reading in the novel mirrored actual events in my childhood in Mosul. In the novel, the regime constantly praised itself with propaganda; in Mosul, we were reading slogans in the streets that there might not be life without Saddam Hussein. The persecutors in the novel wore army uniforms – the same uniforms as the members of the regime in Iraq, the same uniforms as the Baath Party, the same uniforms as the police and the party members who were hunting deserters in Mosul, who were executing them right in front of their houses and who were charging the family of the executed person the price of the bullets they used in the execution.
That was my first impression of the concept of dictatorship as a child, and my first realization of: how could this not be a dictatorship?
LS: What else were you reading as a boy and a teenager?
NS: By the time I finished primary school and was in secondary school, when I was around thirteen, I was a constant guest in the library, which was not far from where I lived. That's where I was introduced to Dostoevsky and to Leo Tolstoy, and then to writers from the West, Ernest Hemingway, William Faulkner and Gabriel García Márquez. The strange thing is that, with the exception of that novel by Munif, I didn't have a taste for Arabic literature. You just felt something was missing. I didn't understand at the time that in the Arabic language publishing houses there were people who were actually working for the intelligence services, so-called writers and editors who were really what we came to call 'scissors', because their job was to cut, cut, cut. But you definitely had the impression that outside of the Middle East, the writers were telling the full truth. This is why I was mesmerized by The Old Man and the Sea, with all its symbolism. Even at that age, I was able to realize that what the man brought to the shore was not simply the skeleton of a fish.
In secondary school, I also read a lot of classical literature, and whatever I was able to find in old books that had anything to do with the history of Iraq and the history of the city of Mosul. Those books, too, were written by people who were not Arabs, because I had the feeling at that age that our historians were also liars. I understand now that they had a right to be liars, because they may well have been threatened by a dictatorship that would actually kill them if they used the wrong word. Everything was watched; there were Baath party agents in every neighbourhood, watching; you know if you did something and they couldn't capture you, they would arrest your family and punish them with the same punishment that was meant for you. It was only if a writer actually left the country to live somewhere else that he would have the opportunity to tell the truth as it was. But if they managed to get to a place where they could do this, their books would not cross the border to us. The Iraqi postal service was under surveillance: I personally never received a letter through the post without it being opened by the authorities.
LS: Was there any underground literature in Iraq?
NS: Not really. There was a phenomenon of what we called copy-machine literature, where writers who wanted to publish their books but didn't want to submit to official publishing houses would go to a photocopy business – we had to use these, because of course we didn't have copy machines ourselves – and copy their manuscripts and publish them illegally, without serial numbers. This sort of literature was not under the control of the authorities, but activities were under constant surveillance. Very often someone would report these books, and many, many writers, especially poets and short story writers, lost everything. Some had their houses destroyed. Many were imprisoned and tortured. Many were actually executed.
LS: And yet you chose to become a writer. When, and why?
NS: I started with poetry. Like all other poets, I just started. I was under the influence of Nizar Qabbani. I wrote too much about love, every time I fell in love with a girl, and I used to fall in love a lot. I was writing poems my first year of college, in law school. I published a little collection of both prose and poems called My First Names. Most of the poems were romantic, but one of the texts was actually about the country, and looking back, it was rather brave and daring. This text was called, 'Who are they?' and an excerpt from it reads: 'I alone know who they are, skeletons of the blood of the shrines. Who are they? I'm the only one who knows who they are.' The 'they' I was talking about were the people committing crimes, the ones who were responsible for making citizens disappear, who decided arbitrarily that this day should be holiday, who decided arbitrarily that this place is not accessible to the public, who were forcing us against the wall, who were preventing me from travelling, who were deciding how I live my life.
LS: What year was this?
NS: This was not so long after the invasion of Kuwait, very close to Operation Desert Storm. It was at the beginning, I guess, of the economic embargo. Not that I was terribly brave: I was still heavily under the influence of the fear of the dictatorship, and my main concern was not to be one of its victims. And that served me well. I was never arrested and did not spend one second in a police station or a prison. During Saddam's time, I was very good at avoiding anybody who had anything to do with politics. If you wanted to live in peace, you never spoke badly about Saddam Hussein. That is how you survived.
LS: When did you start writing fiction?
NS: It was around this time. I very quickly realized that I was a failing poet, that no matter what I did I wouldn't be adding anything to what Abdul Razzaq Abdul Wahid or al-Jawahiri or Maad al-Jaburi or the other great Iraqi poets had done. And yet I felt like I had a real life story to tell, so I wrote a novel called The Little Aga in the mid-1990s that talked directly about dictatorship. There was, of course, no way that I could publish it.
But at the time, several writers were writing heavily symbolic novels, ones that, for example, used flashbacks, took examples from history – like Hammurabi or Sennacherib – and criticized those ancient kings, saying whatever they had in their hearts against those kings, and readers would know exactly who they meant. It was funny that the censors had no problem with such works, even though any beginner would know that they were actually targeting Saddam Hussein. And that's how I wrote my second novel, called Half the Moon, which was actually published in 2000 by a government publishing house that was part of the department of public affairs.
In the novel, the main character wakes up but he cannot find the light. He realizes, or we realize as we're reading the novel, that he's blind. He tries to face the new world and yet he is very happy with his blindness, because the woman he is in love with is handicapped as well; she has a problem with one of her legs. It was in fact the publishing house that was blind: they couldn't see that I was using a character who wakes up in the morning and can't find the light as a symbol for how the Iraqi people woke up on the morning of 2 August 1990 and heard, like the rest of the world, that the Iraqi army had invaded Kuwait. That is the main wound that has affected Iraq; it is a wound that will never heal.
As I say, these things weren't subtle. There was an especially obvious paragraph where the main character, contrasting his blindness with the world of those who can see, says, 'I would say to those who enjoy the whites, and the greens, and the reds, that the blackness is the beginning and the end.' It signified the fact that Iraq, since its first days and until this moment, has been drowning in blackness; it's also an allusion to the black banners I mentioned earlier, and our habit or tradition in Iraq of announcing the death of a person with a black banner. The book was a finalist for a major award in the United Arab Emirates, and many critics mentioned this passage. They were astonished that the Iraqi censors didn't notice it.
LS: Have you continued writing this kind of novel?
NS: No. Because ultimately the story and the text itself dictates the way it should be written. In the novel I wrote after Half the Moon, the main character is someone who was able to escape the Kuwait War by hiding in the cellar and staying there until 10 April 2003, which is the day Saddam Hussein's regime fell. There, in the cellar, the main character tells us what actually happened during the Iran–Iraq war, what actually happened in Kuwait, what actually took place during the embargo and Desert Storm. In his own way, the character explains to the world why the regime fell, and by writing about this character it became impossible for me to lie to the next generation. I couldn't be symbolic; I had to be transparent and describe what actually took place. Because I have faith that literature is the memory of a people, or the selected memory of a people. Some day I hope to be able to publish this novel; for now, it is like a letter in a bottle that I've thrown into the sea.
LS: Does the idea of a text finding its own form, of a story dictating the way in which it is told, have anything to do with your decision to become a journalist?
NS: Before 2003 there were very few honest magazines and newspapers in Iraq. There were official newspapers, a daily called the Republic, or al-Joumhouria, and others called Iraq, and Revolution and al-Kadacia. There was a sporting newspaper owned by Saddam Hussein's oldest son called simply al-Baath. All of these were published by the Baath Party, and the editorials on the first and second and third pages would always be the same. The headlines always started with the phrase, 'Mr President Saddam Hussein, may God protect him', and had a large image of Saddam Hussein with the biggest smile. That is why the number of journalists was actually very small compared to writers of fiction; there were only journalists of the regime, as we called them, and since I was not one of those, I was not accepted in Iraqi journalism.
But after 2003, Iraqi journalism flourished. The US army actively supported and encouraged journalism in Iraq, and particularly several magazines in Mosul. Of course, like writers everywhere in the world, Iraqi writers could not make a living writing fiction, it's not actually an occupation, and so there were many unemployed writers. Not me; I had a job as a lawyer, but still, between 2003 and 2004, around fourteen newspapers suddenly emerged in Mosul, and there were not enough journalists to fill the gap. So many writers of Mosul found they had suddenly become journalists.
It wasn't just economic opportunity, though. After 2003, for every Iraqi – and for me as an intellectual – the feeling was like getting out of prison after too many years. There was this hunger for information, to live as normal human beings, away from censorship and the possibility of a bullet in your head at any moment. At first we were trying very hard to write as much as possible in order to equip the Iraqi people to make the most of this historic opportunity to have a democratic Iraq – a country that is not the possession of someone but a possession of the people, a people that has a civilization that dates back thousands of years, in a land that has great fortune and wealth, that is, enough oil to have made Iraq a very advanced country – on one condition: that the people would say, really and truly, a farewell to arms.
LS: And?
NS: Well, that didn't happen. But in a way, it forced us to be better journalists. My first journalism job in 2003 was with a newspaper called Mesopotamia, and then I worked at another newspaper called the Future of Iraq as an editor, but my real beginning in the world of journalism started in 2004, when I worked as a correspondent for al-Mada news agency. It's a very big news agency. I worked as a correspondent for al-Mada for more than ten years. I was doing daily stories and also reports and investigations. My specialization was telling stories that hadn't been told before, which was a new kind of journalism in Iraq. As a storyteller, or story writer, I was good at that. I wrote hundreds of journalistic stories for al-Mada, and by doing that I was actually speaking the voice of the city of Mosul, the voice of the normal people living there, the daily life of the people.
Al-Mada has close ties to the President of Iraq, Jalal Talabani, who is Kurdish, and it was run by one of his most important consultants. And that meant it was in a very dangerous position in Mosul because of the terrorism, a sort of terrorism that can't see any difference within factions of the society; to the terrorists, all Kurds were 'peshmerga', or 'occupiers'. That didn't stop me from using my name in my writing, but it's how I learned to avoid being in the wrong places in the city – places that we in the media called 'hot places' or 'dangerous zones' because the extremists were there. Because of my Kurdish background, these people – people who didn't have anything to do with the city, but who are very successful at spreading terror – were very hostile towards me. And that hostility spreads. Eventually you find that you are a journalist in a place that has no faith in journalism.
LS: How? I think this is what is most difficult to understand from a distance. How does this hostility spread? Couldn't this have been prevented?
NS: Yes, it could have been prevented, if the local civilian government and the security forces had worked together and cooperated – or if they had actually formed security forces from the people of Mosul, from the people of Nineveh. Instead, the security forces were made up of two brigades, one of the army and one brigade of the federal police, and their leaders were from elsewhere. There was no cooperation and no harmony at all, especially because of the sensitivity between Sunnis and Shia. The federal forces were predominantly Shias, and Mosul, as you know, is generally a Sunni city. On top of that, there are a lot of corrupt politicians in Mosul – opportunistic, corrupt politicians trying to make that soldier in the street or that policeman out to be an occupier, part of an occupying force, and not just an Iraqi person doing their job for their monthly salary. But those politicians are silent now. Most of them have disappeared. What would they say now about the people walking around the city of Mosul freely, as we speak, wearing Afghani uniforms and speaking in Pashto and other foreign languages that we don't understand? Which of these are really occupying forces, this one or that one?
LS: And yet the coverage of ISIS's victories in the past several months has suggested that they have found a good deal of local support as they moved through northern Iraq.
NS: That's true. One of the things that ISIS does is to dig up old narrative traditions of Islam and start declaring these as new traditions or new rules through the mosques, as if a prophet had just come up with them. But these rules resonate with people who believe in the traditions ISIS believes in; at the same time, these narratives connect with what is happening now politically. A good example is what happened in Sinjar, with the Yazidi people. Islamic extremists view Yazidis as infidels or non-believers, and say that Muslims are therefore allowed to kill them, or rob their property, or take their wives and children. Many Iraqis may not believe that, but since 2003 Sinjar had been under the control of Kurdish forces, and when the Iraqis see ISIS attacking and occupying Sinjar, it is as though ISIS is actually returning part of their old town to them. To some, ISIS is not only representing Sunni Islam; it represents Arabism, and so they should somehow support them in their war against the Kurds.
But the question that I can see you want to ask is: do people actually sympathize with ISIS? For most of the people who live in the province of Nineveh and the city of Mosul, there is total disagreement with the thoughts and beliefs of ISIS. But in many of the tribes and clans that are living on the outskirts of Mosul and in the southern part of Nineveh province, ISIS may well have found some sympathy and support. I heard from my friends in Mosul that when ISIS took Mosul in June, the first attacks on symbols of the city were on a big statue of al-Mala Othman al-Musolli, a famous musician, and Abo Tamam, a poet from the middle ages – and that the destruction of those two statues was actually carried out by people with accents from the south of Mosul.
LS: I think the idea that ISIS is pulling narratives from history and promoting them as new, and that those narratives end up winning out over people's actual knowledge and experience and history, is fascinating and terrifying. And there are two strands of experience that those narratives seem to be burying or defeating. The first one is of multiculturalism: Iraq is a religiously and culturally diverse country. The second one is that Islamic traditions include tremendous cultural riches, in literature, music and art. So why isn't the response to ISIS that 'you're presenting us a false narrative, and our real heritage and cultural reality is of multicultural tolerance and great achievements in the arts?'
NS: That kind of response was there. Or is there. But ISIS does not hear it, and even if they did, they would ignore it.
But you're right, for the people of Mosul, on the public level, there is a sort of total rejection of what you might call ISIS culture, because it is a very alien culture for the city. Mosul has always been known for its cultural and social diversity. The common man in Mosul, the man on the street, is used to meeting, on a daily basis, a Christian, an Arab, a Turkoman, a Kurd. There's even a neighbourhood in Mosul, a newer quarter on the eastern side of the city, where the Arabic is different from the rest of the city, because the language is infused with so many Christian and Kurdish and Turkish or Turkoman words. Living together is a thing that has always gone on; Mosul, before 2003, was a melting pot of minorities.
But suddenly, we have lost that. If you had to put a title on it, you could say that Mosul has become a city without minorities.
LS: How?
NS: The process actually started before 2003, with Saddam Hussein's regime's propaganda, going back to the first Gulf War in 1991, where he brainwashed the people with speeches calling the war a 'crusade'. Then George W. Bush used the term himself before the 2003 invasion, and even though he corrected that mistake, the Iraqi media kept replaying it and replaying it. So if a person was, say, fifteen in 1991, he would be well into his twenties in 2003, and he would have been conditioned to feel animosity against Christians. For one inclined to extremism, he might even be willing to kill or displace them. Many people who lived and worked side by side with Christians abandoned them and didn't work to defend or protect them when they started to be threatened.
This is what happened after 2003. I have seen many Christian corpses with my own eyes, corpses nobody dared to remove from the streets, for fear that by doing so they would make themselves targets.
LS: And for you, who grew up a Kurdish Iraqi kid with Arab Iraqi friends, how does it get to the point that you are targeted for assassination in your own city?
NS: Same kind of thing. After 2003 the Peshmerga – or the Kurdish forces – entered Mosul, and there was a growing Arab nationalistic reaction in response to this which had roots in the Baath party and other groups that had no enemy other than the Kurds. And so at this time the killing was directed against the Kurds. After the attack on the shrine of al-Askar in Samarra in 2006, a sacred shrine for Shia Muslims, the Turkomans and Shabeks became the targets, even though they themselves are originally Shias. The sectarian war had started. That basically sums up the story of minorities in Nineveh province. Unfortunately the story of targeting minorities in Mosul is not new.
So when ISIS came along, they felt the animosity between these groups. They saw that the foundation was laid and that there was an underlying ethnic uneasiness or animosity between Arabs and whoever is not Arab. I felt it personally. I was a member of the administrative committee of the writers' association of Mosul, a member of the journalists' association and many other associations in Mosul to do with the arts and heritage; I was a well-known journalist in the city, a lawyer with many friends in the field. And yet there were many people who saw me as a Kurd before all of those other things, who saw that as my main identity. I always said, 'I'm here because I belong to the city – because of this city, not because of my ethnicity.' But it seems like I couldn't deliver that message. I failed, and that's why I'm here.
LS: One of the events in Mosul in the past few weeks that has received international coverage is the destruction of a holy site that was said to be the tomb of the prophet Jonah, because it received international attention, it is tempting to think of destroying Jonah's tomb as a kind of message from ISIS to the world. But really, from what you're describing, it sounds more like the continuation of a process that has been going on for quite some time, and that has regularly included the destruction of religious and cultural heritage sites.
NS: It's true, but it's also a unique event in the sense that the tomb of Jonah itself has a very intricate connection with everything I've described so far. This has to do with the special place on which the shrine of the prophet Jonah was established. The site is known as the Hill of Repentance, and has important religious value for all Jews, Christians, and Muslims – and in a funny way, for the Kurds, too.
Historically, the top of that hill was the site of the castle of the Assyrian king Esarhaddon, dating to the seventh century B.C. In the 1980s, during the time of Saddam, there was a renovation campaign on the mosque that is there now, and one of the tractors that was working on the site found the remains of the palace, including a gate and a winged bowl. It was documented and photographed and then they sent truckloads of concrete and buried the whole site so that nobody could loot it and went on with the renovation of the mosque above it. In fact, every inch of the site has archaeological value. After the Assyrian castle there was a synagogue, and above that is a church dating to when the Christians came to town, and then a mosque was built above that church. And if you paid close attention to the way the place was destroyed it really seems as if it was an attack against the history, the past, the heritage of the city. When I first saw the video, it made me cry. I was wondering why they couldn't have just destroyed the tomb itself, with hand tools or whatever. Why did they have to blow away the whole place, and what was the message? It seems like the message was being delivered to all sides, and to the world.
LS: You mentioned that the site had special significance or value for the Kurds, too?
NS: Very much so. Because near the mosque and the Hill of Repentance is a big marketplace known as the Kurdish market. Many simple people, poor people, very kind people, would start their workdays by looking on the serenity of that shrine in order to feel safe and optimistic about the beginning of a new day. Now when they wake up and start their day they do not see that shrine any more, and they feel desolate. For everyone, it feels like Mosul has lost a big part of its uniqueness. The city was known as the Home of the Forty Prophets, because it was said that there are forty biblical prophets buried in Mosul, the city of shrines and holy places and mosques. And that made Mosul throughout history a city of social acceptance. It is not like this any more.
Interestingly, immediately after the destruction of the shrine of the prophet Jonah, word spread in Mosul about militant groups forming to fight against ISIS. One of them, called the Brigade of Mosul, is led by Usama al-Nujayfi, the former head of the Iraqi parliament. Another group is calling itself the Brigade of the Prophet Jonah. We don't know if these groups have actually fought any battles outside of their Facebook pages; all we have seen is declarations from them. As far as I can tell, they only have media value, nothing more. The fighting that's actually taking place at the moment is in the north and eastern sides of Mosul, where the Peshmerga forces are; I've heard they've actually made it five kilometres into the city. There's been some cooperation with the central government in Baghdad, which has provided airstrikes. And so it seems like the war has actually taken another turn, with the Peshmerga regaining some of the respect they lost when the Arab speakers of Mosul regarded them as occupying forces.
LS: Does this mean that ISIS and its Islamic State will not last in Mosul?
NS: Let me put it this way: the people really covering what is going on, they describe ISIS members as always looking up into the sky. ISIS are always looking for the fortunes of war. When they carry out an operation, for example a detonation or an explosion, they do it in a hurry; they know that they have a mission that has to be done, and then they'll disappear. They don't do anything that points toward stability or a normal civilian life. They haven't actually built anything; the only thing they do is destroy. It's more like a raid, according to the traditional Islamic understanding of that idea.
But that doesn't mean that if ISIS is routed or retreats Mosul will recover. You have to ask the question, how did ISIS manage to gain so much so fast? Is it that ISIS's enemies are so weak? Or is ISIS that strong? Or is it that ISIS are supported somehow by more powerful forces? How come when they arrived the army suddenly withdrew, leaving behind all their weapons and their vehicles without taking anything with them? These are the kinds of questions people in Mosul are asking. Many people in Nineveh believe that ISIS is directly supported by regional forces, or regional governments or states. Some say that ISIS is actually supported by Iran, some say it's a Saudi organization, and both groups have their own justifications for their arguments. For my part, I'll say this: If you look at our recent history – the growing justification of social hatred in Iraqi society, the directing of that hatred toward particular groups at particular times, whether Yazidis or Christians or Kurds or Sunnis or Shias – well, the fractiousness between minorities seems to have benefited ISIS one hundred per cent.
LS: So what does the future look like? What is the Mosul of, let's say, ten years from now, of 2024?
NS: Ten years? In a way, you can actually think about what is happening in Iraq as part of a cycle that happens every ten years or so. In the seventies we had war with the Kurdish rebellions. Ten years later we had war with Iran. In the nineties we had the occupation of Kuwait and Desert Storm. A decade later, the American occupation and the fall of the regime of Saddam Hussein. Now, in 2014, the occupation of ISIS. Maybe in 2024 we'll have the occupation of the People's Republic of China: the Chinese Republic of Iraq.
Honestly, nobody knows what is going to take place. The people of Mosul have no trust or any sort of confidence in their future. The basis of a normal, healthy, civilian life are being destroyed. To build a life under those circumstances is almost impossible. I'm not talking about rebuilding a city the way you rebuild walls and houses and buildings, but the rebuilding of a democratic base in which a human life actually has value. Our society is turning into a very tribal form of society that believes in revenge and honour killing and murder.
I'm sorry for my pessimism, but this is actually what's taking place. What I'm trying to say is that there is no confidence, no ground to stand on. The killing is just like a small ball rolling downhill, now, especially in this tribal environment that has a strong belief in revenge killing. Too many people have fallen in all parts and all constituencies of the society; how can you ever convince all of the constituencies of the community to go back to the same place and sit together again? These kinds of wounds are not going to be healed in ten years.
For some groups, like the Christian minority that is being driven away, it is possible they will never come back; they may not have a future in Mosul at all. There is simply nobody to defend them. For the other groups, the other constituents of Iraqi society, they will probably have blocs in parliament and other powers behind them, and maybe will have ways to defend themselves, but that hardly means there will be a peaceful future.
LS: So what is the future for you? What has your recent experience done to your own sense of identity, and what has finding refuge outside of Iraq done to your vision and your mission?
NS: I remain what I have always been, a human being first, and then an Iraqi. And then I am a writer, one who has always approached my work with a humanitarian vision and message. And the beautiful thing about that is that it is universal: I've gotten feedback from people who live in Africa or Asia or America who feel and understand what I write. That is the magic and charm of literature and I think this is going to be where I find my identity now. It's funny, when a president or a manager retires, they say he is the 'former president' or the 'former manager', but I've never heard of anybody who calls himself a 'former writer'.
LS: What are you working on now?
NS: The first thing I did when I arrived in my new home is to start putting the finishing touches on my latest novel. I also gathered some of my articles into a book and sent another novel to Germany for translation. I would feel very lucky if some of my work could be translated into English. I have to live my life here now, and I want to connect with readers.
What will I write about? Sometimes I think I must concentrate on giving a voice to those suffering in Iraq; other times I think I should forget it all and start again over here. I really don't know. It does seem like I will somehow be stuck in Iraq, because literature is derived from memory, and my memory for the last forty years comes from there. At the moment I'm writing a story about a former policeman in Mosul and what happens to him after ISIS arrives. ISIS actually declared when they entered the city that they would pardon all former members of the police forces and the military in Mosul. Days later, they called them all to the city centre, had them turn in their guns and declare their repentance for their previous affiliation with the Iraqi government. But many had already lost or given up their weapons, and so some had to buy guns from members of ISIS itself, just to bring them and turn them in. Days after they do so, ISIS began arresting or killing them.
I'm also starting to think about a novel about a journalist in Mosul, but as you know it takes a lot of time for the narrative of a novel to mature, and I will certainly need a couple of years before I can produce a novel while in exile.
LS: And what about journalism?
NS: I say my identity is as a writer, but in a way journalism is my life. I can't stop doing it. It might sound funny or even stupid, but when I lay my head down to sleep, or before I get up and go to the bathroom or do any other daily activity, there's a voice in my head that's talking about the news, about writing a story or doing an investigation or exposing something. My brain just works as a journalist. It's ingrained after years of working day in and day out for several news agencies. I was a news bee. I was a news chicken that laid eggs of news. That's not something you can just stop doing. When I first got here I wanted to take a break from journalism while my family was getting used to things, while my children were settling into school and adjusting to everything. But that voice in my head is still there, and it's getting stronger by the day. The break is almost over.
Photographs courtesy of Nawzat Shamdin