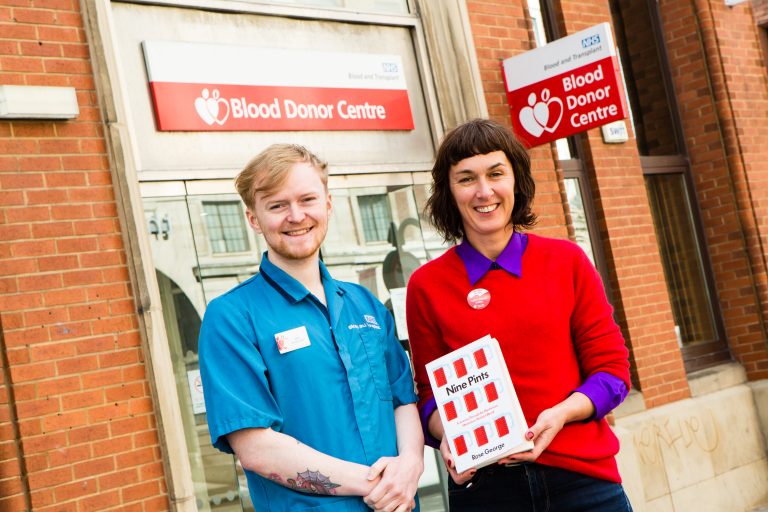 Bookshops around the country have joined a campaign to encourage readers to give blood, organised by Granta Books in conjunction with NHS Blood and Transplant. Inspired by Rose George's book, Nine Pints: A Journey Through the Mysterious, Miraculous World of Blood, the #ShareAPint campaign aims to encourage curiosity about the potent liquid that gives us all life, and raise awareness of the importance of becoming a donor.
Each bookshop taking part will create a #ShareAPint display to give their customers the facts about blood, and information on how to donate blood locally. A list of participating bookshops follows below.
Mike Stredder, Director of Blood Donation at NHS Blood and Transplant said: 'We are grateful to Rose for highlighting the unique qualities blood holds and the vital role it plays in our lives. Just one unit of donated blood can save or improve the lives of up to three people. Every unit of blood given to a patient has come from a valued voluntary donor like Rose. We need over 6,000 blood donations every day to treat patients in need across England. We hope the book will inspire readers to make an appointment to donate at blood.co.uk.'
Rose George said: 'Researching the book gave me a new appreciation of how precious blood is, and so it felt more essential than ever to donate some of my own.'
Joanne Sims, of Books on the Hill bookshop in Clevedon, comments: 'We are delighted to be involved with this campaign. Members of our family are here today because of blood transfusions.'
Nine Pints (£14.99) published on 25th October 2018 by Granta imprint Portobello Books, reveals the richness and wonder of the potent red fluid that courses around our bodies, unseen but miraculous. In it, Rose George travels the world to tell nine different stories about blood. In Wales she gets a tour of the UK's only leech farm to learn about the vital role the creatures still play in modern surgery; in Nepal, she meets girls challenging the taboos surrounding menstruation; in the Canadian prairies, she visits a controversial plasma clinic; in a London hospital she accompanies a medical team revolutionising the way we treat trauma; and she introduces the inventive Janet Vaughan, who set up the world's first system of mass blood donation during the Blitz.
Rose George is the author of A Life Removed: Hunting for Refuge in the Modern World, The Big Necessity: Adventures in the World of Human Waste, and Deep Sea and Foreign Going: Inside Shipping, the Invisible Industry that brings you 90% of Everything. Rose writes frequently for the Guardian, the New Statesman, the Scientific American and many other publications. Her two TED talks, on sanitation and seafaring, have had nearly three million views.
Participating bookshops:
Chard Bookshop, Chard, Somerset
The Bookcase, Lowdham, Notts
The Edinburgh Bookshop, Edinburgh
Newham Bookshop, London
City Books, Hove, East Sussex
Warwick Books, Warwick, Warwickshire
The Rabbit Hole, Brigg, North Lincolnshire
Browsers Bookshop, Porthmadog, Gwynedd
Griffin Books, Penarth, Glamorgan
Pen'rallt Gallery Bookshop, Machynlleth, Powys
Mostly Books, Abingdon-on-Thames, Oxfordshire
Books on the Hill, Clevedon, Somerset
Blackwell's, Oxford
The Chorleywood Bookshop, Chorleywood, Hertfordshire
The Haslemere Bookshop, Haslemere, Surrey
Imagined Things Bookshop, Harrogate, North Yorkshire
News From Nowhere Radical & Community Bookshop, Liverpool
Drake the Bookshop, Stockton-on-Tees, Co. Durham
Bakewell Bookshop, Bakewell, Derbyshire