Delhi. Did Virginia Woolf write about the heat while she was traveling in Italy, Greece and Turkey? I cannot remember. I can remember nothing in this heat. There have been days where the temperature was over eight degrees Celsius higher than normal. The previous month was the hottest since India started keeping records 120 years ago. People dying from heatstroke; schools closing early or simply shutting down; power outages. Before the heat here I was at the British Library in London, looking at Woolf's notebooks from her travels over 1906 –1909. When I bought my own notebook at Heathrow, I made a little calendar in plain imitation of how Woolf had drawn her plan of travels during October 1906. Milan, Siena, Perugia.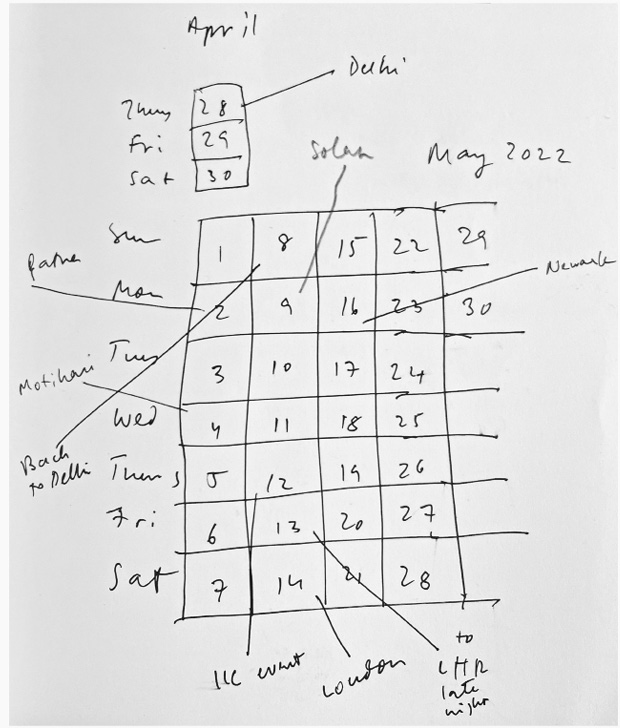 In Delhi the heat is chemical, something unworldly, a dry bandage or heating pad wrapped around the body. I sent a note to my friend Ravish, who was an anchor on NDTV's Hindi show Prime Time. I asked Ravish that if Inuit supposedly have more than fifty words for snow (a specific word, for example, for snow used to make water), why don't we Indians have more words for heat? Ravish asked members of his audience to respond to this question. Words and phrases that Ravish and I didn't know, in a mix of Indian languages, came in from different cities and parts of the country, adding nuance and variety to what the newspapers were only calling a 'heatwave'. Ravish concluded his monologue by saying that if you forget the many words for heat in your own language, you will also forget the names of your neighbors or the fact that people of two different religions used to live peaceably together. You will also forget why you are beginning to forget.
My publisher provided a car for me to go to bookshops and sign copies of my books. At one point I passed a billboard that showed a fighter jet in the sky and above it these words: Join IAF and give your career a flying start. That Indian Air Force ad hadn't changed for forty years. I remember seeing it from bus windows in my late teens, and how, because I lacked any sense of direction, I would imagine myself in a jet, my head in the clouds.
There are new billboards too. A ubiquitous one is that of Arvind Kejriwal, Delhi's Chief Minister, sitting in a yoga pose on green grass. The ad promises that a yoga teacher will be in touch if you call the number provided. Nehruvian secularism, with its separation of state and religion, is now a thing of the past; more dangerously, religious identity, specifically a Hindu identity, is conflated with the national identity. To be Indian is to be Hindu. On the campaign trail, Kejriwal recited from Hindu prayers and sponsored government-paid pilgrimages for the elderly from Delhi, most egregiously to places like Ayodhya, where a sixteenth-century mosque was demolished by a Hindu mob in 1992 as a part of the ruling Bharatiya Janata Party's ascent to political power. No one, not even an opposition politician like Kejriwal, who should stand outside the ruling party's Hindutva fold, dares show a distance from what is fast becoming – no, what has already become – the culture of dominant majoritarianism. Hindutva, in its hard-edged form, is brazenly genocidal. As an ideology of ethnic absolutism, it decrees that India is only for Hindus. During the riots in Delhi in 2020, one of the slogans was 'Hinduon ka Hindustan' (India is for Hindus). In this scenario, yoga is only soft Hindutva. Let us focus on our inbreath and outbreath while the rest of our co-religionists lynch Muslims on the streets.
A journalist friend tells me that in his youth he watched Hindi films in which the hero, invariably an angry young man, wreaked havoc on his enemies. When the film ended, my friend would step out of the cinema hall feeling superhuman, his nerves tingling. He was telling me this story because, he said, that is the feeling now gripping Narendra Modi's followers. They imagine themselves as the protagonists in a powerful story about the destruction of their enemies. There was a Ram Navami procession in Delhi my friend watched, a traditional occasion celebrating the birth of Lord Rama, who has been adopted as the reigning deity of the Bharatiya Janata Party's campaign for a Hindu nation. The crowd in the procession was chanting obscene anti-Muslim slogans. My friend looked up from where he stood and saw two young women filming the procession on their mobile phones from a high balcony. It would be normal, my friend said, for these upper-middle-class women to feel uncomfortable when confronted with open displays of thuggish behavior. But not the two he saw on the balcony. Their faces shone with enthusiasm. Each one pumped a fist in the air. The women reminded my friend of what he was like as a teenager, his imagination fired by a delusional masculinist fantasy projected on a screen.
Umar Khalid is a scholar and activist who earned his doctorate from Delhi's Jawaharlal Nehru University. Khalid has been in prison since September 2020 under the notorious UAPA law (Unlawful Activities Prevention Act). Originally passed in 1963 to grant the government extra powers of detention, it was amended by the BJP in 2019 as a so-called 'anti-terror' law that allows an individual to be arrested and detained without trial. A huge number of the arrests made under UAPA in recent years have been of the government's critics, journalists and activists. Khalid is accused of inciting riots in Delhi in February 2020, in which fifty-three people died, most of them at the hands of Hindu mobs. Kapil Mishra, the ruling party politician who openly called for violence against Muslims during that time – the man who allegedly instigated the riots – hasn't been named by the police in the case.
Today I wrote a letter to Khalid, which a friend forwarded to his lawyer. I had heard that Khalid had read more than a hundred books in prison. Umar, can you tell me what you have been reading?
My wife's name is Mona Ali. Her uncle is a retired police officer. For decades, this uncle – whom she calls Chacha – has kept a daily diary. This is of interest to me as a writer and a diarist. I remember that I was present at Delhi Airport, back in 2001, when this gentle, old man first met my wife, his younger brother's daughter. He was meeting his twenty-six-year-old niece for the first time because they had always been separated by a border. Two decades ago, my wife was allowed a visa to visit India, and so she traveled from Pakistan to Delhi. At the airport, Mona and Chacha hugged and cried while I stood to the side and watched.
Today I asked Chacha to read me his diary entries from that December in 2001. He had accurately recorded my wife's arrival on the seventh, but the prose was emotionless. No mention of heartache, or the tears that I'd observed. I too made an appearance. Chacha's entry for the thirteenth of December reads: 'Terrorists attacked the Parliament. Waiting for Mona and her husband to visit us.'
Chacha's eldest sister left for Pakistan the year after the Partition. He didn't see this sister again till he retired from the police and was able to travel to Pakistan. In other words, Chacha wasn't able to see his Qamar Apa between the years of 1948 and 1992. How was their first meeting after that long separation? What did he write in his diary? While I was making my unsuccessful search among the stacks of his diaries for the one from 1992, Chacha told me that those who had lost their siblings during the riots that accompanied the Partition were, perhaps, luckier than him. Their loss was final; his loss had lingered, tearing him apart as one year stretched into another, decade after decade.
I then looked at Chacha's diary from the year 1979. At that time he was a senior officer, a deputy inspector general of police, in an eastern Indian city named Shillong. He was helping build a police academy there. On the nineteenth of January he received a telegram from his brother in Pakistan, informing him that their father had died a few days earlier. Chacha's father lived in India, but he occasionally visited Karachi. (Such travel was possible at that time.) The news of his father's death left Chacha bereft, and he wanted to call his mother. When he booked a trunk call to Karachi at the local post office, he was asked what language he would be speaking in. He said it would be Urdu. A few minutes later, the operator called to say that no interpreter could be found. Each phone call to Pakistan had to be monitored, and no Urdu speaker was present in Shillong. As a result, Chacha wasn't able to talk to his mother. Speaking in English now, he told me that the irony was that at that time he was in charge of the entire border that India shared with Bangladesh and what was then still called Burma.
Chacha recorded in his diary the receipt of the telegram from his brother on the nineteenth. I went back to the page for the thirteenth of January. On the top he had written 'Holiday. Second Saturday.' And then, 'Listened to cricket commentary all day.' Underneath, in a clearly retrospective entry, he had drawn a rectangle and noted within that space the following words: 'Abba passed away today.' Often, I make the mistake of thinking that diaries reveal secrets; the truth is that as often they reveal silences. There was no mention in Chacha's diary of his failed attempt to offer condolences to his mother.
Patna. In the plane from Delhi, poor migrant workers are returning home for Eid from Saudi Arabia and other countries in the Gulf. Because I was speaking in Urdu, they assumed I was Muslim. How long had it been since I had come home? I said two years and more. I was going to see my father, I said. One of them, the older one, said that my return would make this a special Eid for my father.
My father is eighty-six and, probably because of social isolation, he has aged terribly during the pandemic. I would try to talk to him on the phone, calling him from New York or London, and he appeared lethargic and uninterested. In early April, I bought two tickets to India. One for myself and one for my son. My son loves to talk to his grandfather; both of them possess a fantastic memory for trivia. But then my son's application for an entry visa to India was denied. We were told that the Ministry of Home Affairs would need at least four to six weeks to do a security check. This is because his mother, my wife, was born in Pakistan.
Like so many of my friends from school in Patna and Delhi, my father, who had always seemed liberal to me, has become a Modi supporter. What did he think of the Indian government regarding his twelve-year-old grandson with suspicion? When I got home from the airport in the late afternoon, my father was lying in bed. I touched his feet. He looked older, even shrunken, and vulnerable. He asked me about my children, what their plans were, and when they would be able to visit him. I didn't ask the question I had been framing on the flight. In fact, I knew that I wouldn't even bring up Modi's name. We were going to be together for only five days.
My father likes to take a twenty-minute walk each morning, but prefers to lie in bed for the rest of the day. I don't know exactly why this should be so. The other day, on the flight from London, I watched Anthony Hopkins in the film The Father. Hopkins plays a man suffering from dementia, his memories jumbled. He tells his nurse, 'I feel as if I'm losing all my leaves.' I put the movie on pause to note down the line in my notebook. There was a reason for the lump in my throat. My sister had informed me on the phone that recently my father, for the first time in his life, seemed disoriented at the bank. My father is someone who remembers everything, not just phone numbers but also bank account numbers and registration plate numbers. He was now mixing up dates of birth.
This morning I told my father I was going to walk on the promenade beside the Ganga, and he said in response, quite correctly, that this was an auspicious day, Akshaya Tritiya, the day celebrated as the one when the River Ganga was said to have left the heavens and descended to Earth.
It was also Eid ul-Fitr. On the Ganga promenade there were young Muslim men strolling about in their new kurtas, mostly a blazing white but also yellow or pale blue. Although I had expected it to be hot, a fine breeze now lifted from the river. On occasion, my nose caught the smell of sewage and decay, but otherwise the air was pleasant. In news photographs of the promenade I had seen students cramming for exams, but there were very few of them now around. Young women posed for selfies at the water's edge. Four teens, two men and two women, were recording a TikTok video without any self-consciousness. My father had asked me to take a sip of the holy water, but I saw the debris and the filth and didn't dare.
For fifty rupees, boats took you to the opposite bank, where you could walk on the sand and buy tea at one of the shacks. I went. Sweet milky tea was served in clay cups. When dusk fell, the lights of the city began to glitter in the distance. And the glowing fires where dead bodies were being cremated. On the boat back to the promenade, a small group of young men took it upon themselves to raise the slogan 'Jai Shri Ram'. This means loosely 'Victory to Lord Ram', and has been turned by the BJP into a battle cry in the war against minorities. In viral videos produced over the last few years, Muslim men are beaten or lynched and forced to chant 'Jai Shri Ram'. Everyone on the boat watched the young men, but no one joined in. On the way back to my father's house, even before I had reached the open expanse of Gandhi Maidan, I looked up and saw, above the dusty haze of Ashok Rajpath, the thin and brilliant crescent of the Eid moon.
Motihari. My father agreed to come on a day trip to our village in Champaran. The family homestead is less than an hour away by car from the district headquarters in Motihari – where Gandhi launched his satyagraha. His protest against the British found its start there. I have dim memories of the smoke-blackened hut in which my father was born. When I was still a boy, a brick house was built where the hut had stood. There was no electricity in the village till I was already in college. No running water either. When I was growing up, this trip from Patna took a whole day, first crossing the Ganga by ferry, then a long journey by train or car, and, during the final stretch, a bullock cart. But now it is possible to drive here in under four hours. My father is very proud of these changes.
If you were to judge by the billboards on the drive from Patna to Muzaffarpur to Motihari, you would believe in the story of a nation under construction. Most advertisements are for cement, iron rods, tiles, pipes, paints. Another item that enjoys a similar ubiquity is coaching classes. Tuition for chemistry, math, biology. Assurances of high scores in the entrance exams to engineering colleges. And ads for men's underwear. Bollywood actors wearing vests or briefs. Even in the hinterland, or particularly in the hinterland, is a sense of hectic expansion, and a desperation to make it in a transforming market, even if mobility seems limited only to male consumers, confidently armored in a uniform of crisp white cotton.
On the way to the village we visited George Orwell's birthplace. Orwell's father, Richard Blair, was a sub-deputy opium agent for the British. While he was still an infant, Orwell was taken by his mother to England. The house where he was born is now gone, but a small building has been built at the site in Orwell's memory. There are no books or pictures in the two-room structure erected in Orwell's memory. A hundred yards away stand the skeletal ruins of the warehouse where the British stored opium before sending it on to China.
From Motihari we resumed our journey to the village. All through my childhood, this last leg of the trip would leave us covered in dust. Our clothes, faces, even our eyebrows would be coated in this gray dust that I had seen nowhere else. But now there is a narrow tar road leading right into the village. That wasn't the biggest change. The most striking sight for me was two women riding scooters. And even more promising, girls in school uniforms on pink bicycles. The bicycles were provided for free by the government in a bid to raise female literacy. My sense is that the policy is revolutionary: the free bicycles have brought women out of their homes in a rural, rigidly patriarchal society.
Jadopur. Our village home was clean but derelict, its rooms locked. Parts of the house had collapsed, a heap of bricks. I have a novel coming out next year in which I have put parts of this house – the prayer room where I imagined my grandmother's death; she died while I was in grad school in America, and I wasn't there to witness it – and looking at those empty spaces I felt that I had stolen the soul of the place for my story. Feeling uncomfortable, I quickly stepped out. A few of the villagers had stopped by. They had seen me on Ravish's show, and wanted to send him messages.
A quiet man whom I had never met before also wanted to talk to me. He had been appointed as part of a government scheme for rural upliftment. His work was extremely local – he had his roots in the area; his official designation was vikas mitr or 'development friend'. He had come to talk to me because he wanted me to write an op-ed asking for clinics in those parts of the villages where the primary inhabitants were people from the lower castes. There are no provisions for hygienic living in these poorer parts, and people regularly fall ill due to the heat. Food spoils easily on hot days and causes diarrhea and food poisoning. Meningitis is another killer. As the lower-caste inhabitants in our village were mostly manual workers, they lived hand-to-mouth. Given the absence of any nearby medical facility, they were forced to go to nearby towns in search of treatment, which could lead to debts of up to fifty thousand rupees. When these workers fell ill their children were left defenseless in their huts. I was struck by the vikas mitr's undemonstrative, earnest tone. Only fifty yards away was the small hospital that my father had built in his mother's memory. I pointed at it. The vikas mitr didn't want to say anything that would offend me, and so he didn't respond. Another man, now with a beard that had gone white, although I remembered him from earlier days when we had played in the village pond together, said that there was a hospital, sure, but there was no doctor and no access. He said, 'A fan is rotating inside, there is a bottle of water on the table, but there is a large lock hanging on the gate.'
Patna. I heard on TV that the World Health Organization has estimated that more than 4.7 million have died from Covid in India, ten times more than the figure provided by the government. I stayed in today because my stomach was upset. From time to time, I came out of my room to work on a drawing in my sister's kitchen. I was drawing the street below the kitchen window. The young woman who is the cook made space for me, and thereby earned the right to comment on my efforts. She was happy that I had put in the drawing the black dog she always saw outside, but the truth is that there are at least half-a-dozen street dogs, all black, that congregate below. The one I had chosen to draw had an injured left hind leg. In the evening, Naresh Kumar, a young Patna artist, brought me coconut water. He said it was the best cure for diarrhea. We spoke about the Covid deaths. Back in November last year, he had a show in town at Gandhi Museum. It was an outdoor exhibition called Hometown Anatomy. One of the main installations that Naresh had set up was a coffin made of mirror-glass, with the coffin placed atop a rickshaw cart. In our home town, Naresh had seen all kinds of things being transported on such carts: fruit, vegetables, timber, tools, even a fridge. But during the second wave of Covid, each cart was loaded with a corpse. These carts lined the road where his old art school was located; this road leads to the cremation ghat, and there were so many corpses that each cart had to wait long for its turn. Naresh walked past the carts and all he could see were the feet of the dead protruding from under their thin coverings.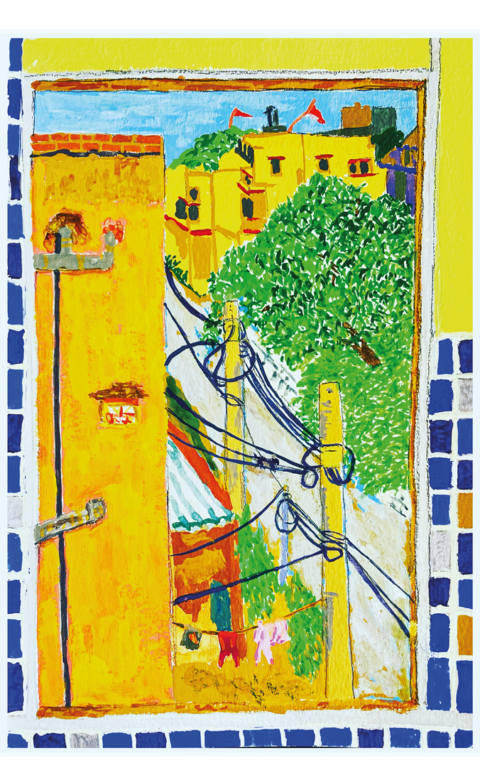 Artwork © Amitava Kumar, Below my sister's kitchen,
Patna
, 2022
The week before I arrived, there were accounts in the news, and especially on social media, of bulldozers being used to demolish Muslim homes in Delhi and elsewhere. The visiting British prime minister, Boris Johnson, appeared on my timeline, because he had jumped aboard a new JCB bulldozer factory in Gujarat. The JCB bulldozers were the ones being used in the demolitions. Did he not know that people's homes were being destroyed?
In more recent news, a feminist activist named Kavita Krishnan tweeted about a Hindu man being publicly killed in Hyderabad for marrying a Muslim woman. The BJP was using this incident to further spread anti-Muslim hate. The activist responded, pointing out that Modi's bhakts had done the same thing, celebrating the killing of a Muslim man, Dilshad, who had married a Hindu woman.
I mentioned the above tweets at a small gathering of my extended family in Patna. We were just sitting around drinking lemon tea. Someone said that a nephew of mine had been having an affair with a Muslim girl from Kashmir. The boy's mother interrupted to say that she had been relieved when they broke up. She had been scared that he'd be killed by the girl's family. Then I was asked if I remembered an incident from my boyhood. We were in our ancestral village at that time because it was winter break. Did I remember a distant relative of ours, a young woman, who had died because her infected appendix had burst inside her? I didn't remember. It didn't matter. The truth was now being revealed to me. There was no burst appendix. The girl had been killed by her own family. She had made the mistake of getting involved with a Muslim classmate. The relative who was telling me this story learned this years later when she was at medical school. A fellow student told her that his best friend had been that girl's lover. He didn't know how the girl had been murdered, but he had seen what her family had done to the boy's body. Try as they might, his friends couldn't find enough pieces to make a decent corpse.
Patna. I was invited to speak at a college that I used to pass every day on my way to school as a boy. At that time, I understood that this particular institution was a breeding ground for goons, but my father informed me that the college was now among the best rated in Bihar. When asked to choose a topic, I said I would talk about keeping a diary. I wanted the students to write down what they saw around them, and to record what was happening to them. (Was I thinking about the students? Not so much. I was thinking about who I was when I used to live close to the college. I wrote nothing then. My days were never connected in a story I could use to narrate what was happening in my world.) The organizers had been good enough to follow my request and give everyone in the audience a sheet of paper. There were three prompts from my side. 1. 'Yesterday it rained and today . . .' 2. 'During the pandemic . . .' and 3. 'I want to tell the writer . . .'
I should perhaps pause and first tell you that unlike any lecture or reading I have done before, there was a complicated ritual I had to follow at this college. The organizers asked me to remove my shoes and then place rose petals near the portrait of the politician after whom the college had been named. Next, flowers were presented to me, and a beautiful silk shawl draped around my shoulders as a gift. When this had been done, and duly applauded, I was given a lit candle and asked to light a lamp. While I was doing this, the men and one woman who were onstage with me placed their fingers lightly on my arms, so that we were all symbolically linked as we lit one wick after another. It was like a Hindu prayer ceremony, and it was remarkable to me that this wasn't seen in any way as being out of the ordinary at a secular educational institution. Lengthy introductions followed. It was only later revealed to me that the founder of the college, the principal, all the heads of various departments at the college, and indeed, also the day's honored speaker, belonged to the same upper caste. We hadn't yet made the great leap forward into modernity.
When I arrived back at my father's house, I was curious to see what the students had written. In response to the first prompt, many had noted the renewed heat of the day. To the second, many wrote about the suffering and deprivation experienced during the pandemic, particularly by Bihari migrant workers. The responses to the third prompt were puzzling. Most students left that part blank. The first two prompts had asked for concrete responses, and they were easily provided; the third prompt was open-ended, and required a more abstract and maybe even an imaginative response. It was difficult not to conclude that the students for the most part had nothing to say to the visiting writer.
But a few did. I had read to them a passage about a human rights lawyer who, speaking in Delhi to those protesting against unjust citizenship laws targeting minorities, advised everyone to keep a particular kind of diary: 'Keep a record. Don't trust the state. Don't expect the police to document the violence it is raining on your head. You have to do this yourself. Note it down.' Several students at this college wanted me to know ('I want to tell the writer . . .') that the protesters in Delhi were engaged in an illegal activity. In other words, while most students had nothing to tell the writer, those who did only wanted him to know that to protest against the Modi government was not only anti-national, as the BJP leadership claims, but also unlawful.
Delhi. I returned to the city to participate in two book events before catching my flight out to New York. During the day I had several meetings with journalists, editors and publishers. One reputable editor, who asked me not to name him, told me during lunch that his role was a narrow one. In a country 'where writers are semi-skilled, where reviewers are semi-skilled, where readers are semi-skilled', his task was to bring in technique where there was no technique. He had a near-nationalist pride in Indian publishing which, he believed, is no longer beholden to the Western market. At the same time, he was critical of the ruling dispensation. Every year that the present leadership remained in power, India was regressing ten years. The nation's pluralist ethos was in tatters. Writers ought to share the blame for this. There was a time when writers had clout – he used the French word éclat – but now they merely inhabited an echo chamber of irrelevance. He didn't blame the poor either. 'If you are a lower-caste rickshaw driver,' he asked, 'why would you vote for anyone other than Modi? To them, he is one of us.' The editor pointed at my plate and drink. 'Your tribe is eating linguine and drinking New Zealand white.'
Another friend bought me dinner after my book event at the India International Centre in Delhi. Then he showed me the handwritten reply that Umar Khalid had sent to my letter, in which I asked him about the books he had been reading in prison. In tight handwriting, Khalid neatly provided a list of nearly thirty titles. He had divided the list into two: fiction and non-fiction. Kafka's The Trial and George Orwell's Nineteen Eighty-Four were among those on the first list; Ngũgĩ wa Thiong'o's prison memoir and Trevor Noah's account of having been born a mixed-race child in apartheid South Africa were on the latter.
Hours before my flight to London, I visited Arundhati Roy at her flat. The heat was nearly unbearable. In the early evening, the road was lit up with the yellow flowers of the Amaltas, which made me think of Arundhati's unforgettable descriptions in The Ministry of Utmost Happiness of the brilliant yellow flowers defiantly saying 'fuck you' to the hot brown sky. Arundhati had just prepared cold nimbu paani, and I drank a glass quickly. The questions I hadn't been able to ask my father – the name that I didn't utter in his presence – I could now put to Arundhati. What is common life in India like in the time of Modi?
A few days earlier, Arundhati had spoken at an event where G.N. Saibaba's book of poems – a kind of prison diary – had been released. The author himself wasn't present. This is because Saibaba, a professor of literature and human rights activist, lost both his job and his freedom after being detained under UAPA, the same law under which Umar Khalid has been kept in prison. In the case of Saibaba, the conditions of his incarceration are particularly horrific. He is kept in solitary confinement despite being 90 per cent physically disabled. On the day I met Arundhati, Saibaba had decided to go on a hunger strike because the authorities were not even allowing him to keep a plastic bottle for water, paying no heed to the incredible heat.
Arundhati recounted to me, as a way of answering my question, what she had told the audience at the Saibaba book event. In the 1960s, she said, revolutionary movements in India talked about the redistribution of land and wealth. In the nineties, things had been reduced to campaigns against the displacement of the poor in places like Narmada Valley, during the construction of big dams. From redistribution to 'Let us please hold on to what little we have.' In the 2000s, it came down to the National Rural Employment Guarantee Act, which assured the poor one hundred days of unskilled manual work every year. Even that was considered by some to be unviable or unnecessary. Today, people were being forced either to fight for their very citizenship, or to rejoice at being given five kilos of flour and one bag of salt with Modi's picture on the front. India was like a plane flying backwards with all its parts falling off.
Were the prison doors going to open for jailed human rights activists like G.N. Saibaba and Umar Khalid? Arundhati replied that it was difficult to know if it was more likely for them to come out and join the people outside, or for those waiting for them outside to join them within the prison walls. 'I don't want to scare you,' she said, 'but all these people in prison have sat at this table. Whether it is Gautam Navlakha, Sudha Bharadwaj, Varavara Rao, Rona Wilson . . . It is so chilling when you speak at press conferences in Delhi, because all the people who used to speak on such occasions are not there anymore. What we are seeing more and more is prisons being filled with journalists, lawyers, academics, intellectuals, activists, students. And Muslims, Muslims, Muslims. For Muslims in this country today to be murdered is a crime. Cases are filed against your corpse.'
Arundhati had one last point to make before I left. She wanted me to know that India wasn't controlled by an individual, it was controlled by the militant party to which that individual belonged. 'This is not Modi's India. This is RSS's India,' Arundhati said. The Rashtriya Swayamsevak Sangh is the right-wing party whose leaders were inspired by Hitler. They hold on to a dream of an undivided India ruled by Hindus. Modi began his political career as a grassroots preacher for the RSS. According to Arundhati, the RSS has hundreds of thousands of members, a paramilitary wing, armed cadres, women's organizations, schools in which millions of children study, farmers' and workers' unions. It has penetrated every single institution in India. She told me, 'The RSS is a nation within a nation waiting to take its place on the world stage, possibly in 2025, which will mark its hundredth year.'
2025. On my flight home I thought of this date often – for it is also the year the World Meteorological Organization predicts that the world will break a crucial heat barrier, making it nearly impossible to achieve what the Paris Climate Agreement had set as a goal, to limit global warming to 1.5 degrees Celsius by 2100. It's a dire prediction, and one that is not difficult to imagine coming true. If the slide into hate is just as irreversible in India, life, for a lot of people, is likely to become hell.
Artwork © Amitava Kumar, Hills of Kumarhatti, Solan, 2022