T
hey come to us at Independence Square, shadow-like and all whispers. They have selected a leader, perhaps the one with the best English. Now she walks up to me, without any greeting, without introduction, the group of young girls and boys – no older than early teens – standing back a few steps behind her.
'Can I take a photo of you?' the messenger girl says in a small, careful voice, a smile wide on her face.
It's not the first time that I've been asked to have my picture taken in Uzbekistan and at this point it is starting to feel a little like objectification, as if I am a spectacle of sorts, and in a way I am, because, as the guides explain to me, a black person is a rare sight in Uzbekistan.
I am not in the mood, but I try to be philosophical about it. Across from where we stand, a couple is sitting on a grey-white stone bench. I decide that the best way to deal with the problem is to become stone-like, to stiffen my face and then decline the request. But more than that, something else should be done, because the children have got to learn. I must change the course of things, do the unexpected, surprise them, but in a way that allows them to see. But how to do it?
The answer comes to me instantly: 'Oh no, no thanks, but actually, I'd like to take a picture of you instead.' And then I am pulling out my camera from my bag and holding it in front of me just so, though I am expecting that seeing the folly of their request, they will decline to stand for my picture.
And at first it seems they will. Their smiles freeze and then turn to questioning glances. 'Aha!' I say silently to myself. 'Now, you know how I feel!'
But the young messenger girl's smile brightens after the moment of hesitation; her eyes light up and she says, 'Yes, yes, do take a picture of me.' And she smiles even more widely, so that I realize my own folly. These are only children, and all they want is just what they have requested – a picture so that they can feel connected to a part of the world that they might or might not ever get to see.
But let me go back to some days before.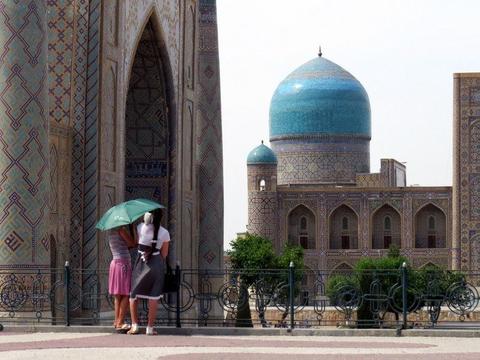 I arrive in Tashkent, alongside authors Stephen Kuusisto, Ann Hood, and Christopher Merrill as part of an International Writing Program reading tour designed to encourage literary collaboration amongst global creative communities.
One of our first events is a Q&A with an audience of about sixty high school students. We are given the opportunity to discuss our backgrounds, our writing, our inspirations, our future goals as writers. The students are engaged and their questions are ripe with genuine interest: What emotion fuels your writing – sadness, anger, grief, happiness, love? Do you have any suggestions for how I can strengthen my voice as a writer? What role does your country of origin play in your writing?
On my second day in Uzbekistan, we take the fast train from Tashkent to Samarkand, a city located on the famous Silk Road, where we visit the mausoleums and mosques of Bibi-Khanym (Built by the Asian ruler Amir Timur after his conquest of India), Shah-i-Zinda (where the cousin of the prophet Muhammad is said to have be buried) and Gur-e Amir (where the tomb of Asian conqueror Tamerlane is located).
At Registan Square, in the heart of the ancient city of Samarkand (where people assembled to hear official decrees, also a place where people were executed), we admire the architectural details – the turquoise domes – the mosaic designs, the symmetry of the buildings. But there is also something haunting about the place, as perhaps would be expected of any place where myriads of people lost their lives.
From the Bazaar, we descend into an immaculately clean and art deco-designed metro station where we hop on a ride to Independence Square, a plaza of fountains and flowers and pine trees containing a sizeable Soviet-inspired statue of a mother and her child. Our guides explain to us that the baby represents Uzbekistan, and his description seems to hint that Uzbekistan is still trying to get its bearings after its time under Soviet rule. Soon we arrive at a World War II memorial. The tribute takes the form of gold-coloured metal plates in the shape of books, and within the pages of the books are the names of the two million Uzbeks who died in the war. Near the metal books is the statue of a grieving woman, her forehead furrowed, her head downturned. She folds her hands on her knee. She wears a scarf on her head. In front of her is a star-shaped plaque from whose centre burns an eternal flame.
(This is when the photo incident occurs, but as I have already told the story, let's fast-forward past that).
Lunchtime arrives, and we find ourselves in a traditional Uzbek restaurant where we try the Uzbek signature dish known as the palov. The plate of rice that appears in front of me is colourful with its mix of carrots, raisins, peppers, chickpeas, and meat. Any meat can be used in the palov, and it turns out that there are two types used in ours: lamb, and as a special treat, we are also served horsemeat. We are supposed to be esteemed visitors, and horsemeat is considered a delicacy in Uzbekistan. Sadly, it turns out that the horsemeat is the only part of the meal that I am unable to eat – perhaps horsemeat is an acquired taste.
Later in the afternoon, we continue on a one and a half-hour car ride to the city of Angren in eastern Uzbekistan, where we work directly with students at the Angren State Pedagogical University. The students are eager to meet us and to put their English to use. Ann and I lead an exercise on character development, while Stephen and Chris collaborate with students to write poems. Then we are treated to a cultural feast: a young Uzbek maiden dressed in a long pink and gold gown along with a gilded and feathered hat performs a traditional Uzbek dance for us. Her two pigtails flail this way and that. They are long, extending down past her back, almost to the groove at the back of her knees; it is the traditional Uzbek hairstyle for unmarried females. Later, she is joined by a young Uzbek gentleman, and together, they twirl and stomp and sashay gracefully across the stage.
Opera follows. The tall, statuesque singer is very different from those initial performers in that she wears a simple black dress that stops just above her knees. A thin, silver necklace descends from her neckline, an elegant but otherwise unremarkable pendant at its front. Beside her, a young male student sits crossed-legged on the stage. He accompanies her on his guitar. He wears a loose-fitting beige collared shirt with a pair of faded blue jeans. What catches my interest in this second pair is the fact that there is no sign of Uzbek culture on their person, or, rather, that it is there, in the way that contemporary culture often is – that unifying way that defies man-made boundaries of states and countries and even of continents.
The visit to Angren ends with a chorus of school children singing Michael Jackson's 'Earth Song' to us, and the way they stand there, in their leggings and skinny jeans and Converse sneakers, their hands folded neatly before them, the English lyrics flowing from their mouths, it is as if they could have been school children from New York, LA, or any other English-speaking fashion capital of the world.
By the end of our visit, we will have visited the National University as well as the National Library, and in between, the Museum of the Book, where we see a miniature Quran, only able to be read through a magnifying glass, its words having been written by means of single hair strands. We will also have visited the Foreign Languages University, as well as the Sergei Yesinin Museum and Writing center, where during a split presentation between ourselves and some local poets, we are treated to the music of the Uzbek language, the rising and falling pitch, the quickness of the lilts, the cycles of intonation. We, in turn, read excerpts of our writing to the Uzbek poets in English.
Weeks after I have returned to the United States, it is our time in Angren that remains like a photograph in my mind: the cultural presentations of the students – that juxtaposition of old and new world, of tradition and modernity. I see the young dancing couple in my mind's eye, her pigtails flailing all around her, his boots stomping the ground. I see the opera singer in her short black dress, and her guitar accompanist in his blue jeans. I see the chorus of small children, in their skinny jeans and leggings. The despondent lyrics of Michael Jackson's 'Earth Song' race in the background of my mind, but at the forefront are the spirited voices of the children.
Featured image by Jean-Pierre Dalbéra; in-text image by Chinelo Okparanta